Dr. Sarah Treanor Bois
Director of Research & Education at the Linda Loring Nature Foundation
On Nantucket, we are fortunate to have an amazing sport fishery suited to everyone from the newest anglers to seasoned "old salts." Whether you're interested in a good fight on the line or feel inspired to catch dinner, Nantucket has a rich fishing tradition with many species available to catch.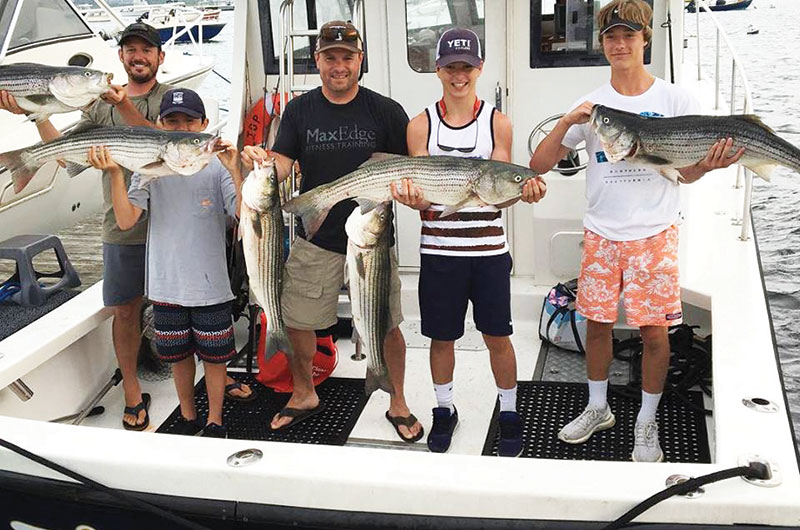 You might not notice it among the shops and galleries along the wharfs, but there is still an active, working waterfront that we all benefit from. Even if you never go fishing yourself, the commercial fishermen and women, the oyster farmers, scallopers, and charter captains all work on the water from various parts of the island throughout the year.
If you want to go fishing yourself, there are many options depending on your interests, time available, and who else you are with. There is really something for everyone. "Wetting a line" while on Nantucket makes you a part of the fishing tradition in this maritime community.
BEACH FISHING
Anyone can go fishing from the shores of Nantucket and have a good chance of landing a fish; especially from now through September. My fiveyear- old neighbor brought his little rod down to Brant Point last year to fish off the beach and into the channel like so many other locals looking for a meal. Not only did he succeed, he caught a keeper bass to share with his family. The pride he felt at catching that fish is evident when he tells the story himself. Brant Point may be crowded at times, but it can be a prime surfcasting spot during rising or falling tides as the narrow inlet to the harbor creates a strong, fast moving current that pulls and pushes bait in and out.
Great Point is the most notorious of shore-fishing on Nantucket. The difficulty in getting out there somehow makes the fishing all the better. First you have to drive almost 40-minutes in a vehicle that can handle the soft sand as well as a permit to do so. Access may also be limited by nesting shorebirds, high tides, and storms which close the access. Once you're out there fishing, you still may have to battle one of hundreds of grey seals for your catch. It's all just part of the adventure!
There are good surfcasting spots all around the island. It depends on wind, season, water temperatures, and a little luck, of course. To know where to go, it's good to check with the local scene.
INSHORE FISHING
Inshore is the typical type of fishing not far from the docks or the beach. Striped bass, and bluefish are the targets this time of year. Later in the season, the bonito will show up followed by the false albacore. Great with a guide, but completely doable solo in a small boat or kayak.
BOTTOM FISHING
Trolling the bottom from a boat is where some of the most delicious fish can be found; fluke and black sea bass are the top with both served at many of the island's top restaurants. Scup (commonly known as porgy) also make for a great fish fry, but can be overlooked as a sportfish.
When bottom, or deep sea fishing, some of the non-target species are interesting as well. Sea Robins, for example, don't usually grace the table. This fish, also known as gurnard, have "feeler fins," which make them look like they're walking on the bottom of the ocean. Just last week Topspin fishing charters caught a sea robin and brought it to the Maria Mitchell Aquarium to be put in a display tank. Many of the local charter boats contribute to the seasonal, local aquarium bringing anything from dogfish, skates, and small flounder to oyster toadfish, seahorses, and any other Southern species that travel up in the Gulf Stream. Check out many of these species for yourself at 28 Washington Street (mma.org).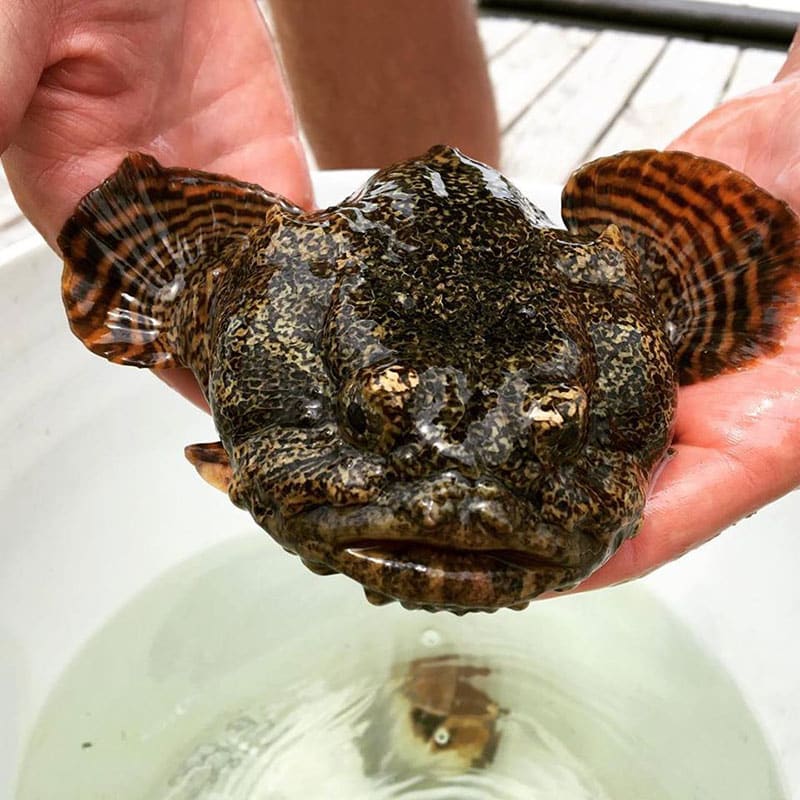 OFFSHORE FISHING
Offshore fishing is where people go to find big tuna, sharks, and cod. Many factors come into play regarding fishing for these species. This is where experience comes in. The guides who fish these areas put their time in and track patterns to know the when and where.
Of course, sometimes it's more than the fish themselves that make the experience. If you're lucky enough to venture offshore, there's a good chance of seeing other species like whales; after all they're looking for food too. Typical encounters can include humpback whales, minke, finback, and pilot whales, but others are possible as well. Just last week a charter boat off of Chatham spotted an orca with a pod of dolphins – a species usually found in Arctic and Antarctic Waters.
Also be on the lookout for North Atlantic right whales, one of the most endangered species with just over four hundred individuals left in the wild. It is important to remember that for boaters, kayakers, paddle-boarders, etc. it is illegal to approach North Atlantic right whales within 500 yards (1500 feet) without a Federal Research Permit. Binoculars are best in this case.
Pelagic birds are another bonus for offshore trips. Shearwaters, jaegers, and petrels are more common in open water. These birds rarely spend time close to shore. Off-shore whale watches or fishing trips are one of the few ways to view such birds in the wild. Other memorable encounters I've had include views of surfacing leatherback turtles (over six feet long!) and regular sightings of Mola Mola, or Ocean Sunfish. The surfacing fin can fool a novice, but I've been pleasantly surprised to find a five foot long Sunfish rather than a shark.
Before you go out, make sure you know the fishing regulations, so you know what the size limits are for keepers and how many individuals you can keep. If you hire a charter, have a talk with your captain before-hand about whether or not you want to keep any fish or just take photos. Then no fish will be wasted.
Want to know more about the Nantucket fishing scene? Local guides and charter captains like Captain Fred Tonkin of the Herbert T know up-to-theminute information about what, when, where, and how. You'll find Capt. Tonkin at Slip 14 on Straight Wharf (508-228-6655)—he has the knowledge and the gear to help you have an experience of a lifetime.