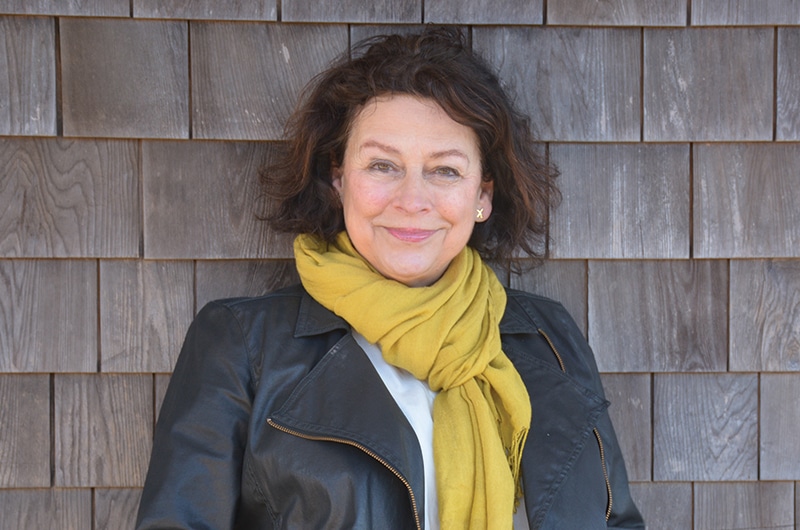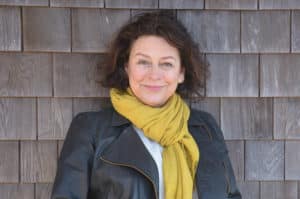 Annye Camara took the long way 'round to get to Nantucket Island, but now that she's been here full time for more than 17 years, it would be hard to imagine our community without her dedication and caring spirit. This Friday, July 22, she'll be celebrating her 71st birthday in her store on Amelia Drive, and she's inviting everyone to join her for a taste of what she sells and to help Nantucket Cottage Hospital.
Born in New Bedford, Annye traveled the world with her parents: she lived for several years in Tripoli, "among Arabs who farmed all kinds of red peppers—very beautiful— and I was allowed to ride camels and play with goats, sheep, cows, and (tame) deer," and in Okinawa, where she became "forever been enamored with all things Japanese."
After attending college in Colorado and then at Notre Dame, where she also taught, she traveled back to the East Coast to attend grad school at Northeastern. It was in Boston, after working with a friend at her bookstore on Charles Street, that Annye decided to take a break from academia: "I had just been accepted to Northeastern's grad school, but I decided that I wanted to be a bookseller— I loved sharing my passion for and knowledge of writing with others—it didn't feel like work at all. Reading had made all the difference in my own life, and encouraging others to read, making recommendations, felt fantastic!"
Annye and her husband went on to own a series of bookstores in the Midwest, and when they sold their Books and Co. in Ohio in 1992, it was the second largest bookstore in the country. Ready again for a change, she moved to New York City to take a job as director of marketing at Workman Publishing, then a division of Simon and Schuster.
It was birdwatching that brought Annye to Nantucket Island. "My family had come to the island for visits, and as an adult I began to visit with friends to birdwatch. Like so many others, I loved it immediately!"
During one of these visits, she noticed the health food store on Washington Street was for sale. "I imagined a life here, which, while not selling books, would connect me with customers, and be of service in the same way I felt being a bookseller had been. I also felt that I could have more time to birdwatch and get my kayak out on the water…It was quieter then, remember?"
She bought the store in 1999, and now, 17 years later and located at 14 Amelia Drive, Annye's Whole Foods (known to most simply as Annye's) is an island institution. It's the place to go for a great selection of quality grocery items (including the island's largest selection of gluten-free items and a range of Asian and Indian foods), wine, vitamins, supplements, herbal & homeopathic remedies, beauty & skin care products. Annye sells local & regional organic produce and carries fresh herbs and offerings from Nantucket's own Pumpkin Pond Farm. Every day fresh bread is flown over from Pain d'Avignon, and throughout the store are foods which meet nutritional needs for wheat-free, gluten-free, and vegan diets.
Annye's love of animals has led her to include a line of human grade food and treats for your best friends, along with pet supplements to provide nutritional support for joints, skin and coat, digestion and the immune system. Every evening, Annye's kitchen staff oven roasts chickens so her busy customers can pick up an easy meal for the family, and they prepare hot lunches and soups daily. New for this season are Souping soups, which Annye describes as "different from juicing in that we use vegetables which have more fiber & less sugar… I have the arugula and avocado soup for breakfast most mornings. And Nadine's watermelon chia soups (now that we have watermelons), is a big favorite."
In a nod to her life before Nantucket, Annye has installed a Little Free Library within the store, which she describes as "great fun and connects me to readers, still."
Annie Camara is in her store seven days a week, but somehow she finds time to volunteer with a number of island organizations. Perhaps all the healthy eating has given her an extra boost of energy?
A keen supporter of animals' rights, Annye is involved with Cattrap Nantucket, modestly describing herself as "only one of several volunteers for whom Carol [Black] is an inspiration." She is one of the founders of the Nantucket Book Festival, which she co-chaired twice, and is president of the Nantucket Book Foundation. "For me, it's a continuation of bringing writers and readers together, much was I did as a bookseller. And that's worth every single minute of effort I devote to the organization."
And she's serving her first term on the board of The Trustees of the Atheneum with the same enthusiasm she brings to each of her endeavors: "It's exhilarating to be part of something so important to the whole island… it is incredible, almost, how many programs and initiatives take place there, under [Molly Anderson's] direction. The staff are devoted and creative. I feel privileged to be asked to serve with them. I love librarians! Librarians made all the difference in my life when I was young; librarians and teachers are so vital in our lives."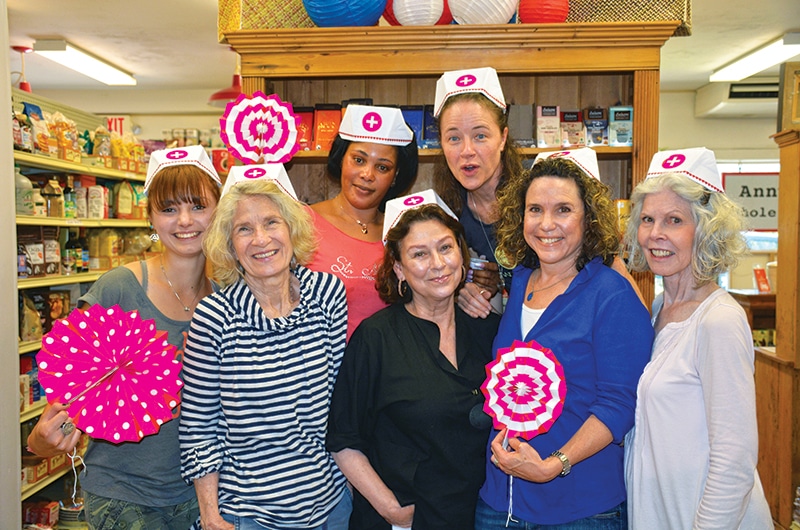 It's completely in character of Annye to celebrate her birthday this Friday, July 22, by giving to her customers and by donating 10% of her proceeds on that day to Nantucket Cottage Hospital's fundraising campaign for Nantucket's new hospital.
Stop by Annye's between 9 am and 6 pm to explore her store, taste samples of her tasty wares, and wish her a very happy birthday!
Suzanne Daub