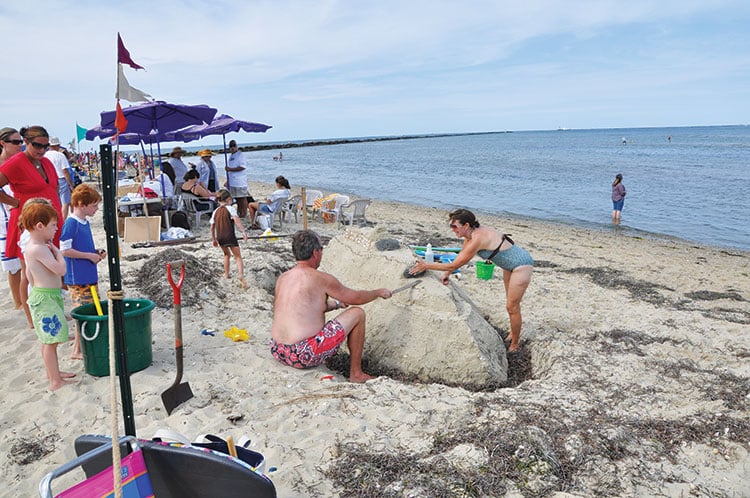 Watch out, Michelangelo, because this little island is about to give you a run for your lira. On Saturday, August 17, Jetties Beach will come alive with sand sculptures made by teams of islanders of all ages. For the 40th year in a row, Nantucket Island School of Design (NISDA) is hosting Nantucket's Annual Sandcastle & Sculpture Day.
A few rules: first of all, if your kid is registered but you're not, there will be no hands-on building for you.  Cheer your kid on, but keep your hands off.  Second:  participants are only allowed to use materials that are indigenous to Nantucket. In other words, no dyes or paints (unless, of course, your dye is made of pure island cranberries). Team registration time has passed, but seeing the finished works is certainly worth a trip out to Jetties.  Judging (based on concept, creativity, and design) will be done by professional artists and art educators from on- and off-island. There is also a People's Choice award, so cast your vote before 4 pm this Saturday, August 17.
Before or after your trip to the beach, head into town and stroll the charming shell walkway of Old South Wharf that leads you past galleries and apparel shops, fine jewelry and wine, housewares and a cafe, all surrounded by the sparkling blue water of Nantucket Harbor and the stunning yachts tied up at the boat basin.
And this week through Sept. 2, a stroll down Old South Wharf can bring you more than a dozen prizes.  To celebrate this unique part of Nantucket, the merchants of Old South Wharf are participating in a raffle with each prize valued at $50 or more.  No purchase is necessary, and you need not be present to win.  Just stop by and register at each participating business on Old South Wharf, and at 4 pm on Monday, the celebration will culminate with a drawing at each location.
The list of those participating is growing every day.  At press time, raffles will be held at: Michetti Gallery, the Anchored Artists, Made on Nantucket, Pete's Fresh Fish Prints, Sweet Liddle, Island Weaves, Bartlett's Farm, Tafari Organics, Dakota, One Orange, Peter England, Space, Dupree & Company, Brown Basket Gallery, and Ireland Gallery.