• by Sarah Teach •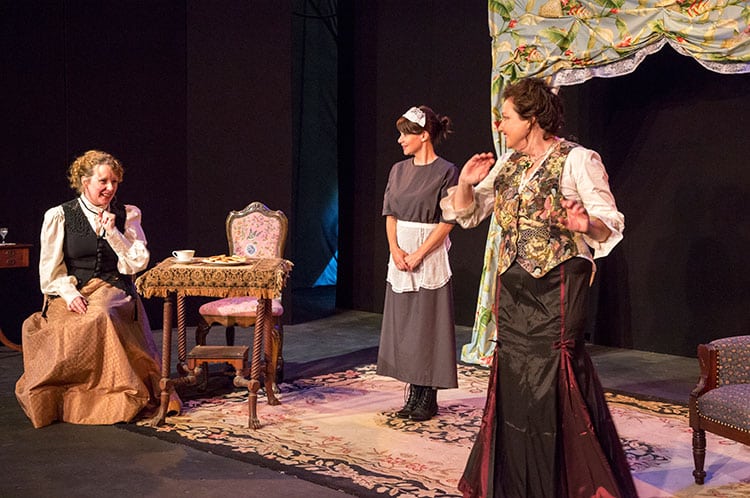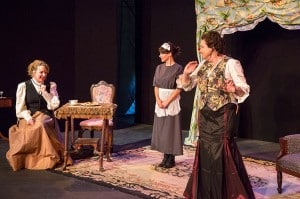 Nantucket's professional repertory theatre company has chosen a winner. You may know Boston Marriage's Pulitzer-prize winning playwright David Mamet from the literary term coined by his characteristically terse writing style: "Mamet speak." He first started writing plays in the 70s, and his writing was Hollywood-adaptation caliber in just over a decade. (See Glengarry Glen Ross.) A master of mixing the humorous with the horrific, Mamet co-wrote the screenplay for the chilling 2001 Anthony Hopkins and Julianne Moore film Hannibal. When crafting Boston Marriage in 1999, however, Mamet's mind was less attuned to the union of guffaws and gristle, and more to the gender-specificity of his work. The playwright had been mercilessly beaten by the press, which largely labeled him as a misogynist due to the consistent maleness of his characters. Whether or not you suppose he was taunted into writing Boston Marriage, the play's success proved to the world that Mamet could create strong female characters who were just as crass, witty, and vulgar as his male leads. White Heron Theatre Company (WHTC), by choosing a piece by Mamet, signed on for a full workload of script interpretation, and the company does not disappoint.
In the 19th century, the term "Boston marriage" referred to two unmarried women living together, regardless of their sexual orientations. Michael Kopko, Executive Director and Co-Artistic Director of WHTC, shows his directorial chops with smooth, logical scene transitions and actors' stage entries and exits. President, Founder and Co-Artistic Director of WHTC Lynne Bolton stars as Anna, half of a closeted lesbian couple living in the early 1900s, when it was necessary for Victorian women to rely upon a man for monetary fortification. Anna, having secured a position with such a man, wishes to return to her true love, Claire (excellently portrayed by Brandy Zarle, who has a knack for expression-based comedy). The women reunite when Claire visits Anna's plush pad and oohs and ahhs—and hmms—at its luxury. Anna even has live-in help: her trod-upon Scottish maid, played with complete adorability by Marketing and Communications Director of WHTC and Nantucket native Callahan Barber. Claire takes a mild interest in Anna's situation; she asks, "What can one do with [a man]?" Anna responds, "Just the one thing." But Claire proves to be more concerned with her own circumstance: a new love and, not least of all, a burning desire for "a vile assignation" with her! This play, woven together with the kind of brusque yet meaningful dialogue that only Mamet can spew, is all about relationships and power. Packed with top-speed delivery of innuendo, Boston Marriage must be seen more than once in order to drink in the whole nuanced glass.
Boston Marriage can be enjoyed on Tuesday and Friday evenings throughout the remainder of August. Of course, the play wouldn't be a Mamet if it were fit for the kids; your Boston Marriage night is a good time to seek a babysitter. Throughout August, WHTC is also showing Yasmina Reza's Tony Award-winning God Of Carnage, which can be seen Wednesdays and Saturdays; as well as A.R. Gurney's Love Letters, which can be seen on Thursdays and Sundays. All shows begin at 7:30 p.m. and are performed under the big white tent at 5 North Water Street, just behind the Whaling Museum. Tickets are $30 and are available at the 5 North Water Street box office, by calling 508-825-5268, or online at whiteherontheatre.org.