by Carl Oscar Olson
Though I've never been much of a sports fan, there are plenty of things in life that I am passionate about. That being said, eating has always come naturally to me, and if there was one fantasy list I could compile it certainly wouldn't be an imaginary, make-believe football team. No, it would be a list of the finest food Nantucket had to offer during the 2019 season. And here it is: the Best Bites of 2019.
The Brotherhood of Thieves
23 Broad Street • 508-228-2551 • brotherhoodofthieves.com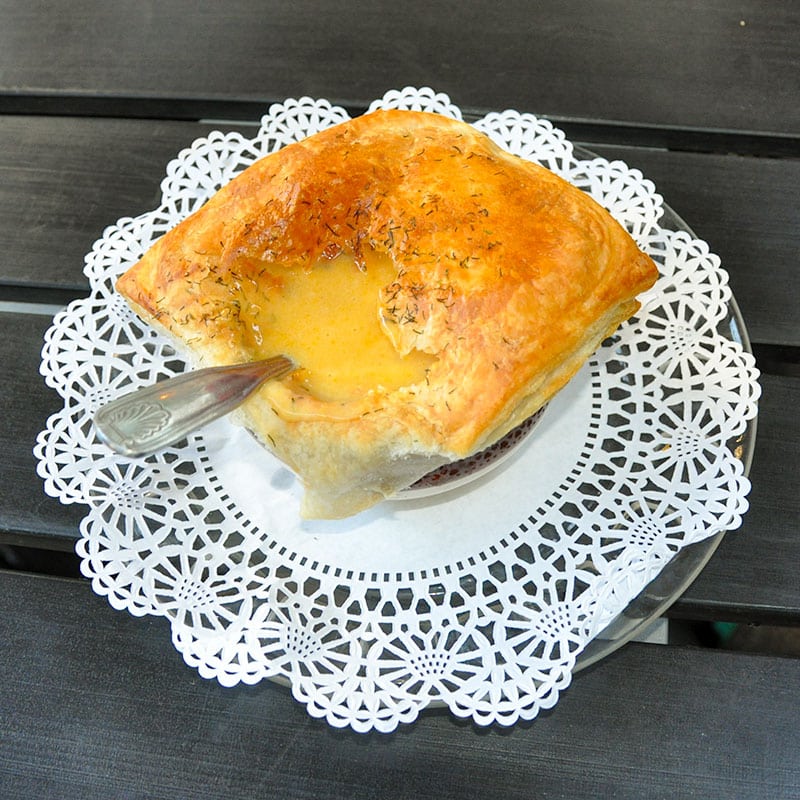 A creamy sweet Lobster Bisque displayed the wonderful versatility of the Brotherhood of Thieves. Brimming with big chunks of tender lobster, it was served piping hot and blanketed by a flaky puff pastry. The consistency of this seaside staple was perfect: not too thick but bursting with bold, buttery flavor.
Proprietors Bar & Table
9 India Street • 508-228-7477 • proprietorsnantucket.com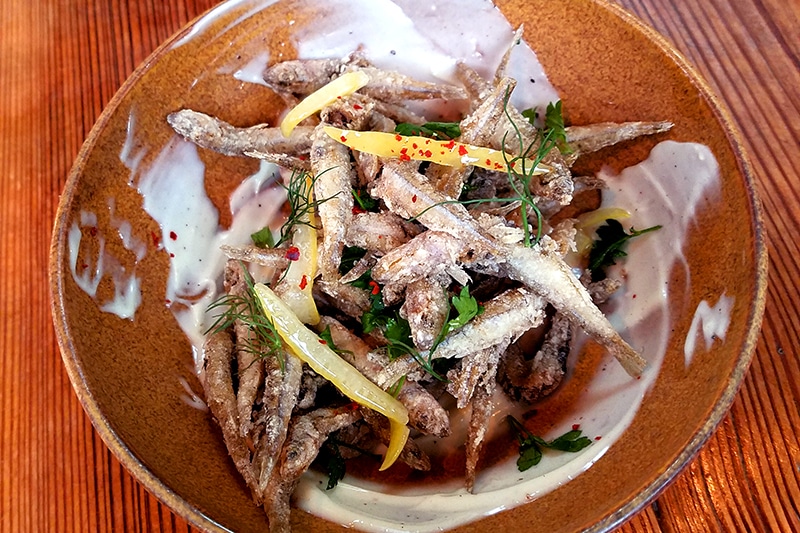 Full disclosure: we were on the fence about ordering the Crispy Greek Smelts. Not unlike anchovies, these small, finger-sized fish are fried whole. Served atop a spread of garlic aioli and topped with parsley, they were easily our favorite dish of the evening. Every bite offered a delicate crisp and the essence of the sea, then magically melted away in our mouths.
Brant Point Grill
50 Easton Street • 508-325-1320 • brantpointgrill.com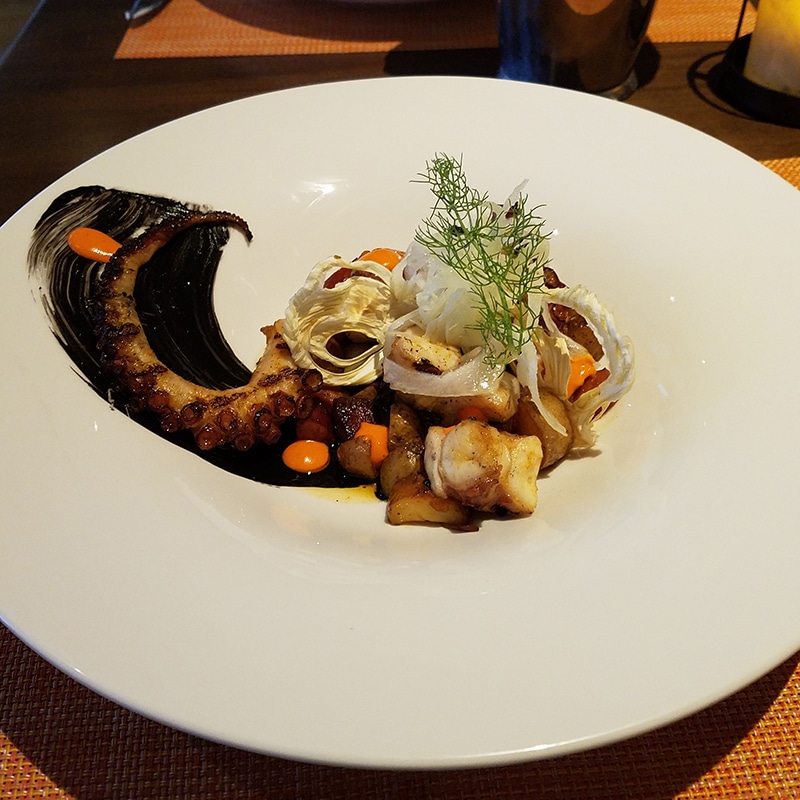 We love the charred smokiness of the impressively tender Warm Grilled Octopus with andouille sausage. Plated with creamy fingerling potatoes and refreshing fennel, this dish was a work of art and so were the flavors.
Rose & Crown
23 South Water Street • 508-228-2595 • theroseandcrown.com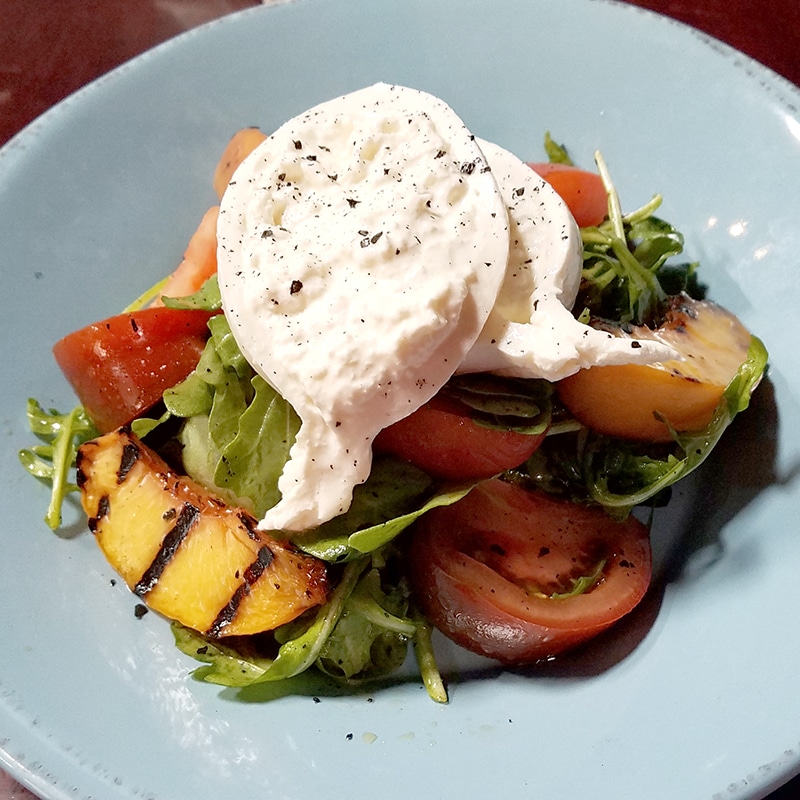 Our favorite dish at the Crown was a new one: the Grilled Peaches and Burrata Salad. The mild spicy crunch from fresh arugula was made for the enhanced sweetness brought by warm grilled peaches. Creamy white burrata tied it all together and could make it a meal.
Dune
20 Broad Street • 508-228-5550 • DuneNantucket.com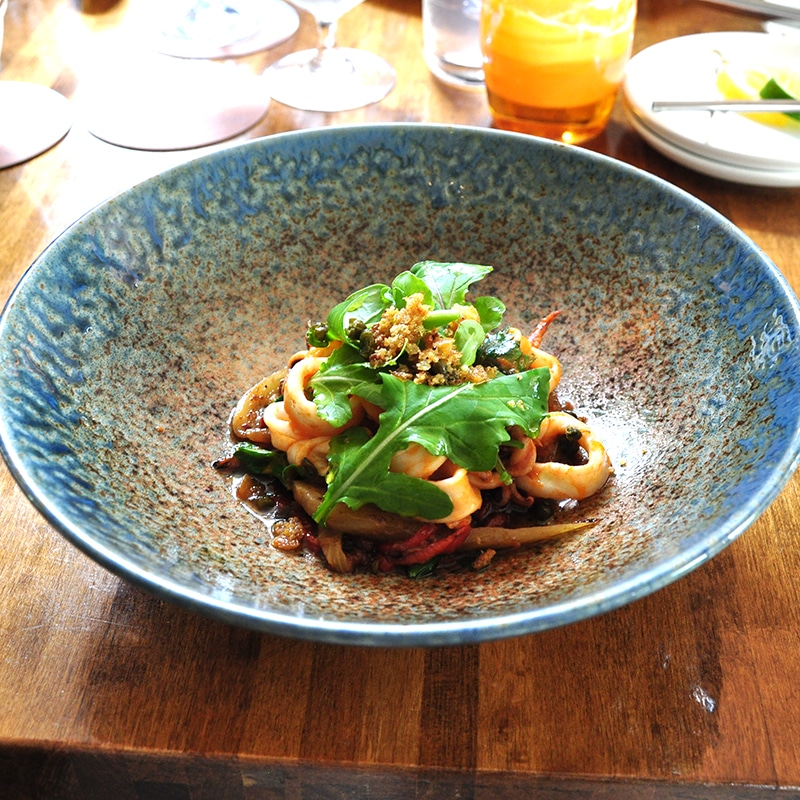 We love being surprised by our favorite foods, and the Rhode Island Calamari "Puttanesca" was the best surprise. Each of us was expecting the typical battered and fried version, but Dune does it differently. Tender, white squid is perfectly prepared in a sauce made rich beyond words with pancetta, braised fennel, and fermented tomato. Lemon caramelized vidalias and fried capers added just enough acid, while a sprinkle of migas on top provided a pleasant, airy crunch.
Saltbox Tavern and Table
16 Macy's Lane • 774-333-3814 • saltboxack.com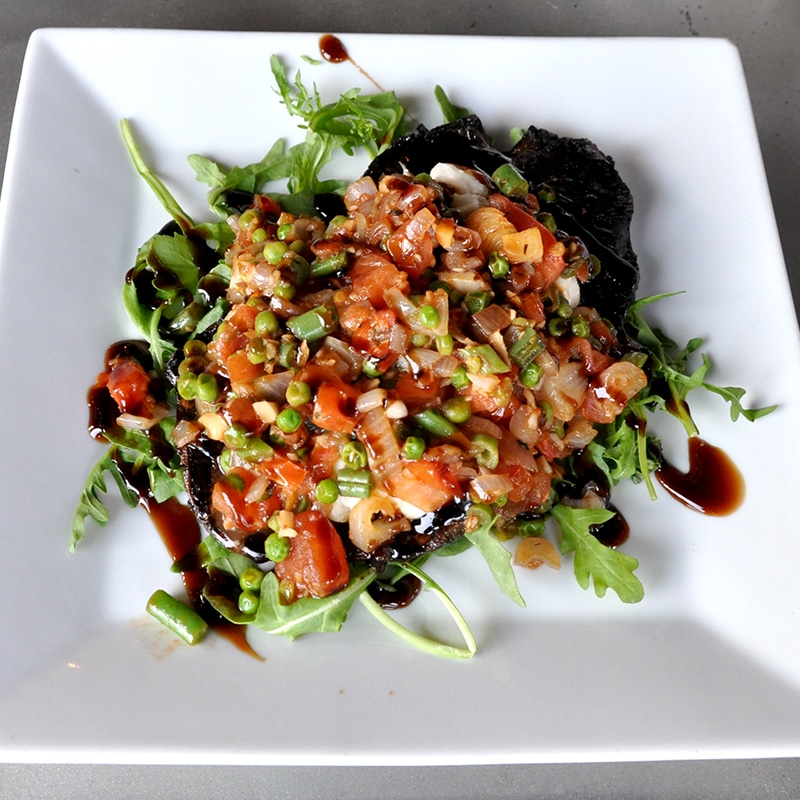 At Saltbox, we loved the cool, creamy contrast of goat cheese against the earthy Stuffed Portabella. The mushroom cap was piled high with arugula, tomatoes, onion, peas, and garlic packing plenty of flavor with no need for meat. We love being surprised by vegetarian options, and this are one we'd come back for.
The Ship's Inn
13 Fair Street • 508-228-0040 • shipsinnnantucket.com
There was no disagreement among us about the Boneless Beef Short Ribs being the star of the show at Ship's Inn. Tender beyond words and topped with crispy fried onion, this heartiest of meals shares the plate with a mild horseradish spaetzle. And don't underestimate the power of a garnish, because the aroma from the sprig of fresh rosemary added the perfect touch.
TOPPER'S
at The Wauwinet
120 Wauwinet Road • 508-228-8768 • wauwinet.com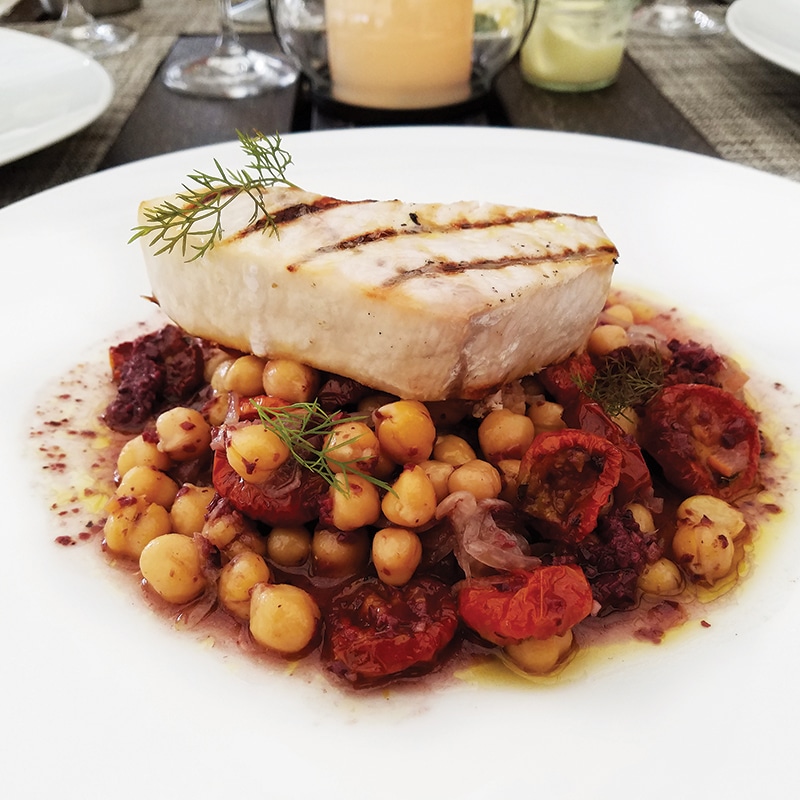 We were glad we went with another one of Chef Zachary's suggestions at TOPPER'S, because the Grilled Block Island Swordfish was one succulent steak. The gorgeous grill marks sat proudly atop sweet roasted tomatoes, creamy chickpeas, and pickled fennel. Acidity was provided by preserved lemon and an olive vinaigrette tied it all together.
Black-Eyed Susan's
10 India Street • 508-325-0308 • black-eyedsusans.com
Grilled Wester Ross Salmon entree is named for the salmon farm in Scotland where they hand-feed the fish and use only the best organic aquaculture practices. Firm and delicious, the filet was perfectly cooked: crisped top and bottom and rare in the center. A smoked green chili sauce added deep flavor with just the right amount of spice, and we loved the squiggle of sweet corn crema served overtop. Even the cumin-scented fried yucca cubes deserved high praise in this dish of Southwestern flair.
Company of the Cauldron
5 India Street • CompanyoftheCauldron.com • 508-228-4016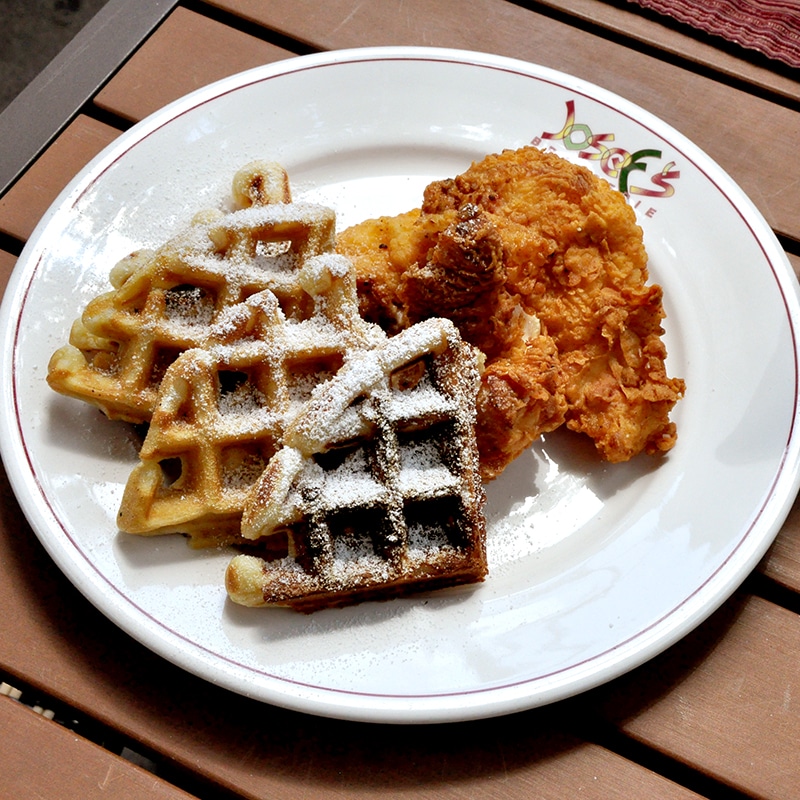 It takes more than three days to make our favorite Buttermilk Fried Chicken with Belgium Waffles. After brining for half a week, the meat takes on a fresher edge with a lift from lemongrass. It's juicy beyond words with a golden crunchy crust to match the sugar-dusted waffles, and warm maple syrup ties the two together. Keller added a second dinner seating on Wednesday evenings (Buttermilk Fried Chicken Night) to meet demand, so try it while you can.
Sophie T's Pizza
7 Dave Street • 508-325-6265 • sophietspizza.com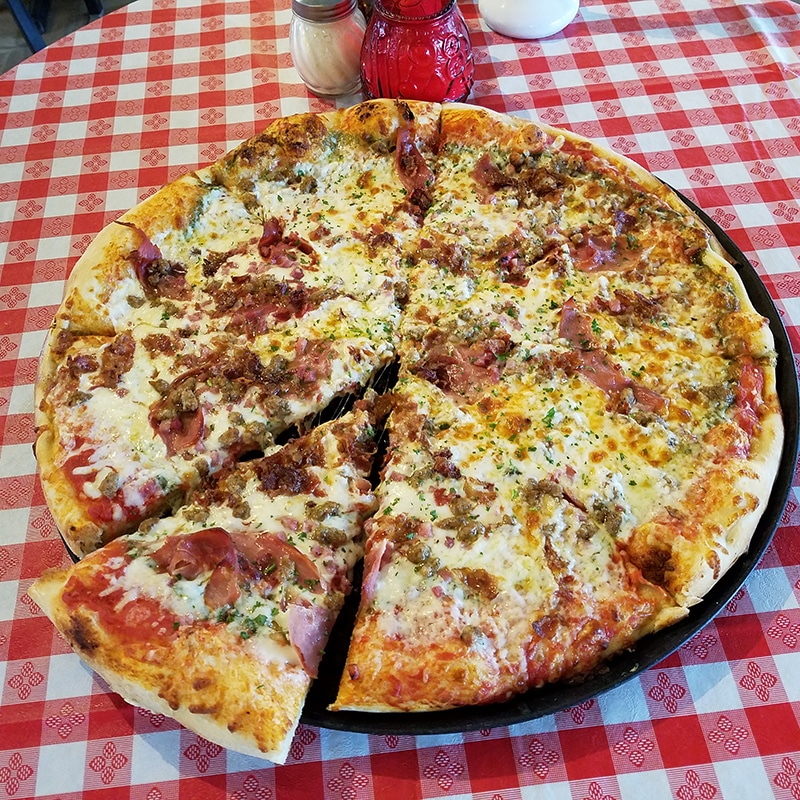 We recommend the Pig Vicious Pizza, its thick layer of cheese studded with savory roasted garlic and sage along with an impressive amount of prosciutto, diced ham, crumbled sweet Italian sausage, and bacon. The aroma turned heads as this meat-lover's delight was brought to our table.
Easy Street Cantina
Corner of Easy & Broad Streets • 508-228-5418 • easystreetcantina.com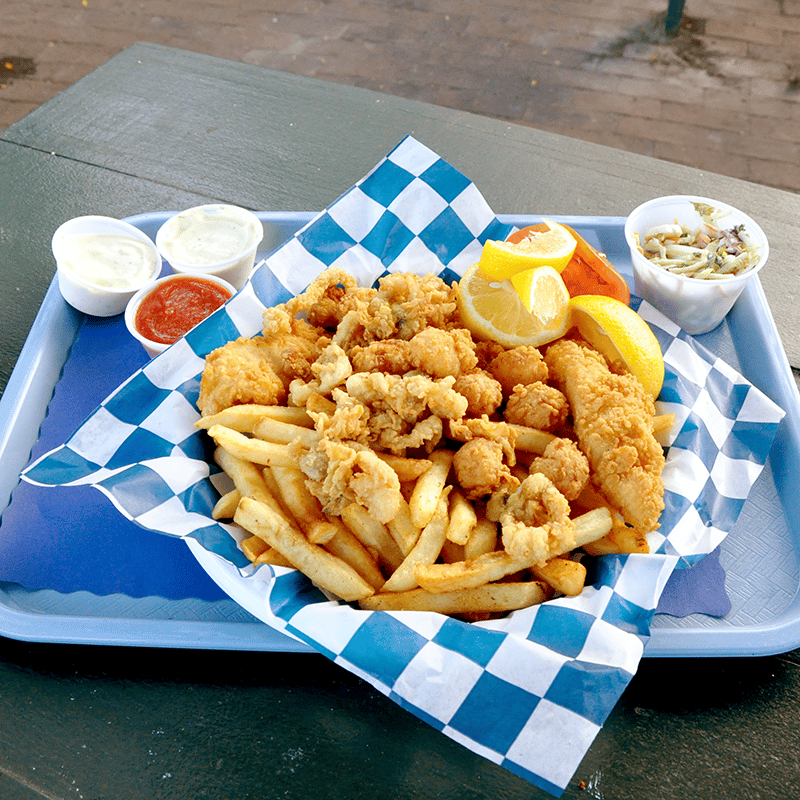 The fan favorite Fisherman's Platter is a seaside spectacle that feeds a few. It's piled high with fresh fried scallops, shrimp, whole clams, thick-cut cod, and french fries. Every component is cooked to perfection, and it comes complete with plenty of tartar and cocktail sauces plus a side of slaw that is a unique mixture of lightly dressed and shredded carrots, cabbage, brussels sprouts, and kale.
The Beet
9 South Water Street • thebeetnantucket.com • 508-680-1857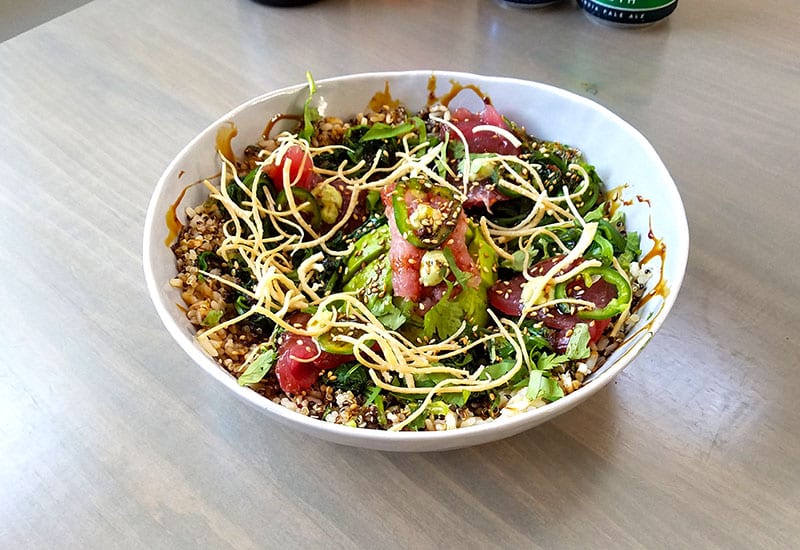 Poke is growing in popularity, and for good reason. The dish centers on raw seafood, usually tuna or salmon, combined with rice or other grain, vegetables, sauces, and seasonings. They are versatile and crowd pleasing, but the best one we've had was The Hokey Pokey at The Beet. Ruby red sesame ahi tuna mingles with al dente brown rice and quinoa, creamy avocado, jalapeño and a sweet soy ginger + basil aioli. Crispy wontons add to the fun and every bite is something new.
Fifty-Six Union
56 union Street • 508-228-6135 • fiftysixunion.com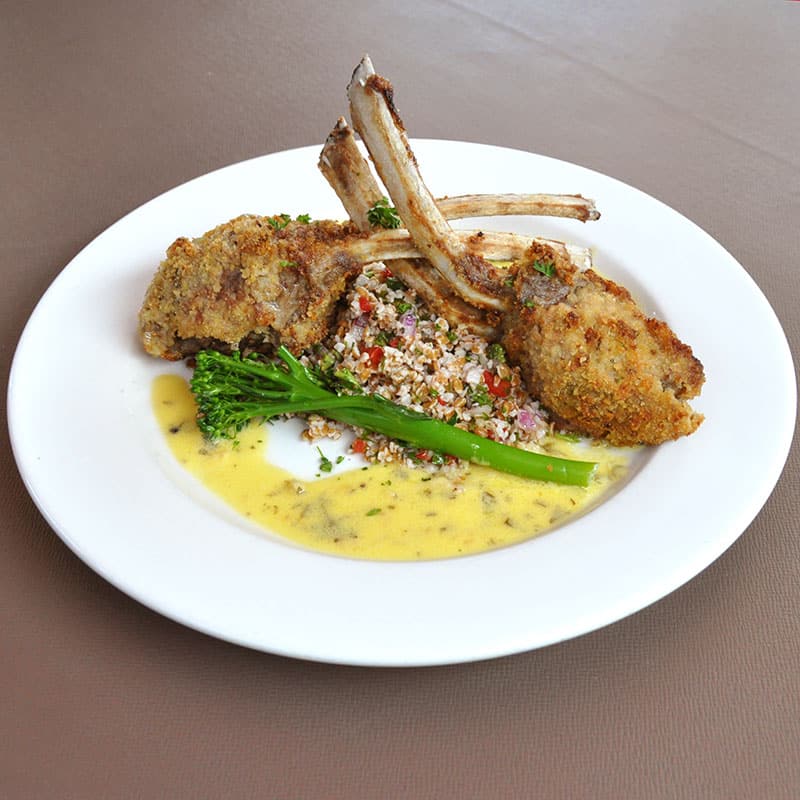 Our first choice at Fifty-Six was the Roasted 1/2 Rack of Colorado Lamb. Coated in a 3-mustard herbed panko crust and roasted to perfection, it's served with broccolini and perfectly complimentary minted tabouleh. So tender that knives were an afterthought, it's all meant to be mopped in an impossibly rich Bernaise. To tie it all together, Wendy thought we'd enjoy pairing it with a bottle of her own reserve of Papillon, an inky and aromatic Bordeaux blend from winemaker Orin Swift. The wine bursts with ripe red fruit and finishes delightfully dry. The two were truly a match made in culinary heaven.
Nantucket, no doubt, has more fantastic dining options on such a tiny island than anywhere else in the world. Though some of our Best Bites for 2019 are seasonal dishes and not served in October or November, we're confident these restaurants offer dishes equally good for Autumn.