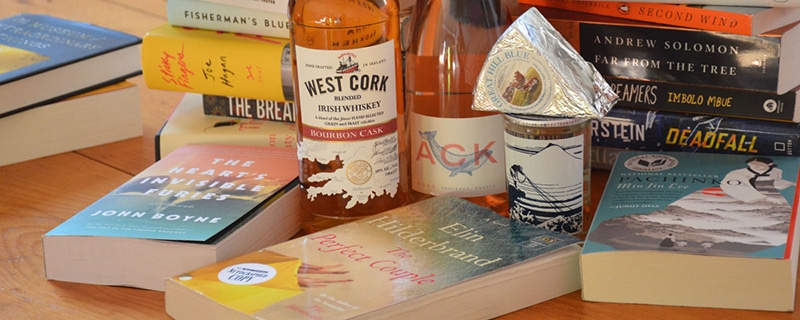 by Advanced Sommelier Jenny Benzie
June is the start of the season on our fare isle. Recent college grads and international students drive their bikes recklessly, trying to find their way as they arrive to this foreign destination for their new-found summer jobs. Bright red parking tickets begin popping up more often than a convenient parking space when you venture onto the cobblestones of downtown. Everywhere you turn on weekends, you are likely to see a beautiful blushing bride, followed closely by the entourage of her giggly bridal party in tow. While some of these sights may be more welcome than others, they also mean that warm, sunny beach days are finally just around the corner.
Nantucket Book Festival is a much anticipated June event that brings dozens of writers to our fair isle. Here is a short list featuring a few of these literary luminaries with recent works and a luscious libation (or savory snack) that will go hand-in-hand with your new favorite summer beach read.
TOASTING THE PERFECT COUPLE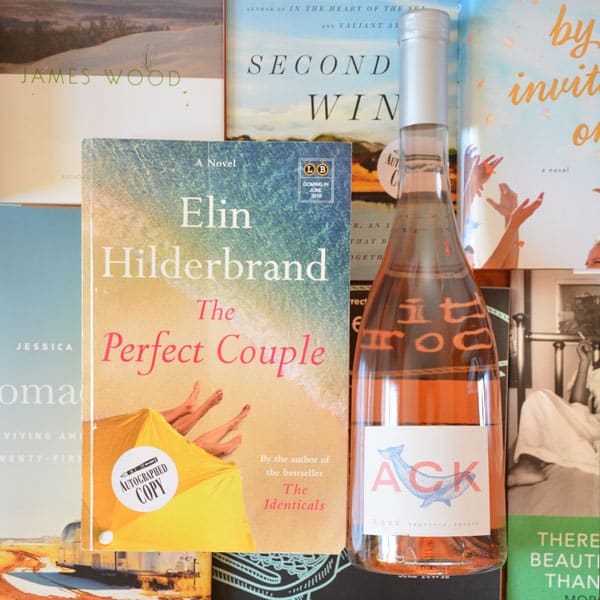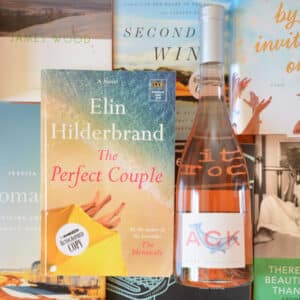 Having written 12 published books about Nantucket (and rumor has it she is working on a series of books from our other favorite island, St. John in the US Virgin Islands), author and local resident Elin Hilderbrand has done it again. Her latest book, THE PERFECT COUPLE, is a fictional take about a socialite wedding of season interrupted. Just hours before the ceremony, a body is found in Nantucket Harbor, and everyone in the wedding party is considered a suspect, including the bride and groom. The Chief of Police in his investigation discovers that every wedding is a minefield and no couple is perfect. The Queen of Summer Beach Reads has done it again in this pageturner that includes a cast of characters from some of her most popular previous writings.
While you are anxiously reading to find out who done it, you should most definitely be holding a thirst-quenching glass of rosé to deal with the suspense. Keeping with the Nantucket theme here, ACK Rosé is also a new hit on the shelves of local wine stores this summer. This delightful, pale pink color wine is made in Côtes de Provence. It is a traditional Provençal style from a blend of mostly Grenache with a touch of Syrah. Soft raspberry on the nose, dry on the palate and a lingering, fresh finish, it is a perfect wine for the beach or as a hostess gift for any soirée after a day on the sand. Not only is this wine crisp and refreshing, $1 for every bottle sold is donated to the Nantucket Boys & Girls Club. This wine should be a summer staple in your fridge as it not only tastes good, but also does good for the Nantucket community.
THE LEGACY OF FISHERMEN

Nantucket as a small town and seaside fishing village could be the opening scene of Min Jin Lee's book PACHINKO. The story is a saga of four generations of a family fighting to control their own destiny. It begins in the early 20th century, when the main character Sunja falls for a wealthy stranger near her home. When she discovers that she has become pregnant and that her lover is married, she chooses to go in a different direction than expected. This decision unfolds for several generations in this story of love, sacrifice, ambition, and loyalty and is based in the universities and pachinko parlors of Japan. Who doesn't love some family drama, especially when it is not your own?
This book will be best enjoyed with a taste of artisanal Japanese Sake, a wine made from fermenting rice instead of grapes. Shunnoten Tokubetsu Junmai "Fishermen Cup" is described as ricey, semi-dry, smooth and drinkable. There is some texture and body to the wine, giving it a nice chewy mouthfeel, yet extremely smooth on the palate. Hints of anise and minerality on the finish will make you feel as if you are by the ocean no matter where you are sipping this sake. It is also quite the "catch" as a single serve offering in the decorative glass jar for easy sipping on the sidewalk and reusable in your kitchen cabinet or as a decorative piece in your household décor.
A TOAST TO THE IRISH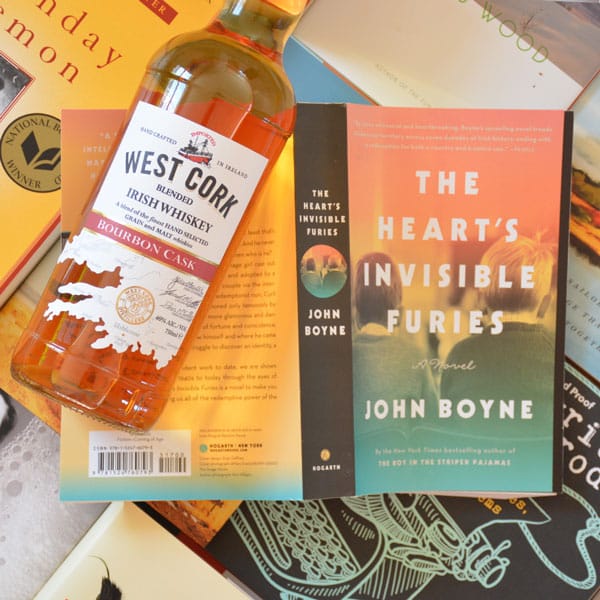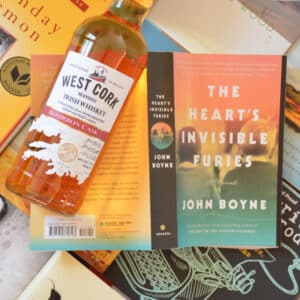 Learn a bit about the truth of Irish history and preconceived notions in this fictional account of a gay man's life from beginning to end in post-war Ireland. THE HEART'S INVISIBLE FURIES by John Boyne is a riveting story of Cyril, born out of wedlock to a teenage girl banished from her rural village and adopted by a wealthy, yet eccentric, family in Dublin. The continued tragedies that ensue in this one man's life are traversed with the sweetness of compassion, love, and, ultimately, truth to oneself and those he cares about most. You will laugh, cry and feel many other emotions in between with the story of Cyril's life and how it came full circle for him in the end.
While the book takes you to many neighborhood pubs of Dublin and beyond, this story needs a much stronger dram as you read the ups and downs of Cyril's life. West Cork Distillery Bourbon Cask Irish Whiskey is the perfect pairing as this book begins in West Cork as well! Founded by three life-long friends of the region, the distillery at West Cork is the most southerly located distillery on the Atlantic Archipelago, which provides a unique meso-thermal microclimate for which the area is famous and also ideal for the maturation of Irish whiskey. This particular bottling contains 75% grain Irish whiskey and 25% malt Irish whiskey. It is patiently matured in first fill bourbon basks, delivering a smooth, subtle taste of malt, slight oak, a lingering citrus sweetness and a spicy finish of nutmeg and black pepper.
HOMEGROWN HOMECOMING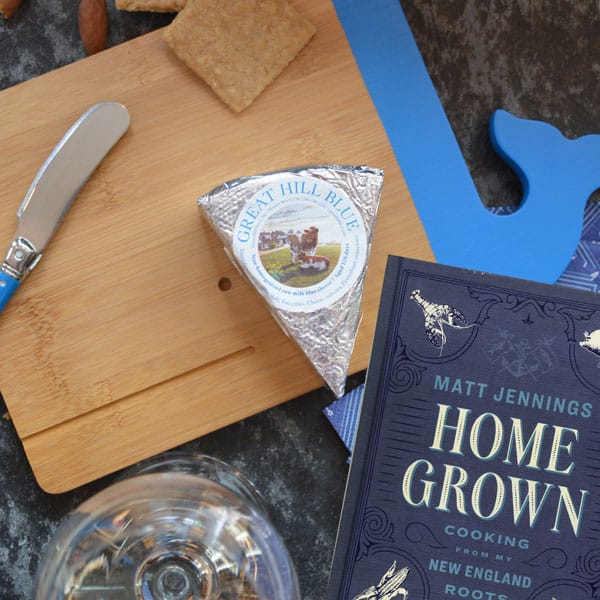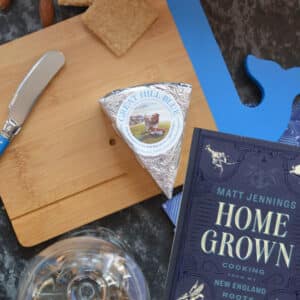 Chef Matt Jennings is no stranger to the kitchens of Nantucket. His first taste of working in the industry began as a prep cook and dishwasher here one fateful summer more than twenty years ago. After graduating from New England Culinary Institute and continuing to hone his craft on Nantucket, this is where he began to focus on incorporating local, seasonally driven foods into all aspects of his menu. Taking a break from the grueling work of being a chef, Matt turned his focused on expanding his knowledge about local farmers and artisan producers who made the food he was working with. This led him to the next phase of his career, working with the production of and selling cheese in California. Back in the restaurant game in Boston, he has recently penned his first cookbook, HOMEGROWN: COOKING FROM MY NEW ENGLAND ROOTS, filled with recipes that include a modern spin on New England classics and unexpected uses of traditional northern ingredients.
Switching it up a bit, this book deserves a cheese pairing that similarly pays homage to Chef Jennings and his quest to eat and serve real food from the land. Great Hill Dairy Blue Cheese hails from the shores of Buzzard's Bay in Marion, MA, 50 miles south of Boston. This dairy is known for the one cheese, and one cheese beauty only, that they make from the non-homogenized raw milk of their herd of Guernsey cows—the first in the country to so. This blue cheese is internally ripened, making it slightly more dense and less pungent, crumbly, or salty as some blues can be. Perfect on a sea salt cracker or delicious grass fed filet, this smoothness of this cheese will melt on your palate and the taste will linger long after you have finished your bite.
Be sure to keep it local and look for these books at Mitchell's Book Corner on Main or Bookworks on Centre Street. Perhaps you will make your own local pairings, like a splendid summer salad from Bartlett's Farm fresh produce. No matter what you are sipping (or savoring) while on the beaches of Nantucket, remember to keep it clean and continue to strive to live a sustainable life for future generations.