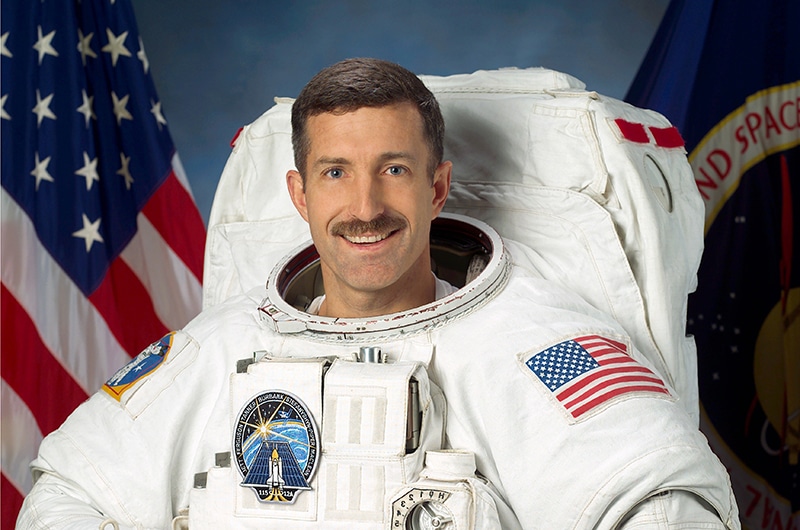 NASA Astronaut Daniel Burbank will be a special guest at the Nantucket Red-Tie Soirée on Sunday, July 10 from 7 to 10 pm at the Sankaty Head Golf Club, a fundraiser for Maria Mitchell Association (MMA). Astronaut Burbank will speak with guests about NASA and his experiences living and working on the International Space Station. He will be joined by this year's MMA astronomy interns who are taking part in the National Science Foundation's Research Experience for Undergraduates (REU). The MMA has hosted astronomy interns for more than six decades. The MMA will also have telescopes on hand for guests to observe the night sky.
"We are all very excited to have Astronaut Daniel Burbank join us for this special evening. I know our guests will be enthralled with the opportunity to meet an astronaut and to learn about NASA and the future of space exploration. His visit will help to excite a new generation of scientists ready to carry the torch of exploration forward," says Dave Gagnon, Executive Director of the Maria Mitchell Association.
Selected by NASA in April 1996, Burbank reported to the Johnson Space Center in August of that year. He worked technical assignments in the Astronaut Office Operations Planning branch and International Space Station branch. He also was a Capsule Communicator (CAPCOM) in Mission Control for both space shuttle and station missions, as well as a member of the Space Shuttle Cockpit Avionics Upgrade design team. From January 2007 to December 2009, Burbank served as a Professor of Engineering at the U.S. Coast Guard Academy, where he taught Astronomy, Aerodynamics and Statics, and Engineering Design.
Burbank was a Mission Specialist on Space Shuttle missions STS-106 and STS-115, served as Flight Engineer on International Space Station Expedition 29, and as Commander of Expedition 30. He has logged 188 days in space and 7 hours and 11 minutes of spacewalk time.
Burbank has received numerous awards from NASA including the Distinguished Service Medal and the Exceptional Service Medal. He also received three medals for each of his space flights.
Before joining NASA, Burbank received a commission from the U.S. Coast Guard Academy in 1985. He was assigned to the Coast Guard Cutter Gallatin (WHEC-721) as Deck Watch Officer and Law Enforcement/Boarding Officer.
After attending naval flight training in Pensacola, Florida, he was assigned to Coast Guard Air Station Elizabeth City, North Carolina, where he became an Aircraft Commander in the HH-3F Pelican and then Aircraft Commander/Instructor Pilot in the HH-60J Jayhawk. In July 1992, Burbank was assigned to Coast Guard Air Station Cape Cod, Massachusetts, as Rotary Wing Engineering Officer and HH-60J Aircraft Commander/Instructor Pilot.
In May 1995, he was assigned to Coast Guard Air Station Sitka, Alaska, as the Aeronautical Engineering Officer and HH-60J Aircraft Commander. Burbank has logged more than 4,000 flight hours, primarily in Coast Guard helicopters, and flown more than 2,000 missions, including more than 300 search and rescue missions.
For details about NASA Astronaut Daniel Burbank's visit or to purchase tickets to the Maria Mitchell Association's Red Tie Soiree, call 508-228-9198.