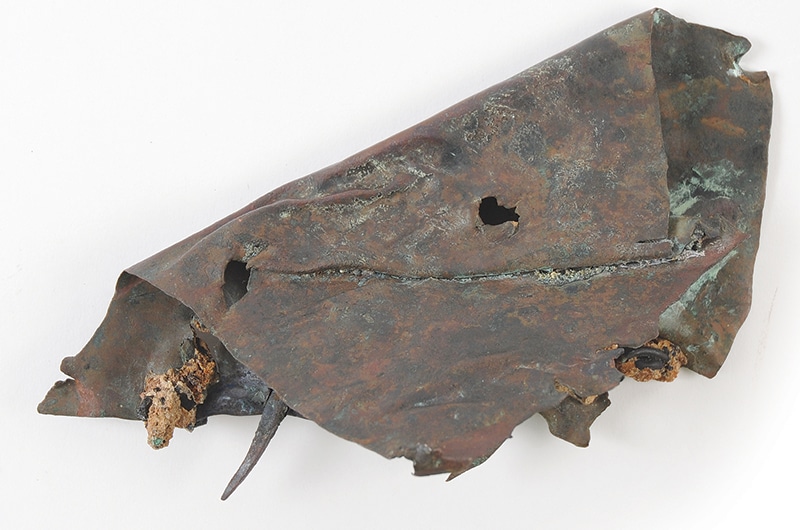 The Nantucket Historical Association (NHA) is pleased to announce that it is the recipient of a generous gift from Glynn Christian, a direct descendent and biographer of Fletcher Christian, the leader of the 1789 mutiny on the British Royal Navy vessel Bounty. The artifact is a piece of copper hull sheathing from the wreck, brought up from the waters of Bounty Bay at Pitcairn Island, a volcanic island in the southern Pacific. It was given to Mr. Christian in 1980 during a research visit to the island and gifted to the NHA at a recent lecture by Mr. Christian at the Whaling Museum on June 27, 2016.
The wood hull of the Bounty was covered in copper below the waterline to protect it from shipworms. The sheathing was fastened in place with copper nails, two of which remain attached to this piece. His Majesty's Armed Vessel Bounty sailed to the Pacific in 1787 to collect breadfruit plants for transplant to British plantations in the Caribbean. Part of the crew (led by Fletcher Christian) mutinied in April 1789, setting Captain William Bligh and his supporters adrift in the ship's boat. While Bligh navigated the boat more than 3,500 nautical miles to safety in one of history's greatest open-boat journeys, Christian and the mutineers sailed to Tahiti and later to remote and inhospitable Pitcairn Island, where they burned the ship and disappeared until they were discovered in 1808 by Captain Mayhew Folger of Nantucket aboard the ship Topaz.
Captain Folger brought back to Nantucket a Chinese export porcelain bowl owned by one of Bounty's officers, which was given to him by the islanders during his visit, now in the NHA collection. The NHA also holds a tea caddy from the Bounty, taken from the island in March 1851 by Captain George B. Folger or one of his crew on the Nantucket whaler Peruvian, as well as a wood box made in 1850 by Arthur Quintal, the first child born on Pitcairn Island after the mutineers settled there.
Guns from the Bounty wreck were recovered in the nineteenth century, and the anchor was recovered in 1957. Nails, cannonballs, sheathing, and other items have been recovered over time by the islanders and as part of archeological work. For many years, residents of Pitcairn Island gave away small items from the wreck to visitors, although this is generally no longer done.
"Nantucket plays a small but key part in the story of the mutiny on the Bounty," says Michael R. Harrison, NHA Robyn & John Davis Chief Curator. "Mr. Christian's highly personal gift helps the Nantucket Historical Association unlock that story even further for the people of Nantucket."
The artifact is a joint gift to the NHA from Glynn Christian and Tophal Russo.