The Nantucket Dreamland Foundation brings fun for the whole family to their main stage this week and next, when Annie Kids opens this Friday, March 11.
The performance features 70 talented and enthusiastic Nantucket children ages 6-14.  Two (2) full casts are participating so that every child interested can be on stage.
Annie Kids features everyone's favorite little redhead in her very first adventure. With equal measures of pluck and positivity, little orphan Annie (Charlie Cirillo/ Aille Sweeney) charms everyone's heart, despite a next-to-nothing start in 1930s New York City. Annie is determined to find her parents who abandoned her years ago on the doorstep of an orphanage run by the cruel Miss Hannigan (Phaedra Plank/ Lilly Whelden). Annie eventually foils Miss Hannigan's evil machinations, finding a new home and family with billionaire Oliver Warbucks (Chelsea Remick ), his personal secretary Grace Farrell (Renny Waddell/ Maggie Evens), and a lovable mutt named Sandy (Katrina Hancock/ Lily Walker).
The Dreamland's cast for Annie Kids is made up entirely of island children. They are co-directed by The Dreamland's Director of Educations Programming Tiffany Gallo and resident Theater Educator and artist Jessica Jensen, with production management by Jordana Fleischut. The show is choreographed by Jessica Jensen with musical direction by Greta Feeney, costumes by Karen Wheeler, and props by Janet Schachtel.
Joe Hale, the executive director of the Nantucket Dreamland Foundation, remarked, "We are thrilled Annie Kids has received grants from the Nantucket Cultural Council and the Nantucket Golf Club Foundation, as well as support from Great Point Properties, NIXS Brew Pub, and other members of the community who encourage the Dreamland's efforts to provide educational theater programming to the island's youth. For those of us who choose to live on Nantucket year-round and are committed to a thriving downtown, we realize the importance of supporting efforts that engage and create community. We look forward to seeing everyone in the main theater to cheer on our island kids in Annie Kids."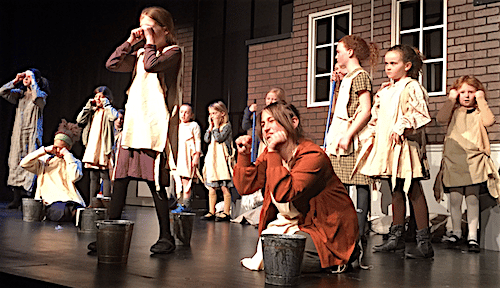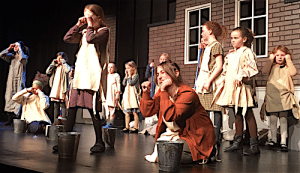 Performances are scheduled for 5:30pm on March 11 and 12, 18 and 19, and at 2pm on March 12 and 13, 19 and 20 on the Main Stage of The Dreamland, 17 South Water Street.  Tickets are $12 with reserved seating, so don't wait to reserve a spot.  Tickets are sold at The Dreamland box office and on The Dreamland website.  One dollar from every ticket sold goes to support The Dreamland Children's Theatre Education programs.