by Suzanne Daub
For more than 25 years, artist Kathleen A. Duncombe has devoted her time and energy to introducing the work of many Nantucket artists and craftspeople to island residents and visitors at her downtown gallery, Made on Nantucket. This season, she has moved into a larger space, refurbished and freshly painted in her signature red, with more room to display the art. "Foremost, this is a gallery…I have gifts but the primary focus is art."
Made on Nantucket is still located on Old South Wharf that has long been known an enclave of galleries and small shops: visitors love to stroll along the wide shell walkway, investigating the (mostly) independent shops. Duncombe's Made on Nantucket, with her varied offering of art and craft is a destination you should be sure to put on your list!
I found her last week at a small table outside her gallery, concentrating hard as she worked on her latest custom embroidery project. "This is for a woman from New York," Kathleen explained, "her brother died in 9/11, and she asked me to include on this jacket his initials and 9/11."
Hand-embroidered denim is just one of Duncombe's many expressions of creativity. In the midst of running Made on Nantucket as the summer season comes to a close, this island artist is finally finding time to work on her own art: jewelry and monoprints.
Many collectors remember Duncombe's beautiful bangles, rings, and earrings, done with the lost-wax casting method in sterling silver and gold, a process she used to teach here on Nantucket. A few may even remember the unique Nantucket Totems that she created years ago while spending time with her critically ill father: "I was being his companion, and I felt moved to make these…he'd ask 'darling, what are you doing,' and I'd show him each piece. He was always very supportive of me, and he was a part of the process [designing the totems], so these are very special to me."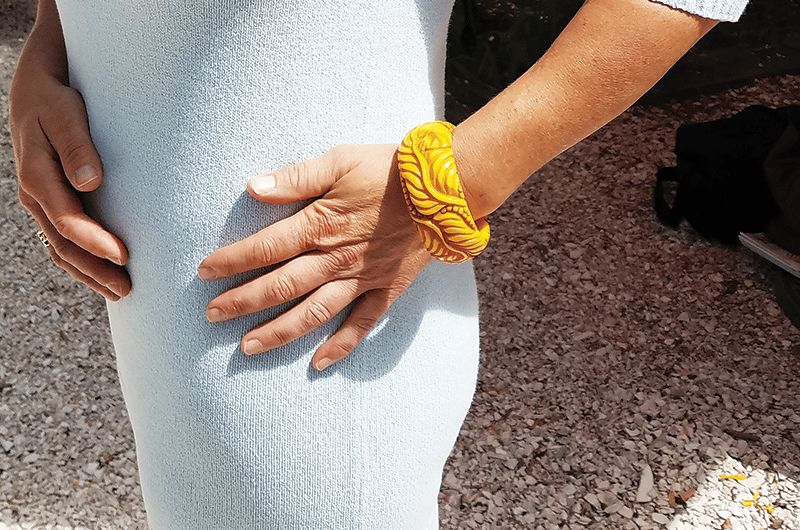 In addition to returning to jewelry making, Duncombe is looking forward to again making monoprints for her gallery. Where her jewelry is "extremely specific and controlled," creating monoprints is "looser and abstract," she explained. Beautifully fluid, her monoprints are unlike most others. Done in color with oil-based paints and a special acrylic metallic overlay, her abstracts have a glowing transparency. "They are difficult to name," Kathleen said as she showed me one entitled Ascension at Tulum, "because different people see different things in the abstracts."
Throughout our conversation, a steady flow of visitors stopped by Made on Nantucket to see the variety of island-made art and craft inside. Several people asked specifically about her collections of Bakelite, and one customer explained the appeal: "It's unique: they don't make it anymore…there's a history behind it. You're wearing art!"
Well-known to collectors, there's been a resurgence of interest in Bakelite. Some of the unusual vintage pieces can sell for several hundred to several thousand dollars. "There is a couple who comes in every summer: he buys Bakelite barware and kitchenware, and she buys jewelry…There are lots of variations," Duncombe described, "some are carved; some are plain; there are pieces that are laminated, lathed, and some are reverse carved and painted…they're phenomenal! The type of Bakelite I carry—extraordinary pieces that are rare—is getting hard to find…when I get new pieces, I call my serious collectors."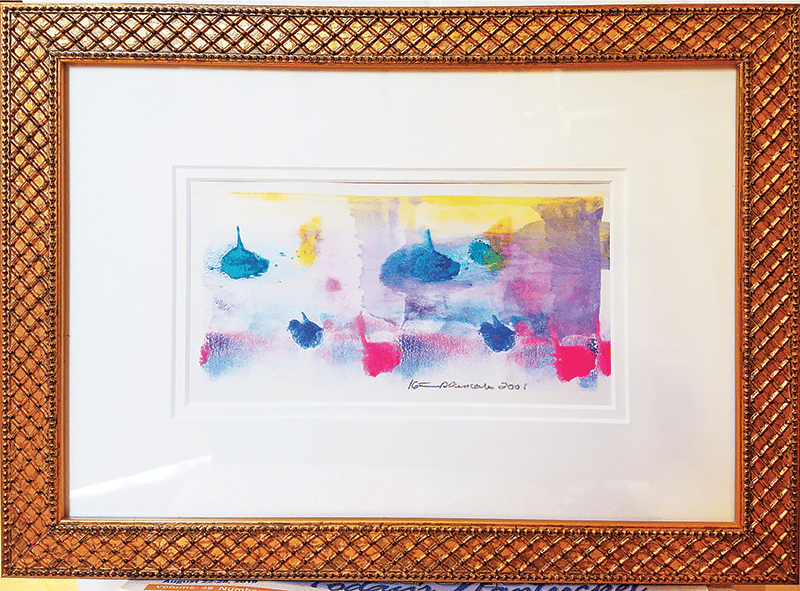 As with the Bakelite, Kathleen carefully selects every item she sells: original oils, serigraphs, offset lithography, new cellography, handcrafted jewelry, leather pochettes, colorful slump glass plaques—most sold exclusively at Made on Nantucket—alongside a selection of handwoven items by Karin Sheppard of Island Weaves, some Native American jewelry, and the largest array of Bakelite on the east coast.
"Almost everything here is made on Nantucket, except the Bakelite and the Native American jewelry," Kathleen explained. More than 20 Nantucket artists and craftspeople are represented in her gallery, plus pre-owned Nantucket art, works that can be hard to find by Bill Dickson, Donn Russell, and other great island artists who no longer with us.
For those who keep stopping by to purchase the Made on Nantucket original Christmas ornament: we are sworn to secrecy about the 2019 design, but keep stopping by or call, it will be ready soon!
As much as she loves introducing people to the talented artists she represents and will continue to do so, she is excited about spending more time on her own work, saying "art is really important to me."
Made on Nantucket
20 Old South Wharf, 508-228-0110