After a winter that seemed colder and longer and darker than any we had experienced in a decade, Nantucket's celebration of spring this week promises to be particularly joyful. One of our favorite traditions for welcoming the change of season is a visit to American Seasons.
There's a comforting, homey feel to this neighborhood eatery that envelopes us from the moment we step under the arbor onto their sheltered, candlelit patio. It's just a little too chilly yet for a seat here, though during the summer months these are prized tables. As we walk through the bar to the main dining room, there are cheery smiles and warm greetings all around. Staff at American Seasons has changed little over the years: they're professional yet welcoming. Dining here is like spending time with friends.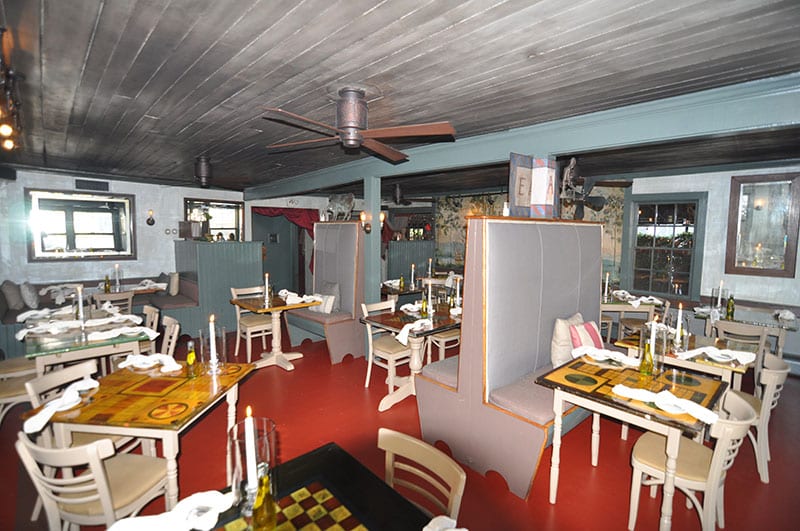 Chef/owner Michael LaScola cooked at American Seasons for 12 years before he and his wife and general manager Orla Murphy-LaScola purchased the restaurant in 2004. During the past decade the LaScolas have refined the concept and made it their own. Orla is an impressive sommelier: her wine list is culled from some of the best American-produced wines across the country, including many hard-to-find bottles, and her selection of spirits is impressive, particularly in the realm of whiskey, with more than two dozen single malts, bourbons, single barrel, and rye.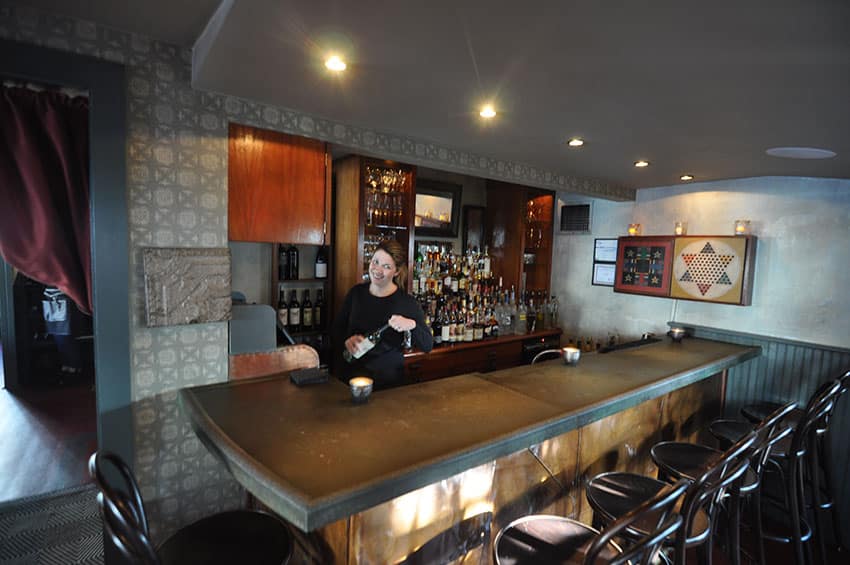 Many of American Seasons' patrons (and there are many of those) have a favorite spot in the dining room…one of the the tall-backed booths, the "backgammon table," or the back corner with a full view of the room. When we're not dining at the bar (the perfect spot for a casual meal of bar plates and a cocktail or two),we love the front table by the window. No matter where you're seated you'll have a good view of the unique mix of art, antiques, and quirky touches that comprise this restaurant's decor of country elegance.
click on images for larger view

Be very careful when dining at American Seasons: there are half a dozen ways to spoil your appetite here. A big cone full of crunchy Pig Ear Fries with chili, lime, and cilantro, Cracklin's that were still crackling when brought to table, and the savory Fried Sourdough with creme fraiche, dill, and trout roe are just three of them. Then there are the slices of freshly baked baguette (sourdough, pretzel, or something else entirely) and focaccia (often herb or onion or parmesan) that is your first taste of the talents of pastry chef Cristina Vallardi.

We know to practice restraint (even if we don't always succeed) because Chef Michael LaScola's cuisine is designed so that everything on the plate adds to and enhances everything else. Here you want to be an enthusiastic member of the "clean plate club." Another thing we love about Chef LaScola is his adventurous spirit: every time we dine here, there is an ingredient or a preparation or a combination that we have never tasted (and we are no strangers to dining out!). And we will happily devour Tête de Porc or Cotechino or Pea Porridge or Foie Gras Creme Brulee because we know that whatever it is, in this chef's talented hands, it is going to be tasty. This is the only restaurant on Nantucket where a dear friend (a trained chef himself) once told our waitress to just "bring whatever." Chef LaScola is that good.

The opening menu at American Seasons always seems to us to celebrate spring while remaining mindful that it's not yet summer. Fresh early produce—asparagus, peas, ramps, greens— are in abundance with bright flavors and colors, but the rich comfort of smoked foods, confit, pork belly, and the like still make an appearance.

We started our meal last week with two pairings of land and sea, a classic combination with ingredients anything but classic. Kim-Chee Pancakes have just enough heat to accent the succulent and slightly smoky shrimp that are propped up by a thick slice of sweet-and-smoky barbecue pork belly. A drizzle of sesame dressing and a sprinkle of sesame seeds emphasize the Asian accents.

Seared Day Boat Scallop appetizer is one we've had at American Seasons in a number of versions. This spring, Chef LaScola is nestling the large seared scallop next to a patty of housemade cotechino sausage. The crispness of the fried patty with the moist sea scallop is a delicious contrast, and a smear of spring pea puree, slices of radish and pickled kumquat, and a drizzle of browned butter add the mellow-tangy-sweet-hot sensations that are a hallmark of LaScola's culinary combinations.

Too tempting to resist was the evening's special appetizer. Spring on a plate, this included an asparagus terrine with citrus creme fraiche and spirals of fried spring onion, cured salmon belly, cubes of pink early beets, radish, grilled ramp, a few sprigs of thistle, and the surprise of a tempura egg yolk that spread sunshine over the plate. I wish we could eat every season like this.

While both are tributes to springtime, our favorites among the appetizers are two very different dishes. The Rye Cavatelli in spring pea broth with English peas, fresh wild mushrooms, plenty of green garlic, bits of smoked almond, and crunchy crumbs of rye, warmed our bellies with more robust flavor than we've ever before enjoyed in a pasta dish. This went round the table twice, with the last taster looking for a spoon to finish the final drops.

The cold Rabbit & Foie Gras Terrine is a delightful combination of tender meat and creamy indulgence. Juicy wedges of blood orange brighten the savory terrine, and carrot confit, mustard seed, hazlenuts, radish sticks, and crisp pumpernickle crumbs add a kaleidoscope of color and a fun crunch. There are so many ways to approach this dish that there is new pleasure in every bite.

The meats served at American Seasons are from a small farm collective, grass fed, naturally raised, and distinctively flavorful.  The Pineland Farms Grilled Beef Rib is delectably marbled, tender, and served with deeply flavored accompaniments of smoked King Oyster mushrooms, sweet roasted leek, nutty fregola pasta, wilted greens, and tracings of bordelaise. Very satisfying!

This is the first time that we've seen chicken on one of Chef LaScola's menu and the first time we've tasted this humble bird in a LaScola preparation. We'd happily order this again and again. The Buttermilk Brined Chicken is moist and tender, served over greens and hearty yellow-eyed peas with a dollop of pimento cheese that softens in the heat and adds creamy flavor. Flaky little biscuits with hints of cheese are scattered overtop. Smoked chicken hocks and giblet gravy add another flavor spectrum.

We'd not seen Monkfish on a Nantucket menu in ages, and we're happy that the chef is bringing this meaty fish back to the fore. Served bone-in, the fish is moist enough to have been braised, but with a crisped skin. It's served on a porridge of spring peas with hand-shaped tortellini stuffed with a tasty pancetta filling. The final nod to spring are a carrot, an asparagus spring, and strips of lemon zest for a bright zing.

Table favorite this trip to American Seasons was the Faroe Island Salmon. Moist and buttery smooth fish under wonderfully crisp skin, the salmon is served on a fondant of smoked potato that is the perfect compliment to the richness. Fuschia dots of red onion creme fraiche add flavor as brilliant as their color, and salmon roe adds a crown of salty pops.

  We were happy to discover that Cristina Vallardi, who took over as pastry chef, is still at American Seasons preparing creative desserts that are the perfect finale to Chef Michael LaScola's cuisine. Her Chocolate "Funk" is pure, chocolate bliss: a log of chocolate ganache divided with cocoa tiles and pistachio bark and a scoop of chocolate sorbet that will send you into ecstasy. We also enjoyed the ice cream sandwich made from
 Speculoos Cookie and Coffee Ice Cream, a tasty mix of cinnamon, ginger, cloves, and coffee.

Best of all is Vallardi's grownup version of Banana Split, with coconut, chocolate, and malt ice creams, brownie bits, and spiced bourbon poached bananas.
Celebrate spring deliciously at American Seasons.
American Seasons
www.AmericanSeasons.com • 80 Centre Street • 508-228-7111
reservations recommended • casually elegant, comfortably relaxed
Dinner Menu and Bar Menu served from 5:30 p.m.
entree prices range from $27.50 to $36.00; Small Plates served at the bar
Expansive Wine list and Full Bar
Amex, Visa, MasterCard accepted • no children's menu
Indoor & Outdoor Patio Seating • open April – December