by Carl Oscar Olson
It can be easy, when you're 30 miles out to sea and surrounded by ocean, to take for granted the ability to swim. Many of us learn at a young age, and we simply lose sight of the fact that this life-saving skill is considered by many not a given, but a privilege.
A staggering 35% of Americans cannot swim, and more than half can't swim as well as they think they can. These numbers rise dramatically among minorities in the country. This means over 1/3 of the population is at risk of being among the 10 people in the country who die every day from drowning. In response to this, the United States Masters Swimming began an initiative, Adult Learn-To-Swim, to teach adults to learn to swim. ALTS has made it their mission to change this horrifying statistic.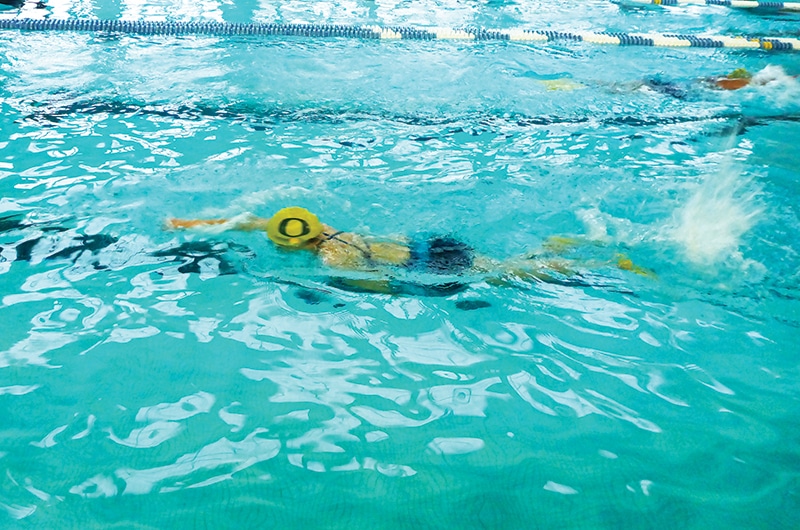 Four years ago, Jim Meehan and The Nantucket Community Pool brought the initiative to the island. He says simply, "We live surrounded by an ocean wilderness, and everyone should have the ability to explore safely our wonderful coastline and surrounding sea."
Jim received an outpouring of support from Jim Pignato at the Community Pool, who took an active role in supporting the program and providing precious time in the pool. The next step was finding the right people to get in the water. "We appealed to the swimming and triathlon community to support the effort," says Jim. The entire program is run on a volunteer basis, and teaching adults to swim is very labor intensive. "Non-swimming adults require a lot more attention and focus than kids. Kids are a lot more adaptable than adults who come with their own fears and life long habits that may need to be changed."
In other parts of the country, the class can be an impossible financial burden to many families. "Off-island classes generally go for between $400- 500," says Jim. Here on the island "the cost is only $75, and the students get goggles and a swim cap. It's a real bargain made possible by support of the Community School and the volunteers."
Nantucket ALTS now has a core group of 15 volunteer instructors who give up a month of their evenings to teach the class. "The class represents the best of Nantucket," he adds, "Islanders helping fellow islanders."
The first class was not quite a sell-out at 14 students, but word spread quickly, and since then room in the class disappears in a hurry. Nantucket ALTS has quickly become a success story. "We get about a 90% success rate in the first class. Our goal is to get everyone to comfortably swim 25 yards, float on their backs, tread water, jump into the deep end, and exit the pool without the use of ladder."
Classes start with simple drills and kick boards. Students swim to buoys and begin learning proper technique. Those learning to swim dictate the pace of the class, and instructors make a scary and challenging task fun and exciting. Most students graduate from the first class, but some do need to come back for another try.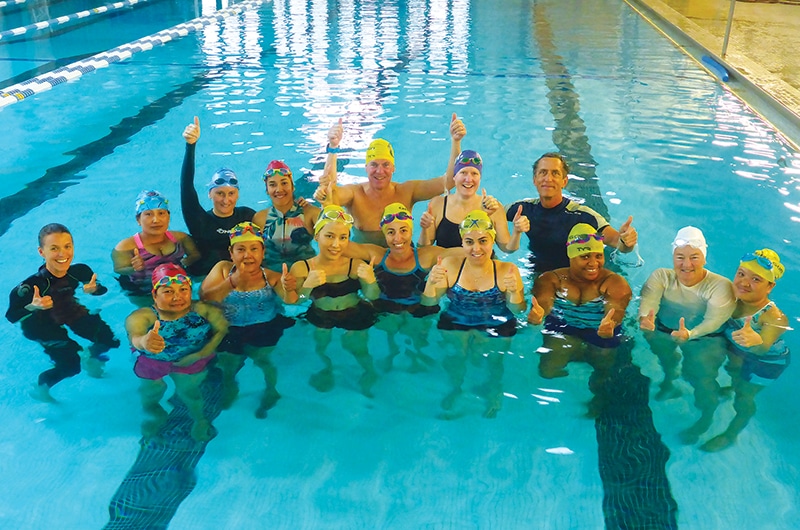 The program consists of eight classes on Tuesdays and Thursdays between 7 and 8 pm. The next class is scheduled to begin on September 25, and will run for four weeks. Jim expects another sell-out.
Part of the class includes use the Community Pool for the month without any additional charge. Jim urges students to come in use the facility. "The only way that swimmers get to the next level is to show up at the pool and practice what they learn. Those that do become pretty good swimmers."
Jim's favorite part of the program is graduation. "We invite the swimmers families to see the progress. At the end of the class we all jump into the deep end together and celebrate the students' accomplishments."
"It is the best volunteer work I have ever done, and we make lasting relationships at the same time. We are always looking for new volunteers who want to participate and share their love for the water with those who need our help."
For more information on classes and volunteering, visit the Nantucket Community School at nantucketcommunityschool.org