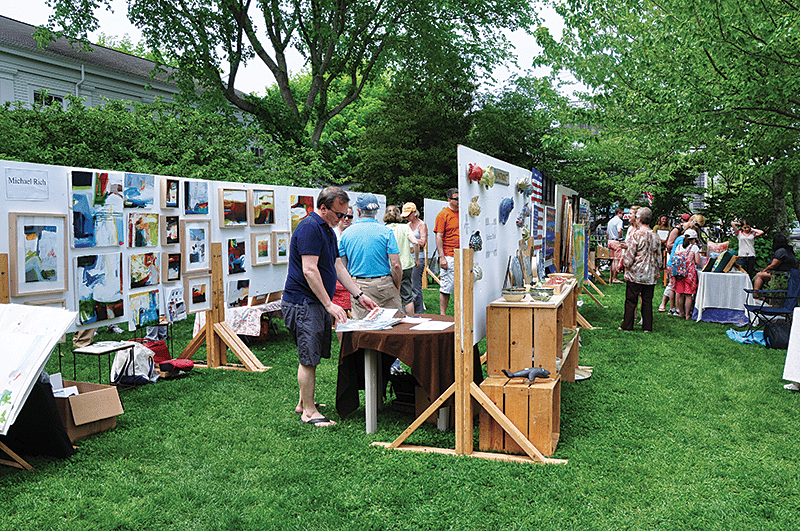 Freshly mowed grass, a boat-filled harbor, fragrant flowers, and colorful art – spring on Nantucket! The Artists Association of Nantucket (AAN) is pleased to invite the public to its first 2013 Sidewalk Art Show on Saturday, May 25, 10 a.m. to 4 p.m. in the garden of the Nantucket Atheneum, India Street. Over twenty of AAN's artist members will be available to discuss art and sell their works. The outdoor art show is free and open to the public.
Originally founded in 1930 by artist Maud Stumm, the Sidewalk Art Show has a long and colorful past.  Historically, the Sidewalk Art Show was held in August over the period of a few days, open to professionals and amateurs alike.  In following years, some of the Sidewalk Arts Shows were sponsored by the Chamber of Commerce, however AAN took the reins of the event in 1960 and featured works by the likes of Robert Perrin, Colonel Julian Yates and countless others. Of Yates, longtime AAN artist member George Thomas recalls, "People lined up waiting for him to arrive with his canvases, which were usually wet. They were snatched up immediately…"
Robert Frazier, AAN curator of exhibitions added, "Over the years, the Sidewalk Art Show venues included such locations as Straight Wharf and the old town building, however the present location in the garden of the Nantucket Atheneum seems to be a perennial favorite and rather appropriate for a spring event."
The Sidewalk Art Show is generously sponsored by Cape Cod Five and Frame Center.
To learn more about the AAN, visit the website at www.nantucketarts.org. For further information about 2013 programs and events, please call 508-228-0722.