Featured Restaurant: Brotherhood of Thieves
by C. Oscar Olson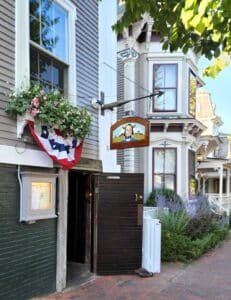 A lot has changed on Nantucket in the past few years, some for good and some for not. But we like to focus on the good. This is why we couldn't wait to take a seat at the all-new Brotherhood of Thieves revisualized restaurant.
Located in the heart of town on Broad Street, this island hotspot gets its name from the title of an 1844 pamphlet written on Nantucket by Stephen S. Foster. In in, he derides those who continued to support the institution of slavery while the idea of abolition was catching fire across the country. Nantucket has long been a diverse and welcoming community, and that spirit thrives at The Brotherhood.
The menu at Brotherhood has been overhauled in the best way. With loads of staples like satisfying sandwiches, burgers, and cool summer salads, sushi has also made its mark for 2022. The selection isn't intimidating and there is absolutely something for everyone of all ages at the table.
More than just the menu is new, there are two reimagined and unique spots to sit and sip this summer. The upstairs level is bright and refined and features dramatically different concept bars. On the one side you'll find The Cisco Surf Bar: easygoing and fun, enjoy your favorite local beer, cocktails, and sushi, along with live music 7 nights a week. On the other side, The Notch Whiskey Bar, is cozy and classic. It boasts a lengthy list of spirits full of your favorites (including, of course, its namesake: Cisco's top-rated Notch) and a wide variety of rarities.
On the first floor, find your classic tavern vibe and the Brotherhood that longtime residents and visitors so loved. Low ceilings, low light, and exposed timber conjure feelings of the island's whaling days. There's a bar here, too, along with so many seats and tables to fit your friends and family.
Our favorite spot by far at Brotherhood is the outside beer garden. It's breezy, shady, and you bet there's a fourth bar to belly up to, or you can relax in the sun or under cover of shade. It was a steamy day outside for all of us, so we happily took a table under the tent and were immediately greeted by our superb server, Juan, who was attentive without hovering.
We often struggle with selections when everything looks and sounds as good as it did at this much-loved landmark, but we knew exactly where we wanted to start. What's a Nantucket summer without lobster? Piled high with the incredible crustacean, the Lobster Avocado Salad is as refreshing as it is delicious. The lobster is toothsome and tender and topped with peppery arugula and pickled red onion and is made perfect with the addition of a chipotle-lime dressing. We loved the sweet pops of grilled corn and diced mango which complimented the subtly sweet meat.
Another cool option for those hot days is the Burrata and Beet Salad. The mild mozzarella-like cheese creates a lava flow of flavor when you slice into it, coating every leaf in its creamy goodness. It's served-up with toasted pistachios and dressed with a lemon vinaigrette, and the house-made grilled focaccia was perfect for cleaning the plate.
You can't go to a bar without a getting a burger, and the Cisco Burger sure fits the bill. The patty was thick, rich, and meaty, cooked to an excellent medium rare and completely decked out. It was covered in tangy blue cheese, sweet caramelized onions, and savory bacon. The lettuce and special sauce provided cooling contrast. We should have ordered two.
The sauce coating the Shrimp Scampi was simply divine. Creamy but not heavy, it burst with garlicky citrus flavor. The dish was packed with plenty of large butter-poached wild shrimp and perfectly al dente fettuccini. The spring onions atop are easy on the eyes, and be sure to use more of that fantastic focaccia for soaking it all up.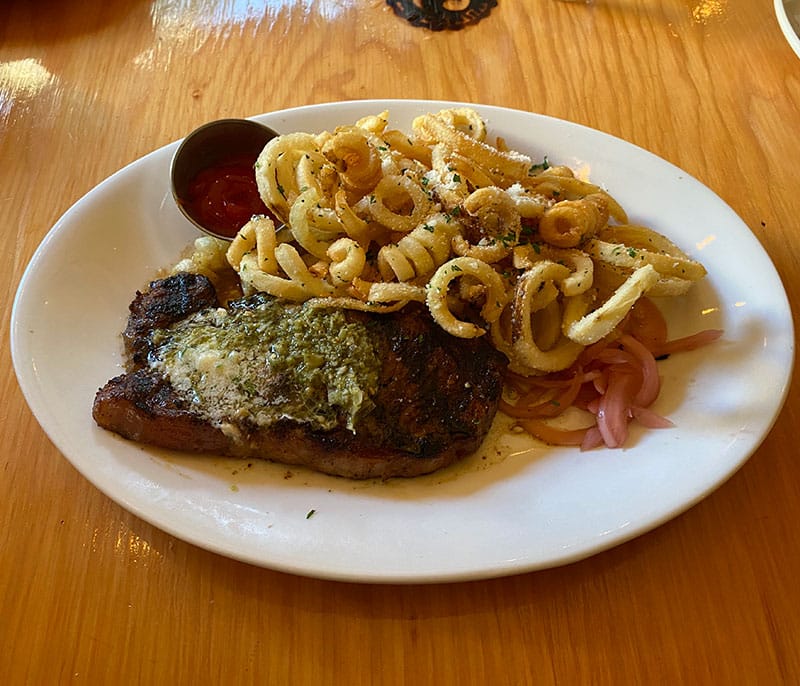 We expected nothing less than perfection from the Steak Frites, and needless to say we were not disappointed! The New York strip is spice-rubbed and grilled medium rare, just as we ordered. The steak is nicely complimented by the verdant chimichurri and a garlic aioli. We could smell the parmesan truffle fries alongside being dished out all night and couldn't wait to have a taste. We love that the new Brotherhood is still serving the curly fries we all loved way back when: but they're even better as truffle fries!
Our favorite of the night came as a pleasant surprise. The moist swordfish steak in the Blackened Swordfish Sandwich is seasoned to perfection with a blend of cajuninspired spices. It comes complete with pickled veggies, arugula, cilantro, a slightly spicy piri piri sauce, and sriacha aioli. The grilled, buttery brioche bun brings it all together.
All the sandwiches and burgers at Brotherhood come with seasoned curly fries or a side salad—but bear in mind theirs is not your average boring side salad. The Brotherhood's version is a beautiful blend of fresh greens, red onion, cucucumer slices, and juicy grape tomatoes; and it can be ordered dressed or not to make for a healthier accompaniment. It's hard to say no to fries, but a summery salad this good might just tempt you.
The day was finally cooling down and the breeze was keeping us comfortable. We were so happy with the marvelous menu updates, we couldn't wait to see what kind of sweet treats that Brotherhood had to offer up. A steadfast standby from the previous offerings, the Broho Cookie Sundae brought out the kid in all of us. Served up in a cast iron skillet, it's cooked to order, so be sure to plan ahead during your meal. The chocolate melted into the cookie as did the vanilla ice cream so we had to act fast – not a bite was wasted.
The Brotherhood of Thieves is a rare spot on Nantucket: affordable and eclectic with a vibe for every tribe at any time of day. We will definitely be back before summer comes to a close.
The Brotherhood of Thieves
23 Broad Street • 774-325-5812 • BrotherhoodNantucket.com
serving continuously from 11:30 am; bar open till midnight
Different menus in each of the Brotherhood's 4 concepts
Beer Garden Dinner burgers & entrees range in price from $18.50 to $38
indoor & outdoor dining • handicap accessible • full bar