by Sarah Teach
They're wealthy, they're smart, they're successful; and they own a giant summer home on Nantucket. Sound familiar? Meet the Moscow family, the brainchildren of playwright Sam Forman, the author of the Helen Hayes Award-nominated The Rise and Fall of Annie Hall. Theatre Workshop of Nantucket presents the Nantucket premiere of The Moscows of Nantucket. The play was first presented to the world in 2011 at Theatre J in Washington, D.C. and is rife with the sort of modern subject matter that fills our contemporary books, newspapers, and conversations.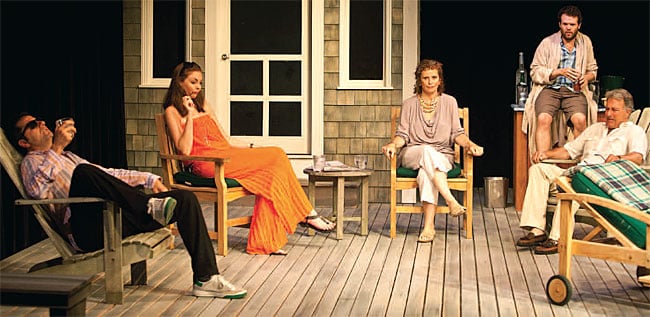 Forman himself has spent many a summer on Nantucket, and he knows just the right island ribs to poke fun at. He doesn't shy away from stereotypes as he creates a Nantucket family that has made big money in banking and labels themselves "rich New England Jews." However, we all know that sometimes Daddy's money can stunt the growth of Daddy's kids; and that is exactly what has happened to vodka-chugging Benji, the younger Moscow son, who prefers to nest nearby his bathrobe and the negligent ways of his adolescence while eschewing his alarm clock and job applications. But with a seemingly endless stockpile of witty commentary, one can deduce that it is for lack of drive—not talent—that has lead the aspiring writer to his parents' basement at age 30-something. Benji enviously fumes at his older brother Michael's success as a high-powered Hollywood producer as he watches his own life dreams disappear like a drops in the ocean. Most of us understand sibling rivalry, though, and down-and-out Benji suddenly becomes sympathetic when we get a taste of what it's like to be around Michael. Momma Moscow certainly doesn't help, as she panders to her big baby's every wish. Dad Moscow takes the opposite approach, leaving Benji feeling every bit the hopeless human being. Forman has crafted a tale to which everyone with a disagreeing family can relate.
Director Joanna McKeon has brought the cast together to put on a meaningful show that has a lot of heart in it, however broken those hearts may be. Lisa Birnbaum steps onto the Nantucket stage for the first time to bring a sweet yet impish energy to her role as good Jewish nanny Sarah Pearlman. Gabe Caggiano is perhaps the best cast of the whole ensemble. The grumpy, obsessively stock-checking father of Benji and Michael, Caggiano nails Richard Moscow in look and in deed. Our protagonist, Benji Moscow, is played by Boston native Joshua Isaacs. And as simple as "playing drunk"    may seem, it is not easy to pull off with the skill of Isaacs. Familiar TWN face Fritz Michel, cloaked in sharp clothing and self-importance, is a believable Hollywood hotshot. Of course, Forman wittily bestows upon Michael's Southern Protestant girlfriend with the name Virginia Christiansen. On a number of occasions, Irish actor Kate Sheridan's accent peeks through Virginia's Southern drawl, but not significantly enough to remove you from the story. Amy Stiller was well cast as Ellen Moscow, mother, aspiring matchmaker, and foot-in-mouth extraordinaire. With her flowing cashmere top and gaudy gold jewelry that screams, "I summer on Nantucket!" you could swear you just saw Ellen Moscow on the street before you arrived at the show.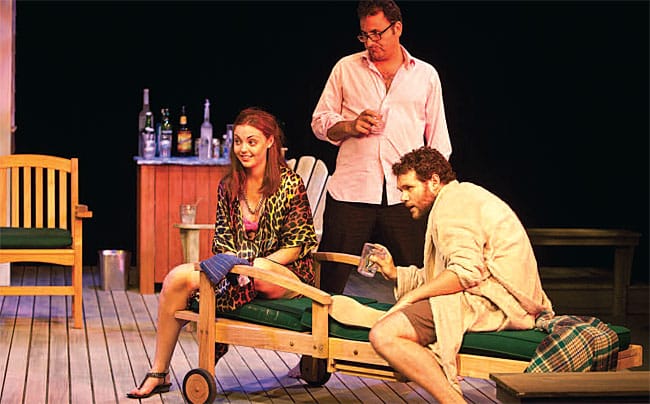 Costume Designer Sarah Fraunfelder has pegged the Nantucket summer scene to bring us accurate representations of the ritzy side of island life that Forman imagined. By similar method, Set Designer Eric Shultz needed only look outside for his inspiration. With its shingled siding and luxurious Adirondack chairs alongside a bar stocked to the brim with only the finest liquors, the set doesn't feel like a set at all. Adding to the realistic effect is Lighting Designer Sandra Galley's work, which proves especially impressive in the outdoor night scene.
The Moscows' family dynamics are full of the harsh realities of dysfunction that many of us must confront when faced with our loved ones. Nonetheless, the show is a comedy at its core and doesn't exactly dig to the center of human nature, and The Moscows of Nantucket remains a fantastic summer show that you can lazily enjoy. Sure, the storyline has a standard arc shape, and all the elements of classic linear narrative design, but it's the witty dialogue that keeps you interested as you watch another family's drama unfold. Plus, not unlike seeing Saturday Night Fever on Broadway, there's something gratifying about watching a play set on Nantucket while you are on the little Grey Lady. The Moscows of Nantucket will run at Centre Stage, 2 Centre Street, at 7:30 p.m. Wednesdays through Saturdays and at 3 p.m. on Sundays until September 1. Tickets are $25 at www.theatreworkshop.com or by calling the Box Office: 508-228-4305.