THEATRE REVIEW: METEOR SHOWER
by Suzanne Daub
Rarely have we seen a live theatre production that had us laughing nonstop yet left us pondering for more than a day on the psychological meaning behind it. We're still wondering, and we might just go see Meteor Shower a second time for another 90-minute hit of humor and to confirm our suspicious about the serious theme.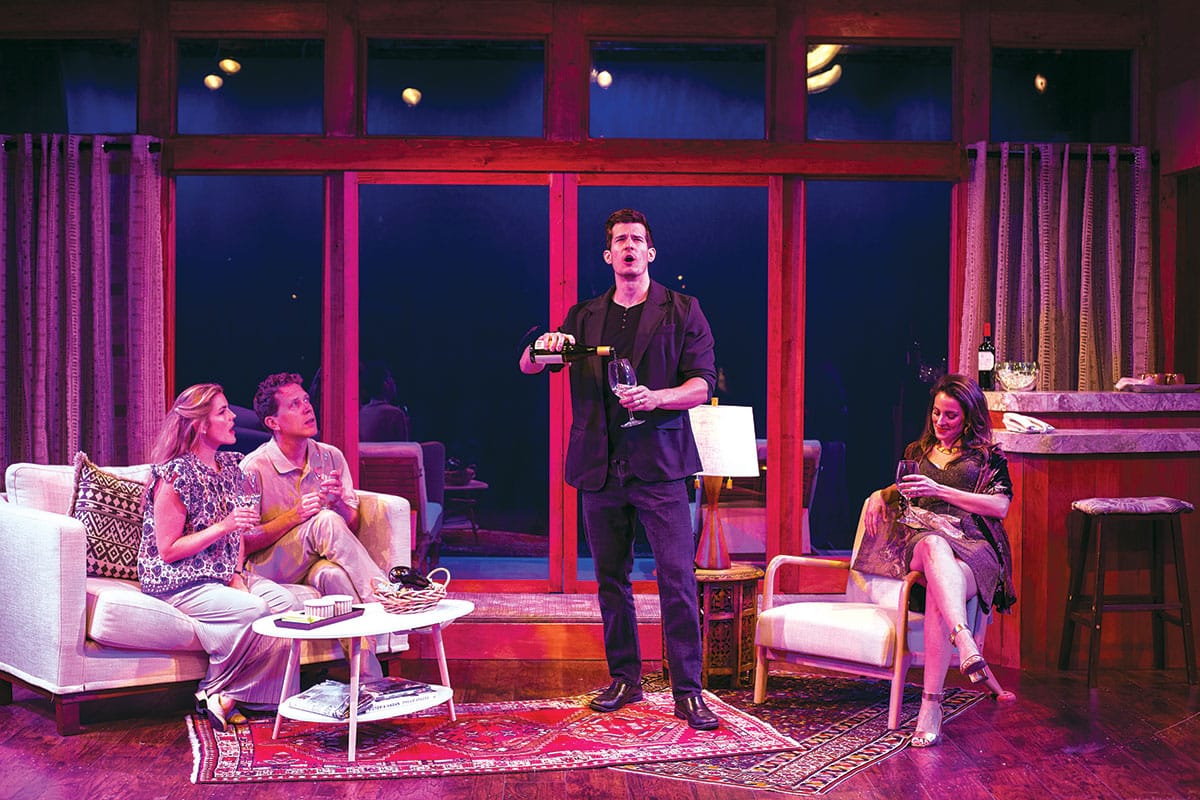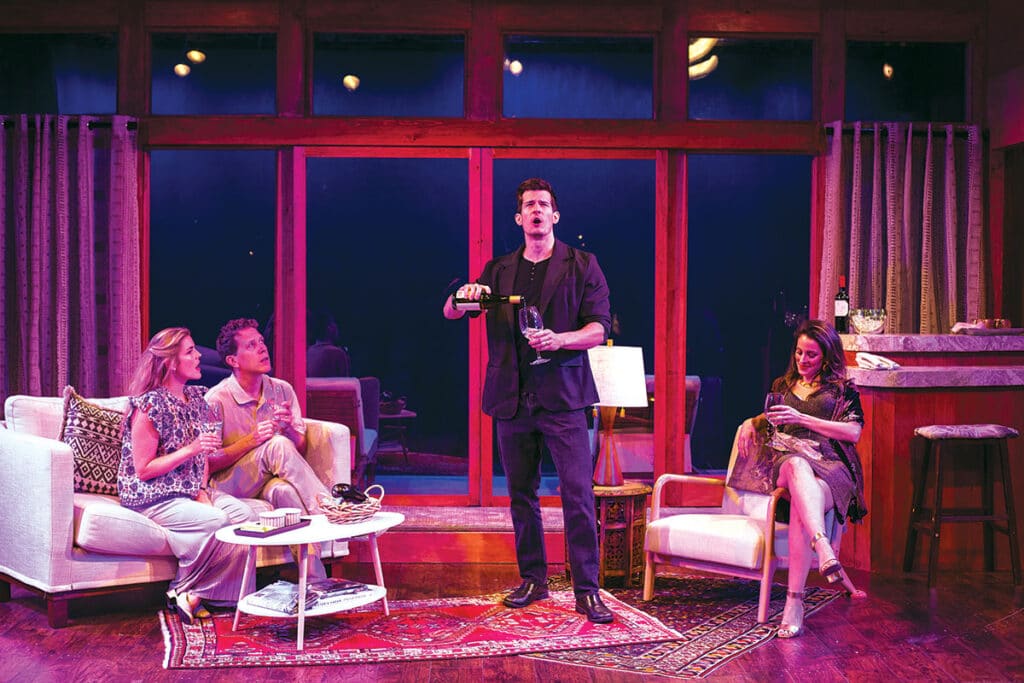 Written by that "wild and crazy guy" Steve Martin, Meteor Shower is startling, unexpected, and irreverent— full of bawdy adult humor that is sometimes utterly ridiculous but always very funny. It's another professional production by Theatre Workshop of Nantucket that you don't want to miss!
The surreal comedy opens with Corky and Norm, an uptight couple working on their rocky relationship, anxiously waiting to show off their home to Laura and Gerald, a couple they don't know well but invited over for snacks, wine, and to watch a meteor shower. Before Laura and Gerald even knock on the door, it quickly becomes clear that these guests have another goal in mind: "Let's go for total collapse."
To describe the plot of Meteor Shower beyond this basic premise would spoil the fun. The play toys with time: pausing, rewinding the plot, and moving forward with shifted circumstances on a different track till the final rewind completely flips the script and the play careens to a surprise ending. (Did we see Gerald and Laura leave?)
The casting was perfect; the skillfully constructed revolving stage moved the action seamlessly from living room to outdoor patio; and the play was brilliantly directed by TWN's talented Justin Cerne. All four actors were energetic, engaging, expressive, and very entertaining.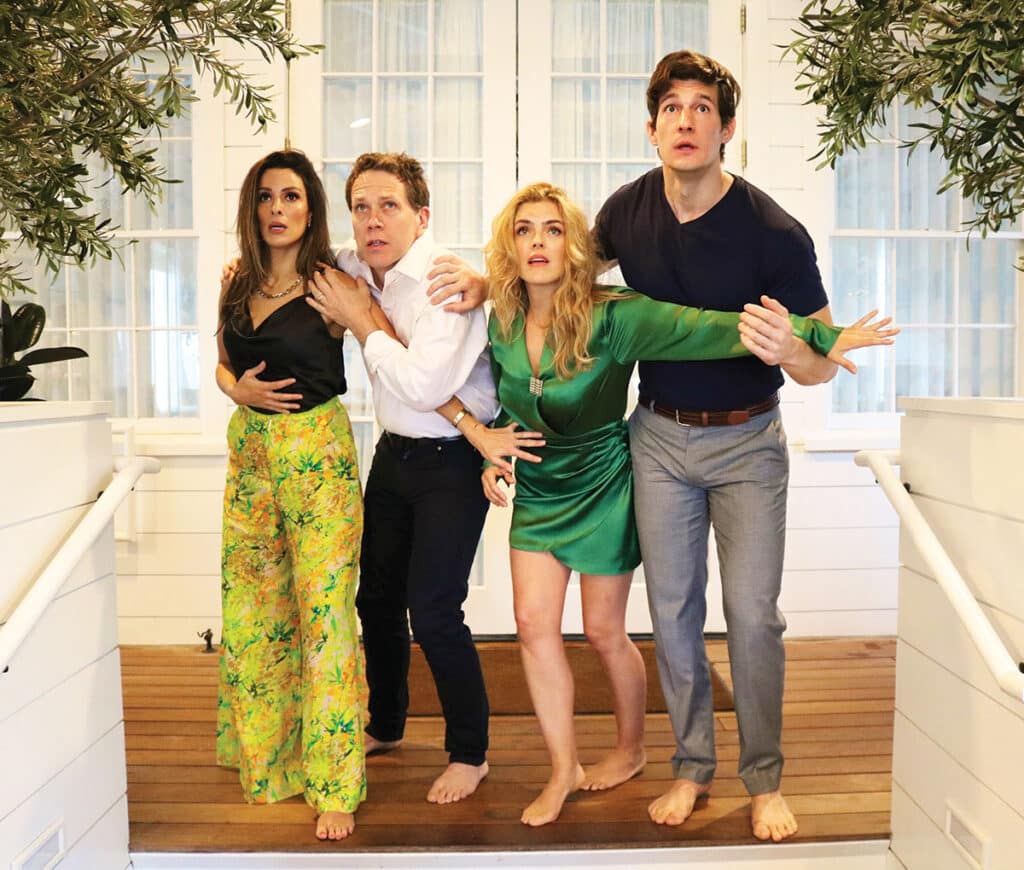 Jeremy Webb is completely believable as Norm, innocent, quirky, and insecure…until he's not. And meek, naive Corky is very well-played, psychobabble and all, by Mollie Vogt-Welch.
Verity Branco is spot-on as the swinging, snarky, passive-aggressive Laura, who tramples Corky with one-liners like "I love that you never fixed up the kitchen." And David T. Patterson is charmingly depraved as the mischievous Gordon, of whom Laura remarks "Everything reminds him of him."
As the play progresses, situations rapidly spin out of control. Clever wordplay, ribald remarks and innuendo, one-liners, and buffoonery tumble together for an hour-and-a half of hilarity. But when the lights go up and the laughter fades, after agreeing with everyone else in the audience that this was Steve Martin at his best, you're left to ponder what exactly just happened. There are serious themes tucked into this riotous humor. Are the characters mirror image couples or alter egos: just how Freudian is Steve Martin's play? As Corky says (twice) "If you don't deal with your subconscious, it will deal with you."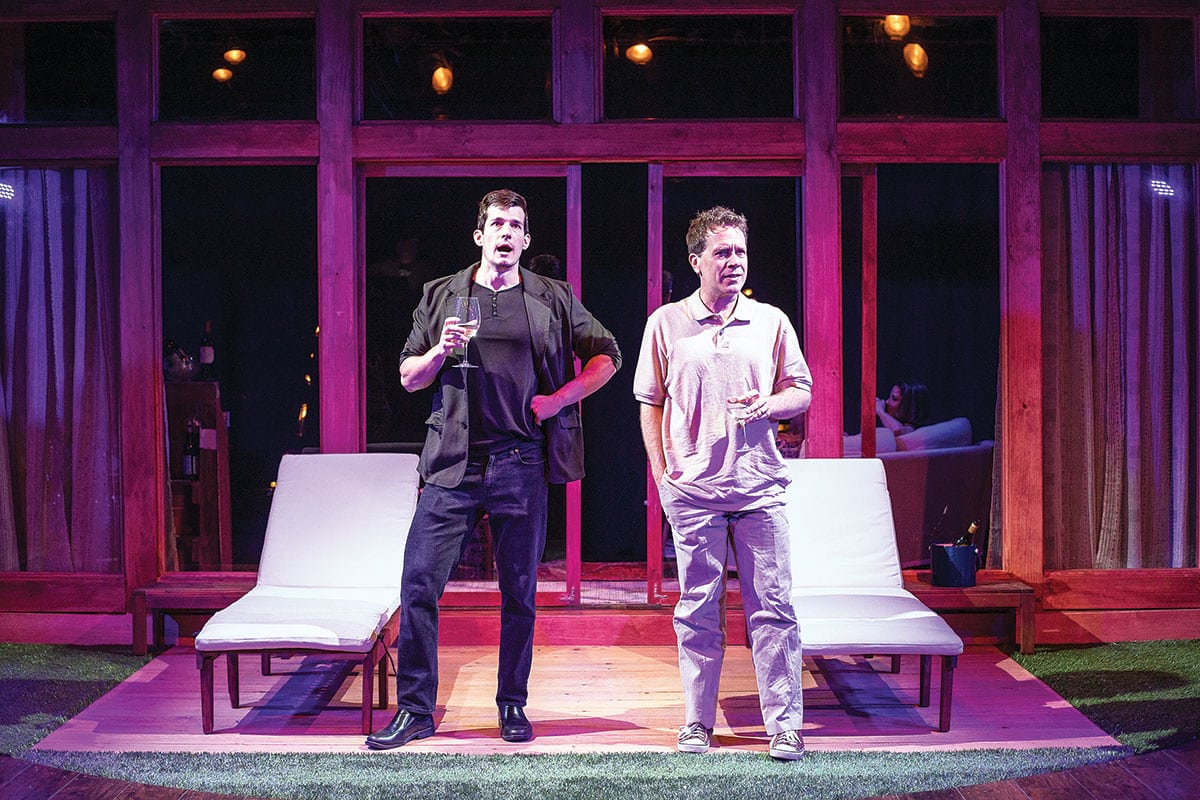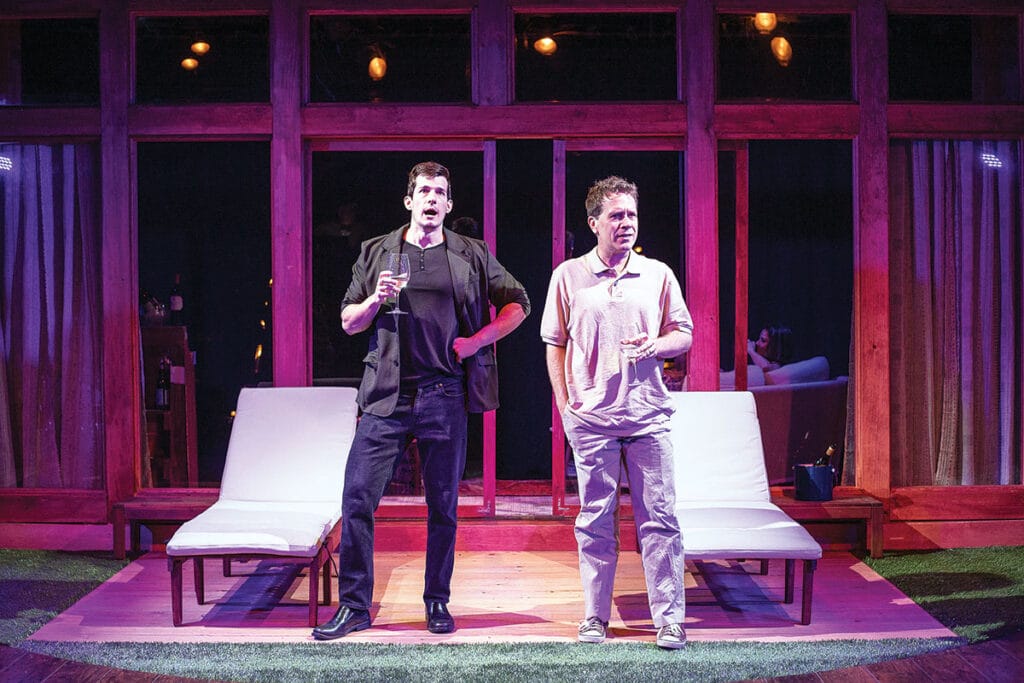 We recommend you do as Norm does when he says: "I don't know what's going on, but I'm just gonna go with it." Head over to the TWN theatre in Bennett Hall on Centre Street to enjoy an evening of belly laughs and leave the philosophy for tomorrow morning.
Meteor Shower is an adult comedy performed by Theatre Workshop of Nantucket through June 18. Curtain goes up Tuesday through Saturday at 7 pm. Tickets can be purchased at theatrenantucket.org or by calling the box office at 508-228-4305. Meteor Shower is 90 minutes and performed without an intermission.