by Carl Oscar Olson
Classics never go out of style. Vintage automobiles, memorable movies, and good tunes from back in the day remain steadfast in our minds for a reason. Our adoration of them will go on, much like our love for long standing establishments like The Ship's Inn: bringing the island the best in service, accommodations, cocktails, and, of course, food for nearly 100 years.
Located just two blocks from historic Main Street, the inn has sat proudly on Fair Street since 1831. Originally the home of renown sea captain Obed Starbuck, it was built after one of the most successful whaling trips in history. After a 14-month journey at sea, Starbuck brought home more than 2,200 barrels of whale oil, a treasure worth well over 1.2 million dollars today. The prize was divided between the ship's owner, the crew, and Obed, giving him the opportunity to build his house, farm the island, and become a well respected member of the Nantucket Community.
The Ship's Inn opened its doors to the public in 1913, starting an ongoing tradition of superior accommodations and cuisine. The rest is history, and it's a tradition we are excited to savor today.
The dining room was bustling when we arrived at the end of a sunny island Friday, a surprise after a rainy early June, but also an indication at what was coming our way. The setting is cozy, elegant, and quintessential Old Nantucket. It was easy to feel transported through time as we walked through the room to take our seats.
With a hand-picked wine list, small batch spirits, beer, and specialty cocktails, you've got options on where to begin. We started with some of the bar's favorite drinks, and we were sure glad we did.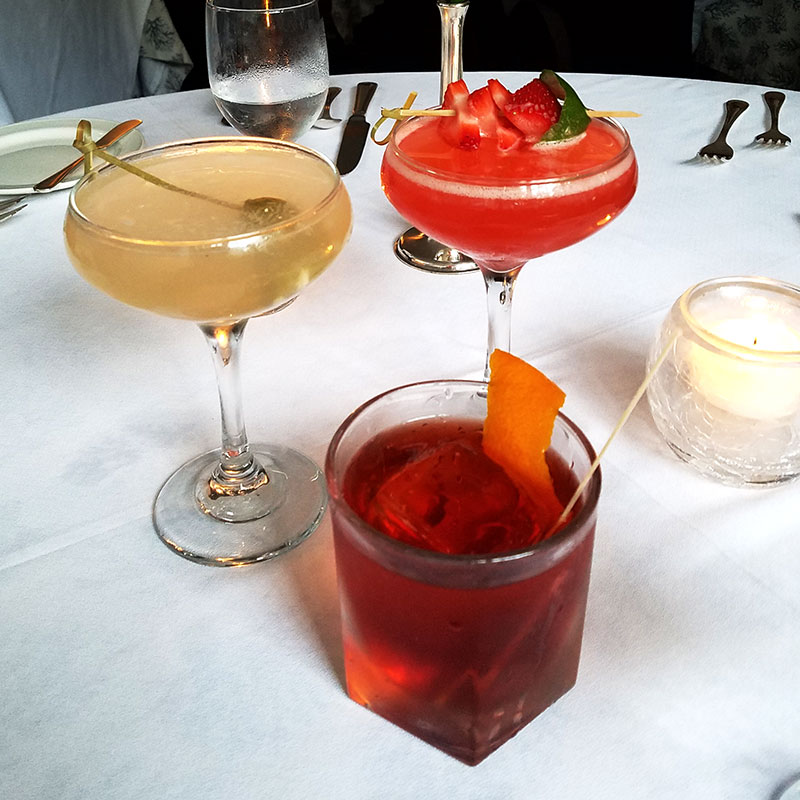 Bartender Grant ages his own in-house, so the Barrel-Aged Boulevardier is a must-try. Charred oak rounds out Jack Daniel's Single Barrel whiskey, Campari, and Antica sweet vermouth. It roars onto the palate with a bright start, then transforms into deep, dark complexity. It's served chilled in a rocks glass with a hand-cut ice cube.
On the spicier side of things is the Ranger. House jalapeño-infused Grey Goose Vodka is mixed with olive juice for a southwestern spin on a Martini. It's savory and complex with some jalapeño hang time, so Grant adds a blue cheese stuffed olive to help tame the heat.
Flavors of fresh cucumber and sweet strawberry shine in the Sea Lion, a concoction of Beefeater Pink gin, muddled cucumber, lime juice, and honey. A Prosecco float adds some fizz and dries out the finish. Good to the last drop.
While we perused the menu and sipped our drinks, we snacked on a selection of fresh bread with creamy whipped butter. The corn bread has a hint of sweetness and is light as a feather, no mealy texture here. Ship's Inn rolls are browned beautifully and bite sized, and their raisin wheat bread is delightfully different. When it's time to order, you can choose from a dozen diverse starters and mains, not to mention Chef Gottwald's specials, which always offer something new.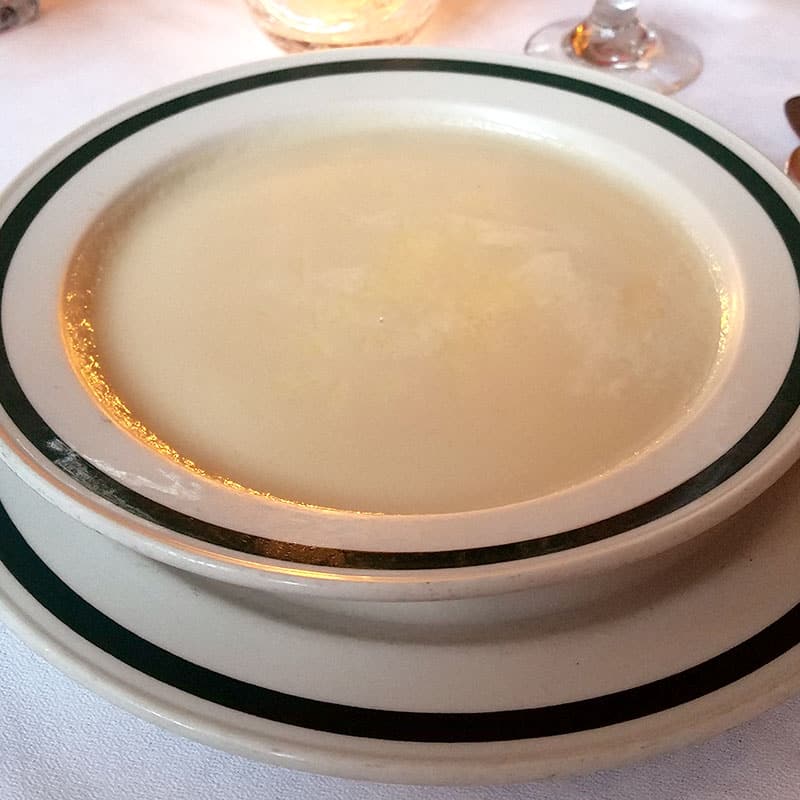 Peter, our server for the evening, provided all the attention to detail we needed as well as some great recommendations. He suggested the Cauliflower Soup, and it was a splendid place to start. The whole vegetable is steamed then pureed into a silky smooth, subtly sweet mixture. Add in some real Vermont cheddar and it is simply subl ime—clean cauliflower coming through with every spoonful.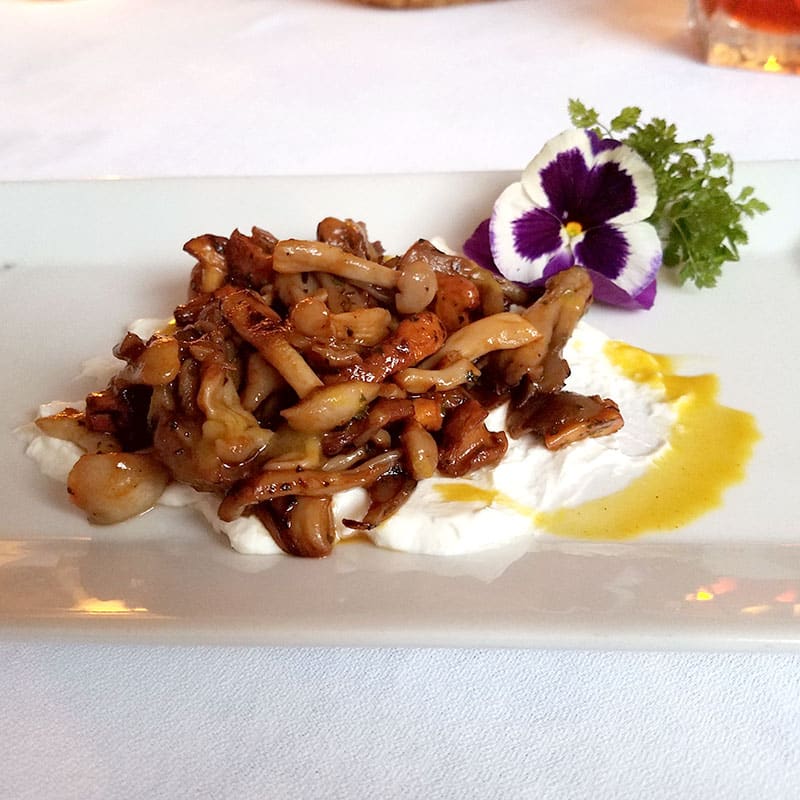 We moved on to Sauteed Wild Mushrooms, and they are an earthy, bright delight with every bite. A bed of warm goat cheese compliments their wild flavor adding just enough creamy zest to stand out, and a tamarind sauce enhances every morsel.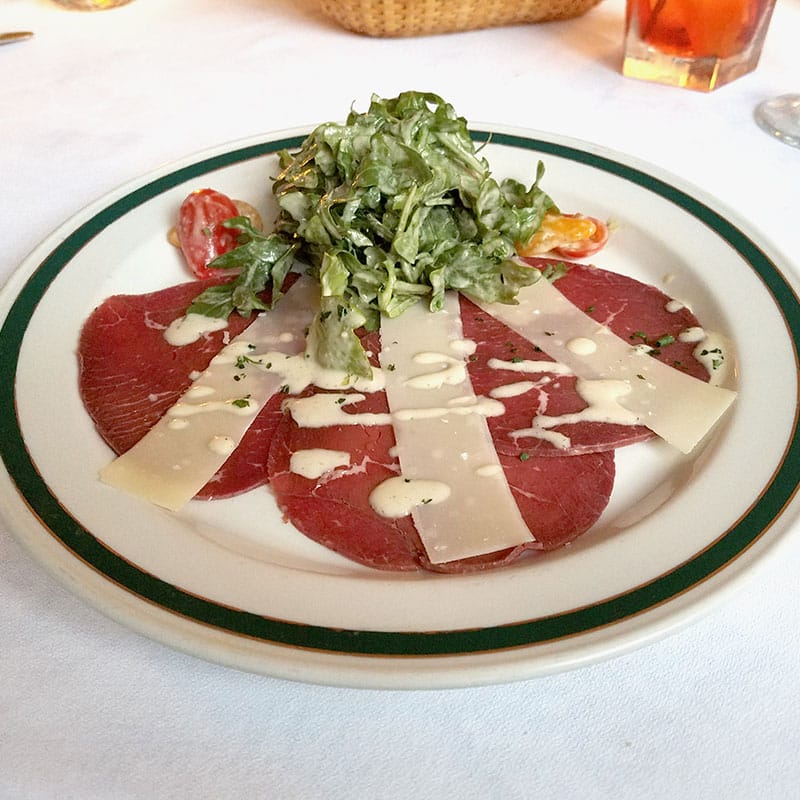 One of the special starters of the evening was new to us, so we just could not pass it up. Bresaola, the Prosciutto of beef, is chilled and air-dried up to 3 months, giving way to some of the richest and most flavorful cuts of meat imaginable. It's sliced thin and served with slivers of parmesan and an arugula salad well-dressed in a terrific truffle vinaigrette. It was so good, we only wish it would make a more regular appearance on the menu.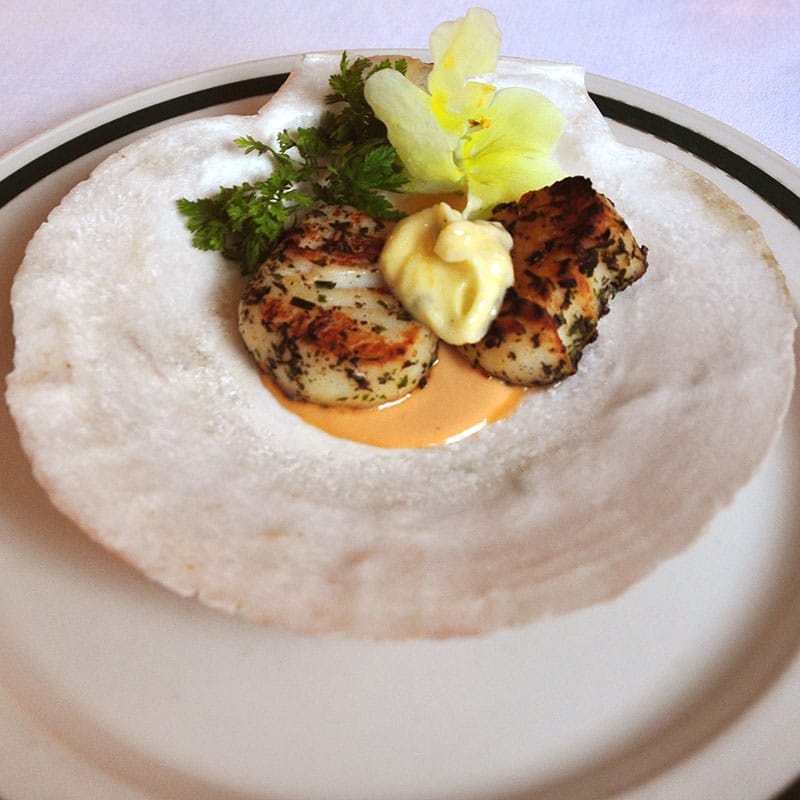 Reliably delicious and our favorite first of the evening are the Grilled Sea Scallops. The pair are served in a shell over a complex lobster vinaigrette with a dollop of black truffle hollandaise that just went on and on. They are tender, sweet, and succulent, and two were a perfect tantalizing tease.
We really loved the sizes of all of these starters — just enough to get us excited about the second course without overdoing our appetites. The mains are generously plated, so there's little chance you'll leave hungry.
Chef Mark Gottwald has been at the helm of Ship's Inn for as long as we can remember, and he's as passionate now as he was in the beginning. His is the kind of high caliber care you see reflected in every dish that comes out of his kitchen. When he's not at the inn you can usually find him on the water, often catching the dinner he'll be serving his guests later that night.
Heads started to turn our way as our entrees came out of the kitchen, and for good reason. The aromas were irresistible.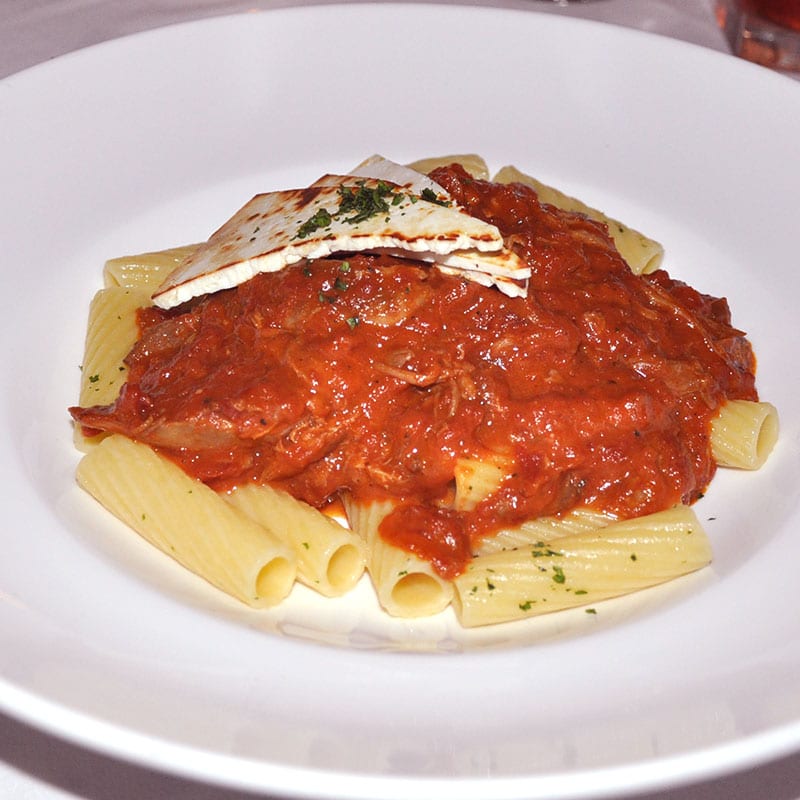 There was a remarkable amount of tender meat in the Rigatoni with Duck Bolognese, and this is a very good thing. A perfect portion of al dente pasta is smothered in the rich red sauce, and on top of it all are laid triangles of a fun feta salata to balance out the richness.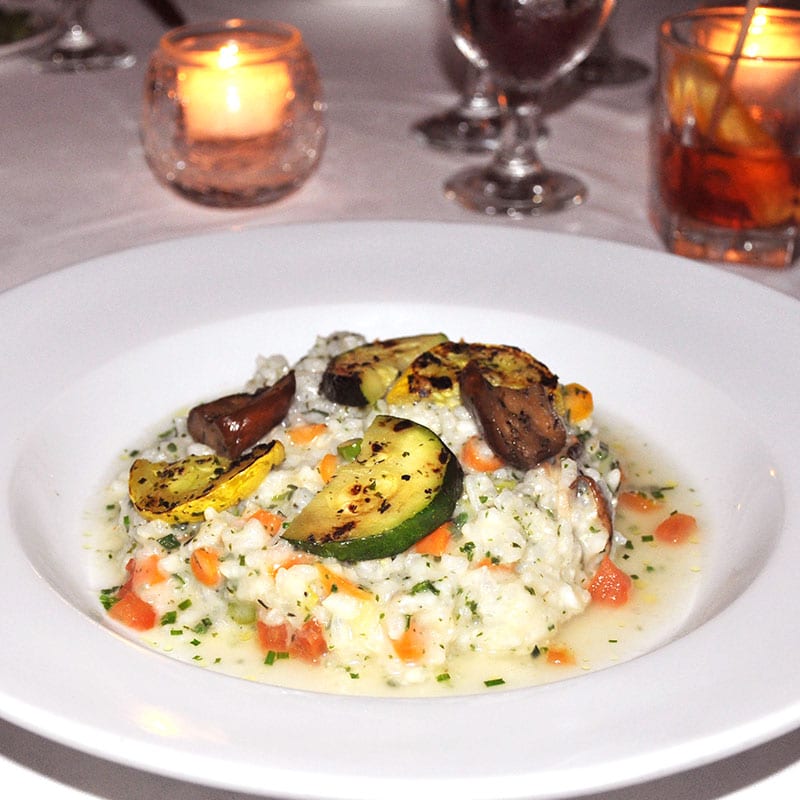 We like to try at least one vegetarian option when possible, and the Vegetarian Risotto served at Ship's Inn would satisfy even the most ferocious carnivore. It's steeped in a luscious puddle of white truffle butter and topped with fresh grilled squash and mushrooms. Mingling with the rice are flavorful leeks, carrot, mushrooms, asparagus, and more. The dish is beautifully balanced and easy on the eyes, too.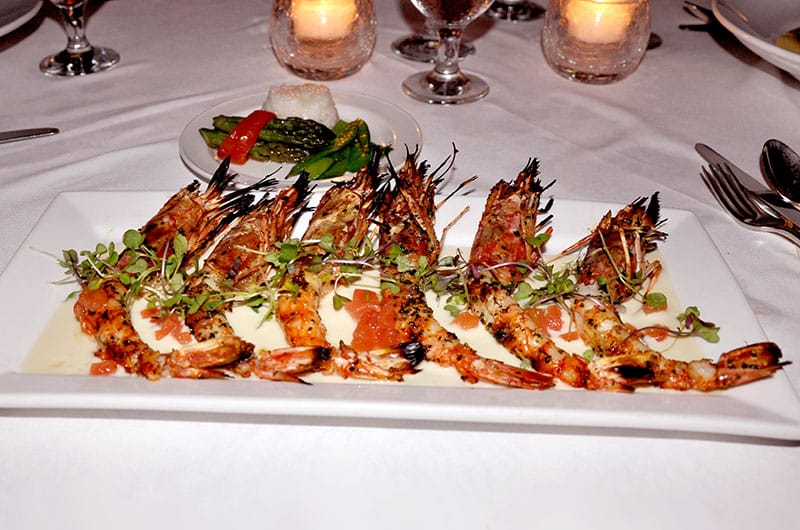 Another special of the evening was Spanish Prawns. These are not a common menu item on Nantucket or elsewhere, so we jump on them when they make an appearance. Tender, toothsome, and grilled to perfection, the display was dazzling. They sat atop a sublime citrus coulis and were served with sticky rice, sautéed asparagus, and snow pea tips. All of it was light, fresh, and flawless.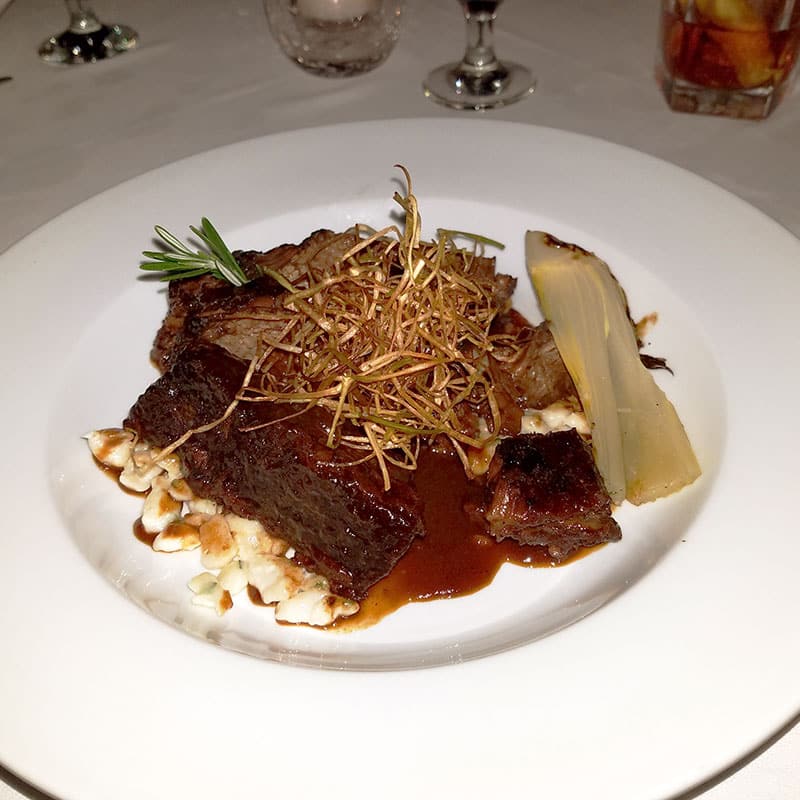 There was no disagreement among us about the Boneless Beef Short Ribs being the star of the show. Tender beyond words and topped with crispy fried onion, this heartiest of meals shares the plate with a mild horseradish spaetzle. And don't underestimate the power of a garnish, because the aroma from the sprig of fresh rosemary tied it all together.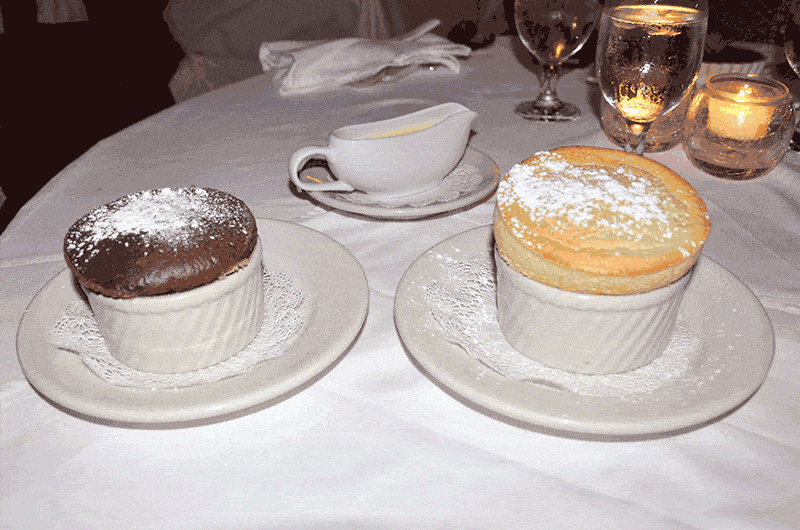 We often wait until the end of a meal to consider dessert, but at Ship's Inn that would be a serious mistake. One of the restaurant's many claims to fame are their Soufflés — those labor intensive and temperamental French masterpieces that so few dare to make. They take about 30 minutes to prepare, so they need to be ordered with the main course. Believe us: you'll be glad you did. The night we dined, there were two flavors. The Grand Marnier Soufflé is more of a standard with the essence of orange provided by the fine French Cognac. It is undoubtedly delicious; however, it's the Chocolate Soufflé that really blew us away. It is impossibly light and airy with the richest, deepest chocolate flavor imaginable. Both come with a table side creme anglaise, a light custardy cream sauce that is just magic.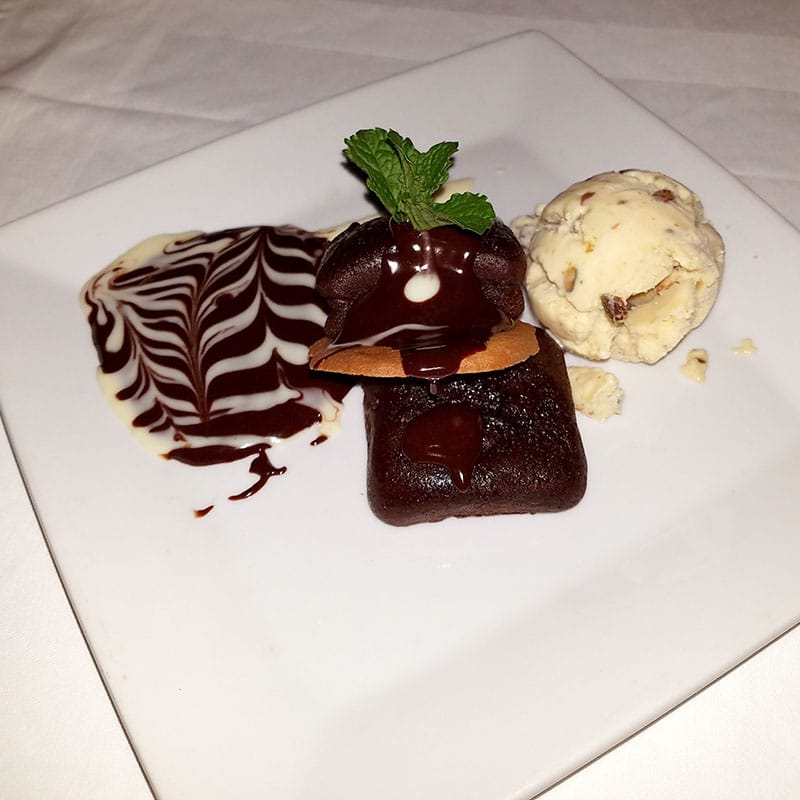 There are other dessert options if you don't plan ahead, though. The Sorbet is silky smooth and so refreshing, bursting with fruity flavor for a light, sweet finish. The Flourless Chocolate Souffle Cake is deep, dark, and tempting, boasting a scoop of homemade, roasty toasty pistachio ice cream on the side.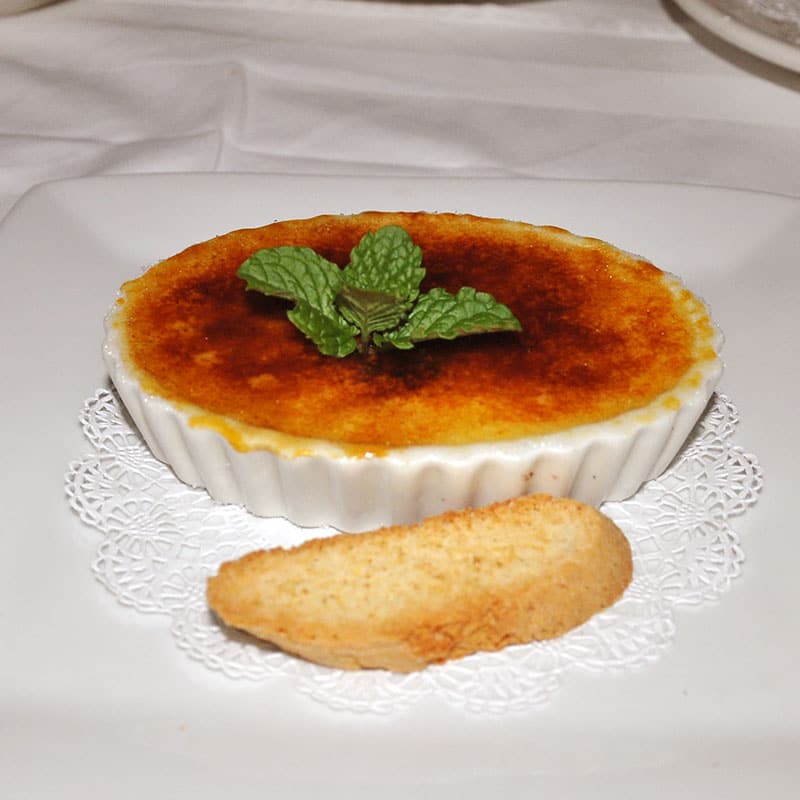 And their Vanilla Creme Brûlée is perfect with its signature crack when we broke through the caramelized sugar on top. We love the contrast between the crispy, sugary shell and the velvety smooth custard within.
We are so grateful for long-standing, island institutions like Ship's Inn. May they continue to serve our community the finest fare available for another 100 years!
The Ships Inn
Reservations suggested: 508-228-0040
13 Fair Street • shipsinnnantucket.com
Dinner served from 5:30 p.m. • Dory Bar opens at 5 p.m.
Entree prices range from $27 to $48
International Wine List & Full Bar • major credit cards accepted