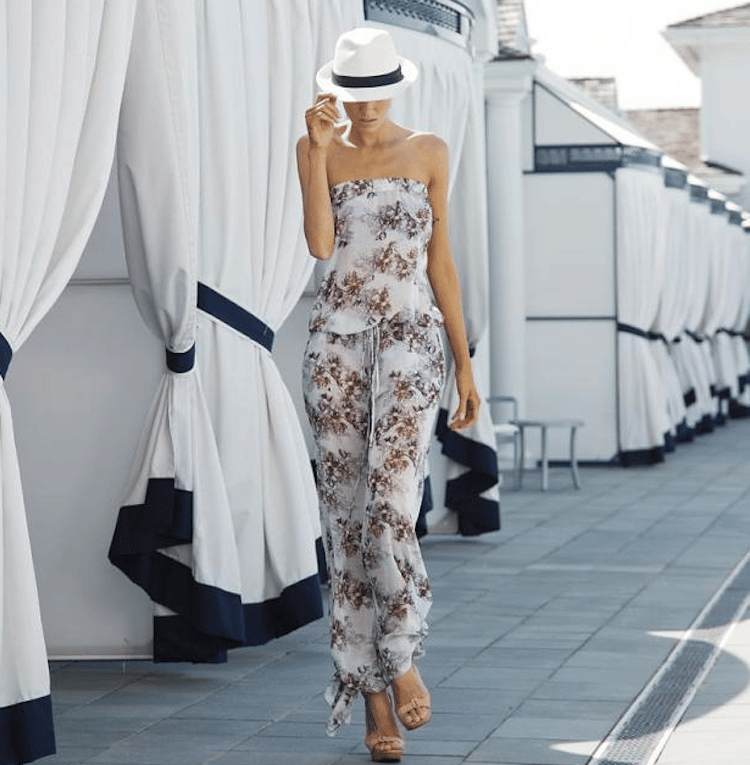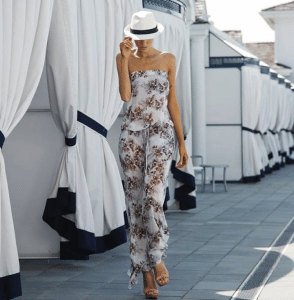 This weekend Serenella Nantucket, the island's designer boutique offering the best of luxury fashion, is hosting a special trunk show to celebrate Sinesia Karol's 2013 Summer Collection.  From 10 am to 6 pm Friday-Sunday, July 26-28, this designer's exquisite, colorful and flowing designs will be featured, and on Saturday, July 27, from noon to 6 pm, the designer herself will be at Serenella.
Don't miss this very special event at Serenella's Nantucket shop, 9B South Beach Street, just beyond the Nantucket Yacht Club.
Featured designer Sinesia Karol has always had a natural passion for swimwear.  Growing up in a beachside town in Brazil, she knew that she would one day have her own line.  The Brazilian designer moved to Boston when she was 19 and quickly became active in the arts and fashion scene.
This spring, Sinesia turned up the heat in Miami when she debuted her exclusive swimwear line, The Orchid Collection, inspired by her native country's most beautiful flowers.  Since then, her designs have been seen in Elle Brazil and Harper's Bazaar Brazil.  Sinesia Karol swimwear is available exclusively at Serenella. We sat down with the designer for an exclusive interview about her hometown, inspiration, and newest collection.
How did you first get into designing?
Ever since I was a teenager, I knew I wanted to work in fashion, especially in swimwear. I used to sell bathing suits to my friends and I loved doing that. After being involved in art and fashion for the past ten years, I decided that it was time to follow my passion to create swimwear. In college, I always enjoyed my classes about art history, drawing and painting. That's why I chose an artist to help me create my first prints and patterns. I feel that art and fashion work together, which is how I got into fashion. My designs are a reflection of this passion.
What is the inspiration behind this collection?
All of the patterns are different kinds of orchids. In Brazil, we have so many different kinds of orchids. I wanted to reflect that in my collection, so I chose two of my favorite orchids. The Guttata orchid is most beautiful in March when it blooms on the sand dunes near the Brazilian beaches. The Velutina orchid is much smaller and doesn't bloom until late summer. I wanted to design a collection that symbolizes the exoticism of Brazilian women, casual and fun but also stylish and sophisticated.
What is your favorite piece from this collection and why?
My favorite is the first "Maillot" I designed–the one-piece with a delicate gold belt. It's simple and quite minimal. It's also very tailored and clean for an effortlessly chic look.
Why did you decide to have a swimwear launch party in Boston?
While I love Brazil, Boston is my second hometown, I wanted to bring Brazilian flair to Boston with this collection. Also, I think my collection is perfect for the Serenella woman, simple, elegant and, above all, worldly and exotic. There couldn't be a better place for me to launch my new collection.
What is your idea of the perfect getaway vacation?
One of my favorite things to do is travel. I love going to back to my hometown Vitoria in Brazil, but I love traveling to Uruguay. My favorite place to get away is in Punta De Leste. I love every minute I spend there with my husband, children and friends.
What is your number one must-have item for this spring?
There are so many spring events and galas in Boston that it's important to have a great going-out dress. I love the J. Mendel spring collection, especially the pleated sheath dresses. Of course, Proenza Schouler has great printed dresses as well for this spring. I also love the monotone leather bags from Reed Krakoff.