It's half-past six, and the main dining room is filling with people having fun.  The group at the front table (the window seat under the pop-chic chandelier) is clearly having a celebration—dressed in their fashionista best and toasting with perilously full margherita and martini glasses.  Nearly every seat at the bar is taken—a new arrival is heartily greeted, hugged, and everyone scootches over to make room.  A family group at the big back table, parents, kids, and grandparents, are trying to coax a skeptical teen to try an oyster on the half shell.  And there's a two-top with a couple my age (don't ask) who are clearly enjoying the spectacle until their food arrives, then all attention is on the truffled frites, whose tempting aroma left a trail of turned heads from the kitchen through the dining room.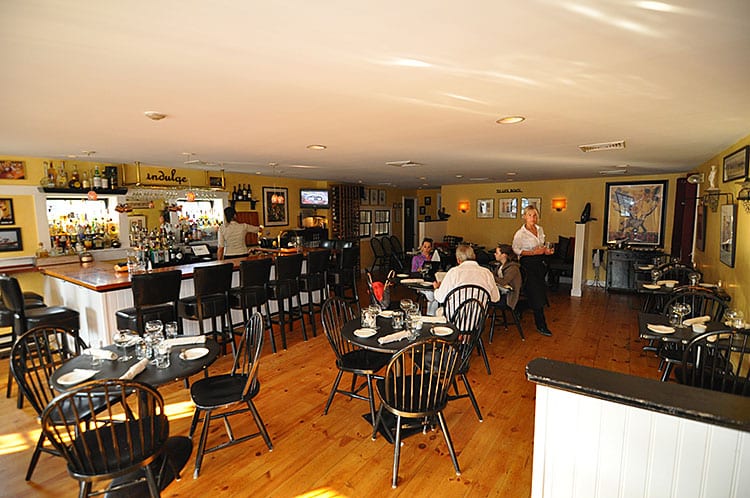 Another typical night at Fifty-Six Union, a Nantucket eatery whose owners, Chef Peter and Wendy Jannelle, manage to combine fine dining and fun without compromising on either.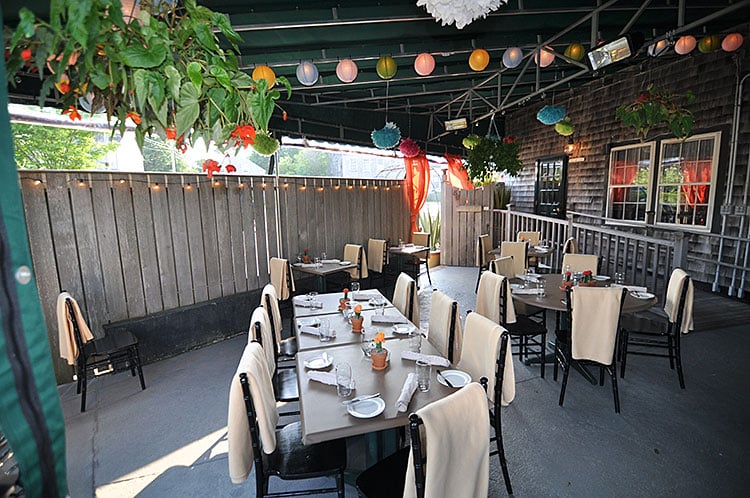 Our destination this evening is the back patio, next to the garden where they host Apres la Plage every afternoon from 4 to 6 pm.  It was raining, as it has done at least twice a week all summer, but we've had enough of air conditioning.  The back patio is sheltered yet open enough to capture whatever summer breezes are blowing.  We settled in comfortably under the festive paper lanterns and colorful paper puff balls adorning the awning.  It was too warm for the blankets provided over every patio chair, but we leaned back comfortably into the soft folds.  It wasn't long before Wendy stopped by to welcome us and give us a few suggestions.
Fifty-Six Union's libation experts mix some of the best cocktails on the island and they do it at several dollars less per drink than at many of the other summer spots, where a bar tab can quickly shock you back to sobriety.  We love their Espresso Martini, but to end a meal not start one, so we settled instead for a refreshing Huckleberry Lemonade and an Effen Delicious, which most definitely is.
Click images to view enlargements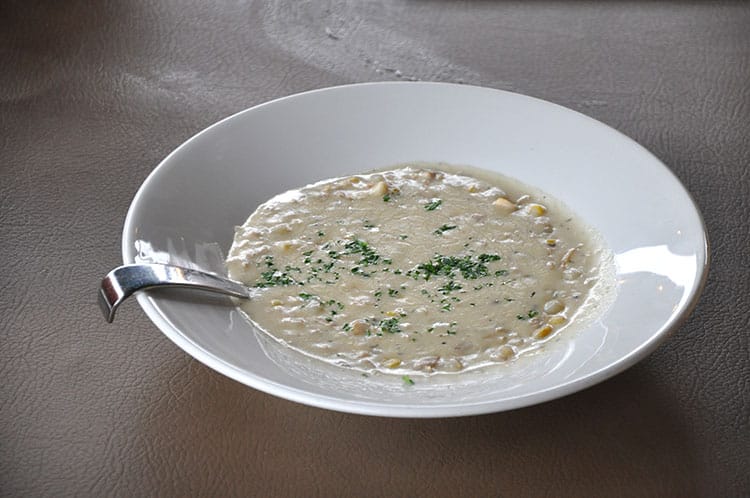 One of the things we really like about the menu at Fifty-Six is that we can always find one of our seasonal favorites among the new dishes Chef Peter Jannelle adds. We started with a bowl of Quahog Chowder, frequently but not always offered as a soup du jour. Warming and satisfying, the creamy soup is perfectly seasoned and thick with tender chopped clams, small dice potato, and kernels of sweet corn.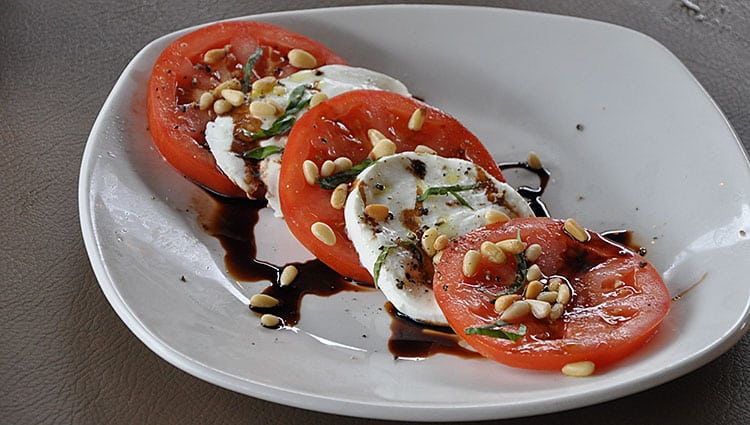 We switched into summertime mode with a Caprese Salad whose thick, juicy slices of tomato and fresh mozzarella were topped with toasted pine nuts in addition to the usual basil and balsamic reduction.
 Our go-to appetizers at Fifty-Six are the classic Clams Casino with the tender briny morsels always perfectly cooked with seasoned crumbs and a big piece of crisp, smoky bacon, and, when the Chef adds them to the menu, his Crab Rangoons, a house-made version that is over-the-top good.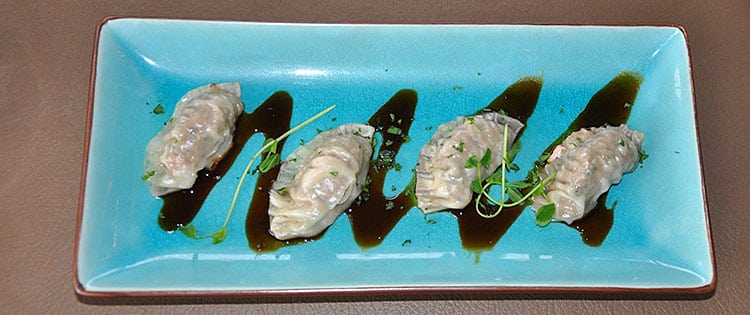 This visit, though, we wanted to taste some of his newer offerings.  The Pork Dim Sum, steaming hot and homemade, could easily become a new favorite.  Little bundles of pork, garlic, and ginger are tucked into wrappers thin enough to see through but thick enough to hold the mix.  Tracings of a sweet and smoky thick soy and ginger glaze adorn the plate, and we found ourselves dipping our fingers in the last drops of it after we devoured the dim sum.
A week earlier, while treating ourselves to some after deadline cocktails and apps, a well-traveled summer friend who joined us at the Fifty-Six bar ordered the new  Shrimp Cake appetizer and pronounced it the best she's had outside of the Bayou.  We can't attest to its Southern authenticity, but it sure is good!  The thick, moist cake is full of shrimp—whole shrimp—and the panko crust adds a tasty crunch.  The cake is served on a sunny Tropical Coulis of mango, lime, lemon, orange, and pineapple with a little sage to bring it back down to earth.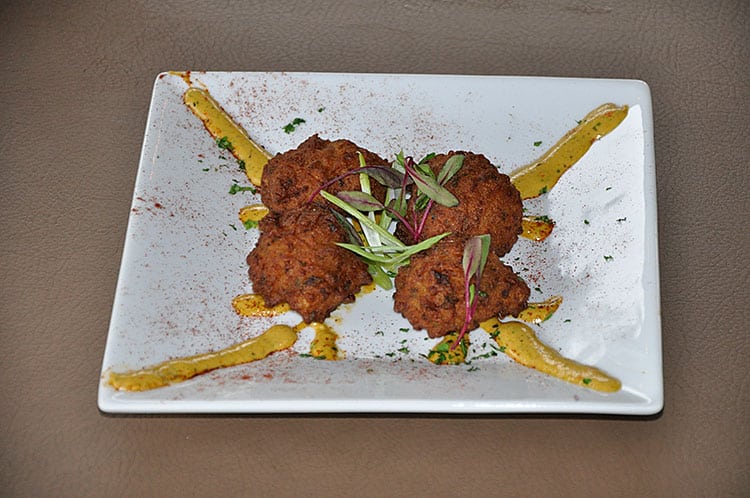 Making fritters anything more than pub fare served in a basket lined with paper is a challenge, but it's a challenge that Chef Jannelle meets and exceeds with his Quahog Fritters, offered as a special last week. They looked a little overdone when our server brought them to table, but they were perfect!  Crisp but not hard on the outside, and fluffly and light inside.  They were not at all greasy, and the flavor was superb.  The fritters were presented on squiggles of roasted poblano remoulade that had just the right amount of heat.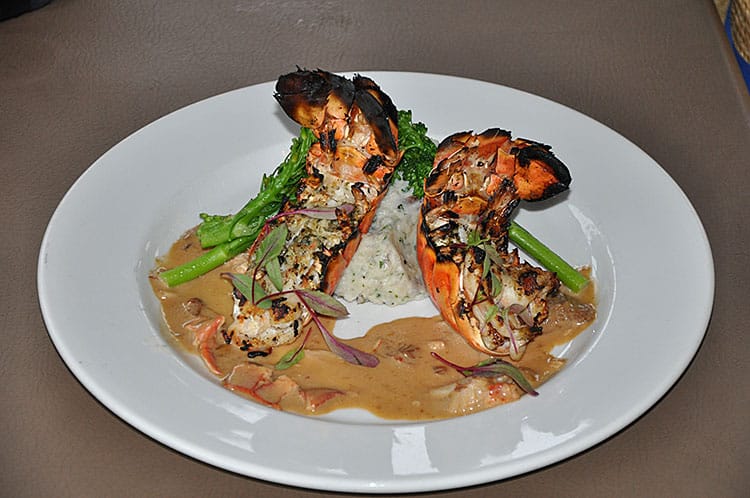 It took just one bite of Chef Jannelle's Twin Grilled Lobster Tails to ruin steamed lobster for us forever.  Why eat lobster steamed when it's this good grilled?  Nothing beats the intense, sweet, and slightly charred taste of grilled shellfish, unless it's grilled lobster tails with sauce Americaine.  This classic French combination of the essence of lobster with tomato, garlic, shallots, and cognac makes a rich and intricate sauce that we mopped up with the herb mash potatoes served alongside.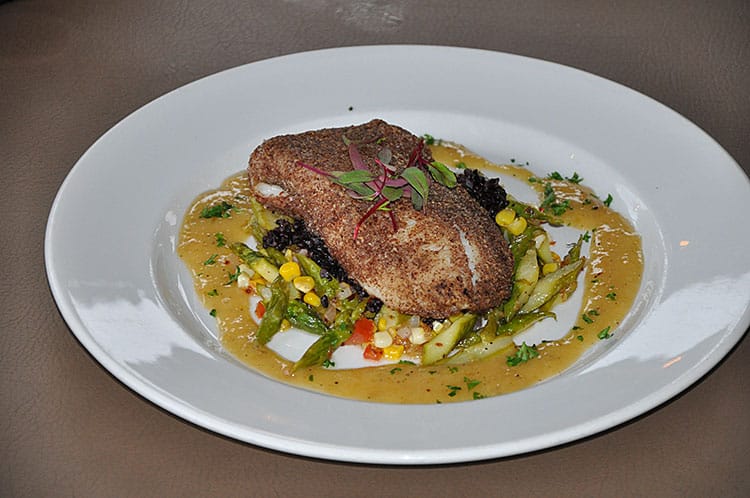 Chef Jannelle loves cooking with fish, and we love eating his fish preparations.  The Pecan Crusted Fluke on the summer menu is a thick filet with the clean, delicate flavor that only comes with the freshest of fish.  A dusting of crushed pecans adds an earthly-sweet flavor.  We love the combination of fresh fish and forbidden rice, a common pairing for this chef, and his addition of corn, tomato, and asparagus adds a summery mix of tastes and textures that is brightened by a lemon thyme beurre blanc.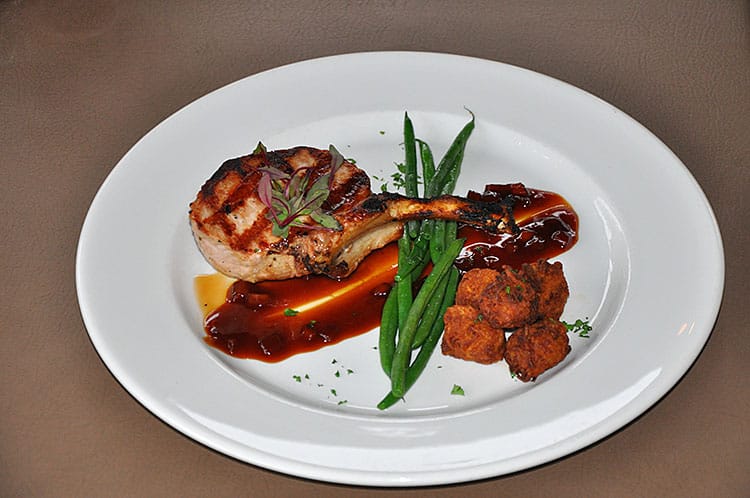 When the White Marble Farms Pork Chop was brought to our table, the first thing we noticed was the thickness of the chop.  The kitchen managed to cook the chop through, but keep it moist and tender.  We dredged each forkful of pork in the sweet but not syrupy mango gastrique served alongside, loving the sweet and savory combination.  A cluster of crunchy chourico "tater tots" with soft and spicy middles make a fun and tasty "finger food" accompaniment.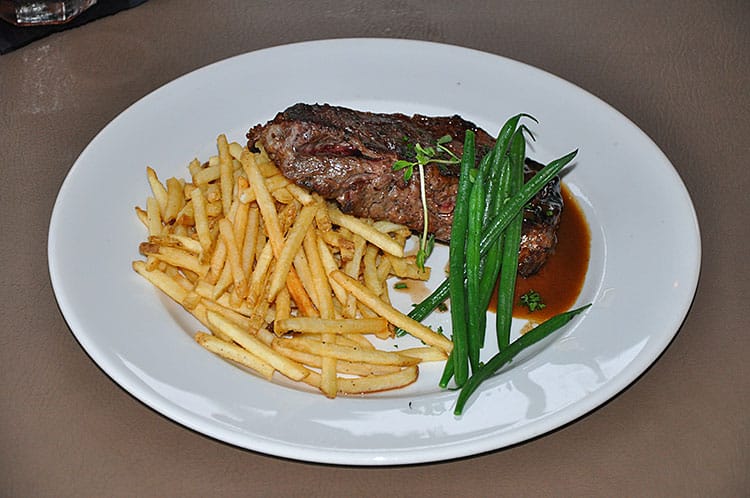 Generously sized and impressively tender, the Creekstone Farms Sirloin is cooked to a perfect temperature, with just enough singe to crisp the bit of luscious fat along the edge.  We could smell the tempting aroma of the truffled demi-glaze as soon as the steak was set down, but Chef Jannelle kept  a light hand with it so the flavor of the beef shone through.  Simple and delicious, the steak comes with perfectly cooked haricots vert and crisp and salty shoestring fries.
Our favorite desserts at Fifty-Six always seem to include ice cream.  The Fifty-Six Float, espresso poured over ice cream—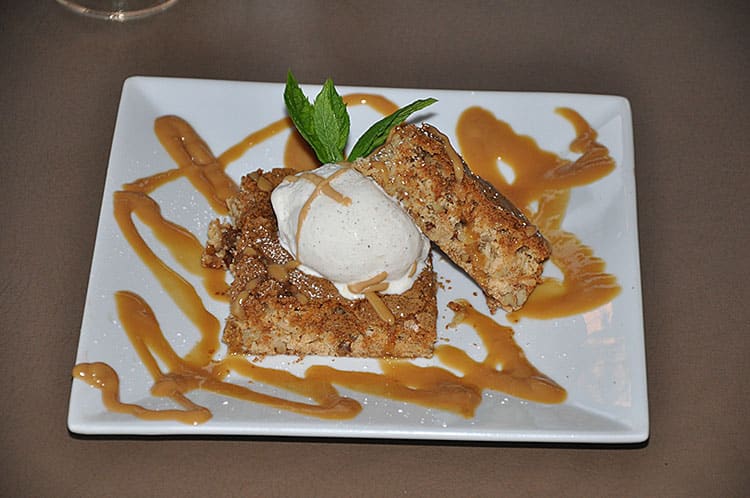 the Toffee Sundae with its sweet and crunchy toffee, toasted coconut, and caramel—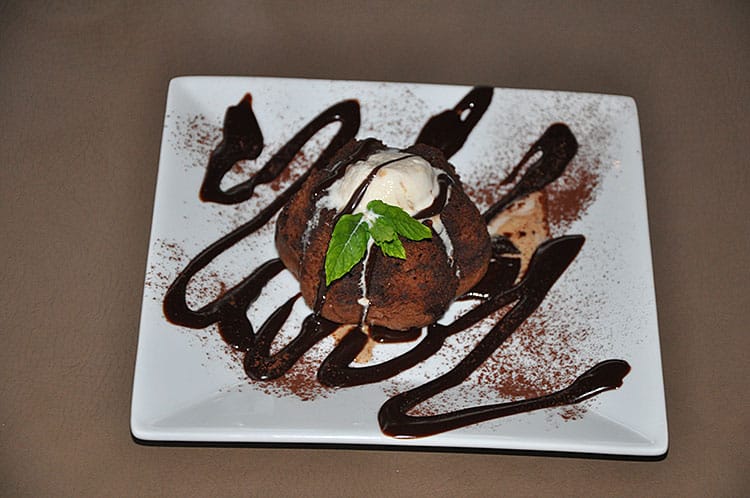 and the Butterscotch Brownie Sundae with its moist blonde brownie studded with walnuts and coconut, topped with warm caramel sauce.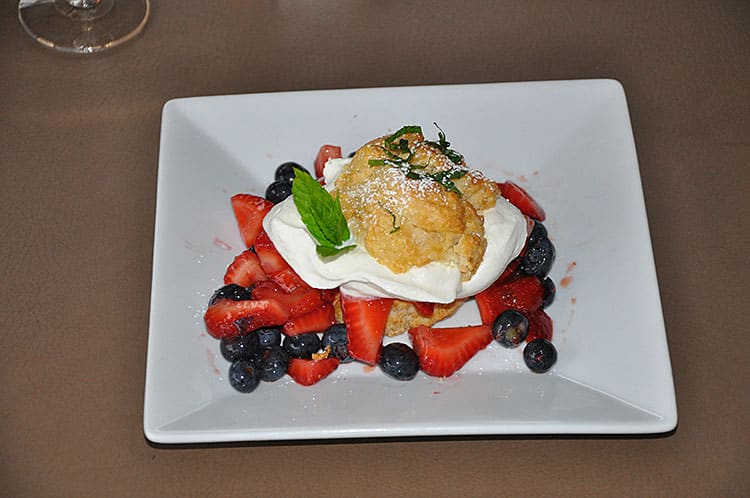 But it's berry season, and Chef Jannelle makes an amazing  Strawberry Blueberry Shortcake.  Sugar sprinkled over orange scented shortcake biscuits caramelizes into a sweet crusty top—the cut side of the fresh biscuit soaks up juices from the pile of fresh strawberries and blueberries.  A glass of the King Estate Vin Glace gives the perfect crisp, sweet finish.
Just as we were leaving a group of young women (bride-to-be and attendants, we guessed) swept across the patio bound for the special Table Fifty-Six in the middle of the garden.  Rain or shine, this tented table is great fun for a private celebration.  Note to self: reserve this table for next month's anniversary.
Fifty-Six Union
www.fiftysixunion.com
Open year-round at 56 Union Street •  508-228-6135
Après la Plage in-season daily from 4-6 pm
Bar opens at 5 pm; Dinner served nightly from 5:30 pm
Entree price range is $17 to $49 (most between $24 – $32)
indoor and outdoor dining; full bar
available for private celebrations
major credit cards accepted   •  plenty of parking