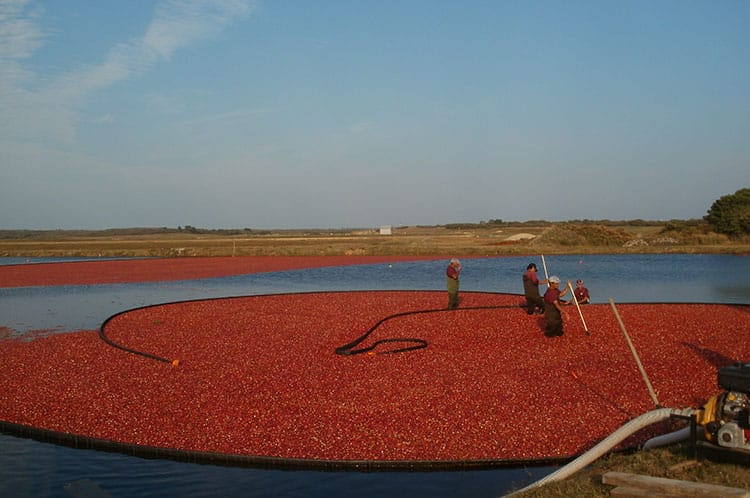 Nantucket residents have cultivated cranberries since 1857. In celebration of this beautiful autumn harvest, the Nantucket Conservation Foundation is hosting their 13th Annual Cranberry Festival on Saturday, October 10 from 11 am to 4 pm. The event is held at the 195-acre Milestone Cranberry Bog on Milestone Road, rain or shine.
Cranberries have been grown on Nantucket since 1857 and were an important part of the Island's economy until just prior to World War II. Milestone Bog, where the festival is held, is one of the oldest continually operated farms on Nantucket, and 195 acres are under cultivation there, with a 37 more acres in production at the Windswept Bog on Polpis Road. Windswept Bog is one of the few certified organic cranberry bogs in the country. NCF's cranberry bogs produce nearly 2 million pounds of cranberries a year!
Festival goers can watch the berries being harvested, learn about the history of cranberry farming on Nantucket, participate in the many family activities and games, visit the petting zoo, or just kick back and enjoy the live music and spectacular autumn scenery. Food will be available for purchase from B-ACK Yard BBQ, Sweet Inspirations Chocolatiers, Something Natural, ACK Fresh, and Catering by Laura.
Car buffs can get an up-close look at antique tractor displays, and history fans will love learning about the early days of cranberry farming on Nantucket. There will be a raffle, with the grand prize being a 2016 Over Sand Vehicle permit, NCF fleece vest, and Festival hat. You can also purchase fresh island-grown cranberries, straight from the bogs including the organic cranberries from Windswept Bog. All fresh cranberries freeze nicely, so it is not too early to grab a pound or two for this year's Thanksgiving feast.
Admission is free; on-site parking is $15 per car. To get to the bog, head east on Milestone Road toward 'Sconset. Watch for the brown rock with the number 220 on the left, slightly over 4 miles from the rotary. Continue on Milestone Road for another 100 yards and turn left.