Music, film, visual arts, crafts, design, and theatre all take center stage from Friday, October 2 through Sunday, October 11 during the 2015 Nantucket Arts Festival.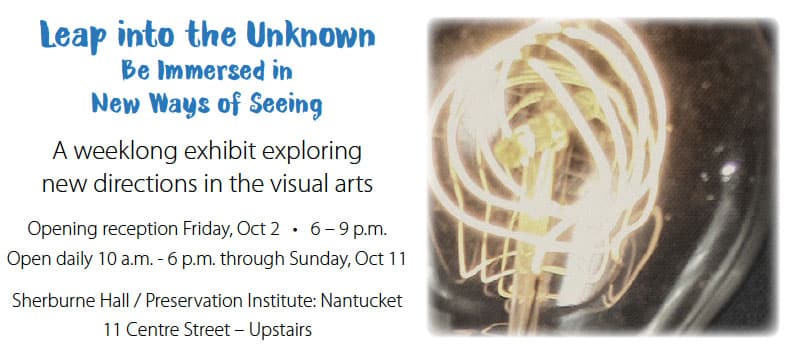 Produced by Nantucket Arts Council, the festival includes amateur and professional artists from Nantucket and beyond. This year's festival theme, Art of the See, is to be interpreted literally, figuratively, or playfully for its intentional double meaning.
The festival's centerpiece exhibit of visual art opens Friday, October 2, with a free evening reception from 6 to 9 pm in Sherburne Hall, upstairs at 11 Centre Street, celebrating art with music, food, and refreshments. More than 50 local artists were invited to "Leap into the Unknown" and "be immersed in new ways of seeing" for this Arts Festival show, known for its explorations of new directions in visual arts. Leap into the Unknown will be on exhibition daily from 10 am to 6 pm through Sunday, October 11.
During both weekends and throughout the week, Theatre Workshop of Nantucket continues its expertly staged and superbly acted production of Steel Magnolias. White Heron Theatre Company presents a staged reading of a new work. "Pop up" concerts and readings happen in downtown Nantucket. Island art galleries welcome patrons for public gallery receptions on both Friday nights. On Friday, October 2, the Artists Association of Nantucket opens a Mood Indigo exhibit in their gallery at 19 Washington Street that features works by new and long-time members, with a festive reception from 6 to 8 pm, followed by a free, informal talk on painting technique by Sharon Farrell Robinson at 10 am Saturday, October 3.
Monday, October 5 at 1 pm, artist and environmentalist Cindy Pease Roe will lead a class at Susan Lister Locke Gallery at 28 Easy Street. Participants will make whimsical Magificent Moby Whales using marine debris to tell a serious message about the destruction of our oceans and marine life.
Many Nantucket Arts Festival events are free or have modest admission prices, with additional discounts for wearing a Nantucket Arts Festival button, given for festival donations of $20 or more at Sherburne Hall from 10 am to 6 pm. The Festival button also grants admission to the wrap party on Monday, October 12 in The Rose & Crown.
The Boston Conservatory, the premier conservatory for music, dance and theater in the country, brings Opera Stars of Tomorrow, featuring students from its renowned opera program on Friday, October 9 at 7 pm in The Dreamland Film & Performing Arts Center. Five Boston Conservatory opera students with piano accompaniment will perform opera arias, duets, and ensembles from great operatic masterpieces. Tickets are $30, $25 for seniors and members, and includes a dessert reception following the performance.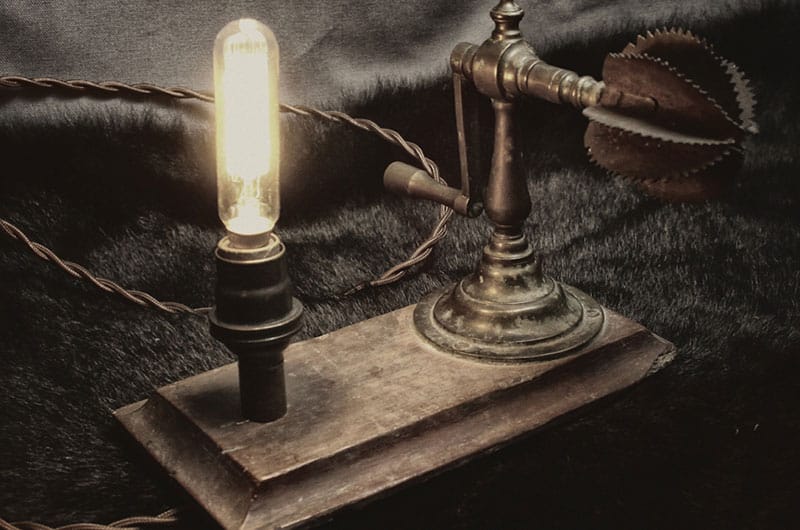 "There's no more magical a setting than Nantucket, and this evening of opera is an exciting way to showcase the extraordinary student talent The Boston Conservatory is developing," said board chair David Scott Sloan, a part-year Nantucket resident.
This event benefits year-round live streaming at the Dreamland, that features opera, theater, and dance, including the Metropolitan Opera's Trovatore, by Verdi, on Saturday, October 3, at 12:55 pm.
Two mini film festivals offer screenings the second weekend of the festival. Nantucket Shorts Festival shows two hours of films made by local amateur and professional filmmakers on Saturday, October 10 at 3:30 pm in The Dreamland. And on Sunday, October 11, at 1 pm, also in The Dreamland, the Nantucket Film Festival will show a Kid's Shorts program of films made by Nantucket kids and suitable for all ages.
Nantucket Community Music Center stages its 24th annual Pipe Organ Crawl on Saturday, October 10, starting at 9:15 am. Local and visiting master organists will play six of the island's historic pipe organs located in five Nantucket churches. The event begins at St. Mary's Church on Federal Street, then continues to First Congregational Church at 10 am, the Unitarian Church at 11:30 am, St. Paul's Church at noon, and the United Methodist Church at 12:30 pm. Visitors can hear a selection of the concerts or attend all of them. Details are at nantucketcommunitymusiccenter.org
As the Nantucket Arts Festival comes to a close, the Artists Association of Nantucket presents a complimentary event: its signature annual Wet Paint Weekend. It opens with a cocktail party at their new Visual Arts Center on Friday, October 9 (tickets at nantucketarts.org or 508-228-0722) to celebrate 70 years of art from the AAN Permanent Collection of Nantucket art dating back to the 1920s.
The weekend continues with AAN member artists painting en plein air across the island and welcoming spectators to watch them work. A list of locations artists will be painting can be picked up at the Ceceila Joyce & Seward Johnson Gallery, 19 Washington Street. "Over the course of three days, 50 artist members will spread out across the island to paint in preparation for a live auction," explained AAN executive director Cecil Barron Jensen. "Every piece auctioned off is freshly painted — or wet." The Wet Paint auction preview begins at 4 pm in the Nantucket Hotel, 77 Easton Street; bidding starts at 5 pm. A benefit dinner with limited seating follows.
Wednesday and Thursday evenings throughout the month of October, the Nantucket Historical Association is offering classes for those interested in historic arts and crafts. These single session classes include scrimshaw, transferware, textile art, shell art, and more, and are taught by artisans from Nantucket and the world. Inspired by Nantucket history, this 1800 House Program is dedicated to celebrating and reviving the island's rich tradition of decorative arts and crafts. Class schedule and registration are at nha.org.
For an up-to-date schedule of Nantucket Arts Festival events, visit the Nantucket Arts Council website at nantucketartscouncil.org or call their office at 508-325-8588.