~ by Abigail Terres ~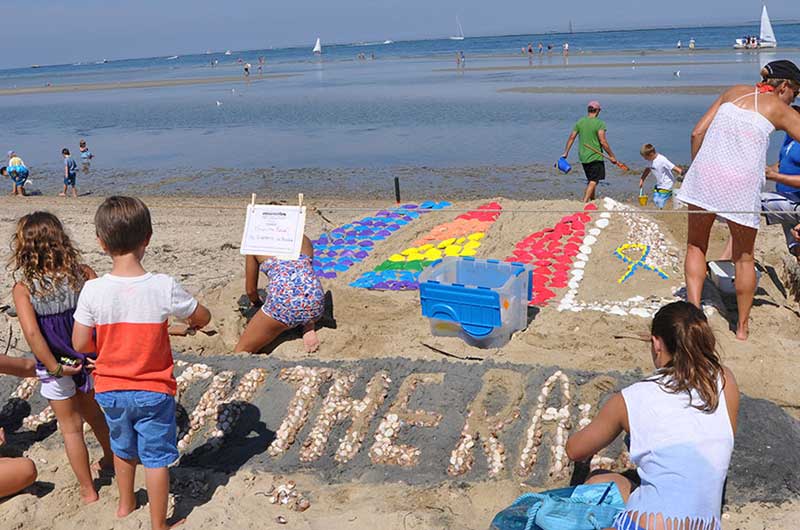 For the last 43 years, adults, teenagers and young children have put their skills and infatuation for sandcastle building to the test at the Nantucket Sculpture and Sandcastle Contest. The word "sculpture" in the title these past few years suggests that this festival has evolved giving participants the freedom to create virtually anything out of Nantucket's golden sand. The Nantucket Sandcastle and Sculpture contest, sponsored by the Nantucket Island School of Design and the Arts will be held this year at Jetties Beach on Saturday, August 15.
Kathy Kelm, Director of NISDA, got the idea for the contest as she and her husband gathered with group of friends on the beach to have a picnic and build sandcastles. Kelm was then a part of the Rhode Island School of Design when she found NISDA. Her students were excited about the opportunity to start a contest where they could build sandcastles themselves. Since that day the event has taken on "its own energy" Kathy exclaims. "People come from all walks of life to be a part of this event. It is mysterious and magical what they can create and what they create is amazing ; they are like artists at their studio."
Kelm was once approached by a woman who confessed to her that her family planned and painted shells all year for this one summer event they couldn't wait to be a part of again. Some families will plan their entire trip around the contest. Kelm says she has met families who will come the day of the contest and leave on the last boat out that night. She recalls a man from France who participated in the contest for 10 years. He was very meticulous, she says, with a truly artistic eye. "It is a wonderful cohesive family project. The contest provides a great opportunity to be with family and friends at the beach and have a wonderful sense of creative and community."
Be creative is the overreaching goal of this contest, although you may use hand tools and aids such as bucket and forms to build. The emphasis is on building and decorating with Nantucket nature, shells, etc. hand-made ornaments and decorations indigenous to the island.
Kathy stresses to remember to take away all non-beach friendly objects to protect our fragile ecosystem.
Jetties Beach, east of the Jetty is the building area for the castles and sculptures. Participants must check-in between 12 noon and 1 pm. Preparation and building on the lot may begin immediately after check in at noon. Spaces not claimed by 1 pm will be assigned to the waiting list of registrants. Participants may sign up as a team or individually. The age group of the team is that of its oldest member. A Family Team consists mainly of children, with one or two accompanying adults, older siblings, grandparents, etc. A Family Team that has all adults, a majority of adults or adults and teens is considered an Adult Team. Encouragement of children's castle building is highly recommended: if you are not registered, no helping. The application can be found on NISDA' website, www.nisda.org/NISDA_Events.html.
"As the contest got bigger and bigger over the years, we decided to give prizes for the winners, therefore it got more structured." Kelm explained. "We decided to give prizes, restaurants would give a meal and other local shops would donate objects such as ice skates; which was odd because the contest was in the summer."
Awards for the best Sandcastle or Sculpture are based on creativity, concept and design. Judges are island professional artists, visiting artists and educators, lecturers, staff and faculty from Nantucket Island School of Design and the Arts. There is also a Peoples Choice Award! You can cast your People's Choice vote at the registration table prior to 4 pm.
"All of our staff volunteers and spend all kinds of expenses to run it, but I am so fortunate to have such a great staff at NISDA who are all wiling and happy to help put on the Sandcastle and Sculpture Contest" says Kelm commending her staff.