~ by Amy Jenness, author of On This Day in Nantucket History, available at Mitchell's Book Corner ~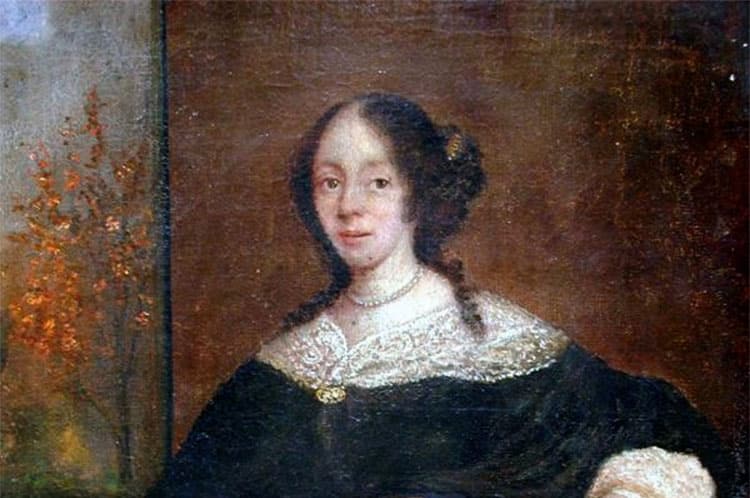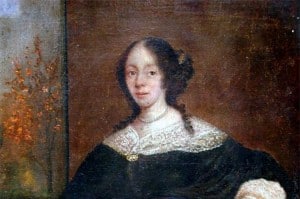 Abiah Folger Franklin was born on Nantucket August 15, 1667. Her father, Peter Folger, was a community leader who helped the first English families get established and also served as an interpreter between the white settlers and the islanders indigenous Wampanoag tribes. He had learned their language while trying to convert Native Americans to Christianity on Martha's Vineyard. Folger's traits as an industrious, principled, and learned man may also be his greatest legacy. Folger was Benjamin Franklin's grandfather, one of the country's founding fathers famous for helping to create a new country based on the tenets of hard work, curiosity, democracy, and free speech for all.
Among the first generation of white children on the island, Abiah was the eighth of Peter and Mary Morrill Folger's nine children and the only one born on Nantucket. At age 22 Abiah married a recently widowed English-born man named Josiah Franklin in Boston's Old South Church. Franklin, a soap maker, had seven children with his first wife and then had ten more children with Abiah. Her eighth child, and sixth son, was Benjamin Franklin, born in 1706. Franklin began as an apprentice to a Boston printer as a teenager, but very quickly created a life for himself as a politician and statesman, a writer and newspaper publisher, a scientist and an inventor. Abiah and Benjamin remained close and kept in touch with some of their Nantucket relatives and friends throughout their lives.
In a 1751 letter to her son, Abiah reported that their Nantucket cousin Kezia Folger Coffin, a wealthy island merchant, had visited her in Boston. Later in 1782, the French American author J. Hector St. John de Crèvecoeur would write several chapters about Kezia Folger Coffin in Letters from an American Farmer. Kezia, a controversial figure for much of her life, supported the British during the American Revolution, sold smuggled goods while the island was cut off from trade during the war and was later charged with treason. In 1768, when Benjamin served as postmaster to the American Colonies from London, England, he asked his Nantucket cousin Timothy Folger why it took mail packets longer to reach New York than it took merchant ships to reach Newport, Rhode Island. Folger told his cousin about a river-like current that ran northeast along the eastern shore of the New World and then turned east towards Europe. Folger, and many Nantucket sea captains, discovered the current when they found whales feeding at the edges of it. Franklin and Folger named the current The Gulph Stream. Now known as the Gulf Stream, the pair created a map of it and Franklin tried to convince English captains of its existence without any luck. A few years later, Franklin, back in America and a supporter of independence from England, would successfully convince rebellious colony sea captains to use the Gulf Stream to their advantage during the American Revolution.
Benjamin Franklin called his mother "a discreet and virtuous woman" with "an excellent constitution. They exchanged letters frequently and in a 1738 letter to her son Abiah expressed her disapproval of his membership to the Free Masons (he was elected Grand Master of the Grand Lodge of Masons of Pennsylvania). In other letters she inquires about his health and asks Benjamin to protect their Nantucket cousin Henry Coffin from getting the small pox during a visit to Philadelphia in 1751.
Abiah Folger Franklin died in Boston on May 8, 1752 at age 84 and was buried at the Granary Burying Ground. The Nantucket chapter of the Daughters of the American Revolution is named for Abiah Folger Franklin. A granite fountain and a bench mark the site of her birthplace near Madaket Road. Benjamin Franklin died in Philadelphia in 1790 at age 84 and is buried there in the Christ Church burial ground.
Peter (who died in 1690) and Abiah Folger are remembered and revered because of the legacy of Benjamin Franklin, but their lineage can be traced through a wide swath of 19th century descendants who impacted American history. Their descendants became politicians, writers, scientists, soldiers, businessmen, and entrepreneurs. Some notables include:
William Franklin (1730-1813) the thirteenth Governor of New Jersey
J.A. Folger (1835-1889) a Nantucketer who moved to San Francisco in 1850 during the Gold Rush and started Folger's Coffee Company. His granddaughter Abigail Folger, an heiress to the Folger Coffee fortune, was murdered by Charles Manson in California in 1969.
Captain Mayhew Folger (1774 –1828) a Nantucketer who discovered the last remaining mutineer of the English ship HMS Bounty living in secrecy in the remote Pitcairn Islands in the South Pacific in 1808.
Walter Folger, Jr. (1765-1849) a Nantucket native who served as a member of the U.S. House of Representatives from Massachusetts, and was also an inventor, astronomer, and navigator.
• Sophia Arabella Bache Irwin (1815-1904) served in the United States House of Representatives from Pennsylvania and as United States Ambassador to Denmark
Maria Mitchell (1818-1889) a Nantucket native who was the first American woman to be acknowledged for discovering a comet, to work professionally as an astronomer and the first professor hired at Vassar College.
Lydia Folger Fowler (1822-1879) the second American woman to earn a medical degree.
And, Henry Clay Folger, Jr. (1857-1930) President of Standard Oil and founder of the Folger Shakespeare Library in Washington, DC.