~ by Sarah Morneau ~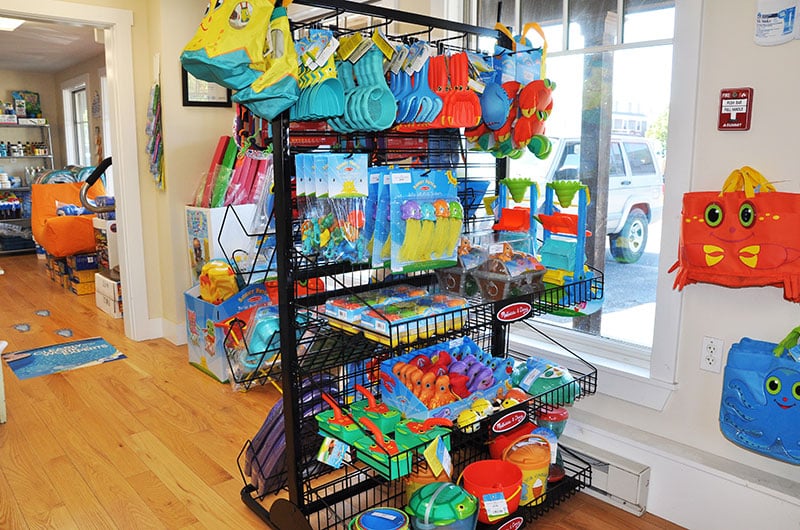 Summer on Nantucket means fun in the sun and a day at the beach or the pool wouldn't be complete without some awesome toys and floats! Many know Nantucket Pool & Spa Center for their construction, remodel, maintenance and repair of swimming pools and spas, but their Nantucket storefront also sells swimming pool and spa supplies and they carry a great selection of diving games, sandcastle kits, life vests, sand toys, rafts, tubes, beach bags, and exercise equipment.
Nantucket Pool & Spa is a family business, run by Steve & Caci Amaral. Steve's father, Sylvester, started the company on the mainland fifteen years ago and three of his sons (and their wives!) followed in his footsteps. When Sylvester became ill and couldn't travel to Nantucket anymore, Steve took over the responsibility of the island portion of the business. Sylvester always had a dream of opening a retail store on Nantucket, which he believed was a needed addition to the island and one that would thrive. In 2012 when Steve and Caci purchased the Nantucket side of the company from the family the dream was realized. They opened Nantucket Pool & Spa Center, the company's first storefront, at 1 Hanabea Lane. Relocating to Nantucket full-time and having the store means that Steve and Caci are more accessible to their clients. They are Nantucket's only full-service, one-stop pool and spa provider. They do new construction, service, maintenance, remodeling, hot tub sales & service and retail.
Now that I've discovered their amazing selection of beach and pool toys I'll be back to pick up some new goggles for my laps at the pool and some fun beach toys for my niece and nephews when they come to visit. Nantucket Pool & Spa Center is open Tuesday-Saturday from 9am-5pm and Thursdays until 6pm at 1 Hanabea Lane, across from the Thai House.