-by Ira Kantor-
White Heron Theatre's dream of establishing the first Equity theatre on the island of Nantucket began with a large tent planted on North Water Street.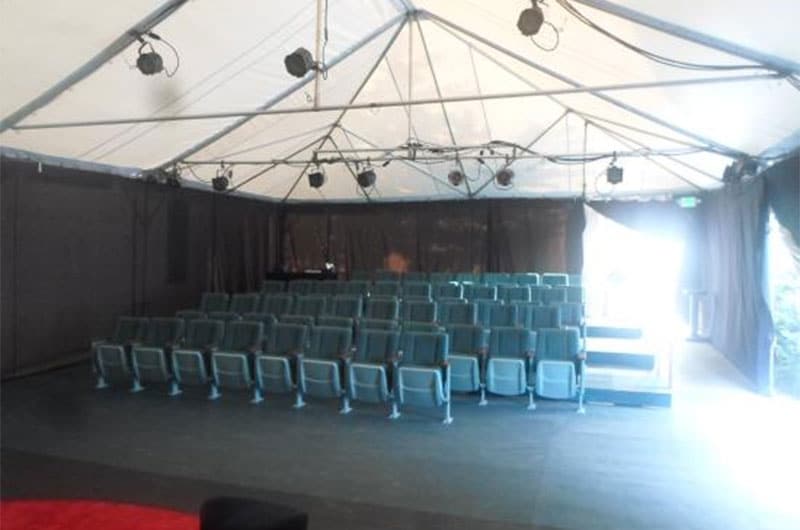 The tent, which reached dimensions of 30 feet by 50 feet, had a capacity to seat 75 and remained up from mid-May to mid-October in 2013 and 2014, was the initial means for audiences to see the cutting-edge dramas and unique plays put on by the now 3-year-old theatre company.
The tent was made to look as much like a theatre as possible. It was outfitted with floors, full lights, sound, and installed seats, which previously belonged to a Jehovah's Witness Kingdom hall outside of New Orleans. Yet White Heron simply couldn't compete with the outside elements – street noise and bad weather included.
Fortunately, White Heron's goal of a tangible theatre on Nantucket is fast coming to fruition. In fact, the theatre is slated to officially open its doors to the public in July 2016. Until then, the company is currently in the midst of a capital campaign designed to raise $7 million toward the building's construction. Located directly behind Nantucket's noted Whaling Museum, the theatre will be the first of its kind on the island in four decades dedicated solely to Equity Theatre, while also promoting theatre education and the development of new plays.
"The ability to produce and develop great professional productions and new plays in our very own space is destined to enhance the cultural and economic vibrancy of the island," said White Heron Executive Director and Co-Artistic Director Michael Kopko. "Our year-round programming will help keep the lights on in downtown Nantucket by bringing visitors, students, playwrights, directors, actors, set designers, teachers, and fans of the theatre to the island year-round."
Along with serving as home to a 10-week season of rotating repertory theatre, the new building will house a 160-seat theatre and the Nantucket Theatre Institute, an educational arm of the company devoted to theatre education and new play development.
Externally, the building takes on a maritime aesthetic, one reminiscent of the island's hallowed whaling history. The four-story building will be situated on one of the last buildable lots in Downtown Nantucket.
Thanks to encouragement from members of the Nantucket community, White Heron has provided two opportunities for patrons in its capital campaign that allow them to have their name be synonymous with the theatre, literally. First, White Heron has introduced a "Pave the Way" initiative, whereby people can make a donation and have their names ingrained in bricks paving the theatre courtyard. The second is a "Take a Seat" initiative where people can purchase actual seats inside the building.
As White Heron sets the stage for its capital campaign to ensure the company's new theater becomes a big smash with art and theatre lovers, the company's leaders savor the notion that they actually followed through with their artistic visions and dreams before immersing in the world of financial plans, unlike more traditional business models. This is what White Heron calls the principle of "Creative before Capital."
"Creative before capital: that's what we've been able to accomplish," says White Heron President and Founder Lynne Bolton. "You can have a creative idea and you can create the overall product and then build your business around the product. In the arts world, in particular, this is a very unique thing to do and we've done it."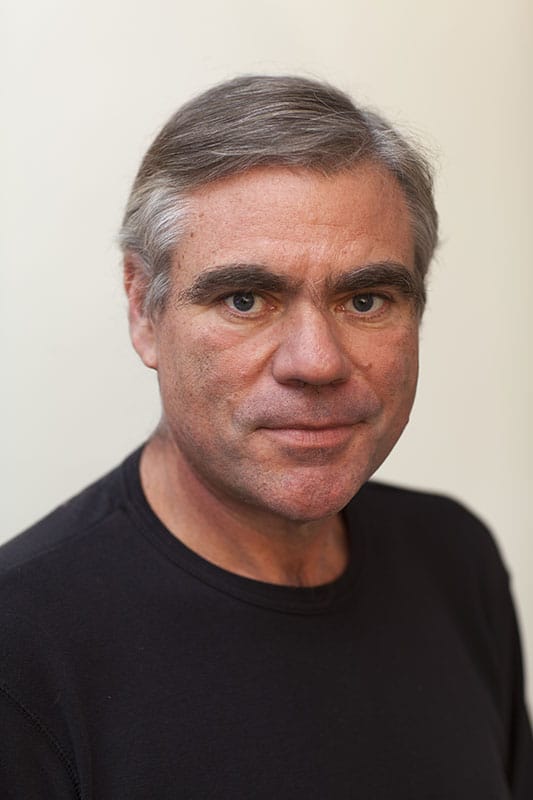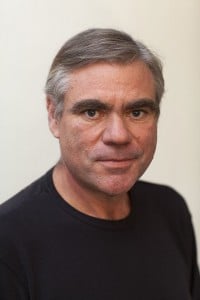 "There are a lot of people in Nantucket whose main concern is the development of the island architecturally and what's happening downtown," adds Kopko. "They may not be interested in theater, per se, but they may be interested in being part of an important new building and the artistic landscape downtown."
White Heron is committed to bringing theatre to the masses in any way it can, especially through the theatre's long-standing ties with other New England-based theatre companies. This summer, White Heron's season of Christopher Durang's "Vanya and Sonia and Masha and Spike," D. L. Coburn's "The Gin Game" will take place at the intimate and nearby Dreamland Theater at 17 South Water Street in Nantucket.
"We have a long, treasured history with Dreamland, both in their black box theatre and on their main stage," said Kopko. "In collaborating with this Nantucket arts staple, we are striving to make this summer one for the theatrical ages."
White Heron is also proud of its ongoing collaboration with New Haven's Long Wharf Theatre in Connecticut. The year marks the third year of White Heron's involvement with Long Wharf's New Plays Collaborative, an incubator program that presents a new play by an established playwright with the goal of transferring it to the New York stage. Last year's play "The Second Mrs. Wilson" opened on the Long Wharf main stage in May and is currently Broadway-bound. This year's play is "The Harvest" by MacArthur grant recipient Sam Hunter.
"We have terrific partnerships with our friends at Long Wharf Theatre and the Dreamland Theater in Nantucket to produce the best quality theatre possible," Bolton said. "Working with Long Wharf allows us to incubate new plays on Nantucket in the summer before they properly take flight in the American theater."
To White Heron, their new Equity theatre will be synonymous with presenting audiences with the best actors and the best productions put on by the company. While new equity theatres seem anomalous to the theatrical framework of Massachusetts, White Heron believes this is a superb attribute to help them stand out from the company's artistic peers.
"We work in what's called rotating repertory theatre. There aren't very many companies left in the state, let alone country, which still work in rotating rep," Kopko said. "There is a niche for professional-level arts on Nantucket across the board and across art mediums. We are always working to match the expectations of our customer base, who are very sophisticated when it comes to the arts."
Founded in 2004, White Heron's strengths also lie in putting on contemporary and classical work. Even though the company produces established works, members are unafraid to think outside-the-box when it comes to offering both engaging and unique productions.
"We try to pick plays that are both funny and touching yet are ones people can relate to in their own personal lives," Bolton said. "There isn't any competition in the arts world. We feel that more theatre is more theatre. We as theatre companies are individual in our own ways. Yet if you come to Nantucket to see what we do, you'll see three plays going on each week so you have multiple options available to you in terms of what you want to see."
Education is also a crucial component of White Heron's core, according to Kopko, who adds great acting comes from great teachers of the craft: "We want the best teachers in their disciplines to come out and attract students from the acting community all over."
The notion of "Equity" makes White Heron a "transformational" theatre, members say. The term "Equity" refers to the Actors Equity Association, the preeminent labor union representing tens of thousands of actors in the U.S. that helps them get paid, be healthy, obtain pensions, and sustain livelihoods.
"We hire Equity actors because the best actors in the country work in Equity theatre," said Kopko. "There's more work involved in putting on Equity productions, but at the end of the day, Equity is better for our actors and better for our company."
"We start with actors who share our process, and who are willing to be collaborative and willing to be extremely creative in what they bring to the table," adds Bolton. "When you have actors who are the best in the country, and really on their game, you can create a final production that's truly superb."
Working under Equity guidelines, White Heron adds that a play can be assembled and ready for stage performance in "two-and-a-half or three weeks" as opposed to longer periods of time, given the professionalism of the company's actors and the frequency of their rehearsals. Through Equity, White Heron pays for the rights to produce their plays but how they choose to produce them is entirely up to the company itself. The only caveat that exists before the curtain goes up for shows is that Equity actors must perform shows exactly as they are written in the script.
What is also helping White Heron's new theatre take proper flight throughout the island is the eagerness of Nantucket neighbors and residents to see it completed, thus bringing a new dimension of art to the region.
"The community has been behind us in the sense that everyone is very supportive of our efforts and eager to learn more about our theatre coming to be," Kopko said. "We have commitments from sponsors, residents, and financial institutions to get our project together and ultimately completed for the benefit of the community.
"It truly is a very exciting time on Nantucket. There is a lot of growth taking place and really an expansion of art and culture in the center of town where we are," adds Bolton. "We have a movement on this island to create a distinctive cultural district where there will be a strong concentration of arts and culture right in the center of town. We're thrilled to be included in helping this district come alive."