by Carl Oscar Olson
As you make your way down South Water Street toward the Whaling Museum, your feet might wander toward the music and laughter pouring out into the street. Wide open doors and windows reel you in, and it's almost impossible not to turn your head to see. The music sounds great, the food looks even better, and there's plenty of room at the bar. Why not go inside and take a seat at The Rose and Crown?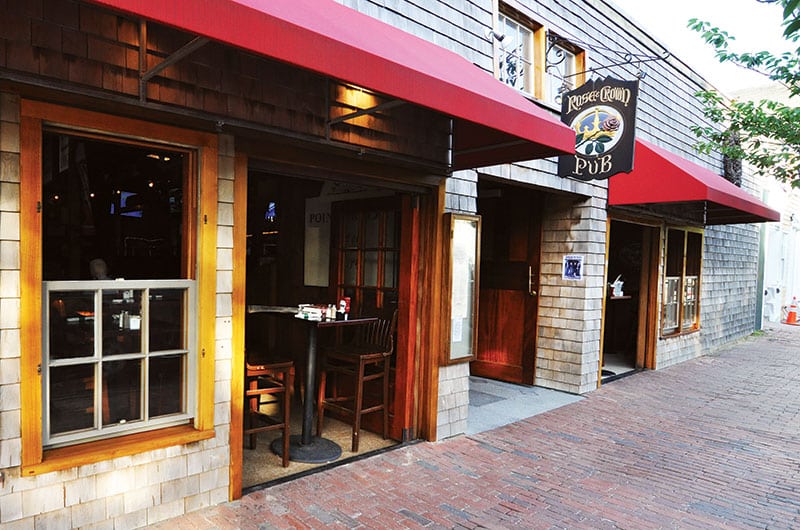 Roomy and accommodating, this island standby is conveniently located in the heart of downtown. It's a special place on Nantucket where everyone is treated like a local. The menu is diverse, the drinks are delicious, and diners feel right at home. Signs from businesses past and present decorate the high ceilings and walls, conjuring up happy memories while smiling faces gleam from the photos of patrons decorating the bar. This place is for good vibes only.
The drink list is long and diverse, offering everything from custom cocktails, classic wines, and a daunting list of drafts. If you just can't decide on a beer, ask for a flight to taste a few the eclectic options. After a few local brews, we decided to explore some of their mixed drinks before dinner. The Lily Pond Lemonade is satisfying and simple with Tito's vodka, pink lemonade, and a floral boost from lavender simple syrup. A 'Sconset Sunset combines pineapple infused vodka, grapefruit juice and a splash of prosecco for a bubbly, bittersweet libation. The house favorite, Rose and Crown Margarita, is an island twist on the southwestern standard. Shake it up with Tequila, triple sec, lime, and orange, then flavor with your choice of real watermelon, guava, or pineapple. The Watermelon was tangy and terrific and left us wanting more. Our favorite was the 888 Blueberry Cosmo. It's sweet and fruit forward with a natural blue hue that was oh so easy to sip.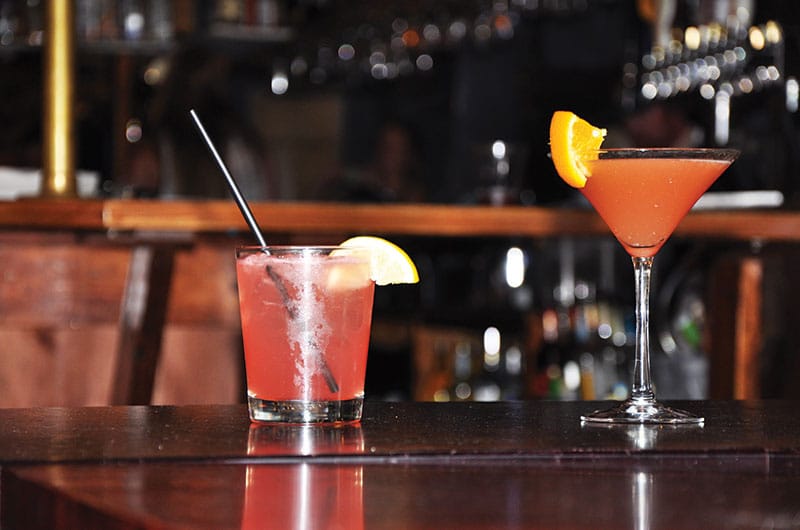 Mocktails are trending for a reason on and off Nantucket. They're a fun, flavorful way to stay refreshed while keeping a clear head. The bar proudly provides several options and we just couldn't pass them up. A Nantucket Cooler mixes fresh watermelon, sweet lavender simple syrup, and a spritz of soda with cucumber and mint. This drink is fantastically fizzy with all the flavors of summer. The big, frosty Classic Root Beer Float is creamy and delicious before or after dinner. The Crown is more than just everyone's favorite local pub. Things heat up early with talented musicians playing all the hits, but the party really gets started after dark with more live music, karaoke, DJs, and dancing seven days a week. Enjoy the fun no matter what time you dine.
The appetizers were as eclectic as the decor and came in all shapes and sizes. Grab a few "bites" at the bar or something bigger to share around the table because the menu offers something for everyone and groups of any size. We offered a few suggestions, but the hits just kept on coming from Chef Mark Adams' kitchen.
Click Images for Larger View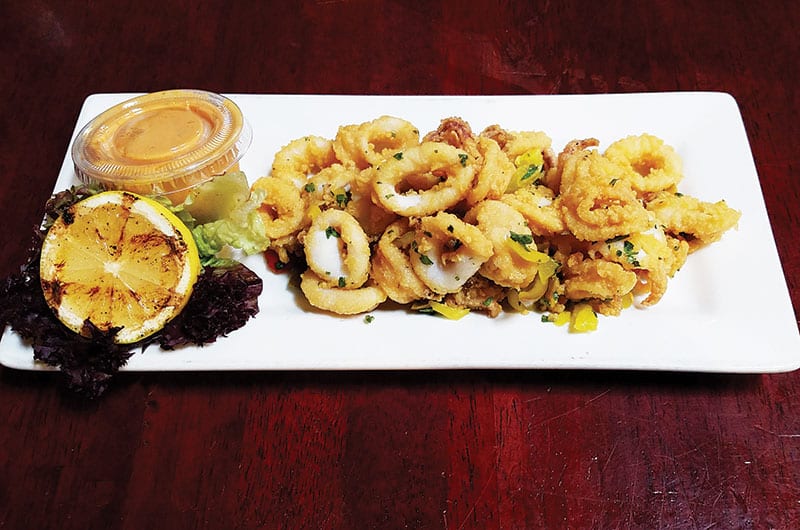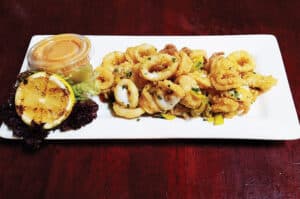 Calamari is a favorite of ours, and here these morsels are lightly battered and perfectly cooked. Tossed with banana peppers and parsley, a squeeze of grilled lemon and a house harissa mayonnaise made this one hit the mark.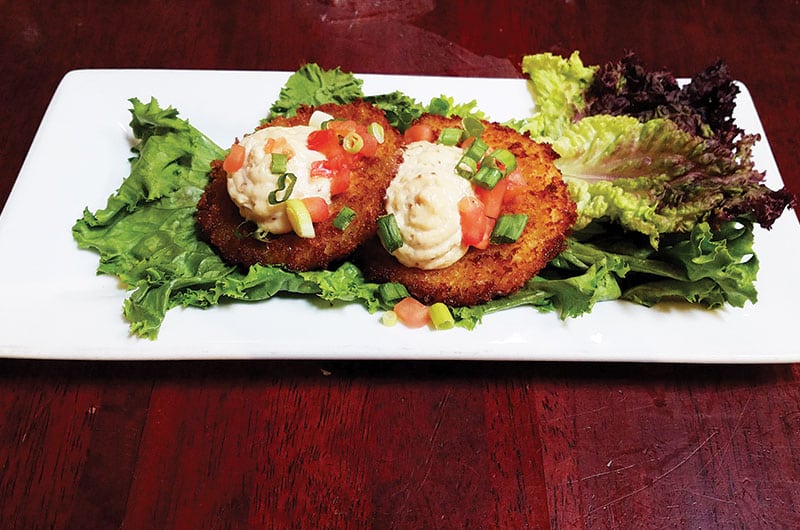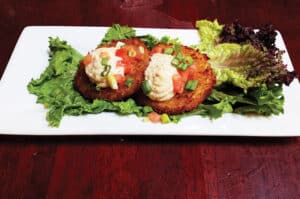 Two deliciously crispy Fried Green Tomatoes are a seasonal treat, their golden brown crust balanced with a creamy cheese and honey fig jam on top. The unripe fruit found it's sweetness in this delicious spread.
We suggest paring the Spiced Parmesan Crisps with the Charcuterie, a sampler for snacking that is available in small or large for parties of 1 or 2 to 8 or more. The crisps are buttery brown bites of perfection,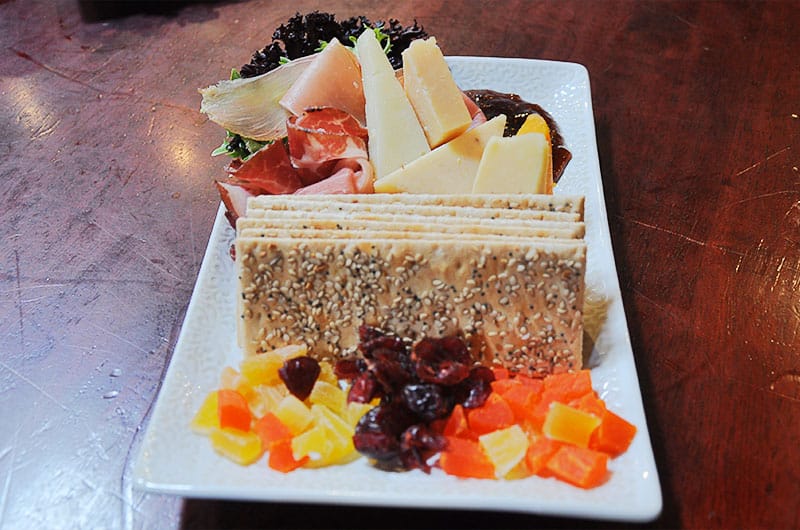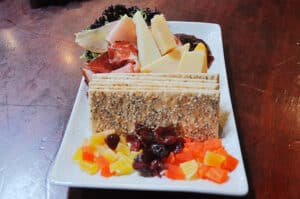 while the Charcuterie combines a global mix of meats and cheeses along with fig jam, dried fruit, pickled onions, and lavash bread.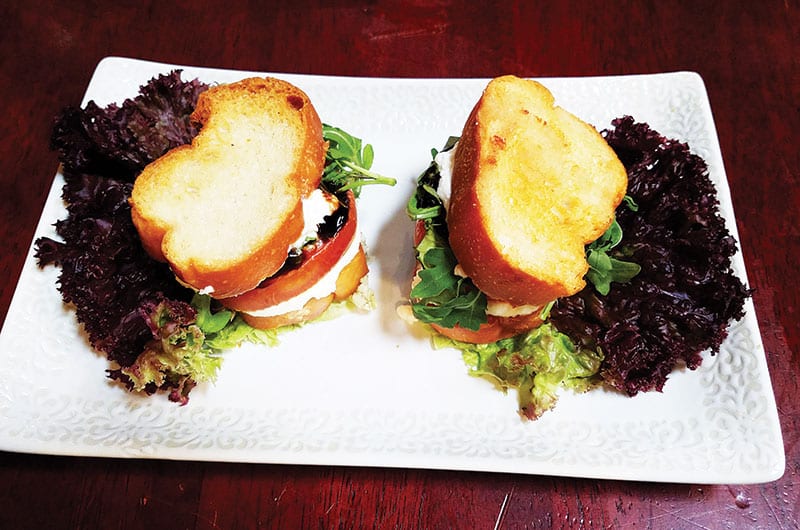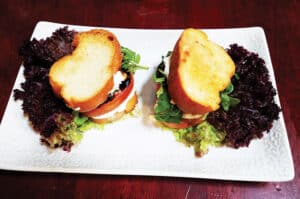 The Whipped Feta and Balsamic Marinated Tomato Sliders is one of our favorites. House feta and sumptuous cured tomatoes present the bright flavors of the season sandwiched between crispy toast. It's a marvelous marriage of flavors and textures served in two beautiful bites.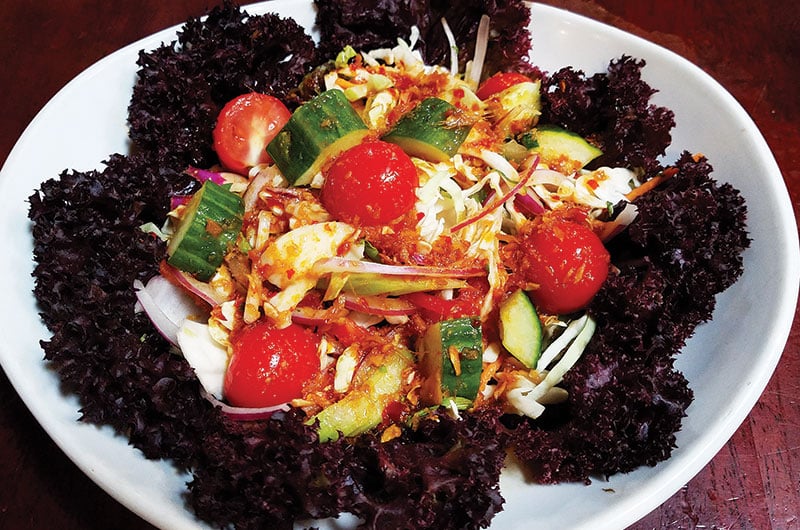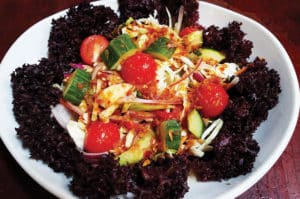 An option that beats the heat is the Crunchy Asian Salad. A melange of thinly sliced vegetables including cabbage, celery, bell pepper, and cucumber marinate before your eyes in an intensely flavorful sesame soy dressing. Flavors of ginger and cilantro settle in with a light spice from crushed red pepper.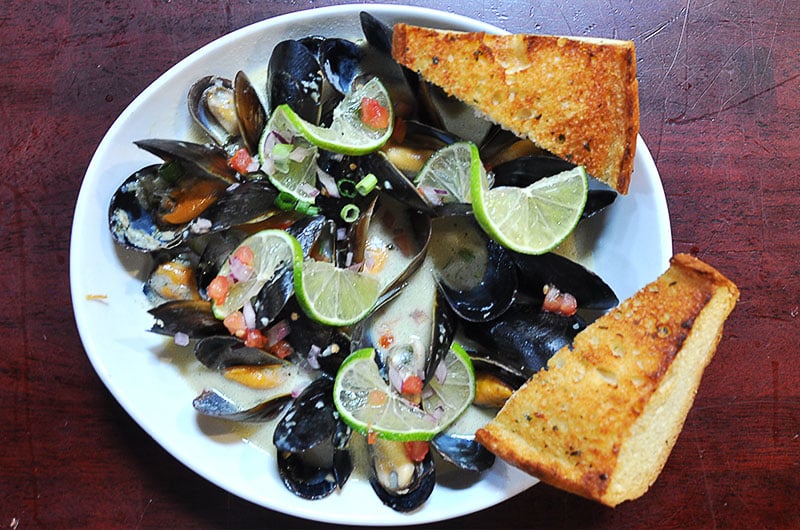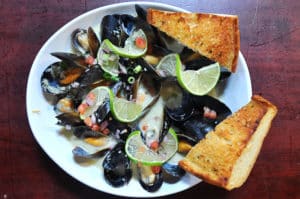 One dish that walks the line between app and entree is the Thai Green Curry Mussels. Handfuls of healthy black bivalves are bathed in a house coconut curry that is too good to leave behind. Add the garlic bread to help soak up every drop.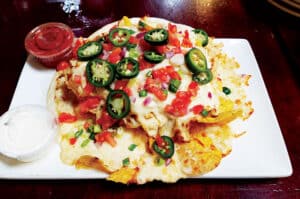 The crowd pleaser of the evening was the Nachos with the famous Rose and Crown Crack Chicken. Piled high with plenty to share, they are decked out with melty cheese, red onions, jalapenos, and fresh tomatoes. The star of the show is the chicken, of course, slow-cooked and so good in a secret blend of ranch dressing and sour cream.
We were spoiled the evening we visited The Crown with so many delicious entrees that it was almost impossible to pick a favorite. Every item was prepared with care and each dish stood alone as the accompaniments were tailor- made to suit.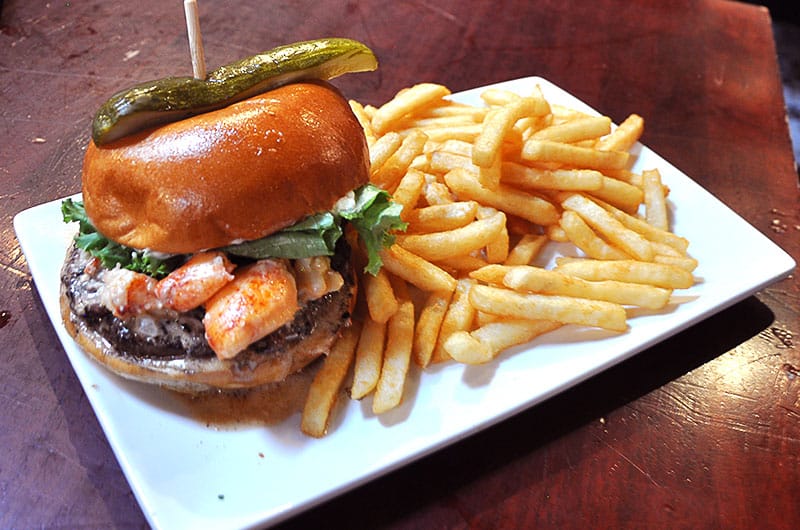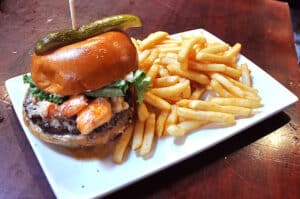 The Surf and Turf Burger is even better than is sounds. It is simply summer on a bun with loads of lobster atop an 8-ounce Angus burger, served with a house truffle mayonnaise and verdant green lettuce. The best of both worlds in every bite. We were treated to even more lobster in the Lobster Roll. It is served wonderfully warm, making the seaside classic more divine for dinner. The buttery roll was toasty and sweet, the lobster was lightly dressed in a lemon butter, and the cole slaw was the perfect side.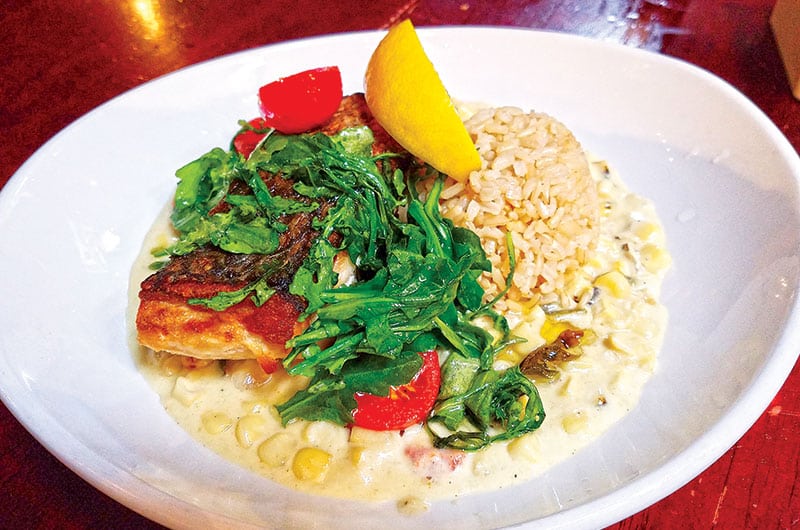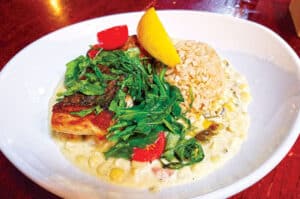 We couldn't urge you enough to try the Pan Seared Black Bass. The flesh of this fish is flaky and mild yet meaty and dense, and the plating put us over the moon. It's served over perfect al dente brown rice and corn chowder, a side that enhances the sweetness throughout. Sauteed arugula and summer tomatoes add a fun, fresh flavor. This dish was hard to share!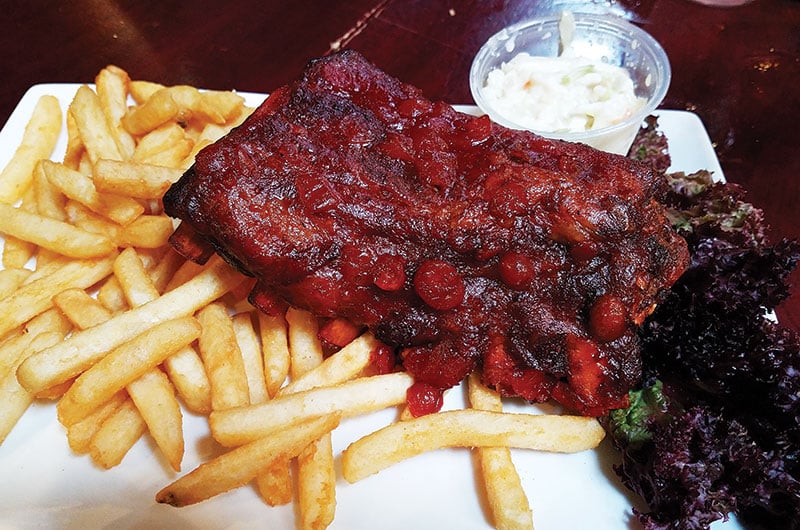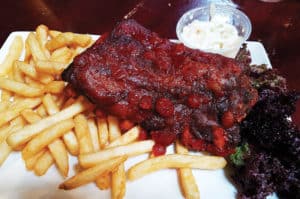 In The Crown's version of everyone's favorite barbecue basic, Baby Back Ribs are smothered in a house cranberry sauce and served with fries and cole slaw. They're patiently slow-cooked then grilled fast for a caramelized crust that you just can't beat. Fall off the bone finger food that is so easy to love.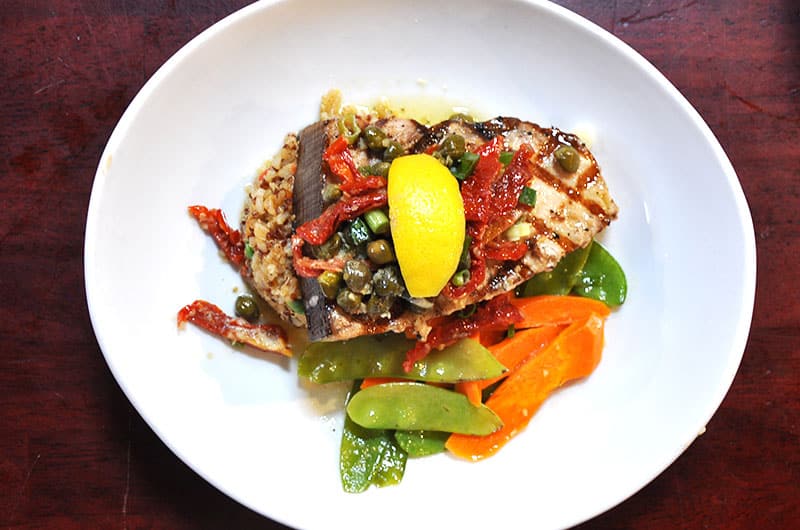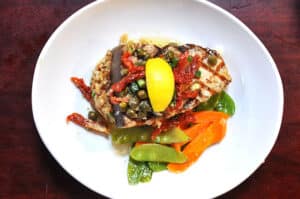 Marvelous meaty Grilled Swordfish comes alive with a lemon caper sauce and sun-dried tomatoes. It's served with gluten free Korean spiced quinoa, peas and carrots and could easily step in for a steak.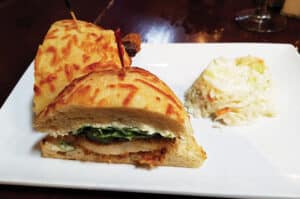 A sandwich to please at any time of day is the Buttermilk Fried Chicken. Tender, juicy white meat is served in a cheesy ciabatta bun. It's crunchy and delicious, but topped by the toppings. Whipped feta, roasted tomato, and mint-marinated cucumbers bring every bite to life.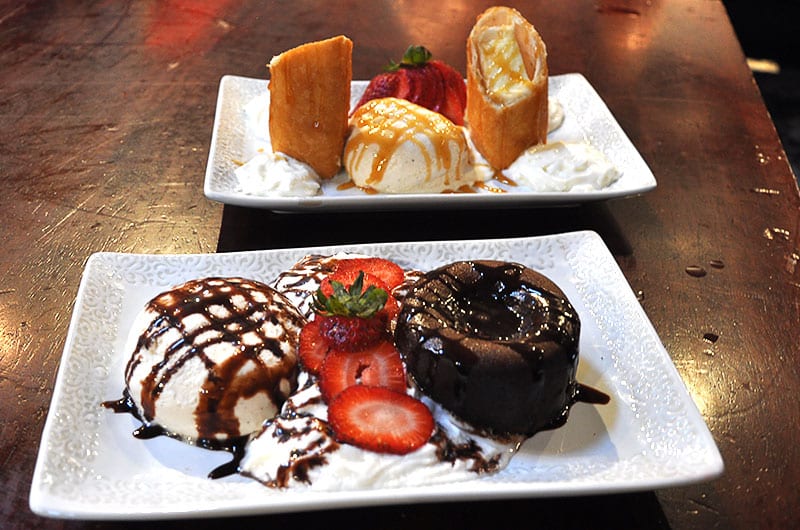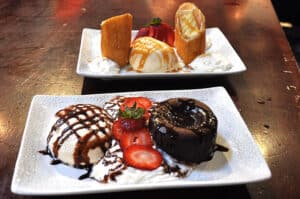 Dessert did not disappoint with two Crown classics. The Fried Cheesecake is sweet, crispy, and cool with a delightful tang, served with vanilla ice cream and a caramel drizzle. The Flourless Chocolate Torte is a decadent dream served warm with vanilla ice cream. It is dark, dense, and delicious.
You'll find Debba, the Queen of The Crown, working every angle of the restaurant. If she's not showing you to your table she'll be taking your drink orders or bringing you dinner. It's an obvious display of the passion she and the rest of the crew have, making it their mission that you leave happy. So come alone, come with friends, or come with family. Come as you are to The Rose and Crown.
Rose & Crown
23 South Water Street • 508-228-2595 • theroseandcrown.com
Serving food continuously from 11:30 am to 10 pm; entrees from 5pm
Entree prices range from $17.99 to $26.99, plus
burgers, meal-size sandwiches & salads most under $17
Bar open until 1 AM with craft beers on tap
Entertainment • Air-conditioned