by Carl Oscar Olson
Before European settlers arrived on Nantucket, the island was inhabited by the indigenous Wampanoag people. They numbered in the thousands and thrived not only due to their cultivation of corn and beans, but because of the richness of the environment around them. With the convenience of modern agriculture and mass production, it's easy to forget about the local harvest that supported generations here on Nantucket. So let's fill our bellies, feed our souls, and have some fun in the process.
Grapes can be found growing wild in many different countries and climates around the world. We love them for their sweet snack-ability fresh or dried, in preserves, and, of course, made into luxurious libations. During late summer, clusters of wild grapes can be seen hanging from vines all across our island. The vines do best in full sun, so keep your eyes peeled along roadsides and trail edges, over fences, and around tall trees.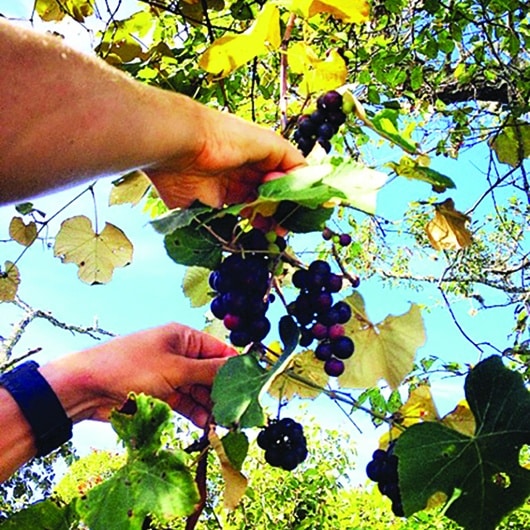 One species native to Nantucket is the Fox Grape. They can be found in a variety of island habitats but seem to do best in moist soil, which is why they are plentiful in bogs and swampy areas like the UMass Nantucket Field Station in Polpis, Squam Swamp, near the Hidden Forest, and around Windswept Bog. The flowers and heart-shaped leaves are easy to overlook in the summer, but once late August turns into September, the smell of grapes adds sweet notes to our salty sea breezes. You definitely smell them well before you see them, so get in the habit of keeping some fruit buckets in your car for impromptu harvesting. Just make sure that you are not picking on private property (or, if you are, get permission).
Though the flavor of the Fox Grape is considered to be too potent for wine making, they are nice for a nibble on your hike, preserving in jams and jellies, or juicing. They're also delicious in sweet sauces and reductions. Fresh grapes freeze well and the leaves are edible, too. Try them in salads to enjoy their bitter, citrusy flavor, or blanch some for your own homemade Dolma. For bread bakers who want to try an old fashioned challenge, the skin and berries of wild grapes attract wild yeast (the white powdery substance on the skins), so grapes can be used to make sourdough starter.
To make delicious and rich grape preserves with wild grapes, first pick and pick over 6 cups of grapes. Wash them well (twice at least, three times if they are sandy), and pick out all remaining debris. Then put the grapes in a heavy pan with 6 cups of white sugar. Stir and heat to a rolling boil, then turn down the heat down as low as you can with it still boiling. Boil for 20 minutes. Cool slightly and then press the grape mixture through a strainer to remove the seeds and skins. Stir the preserves, put them in jars, and use your usual method (heat or paraffin) to seal.
When colonists first came ashore in the 1500s, they couldn't miss the hardy beach plum. Prized for centuries and cousin to the domesticated fruit of the same name, the beach plum thrives in windswept sandy soils from Maryland to Maine. The round, purple fruit contains a large pit and has bitter skin, making it unpleasant to eat raw. But when the fruit is processed into jelly, juice, or wine, the flavor is as distinctively rich as it is deliciously deep.
Beach plum shrubs tolerate salt air, but do not reliably produce fruit: many varieties set a crop only once every three or four years, even if they bloomed heavily. Their white flowers bloom during May and June. The fruit that follows (when it follows) is usually ripe enough to pick by the middle of August into September. Most varieties of the fruit are a dark purple when ripe, though smaller than commercial plums found in the store. If you are lucky in your foraging, you can sometimes find a slightly sweeter golden variety. If you see a bush with a brightly colored ribbon tied around it, know that it was already claimed by a fellow forager and find another place to pick. If you'd like to try cultivating beach plum shrubs, check out Oikos Tree Crops, a nursery in Michigan that sells three varieties that can grow successfully on Nantucket.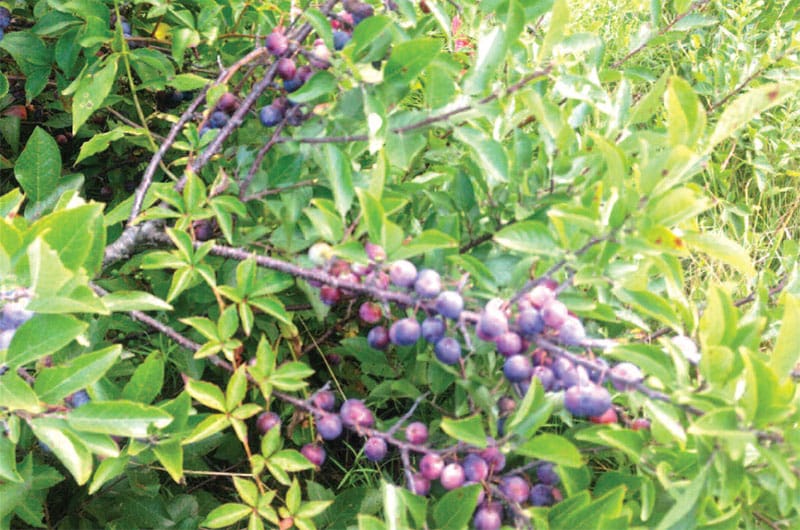 What should you do with your beach plum bounty? Most harvested beach plums end up in jam or jelly, using a very easy recipe that mixes plums (be sure to include some not-so-ripe plums to take advantage of natural pectin), sugar, and extra pectin if needed. Try adding a cup of port or red wine. Simple though it is, these jars of claret-colored jelly will be prized gifts come winter. Beach plum jelly tastes like a floral version of a not too sweet grape jelly, and it's delicious on a PB&J, as a condiment with meats, or spread across an English muffin.
Another forageable food you don't have to search high and low for on Nantucket Island are rose hips. Impossible to miss, the small orange and red orbs can be found in late summer and early fall on the rosa rugosa that grow virtually everywhere in the sandy soil of Nantucket. They're probably on the path you take to the beach and along the road you drive on to get there.
A native of East Asia, the beach rose was introduced into the United States as an ornamental plant in the mid-1800s. By the early 1900s, it was reported growing all across Nantucket. Rose hips are the seed pods left behind when the delicate roses drop petals and fade away. The hips ripen in autumn, when they turn bright orange-red, and if you can wait to harvest them till after the first frost, they will be easier to work with.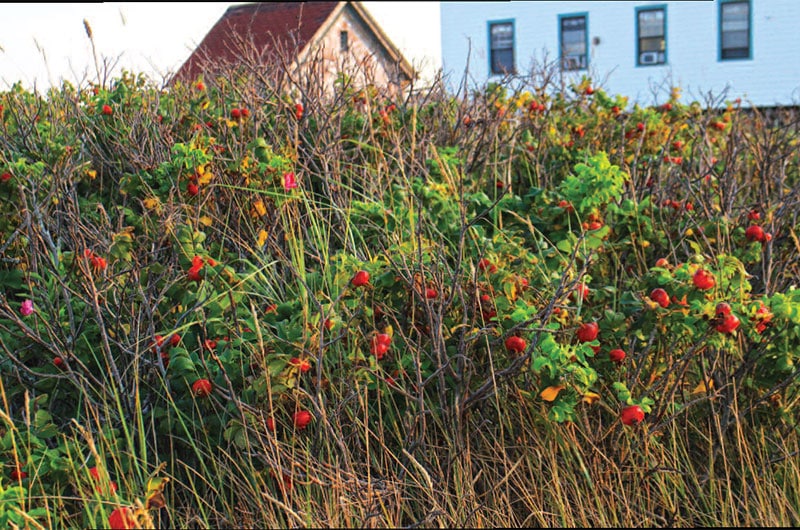 Though it is most commonly found dried in teas, the cranberry-like flavor of the rose hip has many other applications in the kitchen. They make a brightly flavored spread not unlike marmalade, sweet and versatile syrups— even ice cream and wine can be made from rose hips. They are also fine to eat raw, though most folks find them much too tart. It is estimated that they contain 4 to 40 times the vitamin C in oranges.
Not only are they great to cook with, rose hips have been used for centuries as a natural remedy to a number of ailments. From preventing and treating colds, treating stomach issues and intestinal diseases, weight loss, high blood pressure, and even topically on stretch marks. These immune boosters are truly a super-food.
To dry rose hips, cut the berry in half and remove the seeds; this is not an easy task, so be patient. Lay them in a single layer on a cookie sheet and cover with a kitchen towel. Store in a cool, dry place, and in a couple weeks you'll have enough for all your favorite recipes and remedies. Many other rose hip recipes call for straining (jellies) or leaving the berries whole (vinegars) so they don't have to be seeded.
The stalwart, native nature of the rosa rugosa means they are often used in gardens as ornamental shrubs, so avoid picking fruit from any plants that might have been treated with chemical fertilizers or pesticides. Just one more reason explore the lesser known areas of Nantucket and find them in the wild!
Although the wild grape, the rose hip, and beach plum are prized finds well worth the work, we are not the only island inhabitants who enjoy them. It's important to take only what you need during your harvesting; you want to leave enough behind for the animals who depend on them for sustenance.
Of course, there are a few things to be careful of while on your food finding missions. Always avoid trespassing on private property. Instead, stick to public land or conservation areas that are open to the public. Take measures to protect yourself from ticks and other biting bugs, too. Though DEET is a tried and true repellant, there are a growing number of all natural sprays and lotions that are proving to be effective. And remember to watch where you walk. Poison ivy is prevalent on the island, and much like the plants you are searching for, it can often be hiding in plain sight.
There are very few downsides to seeking your own late summer harvest of wild island plants. Enjoy the fresh air and exercise, enjoy the time spent with friends, and enjoy the simple pleasure of learning something new. Best of all and quite literally, enjoy the fruits of your labor.
FOX GRAPE PIE
CRUMB TOPPING
1 cup flour
3/4 cup sugar
2 tsp. Cinnamon
1/3 cup butter, softened
Mix until crumbly.
FILLING
4 cups of grapes, cleaned well
1-1/4 cup sugar
1/4 cup flour
1 tablespoon lemon juice
2 tablespoons butter, melted
Prepare pastry for a one-crust 9-inch pie.
To make the pie: Slip skins from grapes and set them aside for a later step. Put the grape pulp in a saucepan and cook over medium heat for 5-7 minutes. Press the pulp through a sieve (or food mill) to remove the seeds. Mix pulp with sugar, skins, salt, flour, lemon juice, and butter. Pour into your pie crust and top with crumb topping.
Bake at 425 degrees for 10 minutes and then turn the heat down to 350 degrees and bake for an additional 30 minutes or until the pie filling starts to bubble.
FILLING
4 pounds beach plums, halved and pitted
1 cup granulated sugar
2-3 tablespoons cornstarch
1/4 cup of port wine or malbec
TOPPING
2 cups flour
5 tablespoons sugar, divided
1 tablespoon baking powder
1⁄2 tsp. ground cinnamon, divided
1/4 tsp. nutmeg
1⁄2 cup (1 stick) chilled unsalted butter, cut into small cubes
3⁄4 cup plus 2 tablespoons whipping cream
1 large egg
For filling: Preheat oven to 400F. Toss plums, sugar, wine, and cornstarch, in large bowl to coat. Transfer to a 13x9x2 inch glass baking dish. Bake until thick and bubbling at the edges, about 20 minutes.
For topping: Whisk together flour, 3 tbsp. sugar, baking powder, salt, half the cinnamon, and all the nutmeg in large bowl. Blend butter in with fingertips until mixture resembles coarse meal. Whisk together 3⁄4 c. whipping cream and the egg. Stir egg mixture into flour mixture just until blended. Knead only until dough comes together.
Mix together the last 2 tbsp of sugar and the other half of the cinnamon in small bowl. Remove beach plum mixtures from the oven, stir. Break off pieces of the dough and drop them over the hot plum mixture. Brush dough with remaining cream. Sprinkle the cinnamon sugar over the dough.
Bake cobbler until the topping is browned, about 30 minutes. Serve hot or warm with vanilla ice cream.
ROSEHIP JELLY
4 lbs rose hips
3 1/2 cups sugar
6 cups water
1/2 cup fresh squeezed lemon juice
1 package SureJell pectin
In a large soup pot, cook the rose hips and the water over medium-high heat and bring to a simmer. Cover and cook for 1 hour (or longer), until rose hips are soft. Mash the rose hips into a rough puree, then poor mixture into a strainer set over a bowl, let strain into the bowl for at least an hour and then press on the solids to extract more juice.
Measure out 3 cups of juice. Rinse out the pot and pour in the juice with the sugar, lemon juice and pectin. Bring to a boil, dissolving all the pectin. Bring to a boil for 1 minute.