by Maryjane Mojer
Bartlett's Ocean View Farm
My career in restaurants began as a waitress. Though not many believe it, I had always wanted to wait tables. It just seemed like such a great job. Active, busy, serving people great food. I started waitressing for Robin and EJ at EJ Harvey's, where Island Pharmacy is now located. I loved every minute of it!
After EJ's, I started baking at 21 Federal Bakery with Maeve Harrington and Connie Sturgis, and was welcomed into a group of beloved, talented bakers who were generous with their friendship and their recipes. Tina Fournier and Liz Holland were just up the street at Center Street Cafe. I can still taste Liz's Sesame Cottage Loaf.
After 21, I moved on to The Boarding House, owned by Bob Kuratek, then to Le Languedoc, Provisions, Straight Wharf, and Nantucket Clambake Company, Nantucket Bagel Company, Nantucket Yacht Club, and finally to Bartlett's Farm, with guest appearances and pit stops in several other places including a very brief (one day) stint at Easy Street Restaurant. Though it may seem like a long list, it was, in fact, my education, and each restaurant brought new ideas, new menus, and new experiences.
Any technique or recipe that I wanted to learn was there for the asking. Long before the web or cell phones, walking in the backdoor and calling the kitchen phones was the preferred mode of communication. It was a very special club. Restaurants competed through the front doors, but the back doors were always open, always welcoming.
Though I do miss the sounds and the smells of the kitchen (albeit only by a few feet as my current office is just down the hall), I've found that many of the same efficiencies and philosophies are applicable in my role as Market Manager. Rotation, knowing where your ingredients come from, that sense of urgency and teamwork, sharing recipes and ideas, it's all part of Customer Service.
I so value my friendships that came from my time in kitchens and have a strong bond with many of my former coworkers. Call it muscle memory or commitment, but I've worked various school functions with some of them over the years, and we all simply pick up where we left off and fall into the same routines.
I'm an avid notetaker and have several journals and notebooks filled with various recipes from all of the restaurants and many of my friends and coworkers over the years. Some were in their handwriting, some had names, some were just scribbles on a napkin, but they all evoke fond memories of kitchens I've had the joy of working in.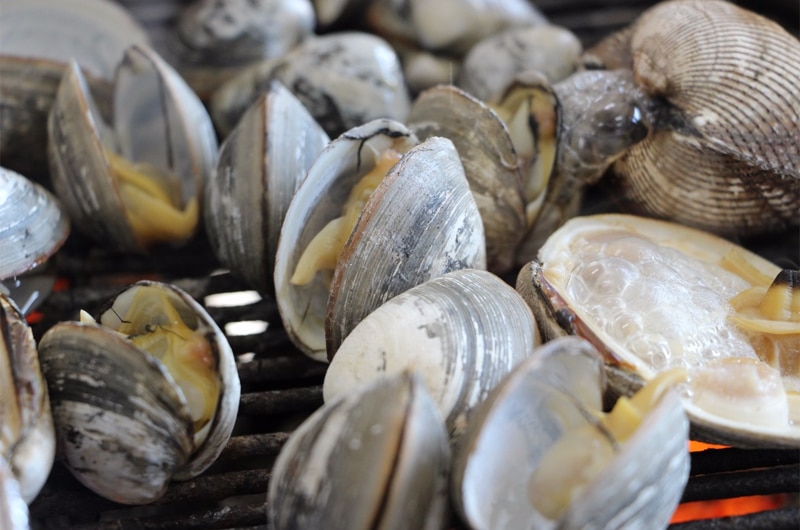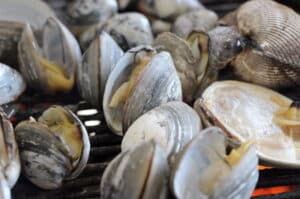 PORTUGUESE LITTLENECKS
A mess of littlenecks (for this recipe, lets say five dozen)
Olive Oil
8 (give or take) cloves of garlic,
finely chopped 2 anchovy filets
6" of linguicia, peeled and ground
1/2 cup dry white wine
2 tablespoons butter
1 cup breadcrumbs (Italian)
1 teaspoon paprika
Grill your littlenecks just until they begin to open. Being careful to save as much juice as possible, break them open, reserving the liquid and removing the meat, chopping rough.
Save shells and place each half on a baking sheet. Preheat oven to 350. In a heavy pan (cast iron) sauté chopped
garlic over low to medium heat until soft and translucent. Add anchovy filets, and continue cooking over low heat until they are dissolved. Add ground linquicia and reserved clam juice. Add roughly chopped clams.
Add white wine to deglaze pan, scrapping up all of the goodness. Simmer for five minutes and then remove from heat. Stir in bread crumbs. Place a heaping spoonful into each shell. Dot each with a bit of butter. Bake for approximately 12-15 minutes. Sprinkle with paprika and serve with lemon wedges
BROTHERHOOD MUDSLIDE
1 oz Kahlua
1 oz Bailey's Irish cream
1 oz Vodka 3/4 oz
(two tablespoons plus a teaspoon) simple syrup Coat a glass with melted chocolate
Blend all ingredients, fill glass, top with a dollop of whipped cream and chocolate shavings
BOARDING HOUSE SWEET POTATO PEPPER MUFFINS
Preheat oven to 350 Spray or grease muffin tin
3 eggs
2/3 cup sugar
1/2 cup canola oil
2 cups mashed sweet potatoes
3 cups all purpose flour
2 teaspoons baking soda
1 teaspoon baking powder
2 teaspoons salt
1 tablespoon cracked black pepper
In a mixer bowl with whip attachment, beat eggs with sugar until thick. Add oil, beat until combined. Add cooked, mashed, sweet potatoes, mix until combined. Add dry ingredients and mix until thoroughly blended. Spoon into prepared muffin tins, filling each one 2/3 full.
Bake for 25 to 30 minutes until center springs back when touched.