by Carl Oscar Olson
Time is relative, and so is distance—what might be a short drive in other places can be an adventure on Nantucket. The sun was shining in Surfside when we made our departure, but as we rolled on, the fog rolled in. The day was different and full of wonder when we arrived at TOPPER'S at The Wauwinet.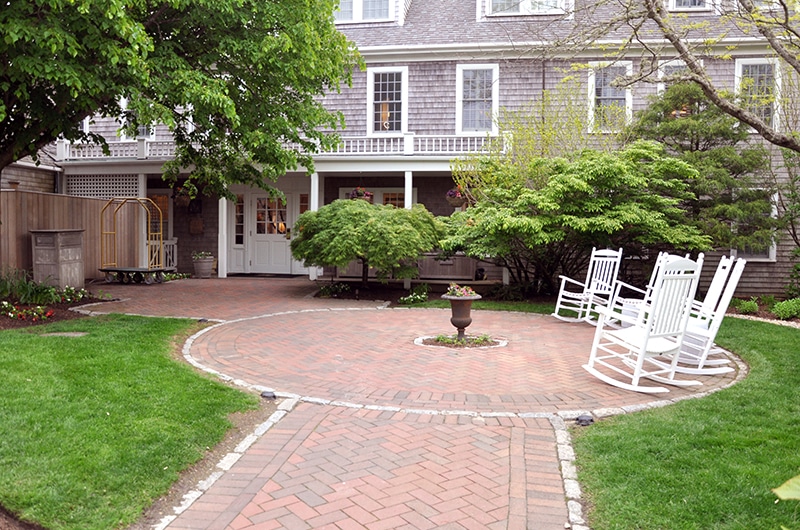 The light was waning and the temperature was falling, so the heaters above the deck provided some welcome warmth. The interior is even more spacious and inviting, but we dine outdoors whenever we can. A lightship basket of bread graced our table featuring still warm milk rolls, herbed loaf, and Boston brown bread with molasses and black currants, all made from scratch. Silky sweet homemade butter was smooth beyond words and we couldn't pass it quickly enough.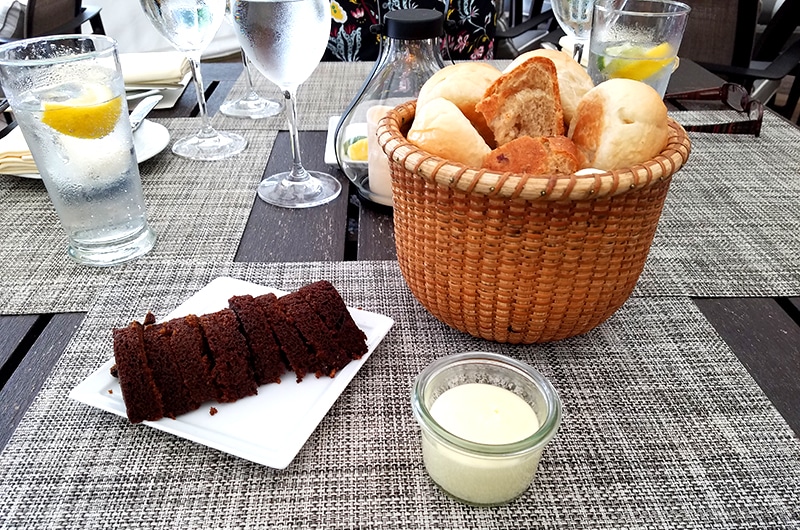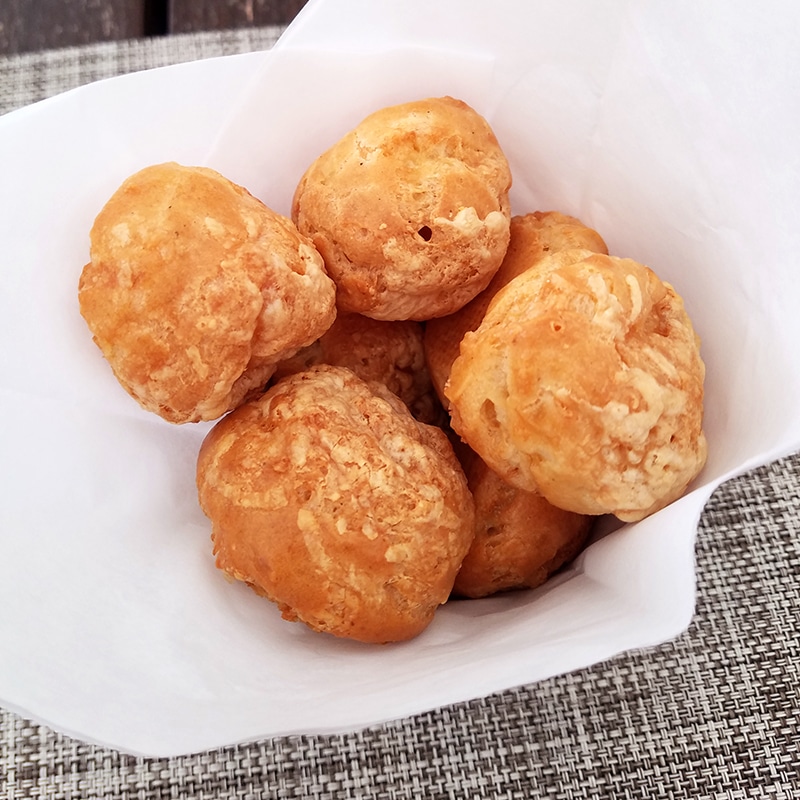 While we made some dining decisions and before the basket was depleted, Chef Zachary sent out another treat. The Gruyere Cheese Puffs were as light as a feather and a scrumptious, savory starter. They were still warm with a crispy crust that gave way to an airy, delicate interior.
Deciding on starters was no easy task, due in part to the fact that there are multiple menus to choose from at TOPPER'S. For more casual courses, the Deck Menu is simple and satisfying, designed with relaxation in mind. If you prefer the more formal approach, the Dinner Menu offers several options for each course. Order the 3- course prix fixe for $96, or indulge as you go a la carte. For the top notch evening, the TOPPER'S Grand Tasting never misses. Bask in the best with a 7-course tasting menu for $125 a person, add $115 for the complete vintner's experience.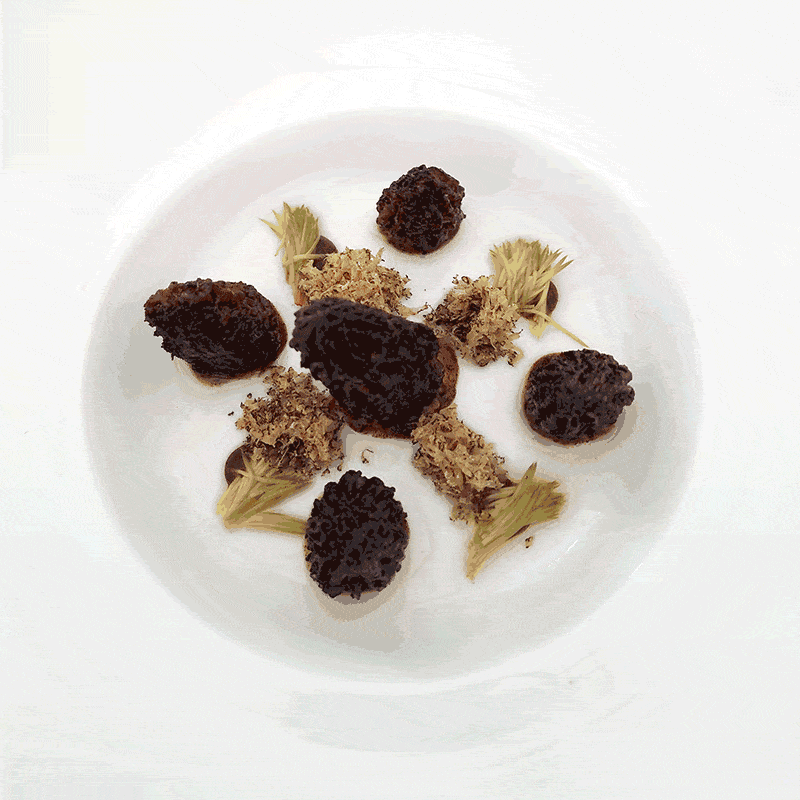 Naturally we couldn't settle on just one menu, so we dabbled in all three. Seasonal Morel Mushrooms were packed with pureed chicken liver, tender spruce sprigs and truffle and created an illusion of the forest floor with the aroma to boot: a table-side pour of consommé brought it all together. The dish was transformed into an earthy, savory stew before our eyes and we couldn't get enough.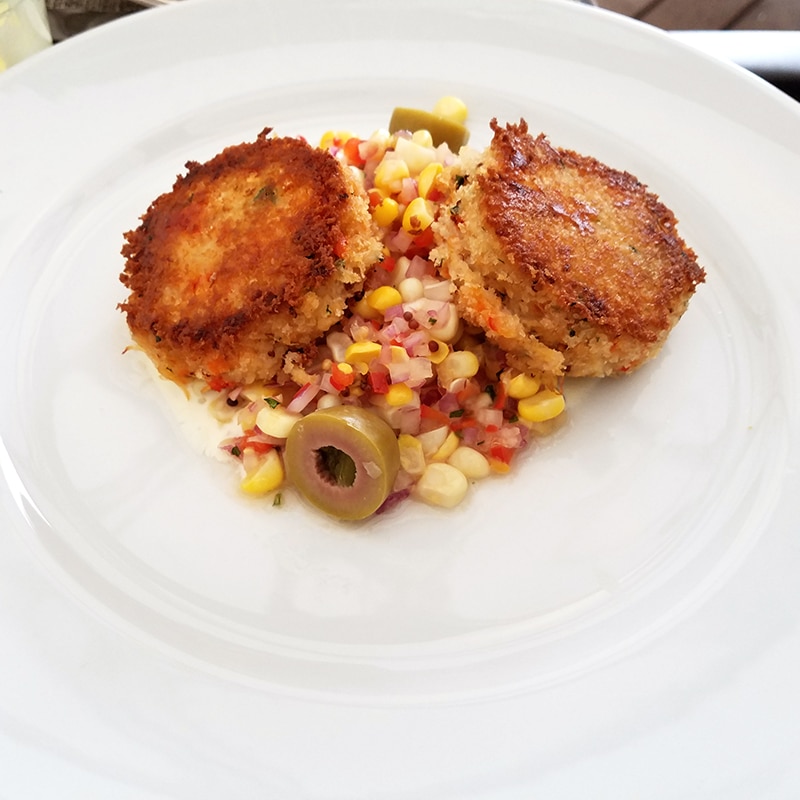 The roasted corn relish served under the Lobster and Crab Cakes had us dreaming of summer harvests, both from land and sea. The sweetness of the two were a perfect pair, while jalapeño stuffed olives and a mustard cream balanced the dish out with a salty, spicy kick.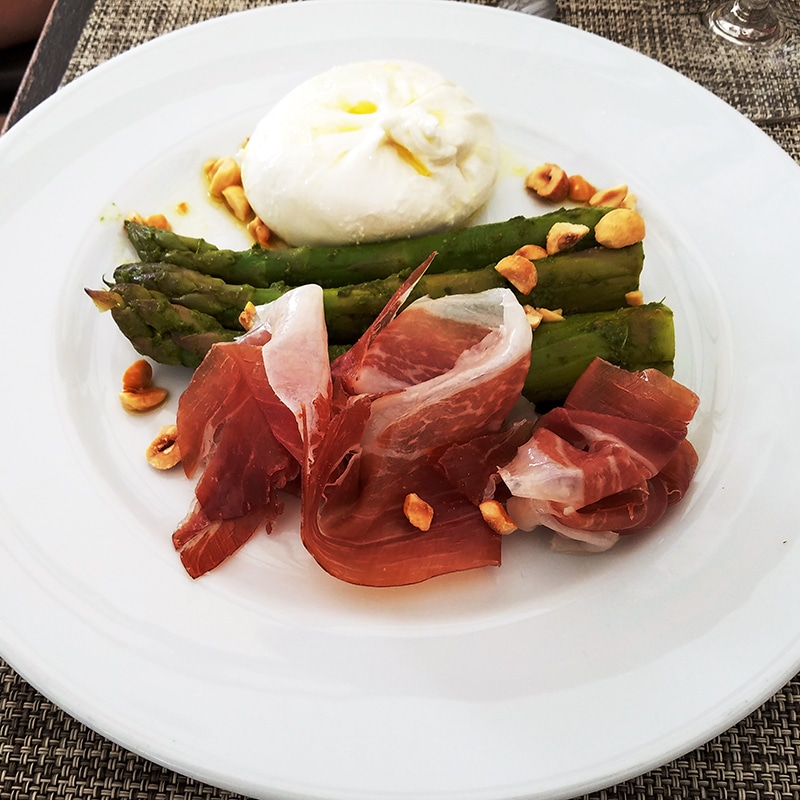 A splendid satchel of Gioia Burrata came recommended by Chef Zachary. The fresh, white cheese had a slight bitterness which enhanced the sweetness of the fresh green asparagus. La Quercia prosciutto Americano was a fitting addition and crunchy hazelnuts just added to the fun.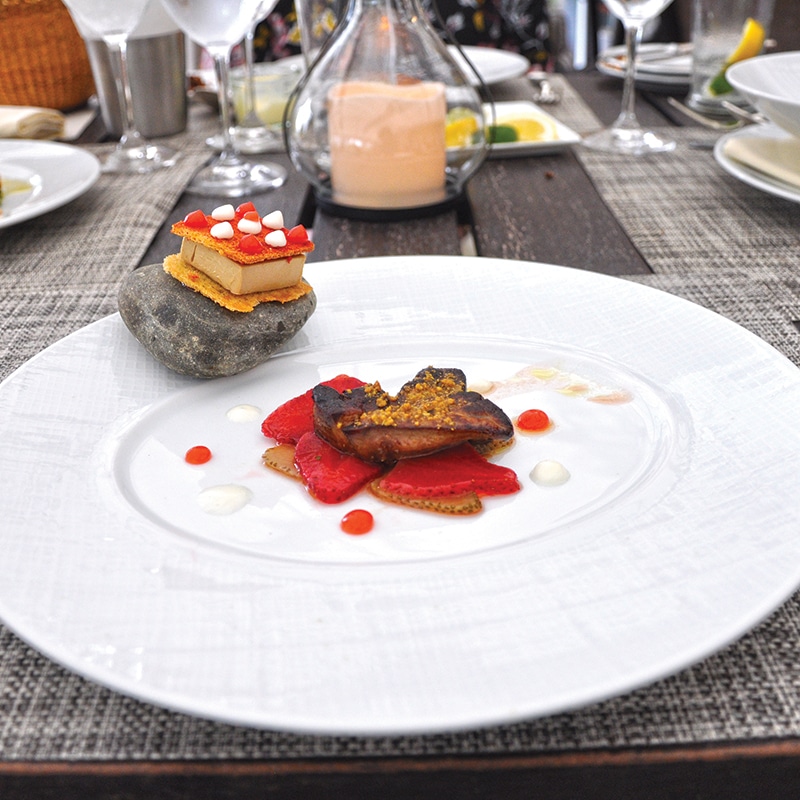 Our favorite first was the Hudson Valley Foie Gras, served two ways. One was a delicate mouse sandwiched between crispy cousillant and dotted with strawberry elderflower puree. The other was sublimely seared atop vibrant pickled strawberries with a pistachio paste. Deep richness met fruity acidity in this match made in heaven, every flavor being marvelously mirrored by its counterpart.
TOPPER'S and The Wauwinet have had a very busy off season. Not only was the kitchen fine tuning its menu, but the hotel was undergoing a full demolition and redesign of the interior. Every room is brand new, so for a truly exceptional Nantucket experience, you should see for yourself.
With the first course behind us, we took a moment to relax and enjoy the scenes surrounding us. Beautifully manicured gardens, smiling faces on other guests, and of course, the vast Atlantic sprawling into the mist. Then, our faces fixed on the dishes coming our way.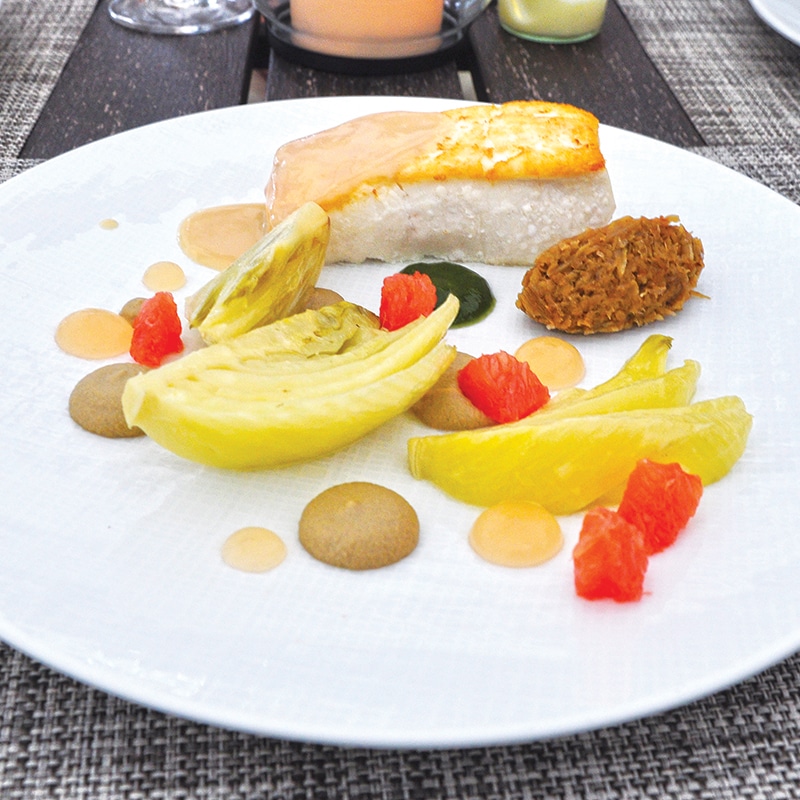 The Bay of Fundy Halibut hit every mark. The thick, moist, flaky fillet was like a blank canvas, and the other components were the paint. Flavorful fennel was sweet with its mild herbal quality, while bitter notes were shared with the grapefruit and picholine olives. Tarragon united the two sides, every aspect working beautifully with the fish.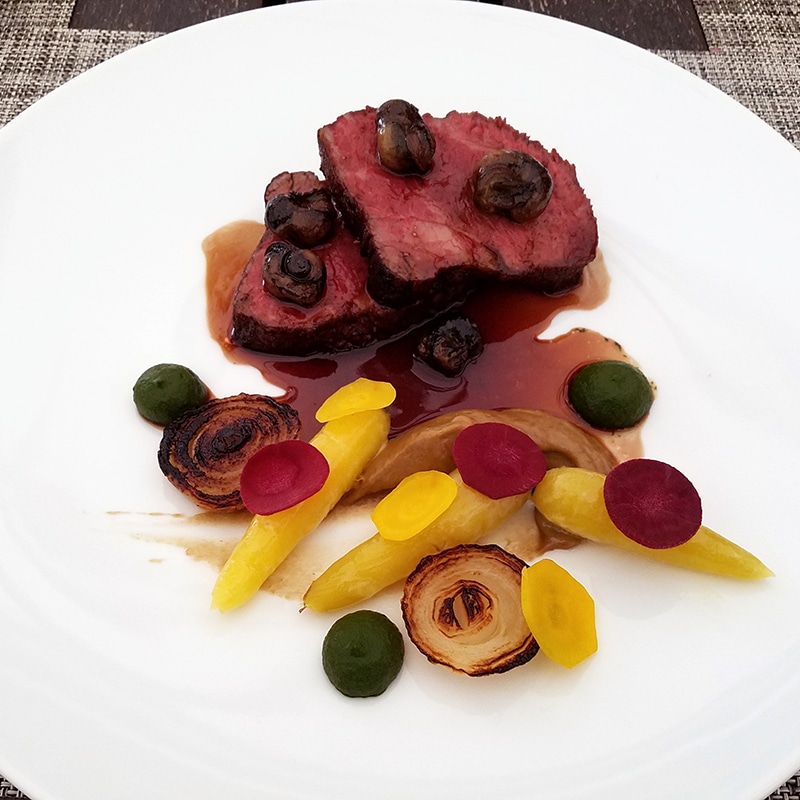 Petit Gris snails were masquerading as mushrooms on the 50 Day Dry Aged Beef, tender and meaty and serving the same purpose. Colorful carrots and ramp puree contrasted the richness of the steak, and bonus bone marrow elevated this dish to new heights.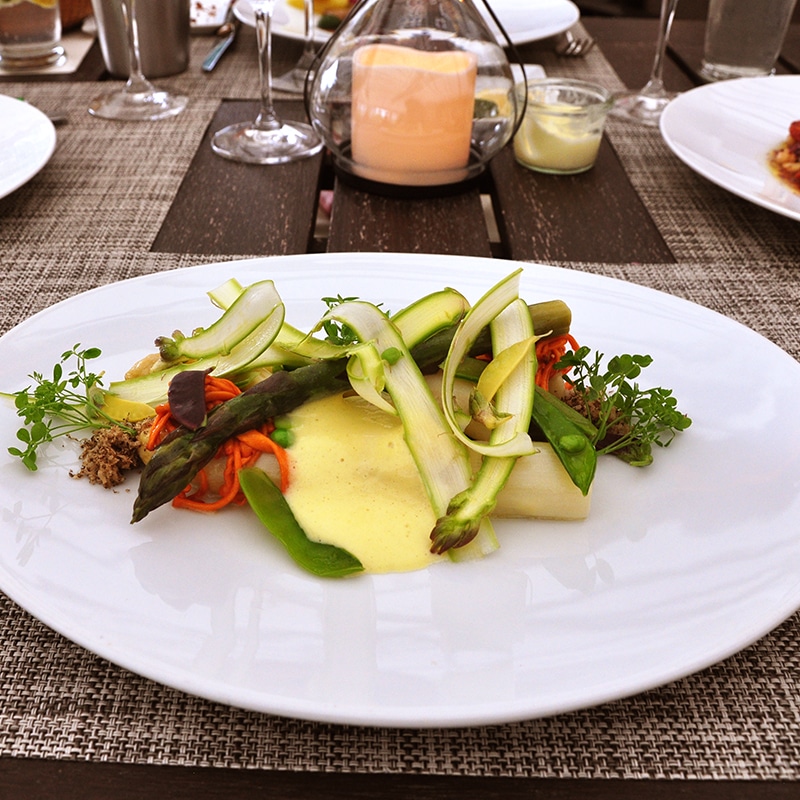 We saw asparagus from every angle in Asparagus "Near and Far". Purple Passion from Pumpkin Pond Farm was united with white asparagus grown in the Netherlands. Tender, sweet, and vegetal, it was all served in varying degrees of doneness; steamed, shaved, and pureed. Bright orange cordyceps from Tibet resembled noodles in look and feel, and all of it met in the middle with a complex vin jaune sauce.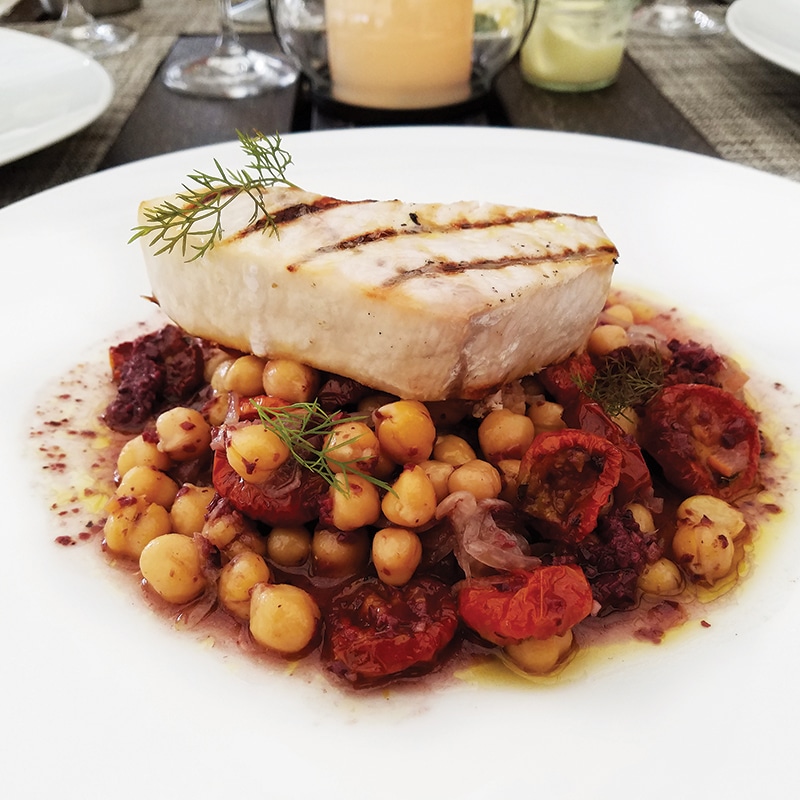 We were glad we went with another one of Chef Zachary's suggestions, because the Grilled Block Island Swordfish was one succulent steak. The gorgeous grill marks sat proudly atop sweet roasted tomatoes, creamy chickpeas, and pickled fennel. Acidity was provided by preserved lemon and an olive vinaigrette tied it all together.
One of our favorite parts of each plate throughout this meal was the varied use of each ingredient. Some would be presented in multiple preparations, adding different dimensions while keeping things simple. When asked how he does it, Chef Zachary said, "we just keep on pushing!" Even the ordinary is extraordinary at TOPPER'S.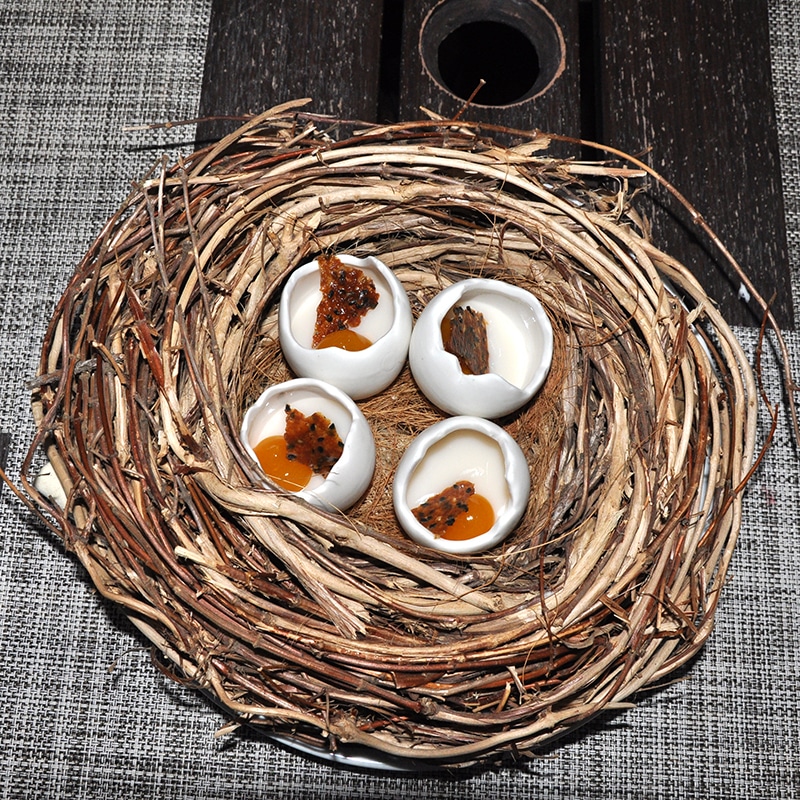 After our plates were cleared, we were greeted with a surprisingly daring pre-dessert. Its dramatic presentation included a birds nest and ceramic eggs, each containing mango jelly mimicking yolk and almond blancmange posing as the white. The texture was uncanny, and a small sesame brittle was good to the last crunch. If taste had been turned off, it might as well have been a soft boiled egg.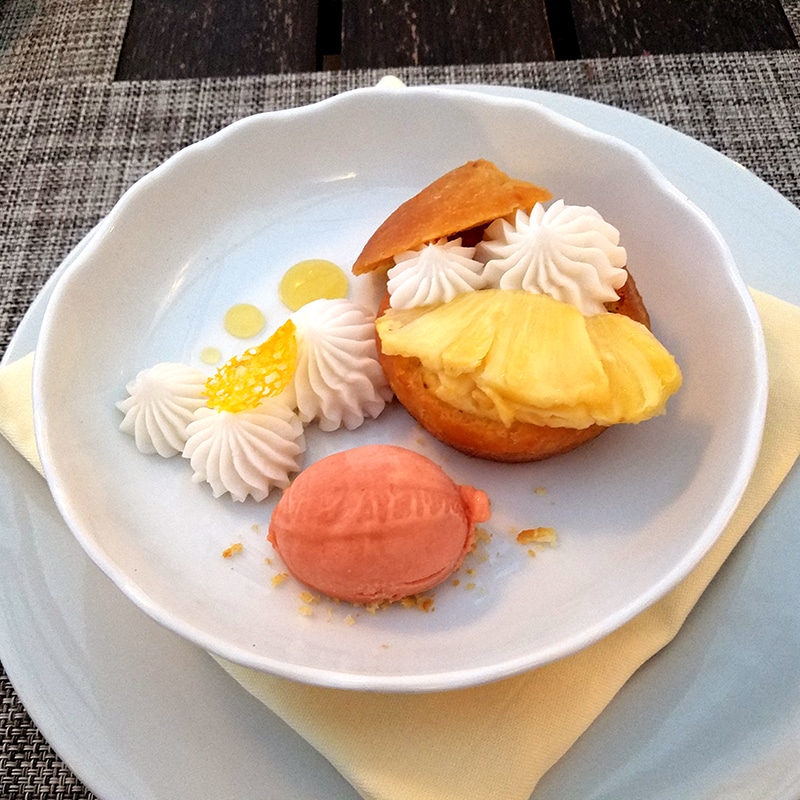 For a trip to the tropics with a drink in hand, go for the Baba Rum. Creamy coconut custard dolloped the plate and a fragrant guava sorbet had our mouths watering. Roasted pineapple would've been enough, but the star was the rum soaked cake. Intoxicatingly delicious.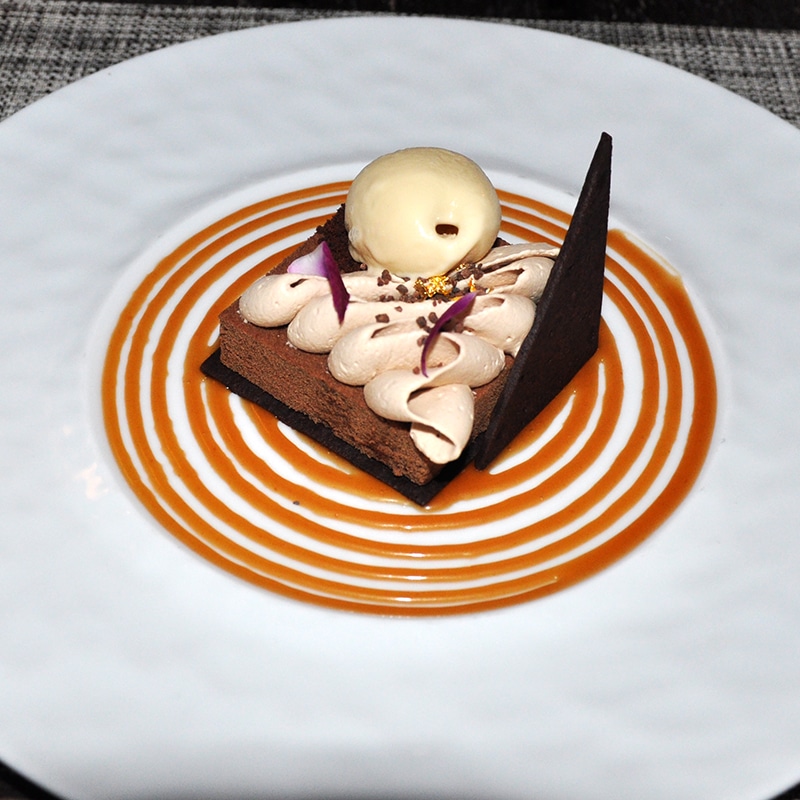 If you have to have chocolate, the Maracaibo Chocolate will not disappoint. A spiraling swirl of caramel showcases milk chocolate cremeux and caramelized white chocolate ice cream. Differing densities and temperatures made this treat good to the last bite.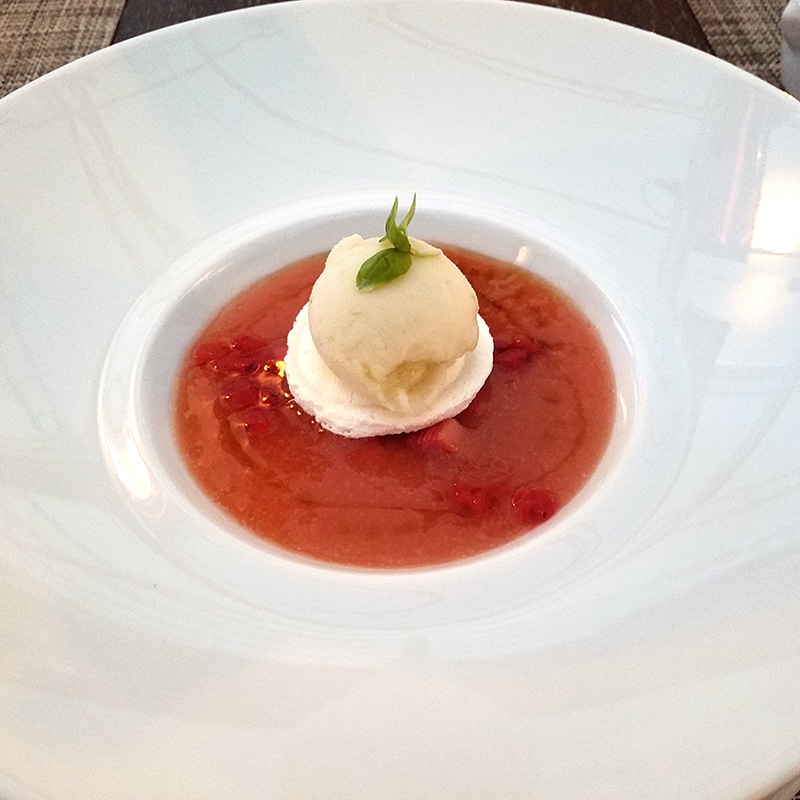 The Rhubarb Soup looked too good eat … almost. Pinks and reds of rhubarb and strawberry supported a merengue raft, and perched on board sat a scoop of basil sorbet. It's a sweet symphony of summer flavors that we'd order again and again.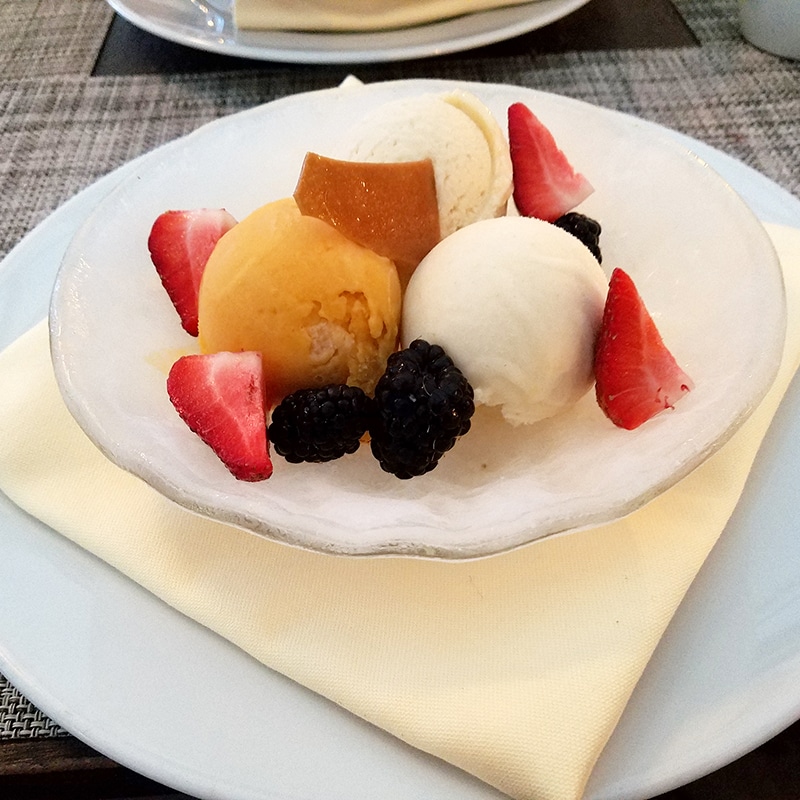 We had the most fun figuring the flavors of the Sorbet. Three separate scoops mingled with fresh fruit, each silky smooth and never icy. After much deliberation we were right about two of the tastes, so hold off on asking to test your own palate.
Emerging out the back of the restaurant, we paused to reflect on the flawless execution of our meal. Ghostly silhouettes of homes and boats emerged through the fog where would otherwise be the best sunset spot on the island. Though it might have been the only thing missing from this meal, the view is breathtaking no matter what.
We'll no doubt be thinking of this evening long into the summer and all year long, and we eagerly await our next chance to visit. Do yourself a favor and join in on the experience that is TOPPER'S.
TOPPER'S at The Wauwinet
508-228-8768, reservations recommended • Wauwinet.com
Breakfast served 8 to 10:30 am; Sat & Sun Brunch 11:30 am to 2 pm
Lunch noon to 2 p.m. • Dinner served nightly from 6 p.m.
Deck Menu served from noon to 9:30 pm
Indoor & Outdoor dining • Award-winning wine list • Full bar service
TOPPER'S Bar open daily noon to 11 pm • Major credit cards accepted