by Carl Oscar Olson
We all fall into routines. The things we like, the things we're used to, and the things that are convenient can limit our horizons and leave us missing some of the best life, and Nantucket, have to offer. It's important to keep things fresh, to keep options open, to keep trying new things. We are very excited to experience something both new and fresh this summer with the opening of The Beet.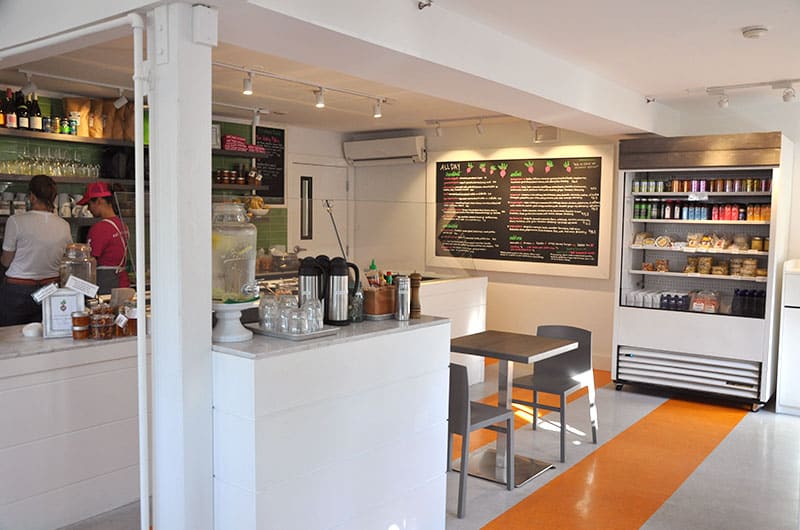 Very conveniently located downtown on South Water Street, The Beet brings a new perspective on island dining. Watch as your food is quickly and artfully prepared then grab it and go, or take a seat in the well lit, comfortable dining room and enjoy relaxed table service. They make healthy eating easy and delicious with a menu as full and dynamic as you are.
It was a thrill for us dining on the night Amy and Felino unveiled their new dinner menu. It features a fantastic selection of sandwiches, hot and cold salads and bowls, breakfast all day, and more. In the midst of another heat wave, we dove right in by cooling off on some of The Beet's signature Summer Sippers.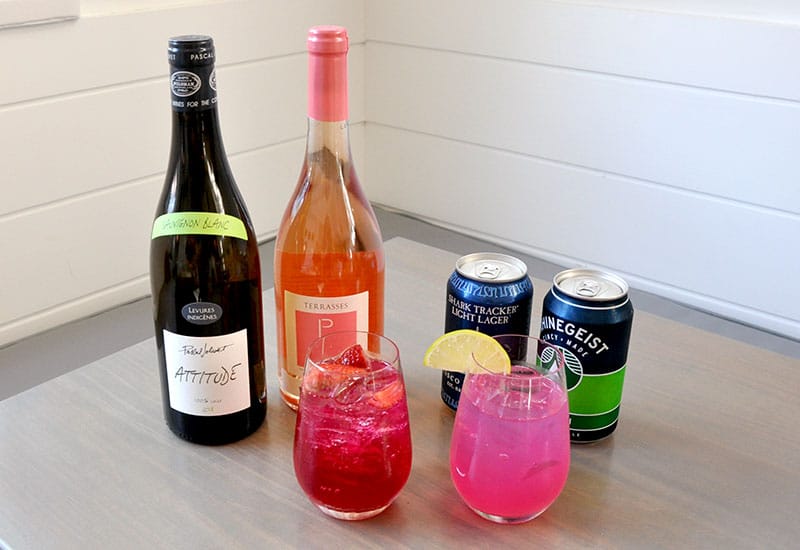 The Beet Limeade is slightly sweet and terrifically tart with a subtle kiss of beet in the background, while the Beet + Strawberry Shrub is drier going down—we loved the fragrant essence of fresh fruit and rich earth, and that both beverages are vibrant, otherworldly shades of pink. They also offer a tailored summery selection of beer and wine, all of which are priced right and match the summer-centric menu.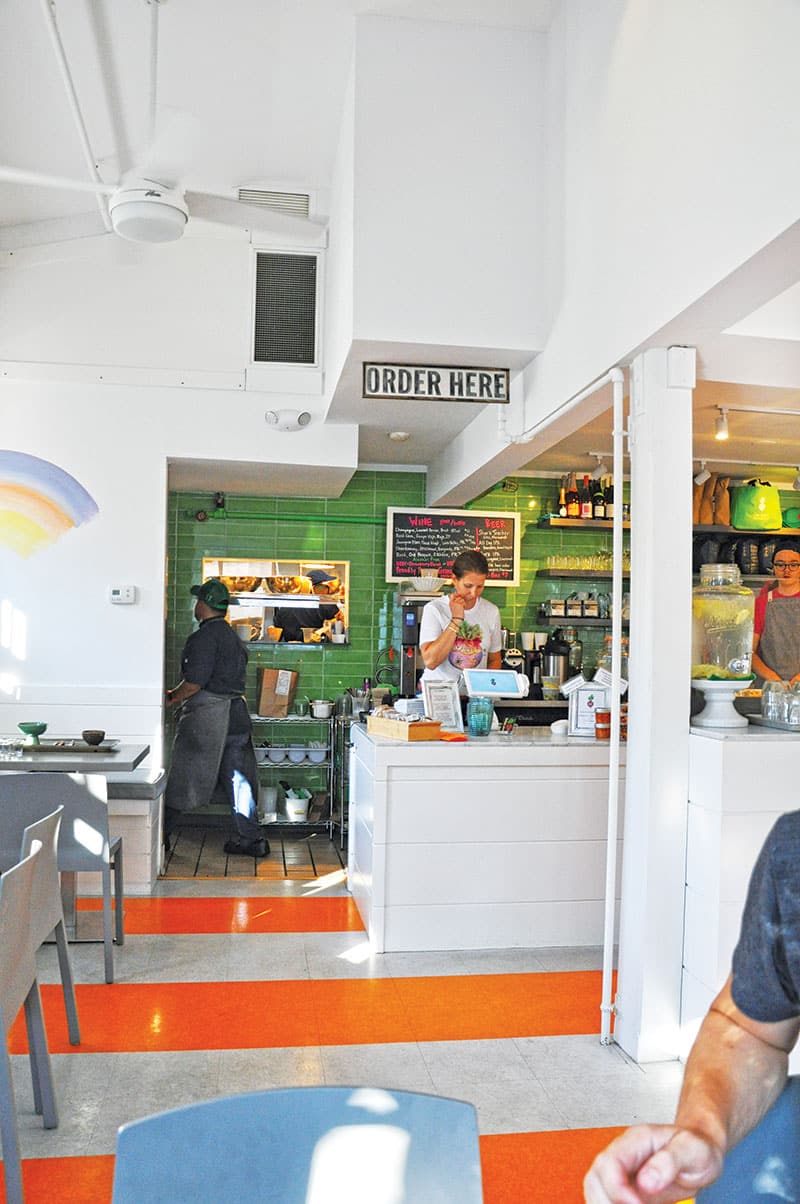 Nantucket's newest restaurant began when two well-seasoned, hospitality professionals got to thinking about what the island was missing. Amy Young and Felino Samson share a passion for good food, good times, and world travel, and the pride they inject into this venture is palpable. There is simply nothing else like it, and we think they're on to something. The Beet is fast for sure, but it isn't fast food. It's good food fast with a focus on fun, flavor, and fitness.
The menu is divided into a few sections: there are Toasts and Bowls, Sandwiches, Salads, Sides, and even a special spot for the Lil' Ones'—give growing bodies what they need with a protein, grain, fruit, and vegetable, or keep things simple with the classic grilled cheese.
We started with a few sandwiches of our own, and each one was better than the last. We loved the mild spice from harissa used in the Pita, it gave the falafel a beautiful red hue and really spiced things up. It's loaded with cucumber, tomato, pickled red cabbage, and kaffir lime and gets a refreshing spread of house tahini yogurt. All sandwiches come with a side of The Beet's mouthwatering thick cut vinegar potato chips. They've got a great crunch with the flavor to match.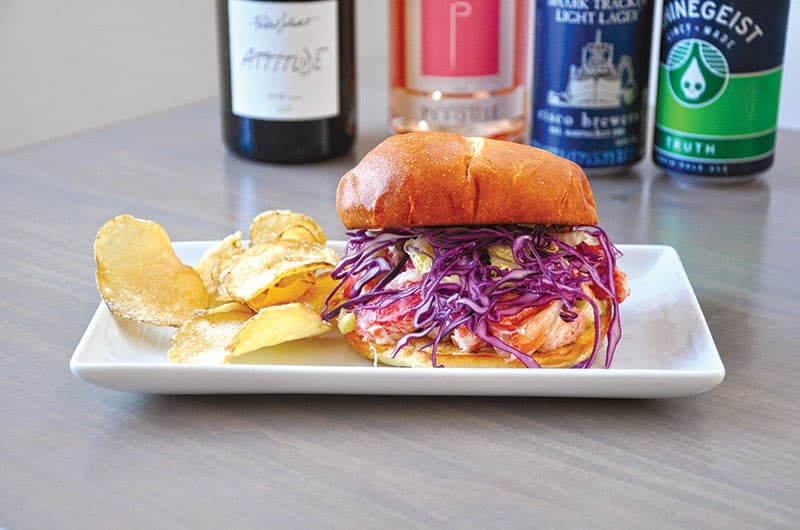 The Rockin' Lobster Roll was perfection on a bun with fresh, tender, meltin- your-mouth lobster. It's all lightly dressed with a lemon mayo, pickled celery, and cabbage slaw to let the shellfish shine.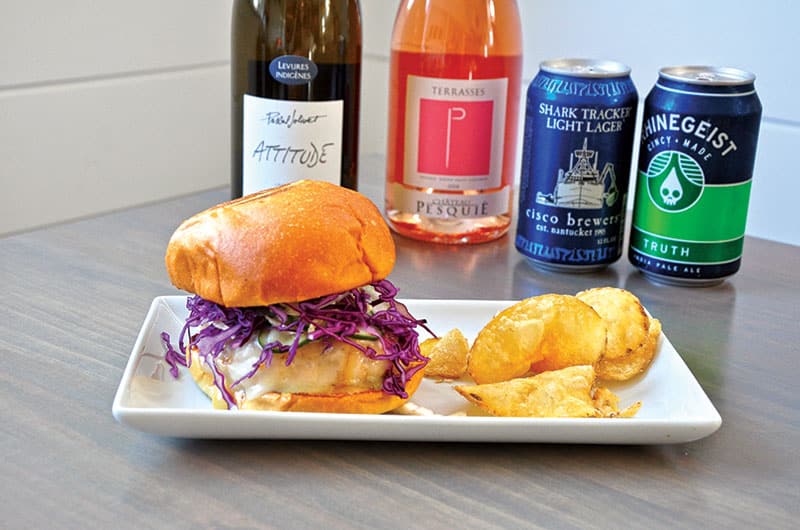 We're not exaggerating when we say this was the best Chicken Sandwich we've ever had. The secret is the umami glaze: savory flavor comes in waves from the juiciest of white meat, melted cheddar cheese, verdant basil mayo, and house pickles. As if that wasn't good enough, the sweet potato fries served alongside were a salty-sweet dream. Order them with a side of the beet + horseradish tartar: a tangy, creamy kick that makes the perfect dip.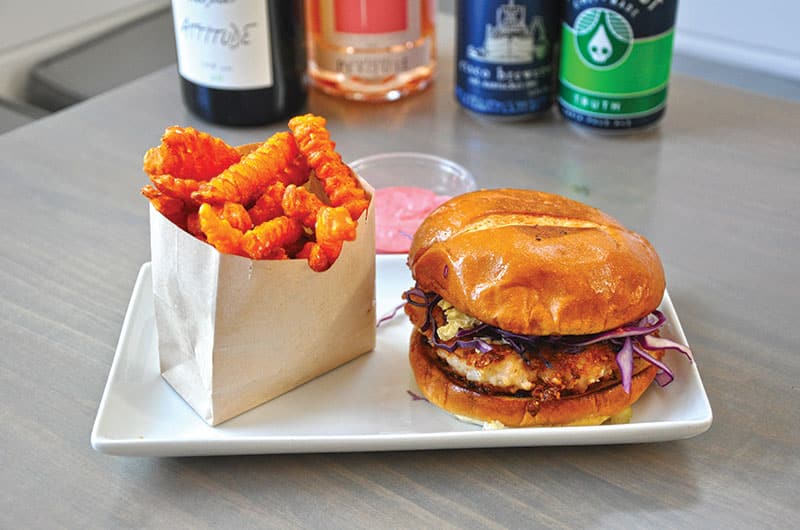 The key to all the sandwiches at The Beet is the airy, slightly sweet potato bun. They brown up nicely with butter and are the best delivery device for all the handhelds Amy and Felino have to offer. They're part of the reason the Crispy Shrimp Burger was one our favorite dishes of the evening. Healthy chunks of succulent shrimp are formed into a patty, breaded with gluten-free panko, and grilled to an audible crunch. The incredible color and flavor of the beet + horseradish tartar brings every bite to life, and we couldn't get enough. Crinkle cut fries were the best accompaniment and remained crisp long after the sandwich was gone.
Just in time for your Boston Pops picnic this weekend, another awesome option brought to you by The Beet is The Beet Bag. Fill it with your favorites and be on your way to the beach, the boat, or anywhere your island adventures take you. Peruse the menu or choose from their pre-packed snacks, salads, hummus, and more. There's even a selection of gourmet cheese for a charcuterie on the move, including a luscious locally made burrata.
Simply put, The Beet is redefining salad. No more will this meal be seen as an obligation to your health, but rather an adventure of taste, texture, and color. Each component is chosen with care and intention so you can eat right without sacrificing flavor, and have some fun while you do it. All are sized to share, so bring a friend and watch your meal come to life before your eyes.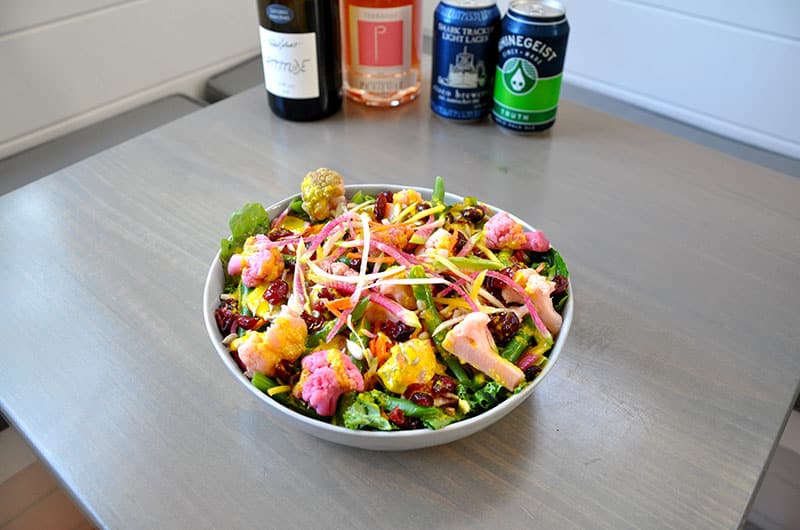 We loved the contrast of sweet, dried cranberries against the tang of pickled cauliflower in the Pickled Veg. It mixed tender baby kale and romaine, green beans, shoestring radish, and sunflower seeds. It all gets elevated by a golden sesame ginger turmeric dressing. It is bright, crisp, and energizing.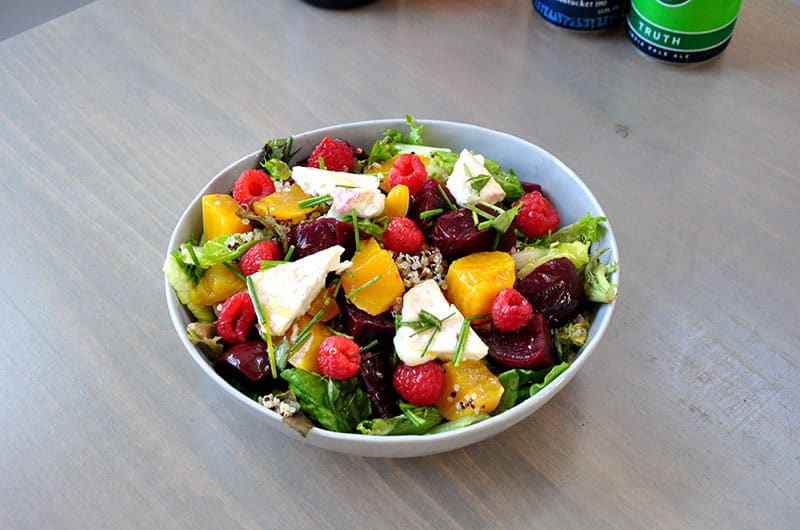 You might think the flavor of ripe red raspberries would clash with the funky tang of goat cheese, but they meet magically in the middle with the beets in The Beet Goes On. Bite sized and picture-perfect pieces of romaine and butter lettuce are tossed with quinoa then doused in a sweet sherry honey dressing while basil and chives bring an essential herbal edge. It almost looked too good to eat.
Bowls at The Beet show the eatery's bigger, bolder side with more protein to pack some power into your day. The sweet smell of a Southern staple was unmissable as The Q made its way to our table. Smokey Carolina-style pulled pork was the star alongside mashed summer sweet corn and kale, pickled vegetables cut through the meat and brought things to another level.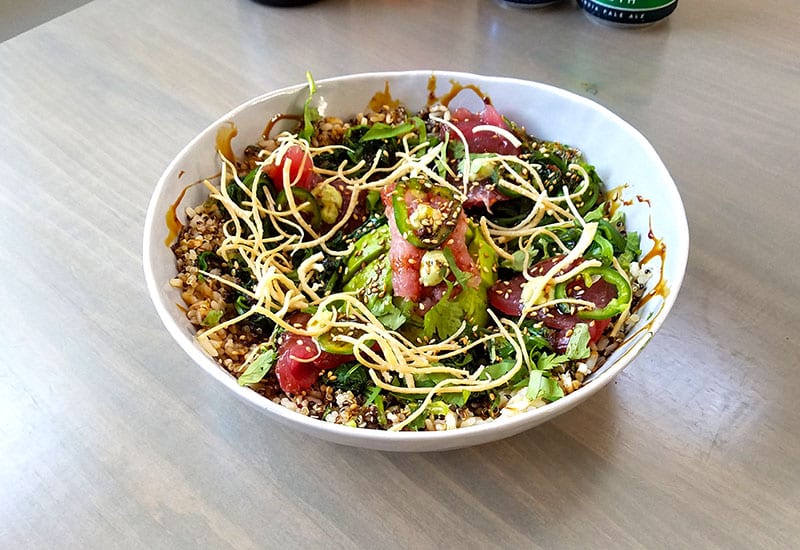 Poke is growing in popularity, and for good reason. The dish centers on raw seafood, usually tuna or salmon, combined with rice or other grain, vegetables, sauces, and seasonings. They are versatile and crowd pleasing, but the best one we've had was The Hokey Pokey at The Beet. Ruby red sesame ahi tuna mingles with al dente brown rice and quinoa, creamy avocado, jalapeño and a sweet soy ginger + basil aioli. Crispy wontons add to the fun and every bite is something new.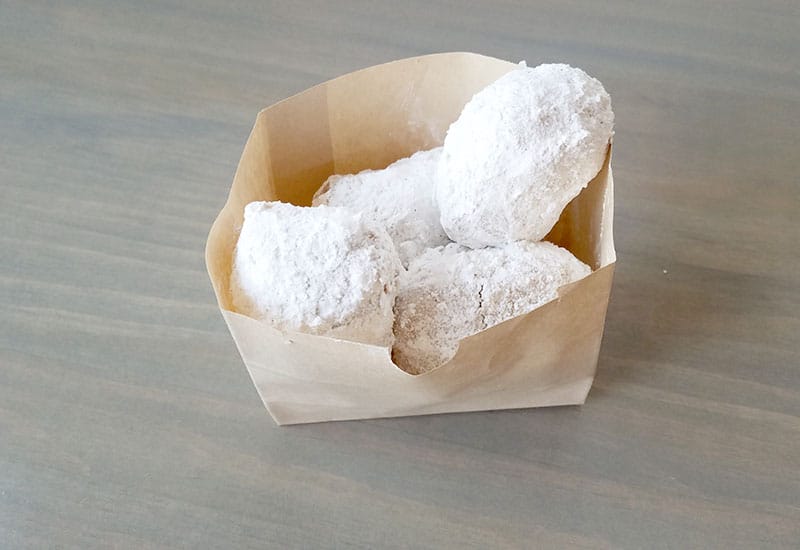 Whether it's with your morning coffee or at the end of a long day, there's never a bad time for the Brioche Beignets. Served hot and fresh every time, they're light as a feather with a thin, crisp, sugar-dusted exterior giving way to a fluffy, doughy middle. We dare you to eat just one.
Amy and Felino are stepping up to offer year-round service to the Nantucket community, so break the routine and freshen things up with something new at The Beet. They're always listening and looking for ways to better serve the island, so take a seat, order online, or grab and go—do yourself and your health a favor and get to The Beet.
The Beet
9 South Water Street • 508-680-1857
thebeetnantucket.com
Open Daily 7 am to 8 pm
Prices ranges from $10 to $28
vegetarian options • beer & wine • credit cards accepted
dine-in or take-out • first floor accessible • online ordering