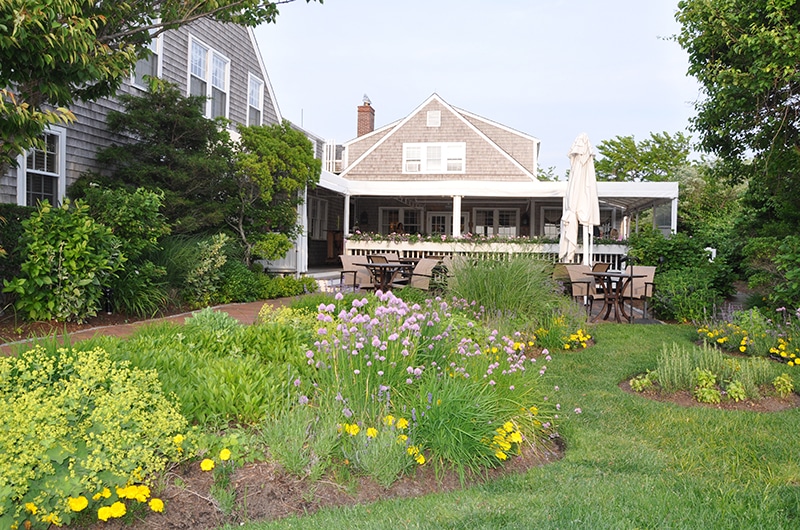 Our evening at TOPPERS began with whimsy and ended with delight.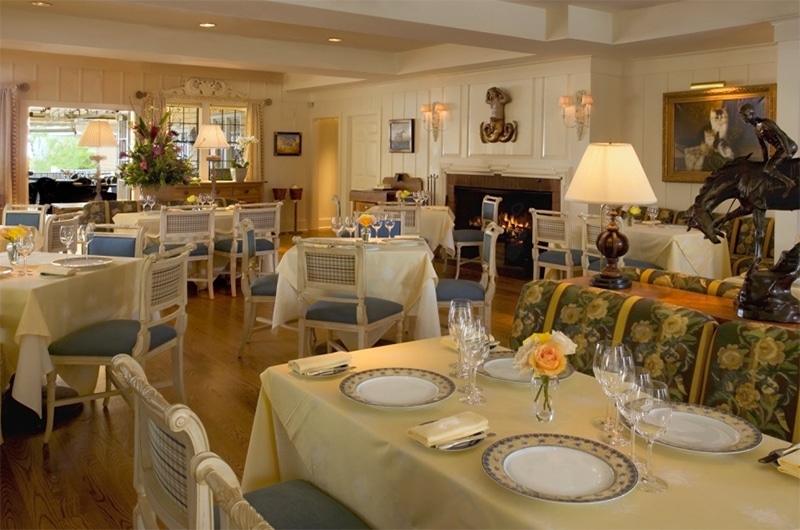 It was chilly and rainy, so we asked to be seated in their classically elegant dining room. With exquisite decor and the quiet hush of formality, it's a lovely spot for special occasions. The couple at the table next to ours was celebrating their anniversary: they'd become engaged at TOPPER'S sixteen years earlier. But it's this restaurant's more casual patio venue that has the sensational view and the fresh ocean breezes. Take your pick: at TOPPER'S no matter where you sit, you're going to enjoy a meal for the memory book.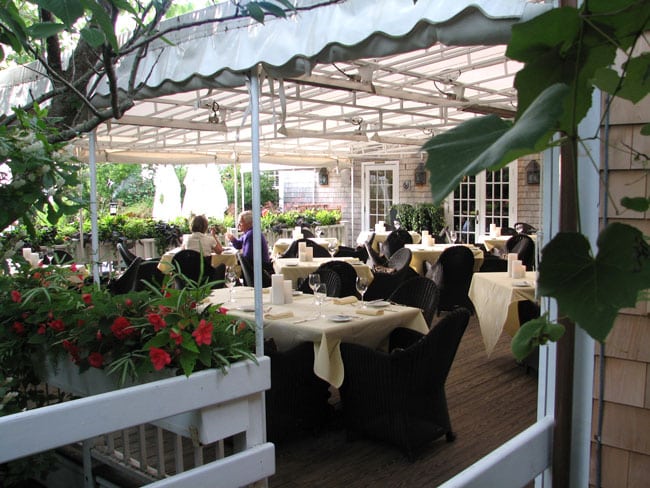 Dinner in the dining room is prix fixe: $85 for appetizer, entree, and dessert (plus a surprise or two)—less than what you'd pay at some other highend Nantucket restaurants, and they don't all have the superb view and service. If everyone at the table is of the same mindset and similar palate, you can order the six-course Chef's Tasting Menu or the six course Vegetarian Tasting Menu, which would be our choice after seeing what talented Executive Chef Kyle Zachary can do with fresh vegetables! Both of these tasting menus can be ordered with savvy pairings by expert sommelier Hieu Tran, who supplied the suggested pairings for this article.
Chef Zachary's impressively detailed dishes will turn even jaded diners into true believers: we've savored some of his culinary combinations that seem unlikely yet are remarkably good! He has a knack for creating dishes that give equal emphasis to everything, with each element offering its full flavor to the whole. Presentation is gorgeous—art on a plate—we imagine kitchen underlings using tweezers to carefully position baby chard, pea pods, and slices of radish, the plates are that beautifully arranged.
Click images to view enlargements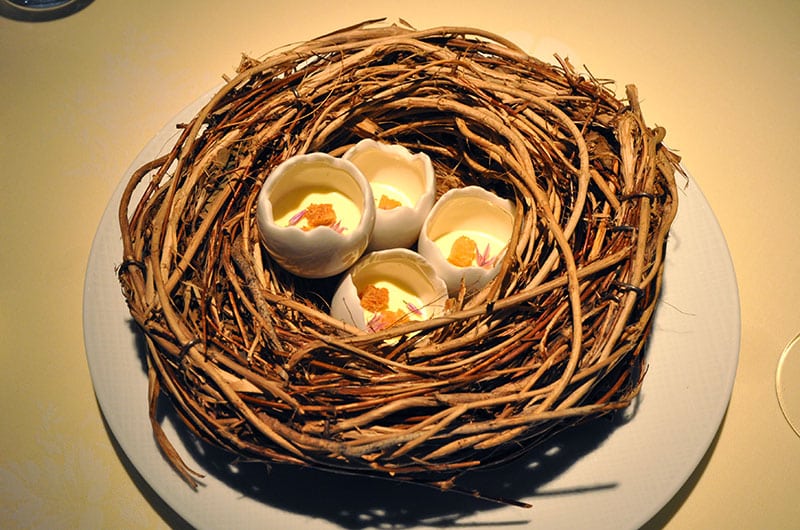 Our meal began with a nest filled with porcelain eggs opened to reveal delicate custards that radiated mellow, sweet garlic.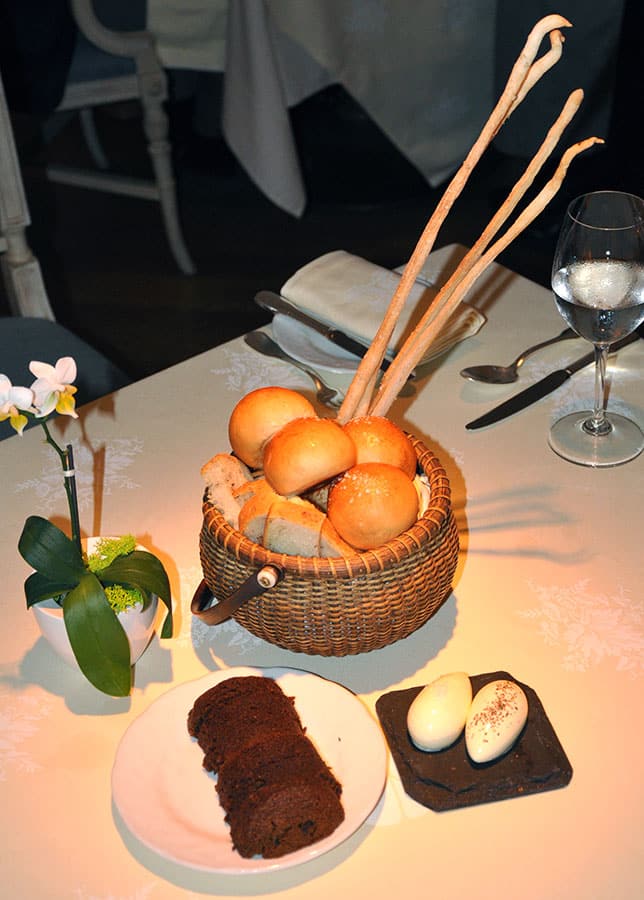 While we were still savoring the luscious amuse bouche, a lightship basket filled with an assortment of freshly baked breads arrived: focaccia, garlic-rosemary-roasted tomato loaf, salt-topped rolls, and the restaurant's signature brown bread, utterly delicious in its rustic simplicity. Served with the breads this season are two orbs of butter—one sweet topped with a sprinkling of salt and the other smoked with a grinding of pepper, both cool enough to hold their perfect oval shapes yet warm enough to slice into without sending them skidding across the table.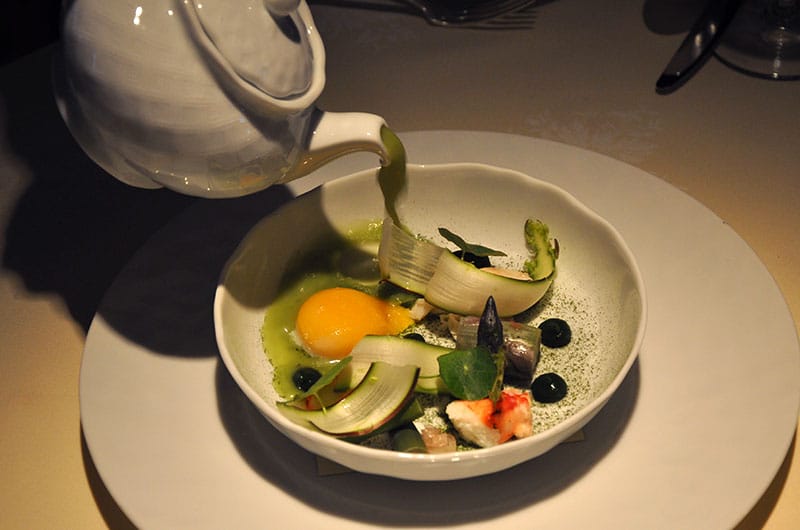 In a bit of tableside flair, the Pumpkin Pond Farm Asparagus Veloute is poured over a sculpture of sweet butter poached king crab, fresh ramps, peppery nasturtium leaves, and a single golden egg yolk confit that adds a delightful richness to the dish. It was lighter than we expect for a veloute, but full flavored—an elixir of spring. (Suggested Pairing: Steininger Gruner Veltliner Grand Cru 2014)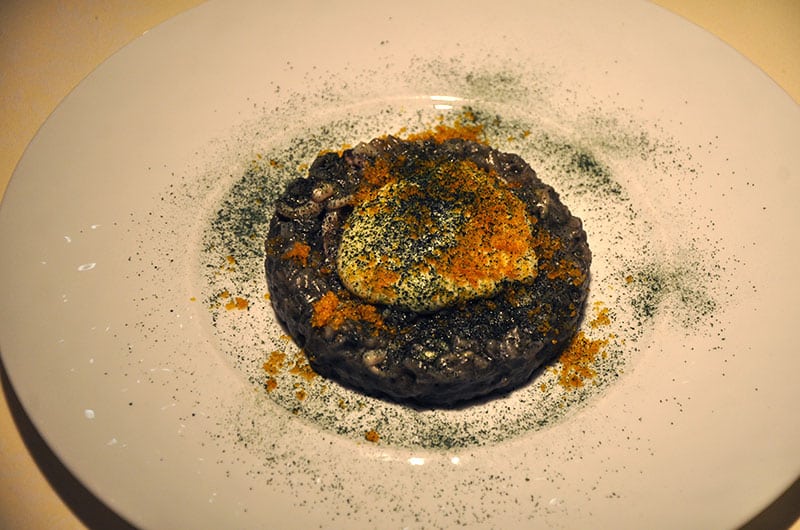 Our reaction to the other warm appetizer we enjoyed, Carnaroli Risotto "Fruits de Mer," can be summed up in one word: WOW. Every bite of this chef's favorite was full of bracing maritime flavor; no surprise that he called it "sea on a plate." Each ingredient, from squid to crab, kept its integrity and brought its own special flavor to the dish. Depending on where you dip in your fork, every mouthful has a slightly different flavor. (Suggested Pairing: Vincent Dauvissat Chablis Sechet 2014)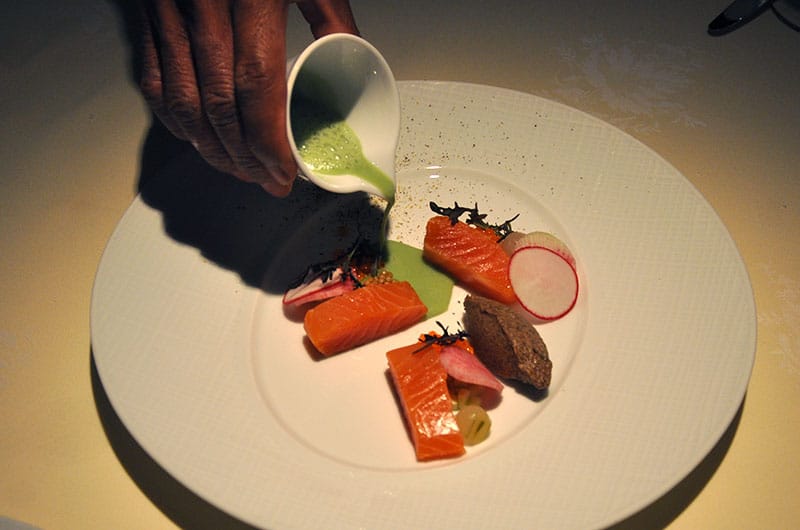 Gin Cured Ocean Trout is another unexpected treat. Supremely fresh, the trout is presented simply, surrounded by small pickled onions, smoked roe, mustard seed, tiny cubes of crunchy cucumber, and crisp rounds of radish, and a quenelle of pumpernickel mousse. (Suggested Pairing: Thienot Rose Champagne NV)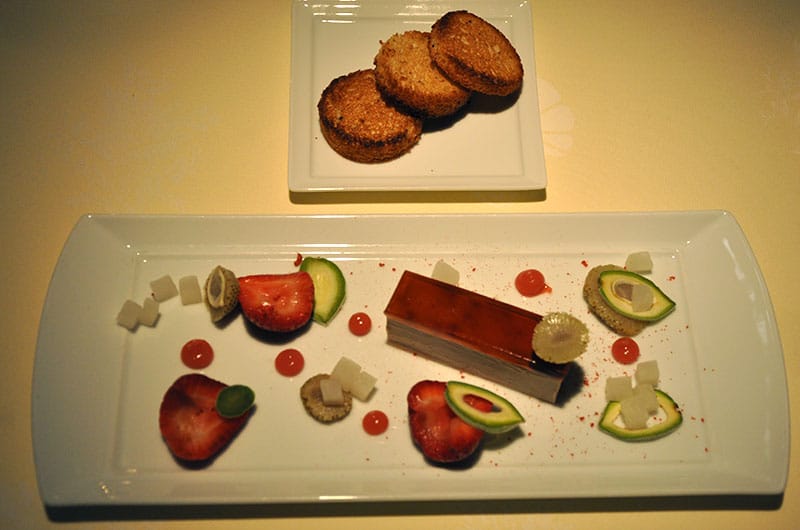 Our favorite appetizer of the evening was the Terrine of Hudson Valley Foie Gras. This beautifully curated dish looks like an elaborate dessert. The irresistibly smooth foie is topped with a translucent ruby red hibiscus gelée. Fresh sweet red and white strawberries are scattered around the plate, with green almonds, dots of strawberry puree, and crunchy cubes of kohlrabi. (Suggested Pairing: Chene Bleu Rose 2016)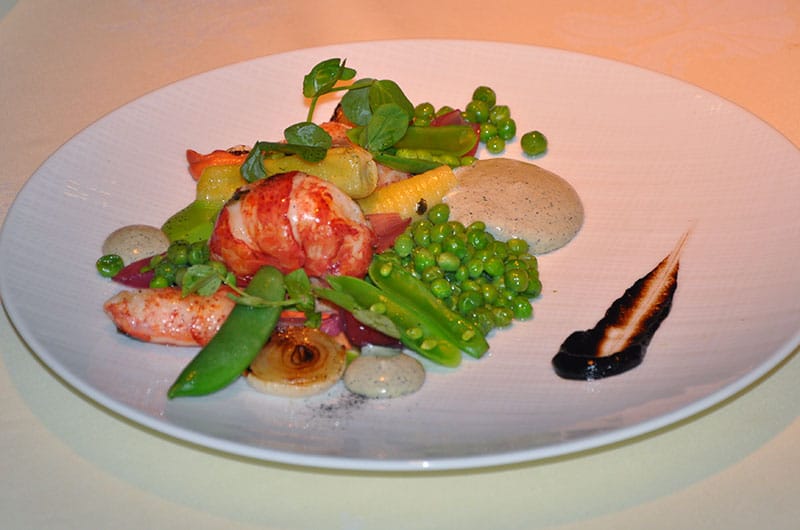 If you love lobster, you'll adore Chef Zachary's Seaweed Butter Poached Lobster, delicate tail and claws nestled in a bed of spring vegetables: sweet pea pods, plump English peas, and an assortment of alliums. Lobster and crab mousse is piped into two long tubes of housemade rigatoni and tucked in with the lobster meat. Dollops of burnt onion sabayon finish this pairing of land and sea. (Suggested Pairing: Joseph Drouhin Chassagne- Montrachet Morgeot Marquis de Laguiche 2013)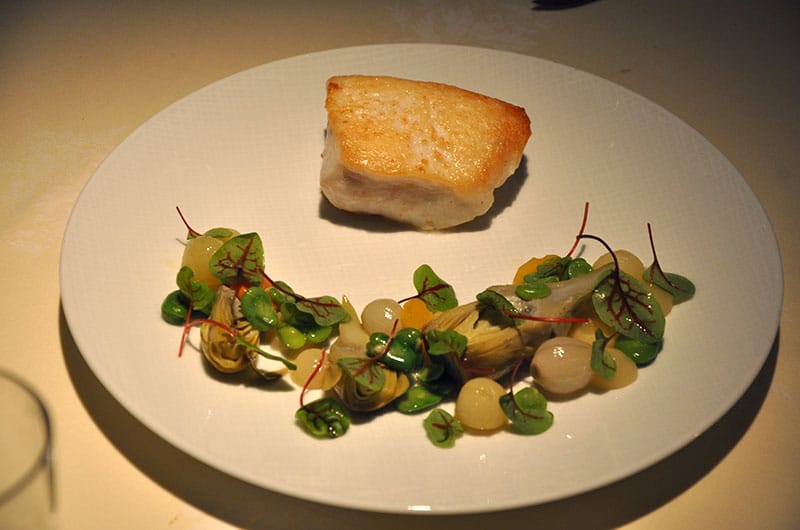 We also loved this chef's treatment of North Atlantic Halibut in another spectacular dish of land and sea. The halibut, perfectly seasoned and cooked through but moist and flaky with an appealing top crust, is served opposite a delectable arrangement of braised baby artichokes, fava beans, sorrel, carrot, and baby onions. The fish and the vegetables are joined by a bright and luscious meyer lemon sauce. (Suggested Pairing: Pierre Matrot Meursault Perrieres 2010)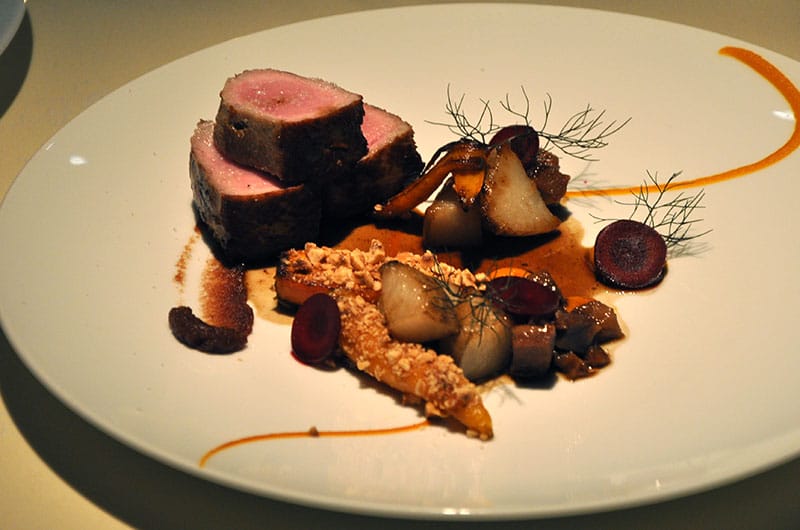 Also delicious, the Provitello Farms Veal Sirloin comes as a duet of veal: rosy slices of sirloin and cubes of the tender braised cheeks. Baby carrots roasted with hazelnuts on top and roasted sunchokes add sweetness and depth. If there's one complaint it's that we longed for more of the smoked medjool date puree that was superb with the veal. (Suggested Pairing: Roberto Voerzio Barolo Cerequio 2000)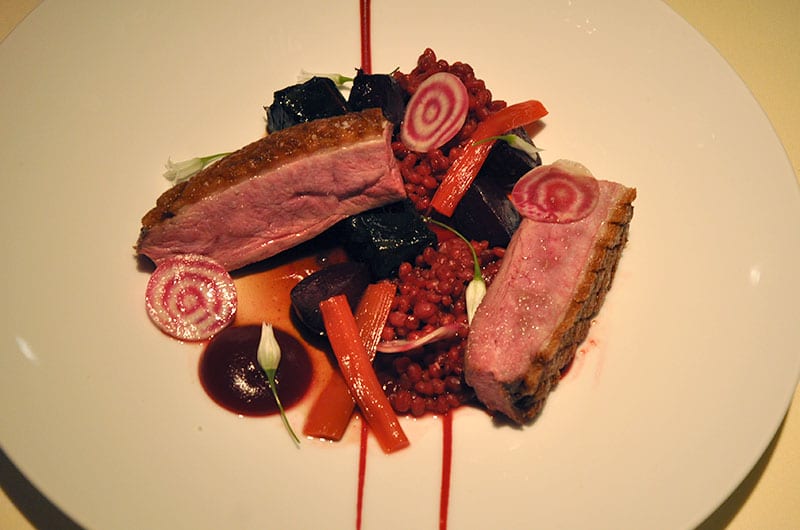 If it's still on the menu when you dine at TOPPER'S, order the Rohan Duck. This special breed is very flavorful and Chef Zachary's preparation includes both thick slices of medium-rare breast and a portion of soft, intensely flavored confit wrapped in Swiss chard. The breast meat topped with delicious crackly-crisp skin is set on a study in red: Bull's Blood and red beets, pearl barley stained by beet juice, and rhubarb. (Suggested Pairing: Comte Lafon Volnay Santenots du Milieu 1999)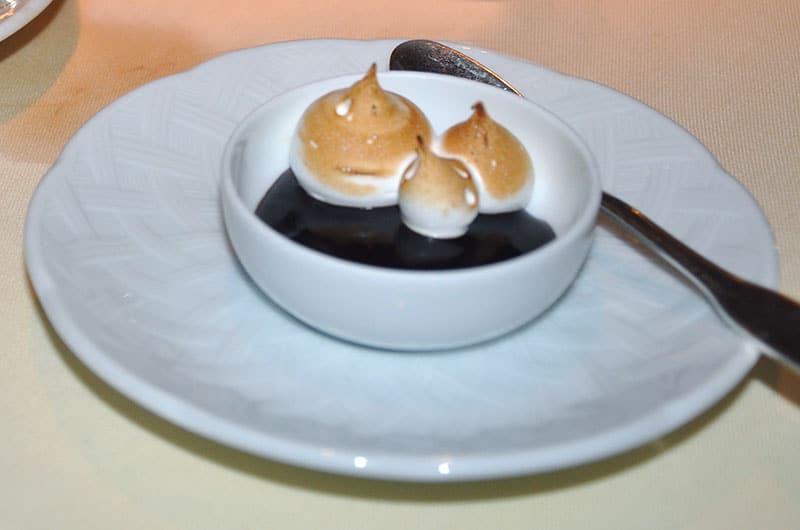 How can you not fall in love with a restaurant that serves a sweet treat called pre-dessert before dessert? Pots de S'mores, dark chocolate pot de creme on thin graham crust kissed on top by dollops of marshmallow, arrived in miniature bowls with spoons to match.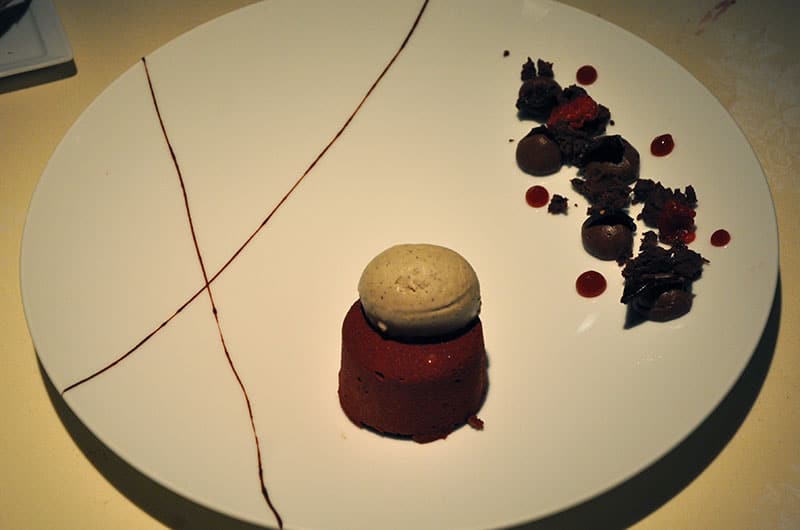 Thus prepared to switch from savory to sweet, we continued with Chocolate and Raspberry Timbale, a flourless chocolate cake with a secret heart of raspberry lusciousness. Espresso ice cream on top highlights the coffee notes in the chocolate. (Suggested Pairing: Alvear Montilla Solera 1927)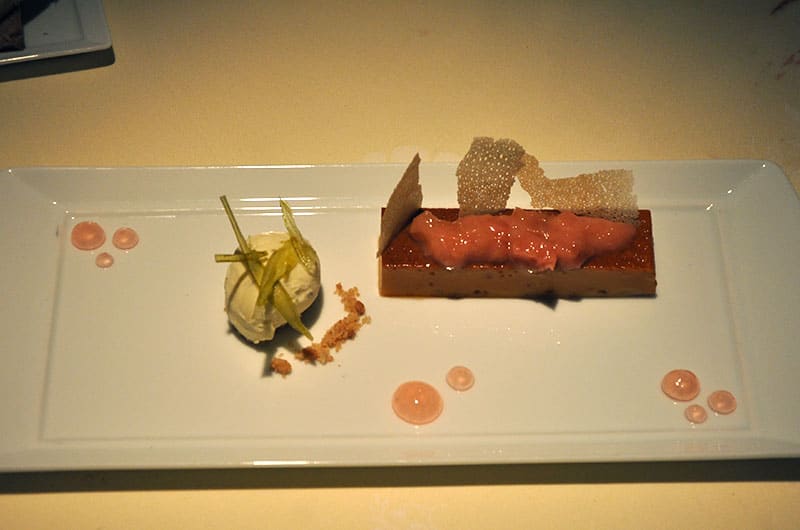 The Rhubarb Flan is refined, a taste of spring delights dressed up with fennel ice cream and candied fennel along with pickled rhubarb. (Suggested Pairing: Domaine de Baumard Quartes de Chaume 2007)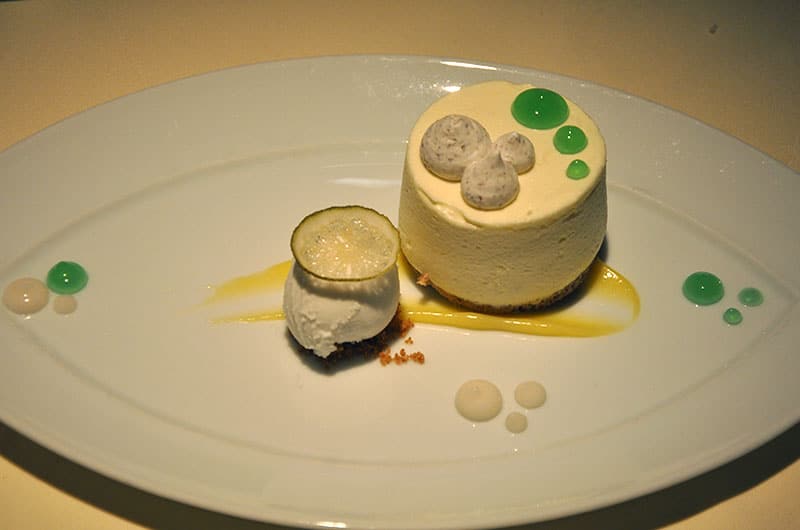 And we particularly liked the Lime in the Coconut, a refreshingly tart Key Lime Mousse set on a coconut-almond financier and served with coconut-lime sorbet. (Suggested Pairing: Lemoncello Sogno di Sorrento)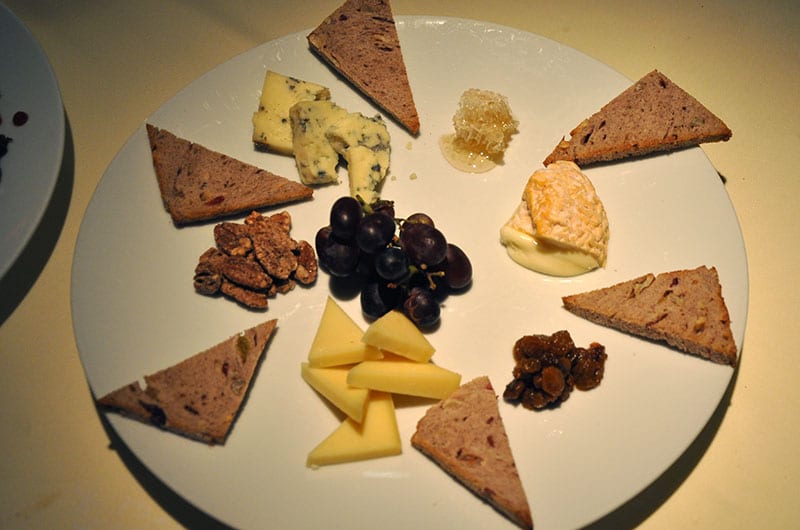 If you'd rather continue the savory adventure, then end your meal at TOPPER'S with their Selection of Fine Cheeses. This tasting includes a trio (soft, semi-hard, and blue) of cheeses curated by Formaggio Kitchen: Challerhocker from Switzerland, a French Langres, and Bluebird from Martha's Vineyard. Toast points of fruit and nut bread are supplied along with local honeycomb, grapes, candied nuts, and chutney are additions. (Suggested Pairing: Chateau d'Yquem Sauternes 2003) 
TOPPER'S at The Wauwinet
508-228-8768, reservations recommended • Wauwinet.com
Breakfast served 8 to 10:30 am; Sat & Sun Brunch 11:30 am to 2 pm
Lunch noon to 2 p.m. • Dinner served nightly from 6 p.m.
Deck Menu served from noon to 9:30 pm
Indoor & Outdoor dining • Award-winning wine list • Full bar service
TOPPER'S Bar open daily noon to 11 pm • Major credit cards accepted