by Amy Jenness
On November 24, 1927, Anthony Frederick Sarg, self-described as "America's Puppet Master, " debuted his giant, inflatable float of Felix The Cat during the Macy's Thanksgiving Day Parade in New York City and began a holiday tradition that continues today.
A German-American, born in Guatamala to a German father and English mother, Tony Sarg, as he was known professionally, was a puppeteer, designer, children's book illustrator, and retailer. And, beginning in 1935, his animated Christmas window displays at Macy's Herald Square store charmed thousands with their inventive whimsy.
Tony Sarg was born in 1882 and grew up surrounded by creative relatives. While he was still young, the family left Central America and returned to Germany. Sarg studied at a military academy and was offered a commission, but rejected that service and left for the United Kingdom where he began to illustrate for magazines and books. There he married Bertha Eleanor McGowan, an American he had met in Germany. With the advance of World War I, Sarg and his family moved to America and settled in New York City in 1915. He became a US citizen in 1921.
Sarg had fallen in love with puppetry as a child and brought his passion for marionettes to America. Along with illustrating, he also staged puppet theatres all over the country which made marionette dramas popular with children. In 1921 Sarg was one of the first to animate a film called The First Circus. That same year he opened the Tony Sarg Shop on Nantucket, first on Centre Street and later at the head of Steamboat Wharf. He owned a home on North Liberty Street and was a visible and sociable participant in Nantucket summers for the rest of his life. The first Macy's Parade was held on Christmas in 1924 as a publicity stunt to promote the store, and more than 250,000 people attended.
Three years later, and now produced on Thanksgiving, Sarg added his giant Felix The Cat balloon to the parade's line up. His first Felix was inflated with oxygen and needed a team of handlers to keep it propped up. The following year Sarg returned with a helium-filled Felix The Cat, as well as a 20-foot-long elephant, a 60-foot-long tiger, and an enormous hummingbird. But when the parade ended, no one had thought about how to bring the giant animals down to earth. So, they were released and allowed to float away. Each balloon had a label on it and Macy's declared that anyone who discovered and returned a balloon could claim a reward. This proved to be a popular move and each Macy's parade ended with a releasing of the balloons until 1932, when a plane nearly crashed overhead when a drifting balloon wrapped around its wing.
Sarg's designs were fabricated out of rubberized silk and were produced by the Goodyear Tire & Rubber Company in Akron, Ohio. His largest, in 1934, was a 125-foot rubber dragon which required 50 handlers to operate.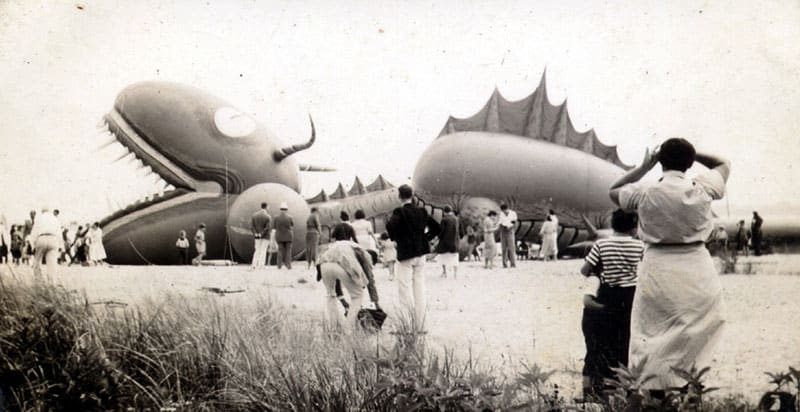 In 1937 Sarg created a "Nantucket Sea Monster" for the parade and, with the blessing of Macy's, decided to stage a hoax "sea monster sighting" on Nantucket in August of that year. Although Sarg was the mastermind, the hoax was executed by a committee of Nantucketers and by a media willing to play along. First came Inquirer & Mirror articles that Bill Manville and Ed Crocker reported seeing a strange creature while out on the water. Then Crocker and his buddy Gilbert Manter reported seeing giant footprints on the beach in Madaket and the I&M printed photographs. Mainland newspaper and newsreel photographers came to the island and reported on the phenomenon as well. Within a week the giant, inflated sea monster turned up on the beach on Coatue, and the crowd of curious people who went to see it learned of Sarg's giant publicity stunt. And soon the rest of the world did, too.
The hoax was harshly criticized by some for damaging the island's reputation and for affecting the island's economy by scaring away potential visitors. But the perpetrators defended their publicity prank, saying the national exposure would benefit the island. In reporting on the upcoming Macy's Day Thanksgiving Parade that October, the New York Times noted that the Nantucket Sea Monster's "appearance off the resort island last summer rivaled that of the Loch Ness monster off Scotland."
Already well known as an artist and puppeteer, Sarg's fame spread across the country in 1933, when 3 million people saw his puppet exhibit at the Chicago World's Fair. In the years following the World's Fair, Sarg's fortunes began to turn as other illustrators eclipsed him and he worked less frequently. In 1939 he created his last production and then declared bankruptcy.
Sarg died in 1942 at age 59 following complications from a surgery.