by Carl Oscar Olson
Compared to the world outside, Nantucket has a way of moving slower through time. Change does visit here on occasion; it meanders when it does. Moseying down the dunes and over the cobblestones like a shadow, unnoticed. And sometimes when we finally look up to see, it's too late. Fields and forests are demolished and developed, long loved locales are knocked down, bought out, or boarded up.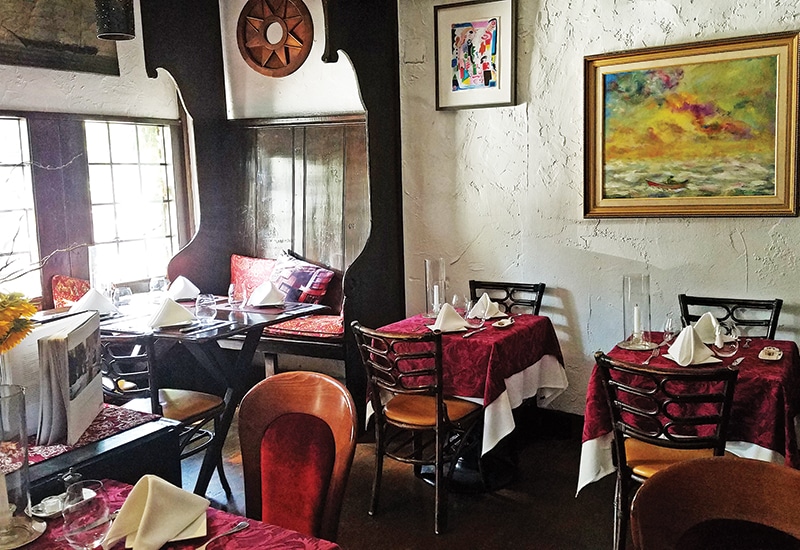 Though there are some who keep pace with the march of time. Those who counter the gradual onslaught, the experienced and bold who brace for it, who hold tight to what they can until time moves on. Chef Joseph Keller is holding on to Nantucket and serving a new generation of diners while he does it.
Some would say a lot has changed since Keller first came to Nantucket, but not him: "The island is still the same, and so am I!" He was just 17 when Club Car named him sous chef, and from there he went on to be chef at Cliffside Beach Club and later the Woodbox. After leaving the island and opening the world famous French Laundry in California among many other ventures, Keller returned to Nantucket in 2017 and bought Company of the Cauldron.
"There was no negotiation," he says. The restaurant was on the market for 2 years, and he knew right away it would be a good fit. Simply considering himself a custodian, he's working for more than money. He knows the island and cares for its people, and the respect he has for both is obvious.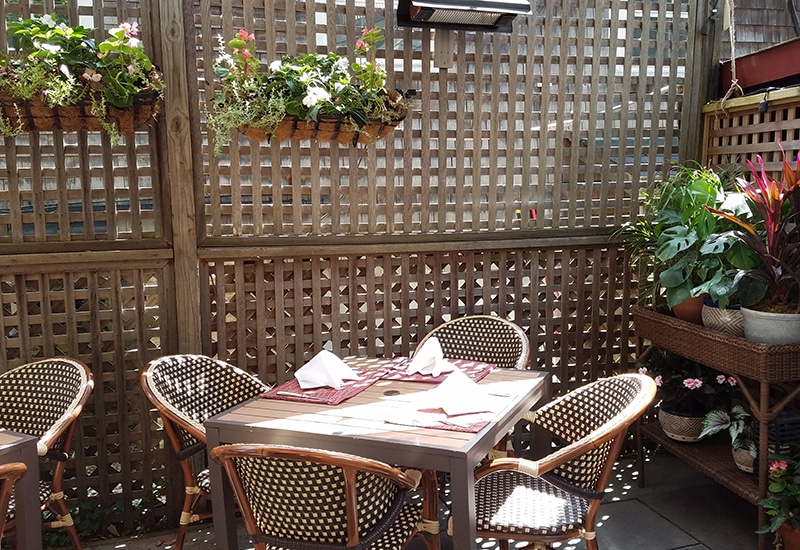 Ivy creeps up the brick red facade of the India Street location, invoking the same mysterious drama as the delightfully dark interior. Take a walk through the kitchen and step outside to reveal tables in a lush secret garden, a surprise even to those of us who had dined here before.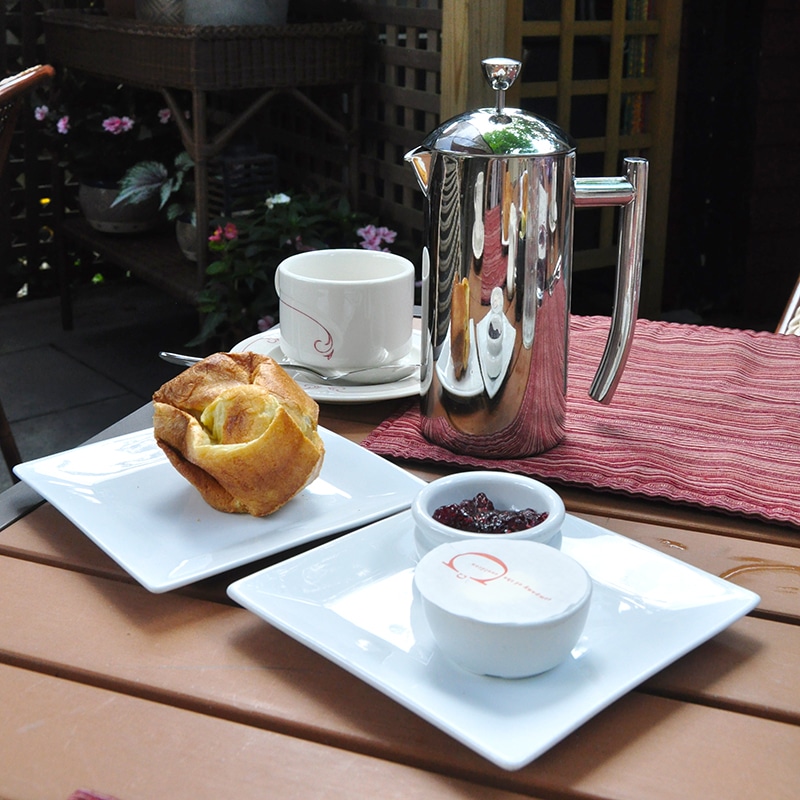 We began brunch with a full-bodied French press, enough for all of us, and fabulously fresh Company Popovers. They arrive hot out of the oven with a shiny crust and light, airy interior. They're perfect as they are, but get even better with butter and Grandma's Raspberry Jam.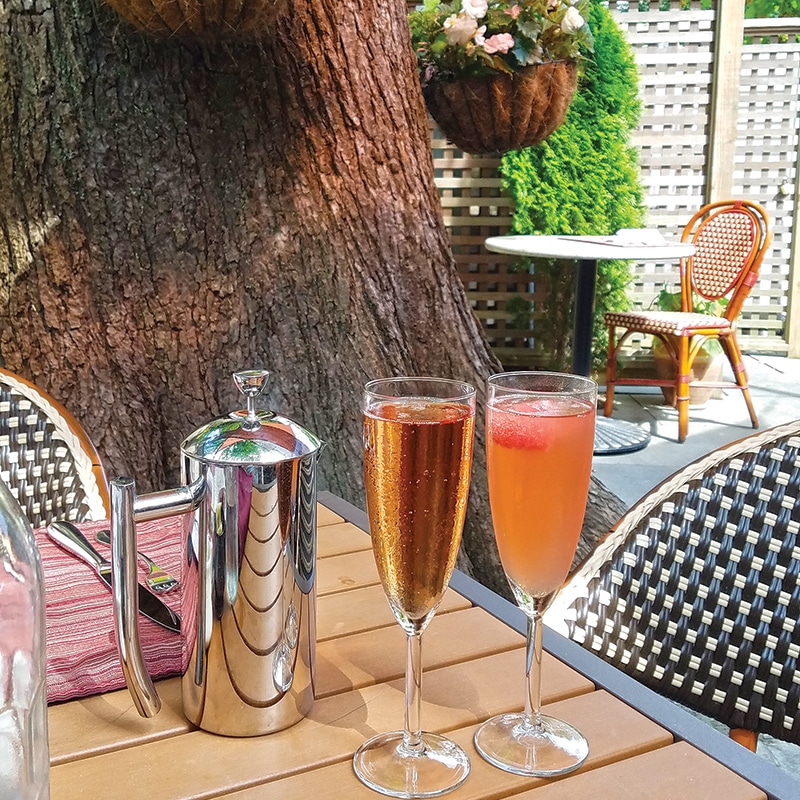 Nothing says Sunday morning like mimosas, and Cauldron has you covered. They have a few to choose from but we played it safe with some recommendations. The Watermelon Mimosa was pretty in pink and opaque, made with Nantucket Nectars strawberry watermelon, fresh fruit, and Champagne. Our favorite was the Company Mimosa: it gets its pinkish-amber hue from sparkling Rose and Sauternes, the velvety fortified wine mellowing the edge of this otherwise acidic libation.
Shaded by a tree considered big by Nantucket standards, we eagerly awaited our plates to come from the kitchen. Chef Keller stands by his recipes at Cauldron— they are all tried and true and tested by time. He follows the freshness of his ingredients, so check back often to keep up with what's new.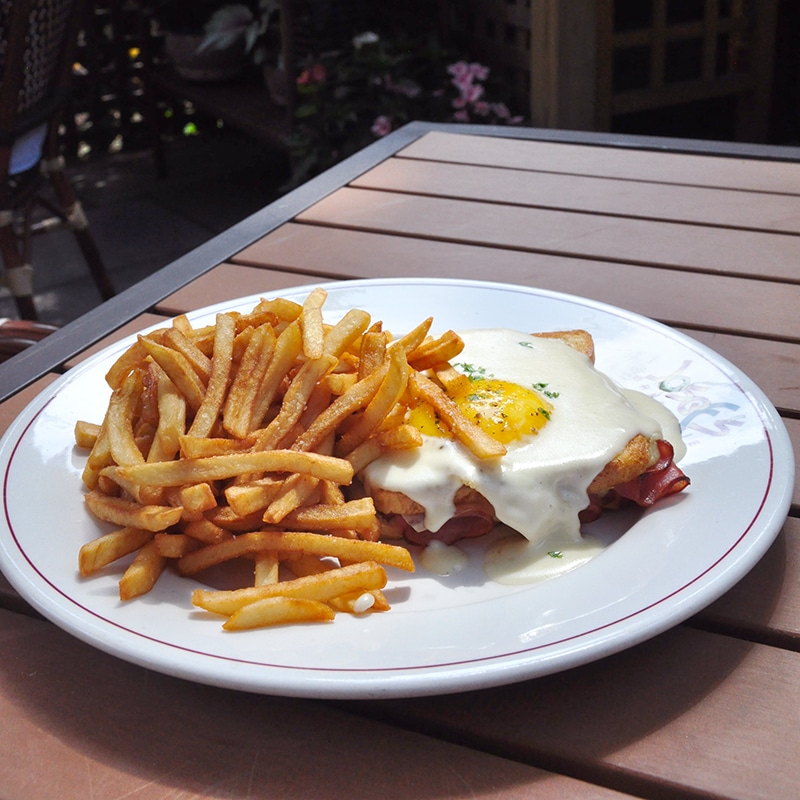 For those who like a more basic breakfast, the Croque- Madame is the dish for you. It's an egg sandwich elevated with Serrano ham and Gruyere between buttery brioche, served sunny-side up with a marvelous mornay sauce. The seasoning sticks to the fries on the side, which are perfect for cleaning the plate.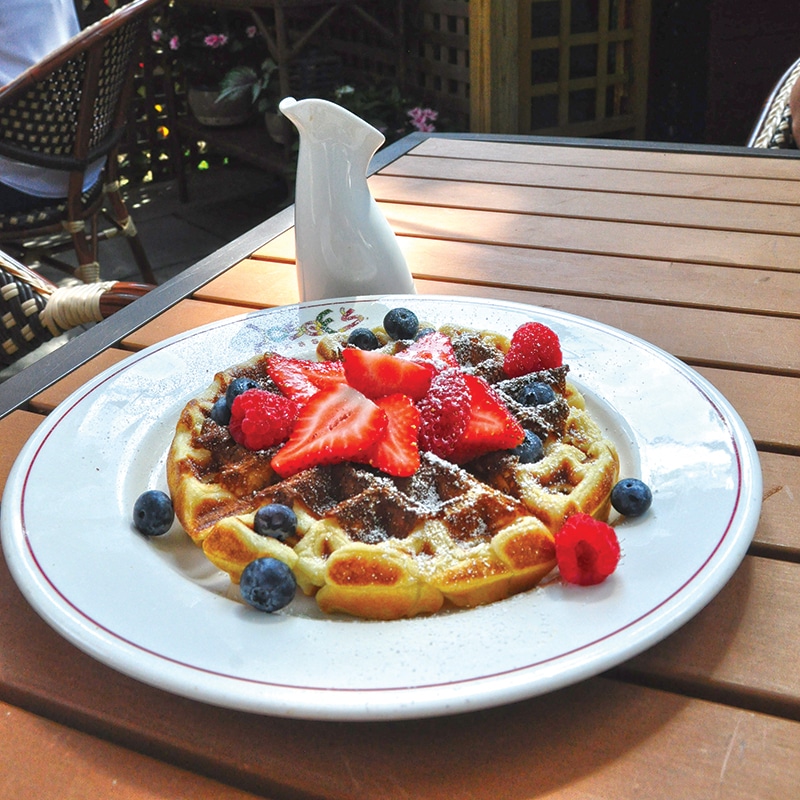 For the kids and the kid in all of us, the Belgium Waffle is your best bet. It's plate-filling and powdered with sugar, featuring your favorite fresh berries. The real maple syrup is served warm, flowing freely into every facet and fold of this gorgeous golden standby.
The Maine Lobster and Maryland Lump Crab Au Gratin was a shellfish- lover's dream. Served in a light cream sauce piping hot with parmesan, it was luscious, creamy, and complex. The large pieces of lobster and crab don't get lost in the sauce, and a side salad made for the perfect pair.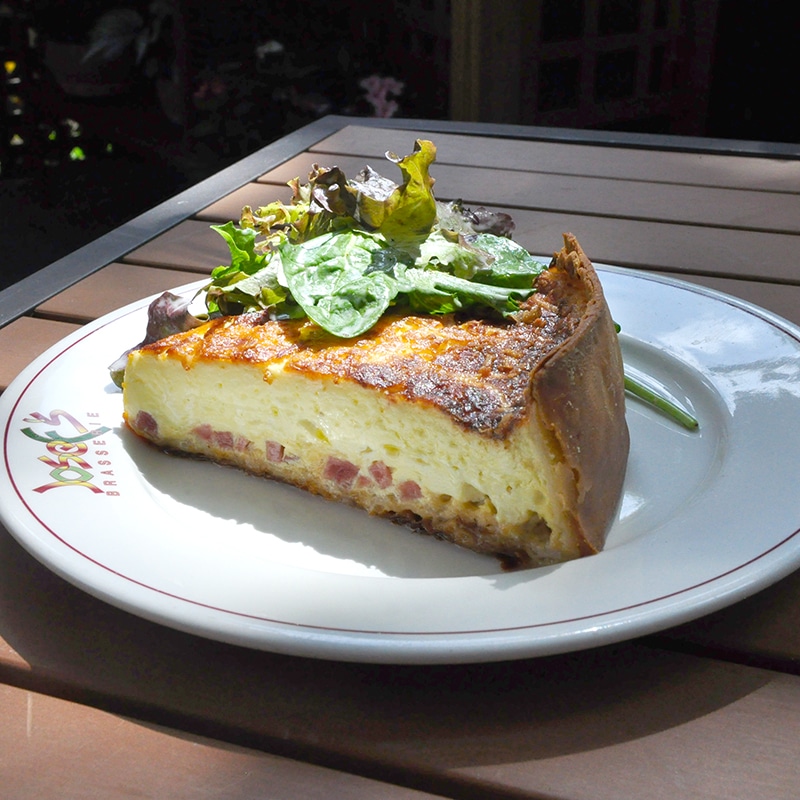 Don't be daunted by the size of the Quiche Lorraine: it's creamy and rich but light as a feather with a golden brown crust and aroma that fills the air. The filling changes regularly, and so does the dressing on the side salad. Ours came clinging to a tangy dijon vinaigrette, seasoned so nicely there was no need for salt and pepper.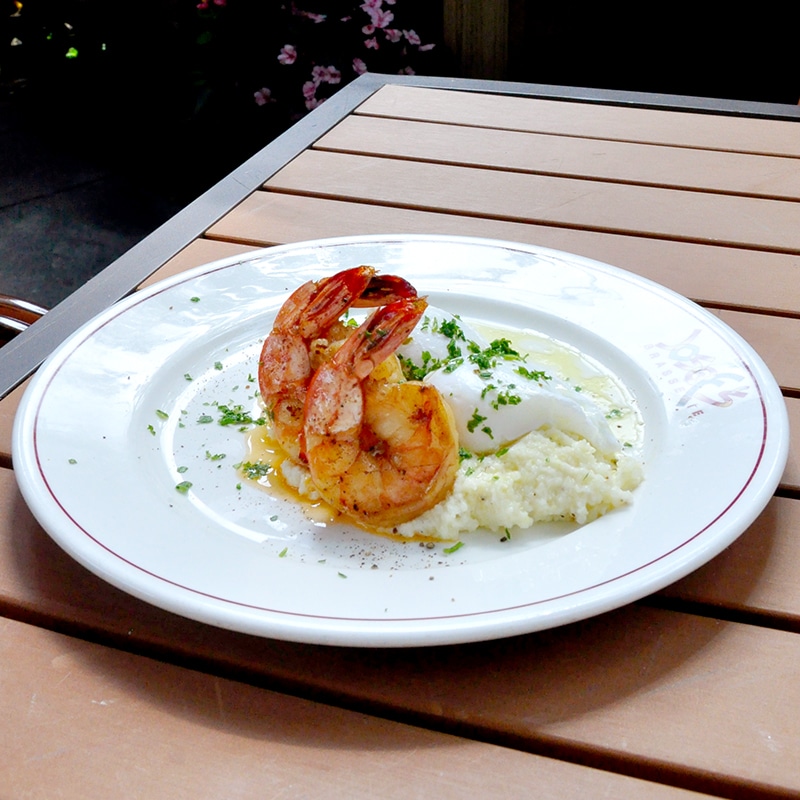 Three succulent Jumbo Prawns share the plate with poached egg perfection atop Cheesy Grits, and every bite is a different experience. The seafood is tender and toothsome while the grits add luscious texture and taste, break the yolks to bring out the best in every component.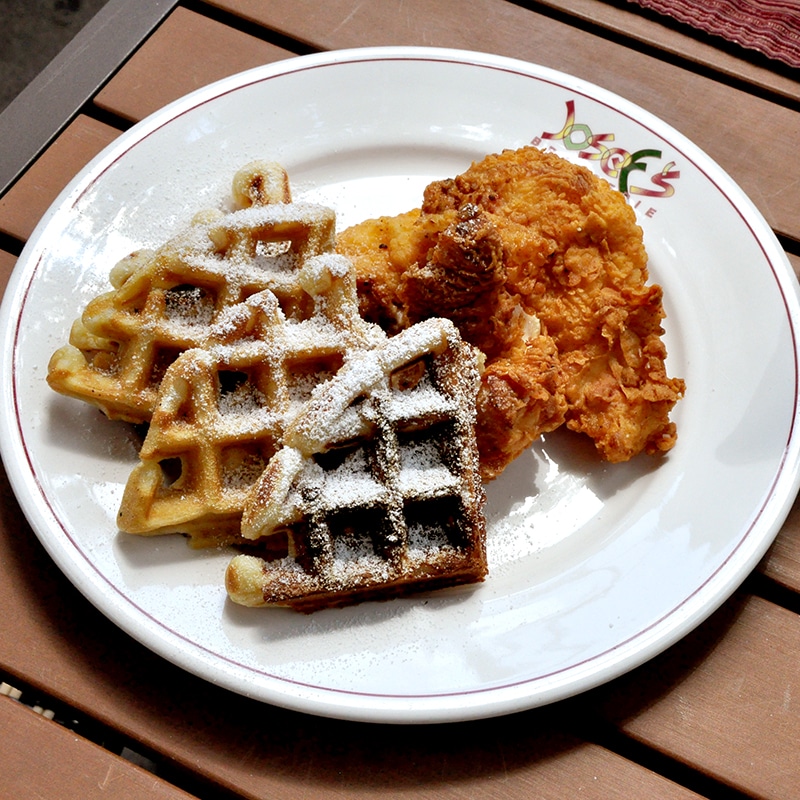 It takes more than three days to make our favorite Buttermilk Fried Chicken with Belgium Waffles. After brining for half a week, the meat takes on a fresher edge with a lift from lemongrass. It's juicy beyond words with a golden crunchy crust to match the sugar-dusted waffles, and warm maple syrup ties the two together. Keller recently added a second dinner seating on Wednesday evenings (Buttermilk Fried Chicken Night) to meet demand, so try it while you can.
Just when we thought we were finished, Chef Keller sent out his three brunch desserts for the day. All of the choices were chocolate, and we were very happy about that. A classic Cupcake speaks for itself: light and fluffy, tall, dark, and delicious. A pair of Bouchons bring a darker, denser side to the finale, while a velvety smooth Chocolate Pudding contrasts with creaminess. All three were topped with a Chantilli whipped cream, coming with the complimentary flavor of real vanilla.
All the chocolate is sourced from Peru and made by Keller's own chocolate company. Known as extra virgin, the secret to K+M Chocolates is the use of olive oil. It adds a lush and luxurious dimension to this dark delicacy.
As we reflected in the dappled shade on the perfect pace of our meal, we were already making plans to come back. It's hard to imagine a better, more relaxing end to the weekend and beginning to the week than brunch with Chef Keller at the Company of the Cauldron.
Company of the Cauldron
5 India Street • CompanyoftheCauldron.com • 508-228-4016
7:00 pm seatings Sunday – Tuesday
6:00 pm and 8:30 pm seatings Wednesday – Saturday
Sunday Brunch from 10:30 am – 1:30 pm
Brunch entrees range in price from $18 to $25
Full Bar • Indoor & Patio Dining • Major Credit Cards Accepted