by Steve "Tuna" Tornovish
The cross-examination was withering: question after question, each one seemingly a tripwire cleverly placed to snare my plodding steps. The law yer pressed me relentlessly, stepping up his attack by the slightest degree, sensing that I was a moment away from falling apart. And he was right—my confidence was waning, and I was f loundering. I couldn't play his game any longer. I reverted to what I did best, what had gotten me this far, what has always been the key to my survival I counterpunched.
"Look, Gregg, it's like this. I'll pick the four of you up. I'll take you to the coolest little bakery on the island and you can grab some breakfast stuff if you want. Then we'll drive out to Great Point and we'll see if we can't catch some fish. I do this all the time. It's just that easy!" Somehow it worked. The lawyer relented, and we had a plan. Phew!
I was doing my best to help winterize and drain a house when Gregg Miller had called me. He wanted to book a late-season beach fishing trip for himself and his three friends. Gregg, a retired lawyer from Philadelphia, explained to me that the four were college buddies "members of a senior society" who had graduated from Yale University together in 1966. One of them had a home here on the island and they were getting the band back together for a week. Sure sounded like a great trip to me!
Gregg told me that he and his wife, Mary, had spent their honeymoon on Nantucket in 1985. He was excited to return to the island and really wanted to get out to Great Point again. Gregg explained that his buddies were only semi-enthusiastic about the fishing trip. I assured Gregg that all would have fun. I also suspected that it might be challenging. The math showed that someone who graduated college in 1966 would be 78 or so years old now. How much fishing would these guys be up for? Well, regardless, I'd just have to do my best and be mindful of how they would handle the rigors of a day of surfcasting.
When I arrived at Dan's house, it was clear to see that I had nothing to worry about in terms of the physical condition of my guests for the day. All four men were fit and ready to rock. We piled into my truck and headed to the bakery and then on to Great Point. The conversation during our drive out was mostly focused on all things Nantucket—changes to the island over the years, favorite restaurants and such. It was clear to me that my four passengers possessed the highest collective IQ that had ever piled into my smelly, sand-filled F-150. They were all thoughtful, reserved, and relatively quiet. Yikes—I knew from my days doing interviews and interrogations that silence was a powerful tool, one that I have never mastered. I was completely outgunned.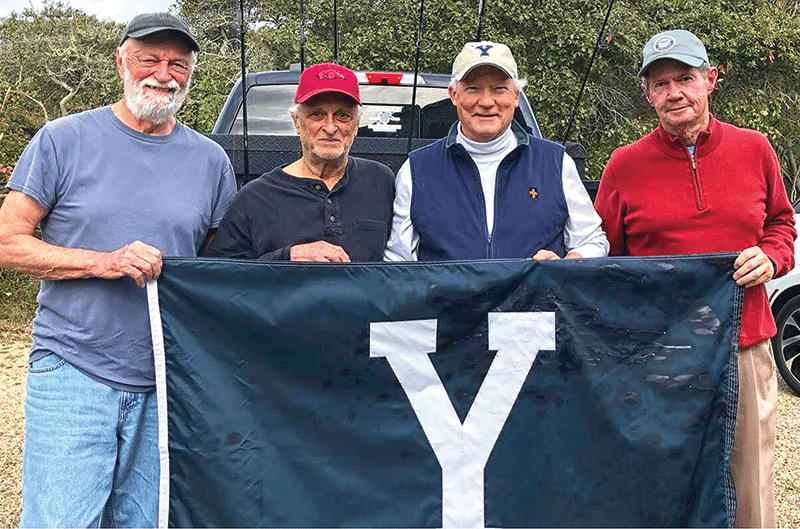 Of the four, Gregg and Dan were the most experienced in terms of fishing. Gregg had spent a summer as a mate on a charter boat in Ocean City, NJ and another working on a sword fishing boat that ran out of Menemsha. He was dialed in. Dan Copp, a retired FedEx executive, had done a lot of freshwater fishing and quickly translated those skills to the larger scale gear used in surfcasting. Those two were casting away as I worked with Lynn Harrison and Hal Green. Dr. Harrison was a cardiac surgeon who had practiced in New Orleans and then in Worcester, MA. Lynn was completely focused. He watched, took several casts, listened to my suggestions and soon was tossing his lure out like he'd been fishing for years.
Hal was a blast. He is from Saluda, NC, at the crest of the Blue Ridge , just a few miles from South Carolina. Hal looked and sounded like the late, great Levon Helm, singer and drummer for The Band. Tall, sturdy and the consummate southern gentleman, Hal looked like he could handle himself in about any situation. I quickly discovered that Hal had the mind of an engineer: "Now it seems to me that this reel would function perfectly well if the bail lever was removed and you simply replaced the line on that little spool after casting…" I was amazed. Hal had correctly assessed how the reel worked and accurately described a modification that several of the best reel making companies had been flirting with for years.
Hal struggled with casting. I could see that he was suffering from "paralysis by analysis." As I worked with him, Hal asked a million questions about how and why things worked in the casting process. We got nowhere. Finally, I stumbled upon a solution. "Hal, I need your help here. I need you to forego about 75 IQ points so that you can get down on my level. Don't think at all. Just cast. Open that bail, hold the line, bring that rod back, and fire that sucker out there. Keep it simple, just like me!" I left Hal to ponder that. Soon he was casting just fine. Mission accomplished!
The fish were elusive. We fished the outside edge, chasing wind-blown slicks up and down the east side. Nope. We slid over to the inside, where a platoon of seals followed our every move. Nothing. Then up to the Point, where a fresh battalion of seals parked themselves right in front of us. Not a fish to be found. Back to the outside. I talked with the most awesome Lois Boland, one of the leading beach fishers on Nantucket. She told me that there were some blues chasing a small school of bunker around. We tried two more stops. Not even a hit.
Frustration was setting in when I spotted a fresh new slick that had popped up close to the shore. We stopped and got out for one final attempt. Lynn was quickly hooked up. A seal crashed after the bluefish that Lynn had on his line. He pulled the fish past the thieving seal, but lost it in the wash. Soon Gregg was hooked up, followed by Dan. Lynn followed, landing his fish this time. And, much to my delight, Hal hooked a bluefish but lost it to the seals. Gregg's request that he bring home some fish for dinner was fulfilled. Everyone had hooked a fish. It was a great day. Gregg later reported back to say that their bluefish made for a wonderful meal, prepared with a recipe found in the book Blues, written by John Hersey, their Pierson College, Yale University Master.
There's still some unresolved questions that I have for my Yalie friends from the class of 1966, however. Let's talk about that "senior society," shall we? Try as I might, I couldn't get any of the four to give up much information. I did learn that there were 15 members in this particular group from the 1966 class. A quick search of "Yale senior societies" brought me to an article published in the July / August edition of the Yale Alumni magazine that listed the names of 41 known "secret" societies at the University. Some of the names were very cool: Berzelius, Double Cuffs, Sage and Chalice, Octa, and, of course, Skull and Bones. Very mysterious stuff going on, wouldn't you say?
I also wanted to know if the movie "Animal House" was representative of Ivy League life back then. After all, the fictional characters Larry Kroger and Kent Dorfman were freshmen in 1962, just as my four fishing buddies had been. Hmmmm… I think I'm on to something here!
One thing that I know for certain is that if you're 78-years-old, or 62-yearsold (as I am), you are old enough and wise enough to cherish your good friends. Gregg, Dan, Lynn, and Hal have a special bond that was a treat for me to glimpse. I can't lie: I'm pretty bummed out to not be a member of a secret society. So perhaps we need to get one started—maybe a group of fishing types who hold secret meetings on Great Point. Or could it be that this secret group already exists and I'm trying to throw you all off with my caginess? After all, the first rule of Fish Club is, well, you know…
Steve "Tuna" Tornovish is a Nantucket native who has spent his life fishing
from the beaches of his beloved island. He loves to introduce clients to
the joy of fishing with his Nantucket Island Fishing Adventures: stevetuna.com