• by Sarah Teach •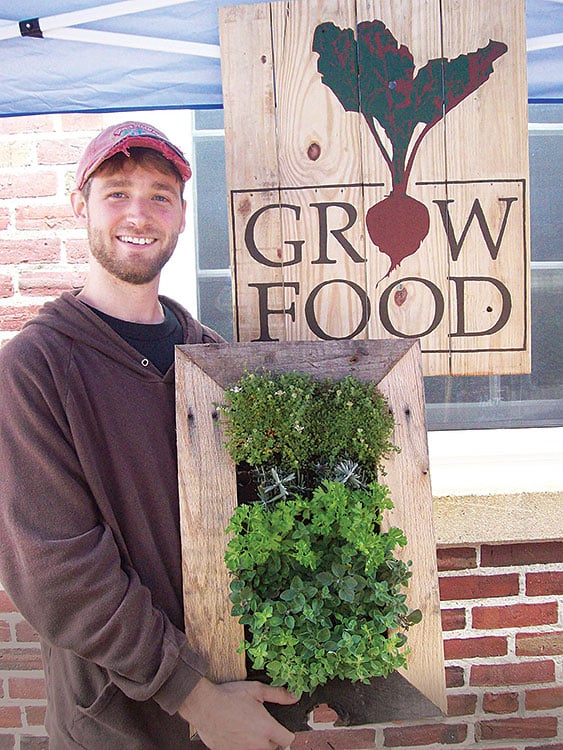 These days, it's hard to go a full day, whether in Nantucket or Manhattan, without catching at least one reference to the "buy local" movement. Arguably the most important time to heed this advice is when you're putting your purchases into your mouth!  We've all known since kindergarten that food is the body's fuel.  And if you fill up on premium, your body is better equipped to run like a dream.  Fortunately, the better part of the past decade has raised an army of Americans who give a care about the origin of their fuel.  In a place like Nantucket, where we are sometimes forced to rely solely on local devices, a nonprofit devoted to promoting local agriculture fits like a garden glove.  Sustainable Nantucket exists to "[build] a more locally based, self-reliant food economy—one in which sustainable food production, processing, distribution, and consumption is integrated—enhances the economic, environmental and social health of our island, and improves our long-term, overall sustainability."
Sustainable Nantucket is perhaps best known for its bi-weekly, seasonal farmers and artisans market, which allows consumers to interact with the people who grow their food. According to 2013 figures from the USDA, farmers markets in the United States are on a healthy, upward growth track.  Most American farmers markets have limits on the distance food can travel from the farm to the selling site, which, depending upon the location of the market, often caps at about 150 miles.  We as Nantucketers, however, are lucky; we can always count the miles our local food has traveled on one hand.  According to Sustainable Nantucket, "approximately one-third of our carbon footprint as a nation comes from industrialized agriculture, which also uses pesticides and herbicides degrading our soil and water systems.  When we source your food locally, we help to reduce the demand for the food produced by this system."  Michelle Whelan, Executive Director of Sustainable Nantucket, explains what sets Nantucket's farmers market apart from those markets in places like NYC and LA: "Everything is grown or produced on the island, so it truly supports the local economy. [Off-island markets in cities] are usually culling from a pretty wide region.  Also, the vendors are the artisans and growers themselves, so it is truly a place to connect with the local people producing the products we buy, and very much representative of the Nantucket community and the collective spirit of the island."
The artisan goods are found every Saturday at the downtown market.  Recently, the downtown market has hosted a wool spinning demonstration, a lamb naming contest (which incidentally, resulted in a lamb named Ron Burgundy), and a touch tank courtesy of Maria Mitchell Association.  It's not unusual to see market goers relaxing at the provided bistro tables, enjoying coffee and muffins as local student musicians serenade them.  Whelan says, "The market aims to enhance our experience of community.  There's this notion of 'third places,' which are places outside of work or home where people can gather and socialize.  And for a lot of people on Nantucket, that's the market.  Communities that have ample 'third places' enjoy a higher quality of life."  But the market isn't just for locals; everyone is enthusiastically welcomed to come and enjoy it.  "Last year," says Whelan, "we had over 38,000 visitors, which is actually more than Boston's farmers market!  It's a great opportunity to raise the profile of the island and to help keep downtown vital."
Edibles are available at the mid-island market on Tuesday afternoons.  "It's for people who can't make it downtown to shop at our Saturday market," explains Whelan.  "This way, year-round residents who are working during the week can swing by and grab what they need.  We'd love to get some value added foods—baked goods, coffee—at the mid-island market. People want that kind of thing mid-day."  In an effort to make local food affordable for everyone on Nantucket, the mid-island market accepts SNAP, WIC and senior coupons.  Also available at the mid-island market is a bountiful array of fresh veggies grown by student growers who are participating in Nantucket Public Schools' Farm To School program.
Sustainable Nantucket pioneered the Farm To School program in 2010 with the goal of "growing new growers" for the island.  Nantucket students from elementary to high school are offered the opportunity to learn how nutrient systems work through hands-on engagement.  Whelan says, "We started rolling by building a large-scale garden in the elementary school playground.  We've had a lot of help from community members of all ages.  Local landscapers donate their time to help build the garden. People and business have sponsored garden beds."  Today, the Joyce N. Furman Youth Garden spans a little over 8,000 square feet, boasts 46 raised beds, and in the past year, educated over 500 students!  The garden even does some supplementing of the school system's food supply.  Whelan says, "We try to bring as much local food as possible into the school cafeterias all year long.  During the summer months, Sustainable works with the school's food service department to preserve food.  We flash freeze corn; we can tomatoes."  Whelan is particularly excited about the "living classroom" donated by Barbara and Alan Medaugh.  "It's a domed structure with peas and grapes growing up the sides. When those plants have grown up and covered the dome, it'll be a shaded space where kids can learn in the outdoors."
Sustainable is undoubtedly dedicated to Nantucket's youth, but that doesn't stop the organization from finding time to benefit the island's adults as well.  Throughout the year, Sustainable Nantucket offers classes, workshops and films that focus on issues of sustainability and small agriculture business. Beginners can take classes on how to compost, how to create spaces for growing fresh herbs, and how to properly preserve your freshly grown bounty. Those with careers in the agriculture field can learn the savviest farm financing solutions, how to acquire agricultural grants, how to assess farm profitability and when it makes sense to share farm equipment with other operations.
Whelan believes even the layperson can benefit from gaining agricultural skills.  "It gives you an appreciation for what it takes to make food," she says, "and it teaches you about our environment.  You learn that you can't actually throw anything away because there is no such thing as 'away.'"  Whelan continues, "The earth pays a significant price for industrialized agriculture.  If we instead put our dollars behind small-scale, local farms, we're supporting the health of our environment."  Sustainable also advocates organic growing practices.  As far as pesticides go, Whelan says that if you wouldn't eat it, you shouldn't be putting it in the ground.  Ideally, all food grown would be free of pesticides and genetically modified DNA.  But Whelan notes, "We understand that for smaller growers, getting organic certification is difficult.  Two of our growers [at the farmers market] are organic certified, and all of our growers use sustainable growing practices."
Sustainable awards their own "Nantucket Grown" brand to island restaurants that source a significant percentage of their food locally.  In 2012, just six restaurants had earned the brand, but this year, that number has jumped to 20!  Listen in as some local chefs and farmers discuss their experiences with eating and serving local food:
Centre Street Bistro, the little gourmet nook tucked into 29 Centre Street, is the kitchen of Chefs Tim and Ruth Pitts.  "It makes sense for us to know where our ingredients come from," says Pitts.  "Taste-wise, local everything is always better.  It's not traveling as far, and the less it spends time on a truck the better.  And that goes for more than just vegetables.  We just got some stripers in today from practically right outside the window!" Pitts laughs.  Peek in the window of Centre Street Bistro and you'll see that they proudly display their official Sustainable Nantucket "Nantucket Grown" sticker.
Company of The Cauldron, the unique and delicious prix fixe restaurant on India Street, is a supporter of Sustainable Nantucket.  Executive Chef Al Kovalencik weighs in: "It's all about freshness.  Using local is all the rage, but The Cauldron has been doing it forever, just out of simplicity."  Kovalencik especially stresses the importance of buying leafed vegetables locally, as crispness is greatly impacted by travel time.  "Something that has just been picked that morning, like what we get from Bartlett's," he says, "hasn't lost any of its moisture.  Many food items are very sensitive to time and humidity.  And if they've been sitting outside of a truck for 20 minutes in the heat, or put in a walk-in [refrigerator] that's too cold, you're losing out on taste and texture.  There's something beautiful about getting zucchinis with dew still on them."
Seagrille's Executive Chef EJ Harvey says, "We have been buying local food for a very long time because it tastes so much better.  Local corn, cucumbers, tomatoes and zucchini are all great examples.  I never would dream of making a raw zucchini salad from a squash that gets shipped here from California.  Who knows how old it is?  I'd rather pick one from the garden, shave it thin, toss it with some salt, pepper, lemon and olive oil with shaved pecorino Romano, and wow!  Plus, mass produced foods seem to all taste the same.  Here at the Grille, we bake our own bread and desserts.  We make our own pasta, age and cut our own meat, and smoke and cure our own fish.  We brine and roast whole natural chickens twice a day."
American Seasons' Chef Michael LaScola says he buys local for two reasons. First, to support the local economy.  Secondly, he says, "The products are superior to anything you can get from off-island.  Nothing is really more than 24 hours old.  The items you'd get from off-island purveyors might be three weeks old, vegetables especially.  And the taste of fresh eggs, you can't beat an egg that's been sourced locally.  And the fish we get out here, it's insane that you have a fish in your refrigerator that was caught a few hours ago."
Bartlett's Farm's Greenhouse Production Manager Hilary Newell says, "When tomatoes are harvested a long distance from where they are going to be sold, they are picked well before they are ripe.  They spend time on a truck and become red, but not really ripe.  Local tomatoes are picked when they are almost fully ripe, so the flavor is fully developed.  Greens that are harvested at a distance are ripe and ready to eat, but may spend up to a week in the bag in a refrigerator truck before they reach their destination. The whole time they are in transit, their nutritive value drops.  So locally grown good is not only fresher, but retains more of its nutrition."
Stop by Sustainable Nantucket's downtown market–located between North Union and Cambridge Streets¬–on Saturdays from 9 a.m. to 1 p.m. Check out their mid-island market–located in The Muse parking lot on Surfside Road–on Tuesdays from 3:30 to 6:30 p.m.