EYE ON STYLE: RESPOKE
Respoke, now in its third year at 41 Straight Wharf has been known around the Grey Lady (and internationally) for repurposing iconic designer scarves into oneof- a-kind products, featuring their espadrilles handmade in La Rioja, Spain.
Co-founder and designer Michael Tonello's inspiration for Respoke was two-fold: his witty bestselling memoir Bringing Home the Birkin ends with him having a closet full of gorgeous designer scarves. At the time, he was living Barcelona, where it's traditional every spring to buy pairs of espadrilles… "they are cool & comfortable… it's a two-century tradition. I wanted to be like a native, so I did the same…but the espadrilles never really changed: the same styles, the same colors, the same fabrics… When I realized I had all these scarves I wasn't wearing, I thought it would be really cool if I could get someone to make me a pair of espadrilles from a scarf."
And that is where it all began.
The most intriguing part of Respoke's products is that every single piece is unique because they use different parts of the scarf. The espadrille construction is so special because each part of the shoe is made by hand with love in different mountain village workshops. "These are family owned craftspeople that pass their skillset down generation after generation." Because they use natural materials and repurposed scarves, all Respoke products are the very best of sustainable luxury.
Now a beloved fixture on Nantucket's Straight Wharf (and elsewhere!), Repoke boasts a refreshed space that feels open and bright and more prominently features its products and fine-art. Respoke co-founder and artist Chris Bartick's mixed media artwork incorporates remnant silk scarves from the Respoke shoe making process. The subject matter includes local iconography such as Great Point Lighthouse sure to immortalize your Nantucket memories.
Also since Respoke's first year, they have been creating what they call "mashups," which take multiple scarves and/or designers and put them together into one shoe to make each pair even that much more unique and special. "I'm one of those people who feels if something once was beautiful it is still beautiful," commented Tonello.
Since its inception, Repoke has created chic and beautifully luxurious products in many categories—various espadrille shapes, sneakers, clothing, accessories, fine-art, and furniture have become part of the brand's offerings. Each year they introduce a fresh product, inspired by the global hunt that Bartick and Tonello embark upon every winter, seeking the perfect scarves and unique methods o f how to reinvent them.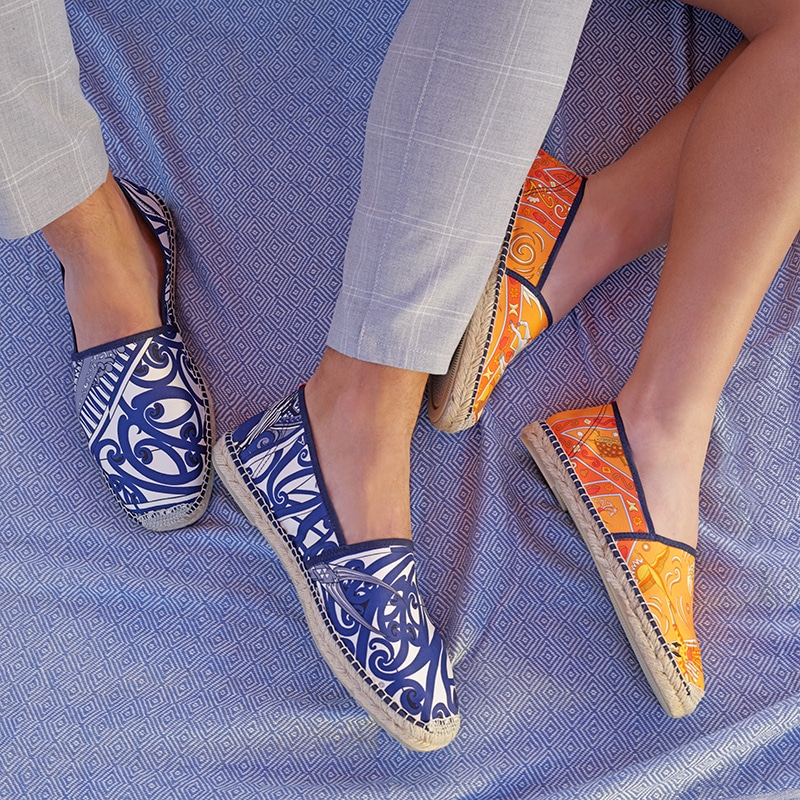 Respoke is open daily at 41 Straight Wharf & online at respoke.com