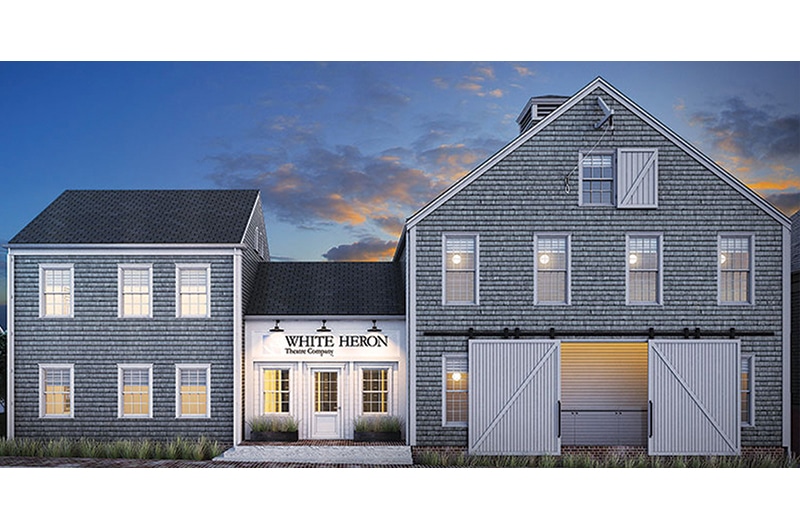 White Heron Theatre Company of Nantucket's 2018 exciting main stage summer season opens this week with a preview Thursday, July 5 of the Drama Desk-nominated musical Daddy Long Legs, music and lyrics by Paul Gordon, book by John Caird from the novel by Jean Webster starring Brian Krinsky (The Underpants, Constellations) and Lindsey Carter (Romeo and Juliet) directed by Michael Kopko. Opening night is July 6, and performances continue into mid-August. Daddy Long Legs is the story of an orphan who goes to college in 1908 financed by an unexpected benefactor. This play runs in repertory with Private Lives which opens in preview July 19.
On Monday, July 9, White Heron Theatre presents Conversation with a Master: Tao Porchon Lynch. Be enthralled by Tao's journey on multiple continents as a World War II French Resistance fighter, actress, model, producer, and entrepreneur, while you learn her approach to overcoming obstacles and living mindfully. This guided conversation and multimedia slideshow is moderated by Tao's student and biographer, Teresa Kay-Aba Kennedy—Harvard Business School-trained strategist, yoga teacher, and wellness empowerment coach. Hear first-hand stories about historical icons such as Mahatma Gandhi, General Charles de Gaulle, Ernest Hemingway, Coco Chanel, Marilyn Monroe, Marlene Dietrich, the Maharishi, and others. Explore concepts such as Oneness and mindfulness, and gain insights on topics such as mental attitude, follow-through/procrastination, and dealing with disappointments. Learn Tao's "secrets" to vitality and boundless energy. At press time, some tickets to this special evening were still available at whiteherontheatre.org.
On Friday, July 20, White Heron Theatre's party of the season pairs the Opening Night of Private Lives with their Summer Gala in a glamorous evening of theatre followed by dinner and a "late night supper club cabaret' in the Nantucket Whaling Museum with Tony-Award nominees Jeremy Shamos, John Ellison Conlee, and Celia Keenan-Bolger.
"This is an astonishing cast of accomplished actors," said Mark Shanahan, Private Lives Director. "It is rare to see three Tony-nominated actors in one cast, especially in such an intimate venue. We are very excited for this. " Private Lives is a wildly funny classic romp about love and marriage—Noel Coward at his best—and will run in repertory with Daddy Long Legs through August 18.
"We are so pleased to have these actors in our summer company," said Lynne Bolton, White Heron artistic director. "Private Lives will be a first for Nantucket audiences in terms of the caliber of performances and the set, lighting, and sound design. To have the chance to see these actors working in an intimate space is a very unique opportunity."
The award winning technical designers for Private Lives include: John Gromada, a prolific, award-winning sound designer and composer best known for his many theatrical Broadway productions; Louisa Thompson, award-winning set designer; and Christine Watanabe, lighting design.
As part of White Heron's commitment to new work for the American stage, a new play by Calvin Trillan, About Alice, will debut in a developmental production opening August 22, directed by Leonard Foglia. Trillan, Foglia and Jeffrey Horowitz, Artistic Director of TFANA, will be in residence with White Heron for the month of August. The humorous and poignant story of columnist Calvin Trillans' wife and muse, About Alice will have its New York world premiere in November at TFANA.
The world premiere of a new play, Evanston Salt Costs Climbing opens in previews August 30 running through September 15.
For details about the 2018 season and for tickets contact White Heron Theatre Company, 508-228-2156 or visit www.whiteherontheatre.org