by Carl Oscar Olson
It's always a good idea to trust the locals. The hardworking people who see all seasons on this island and know its secrets, from the best beaches and fishing spots, shortcuts and scenic drives, to the best places to eat. The locals on Nantucket know where to go, and they go to Saltbox Tavern and Table.
It was the end of an unusually hot day during a very hot week, and we were immediately relieved walking through the air conditioned dining room. We stepped outside again and braced for a blast of heat, but on their spacious and shaded back patio the sultriness was blown away by beautiful breezes, the green grass and high hedges made Old South Road disappear. The many tables and high-tops were filled with smiling diners, kids ran and played in the open space beyond the bushes. The full outdoor bar was bustling and we were excited to join the fun.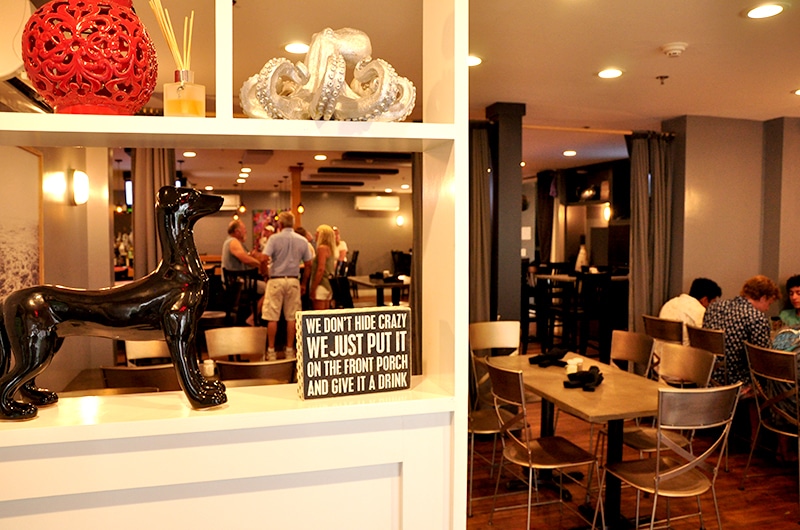 Finally feeling relaxed, we started our Saturday night with a few favorite drinks. With a lengthy list of canned, draft, and bottled brews, a hand-picked wine list, and cool craft cocktails, Saltbox is the place to get refreshed.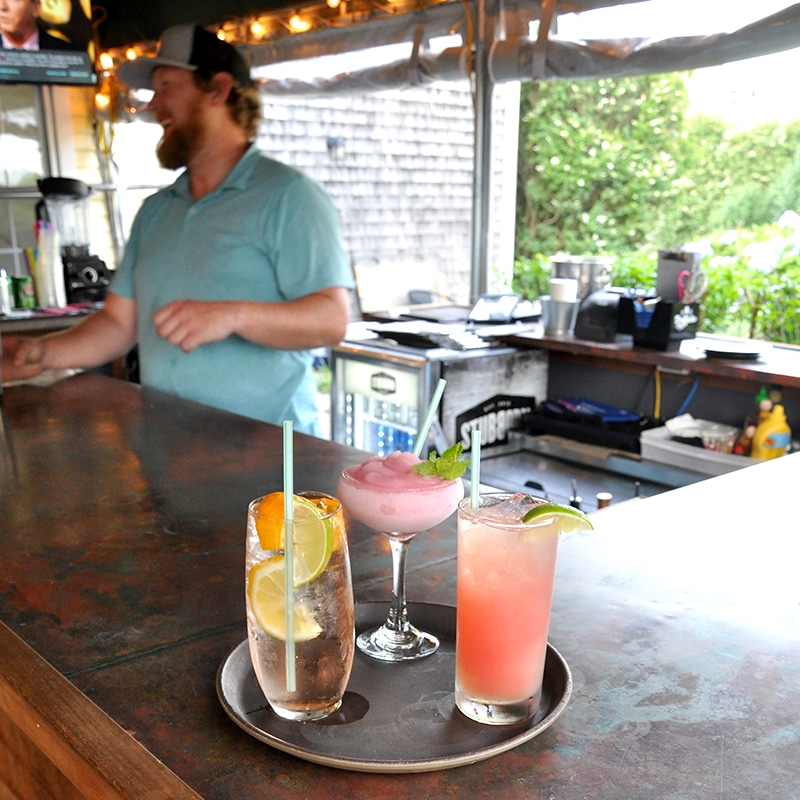 A soft, sweet, and satisfying White Sangria is served on the rocks in a tall glass. It's easy going with the essence of elderflower. For those who like it hot, The Mother of Dragons combines ghost pepper tequila with fresh watermelon and lime, bringing out a savory side of the summertime staple. It's sweet up front with a satisfying sizzle going down. A delightfully dry Froze was our favorite, slushy and smooth and terrifically tempting. It was just one of their many frozen drink options; the absolute best for chilling out and cooling off.
Inside the restaurant, you'll find fun, contemporary decor and plenty of room for your friends. We love sitting at their spacious bar indoors, but will take any chance we can get to dine and drink outdoors.
The menu at Saltbox is bountiful and eclectic without being overwhelming. Enjoy the best of your favorite bar snacks along with refined salads and seafood options, then for dinner dine on anything from a superb sandwich, steak, or scampi. There simply is something for everyone.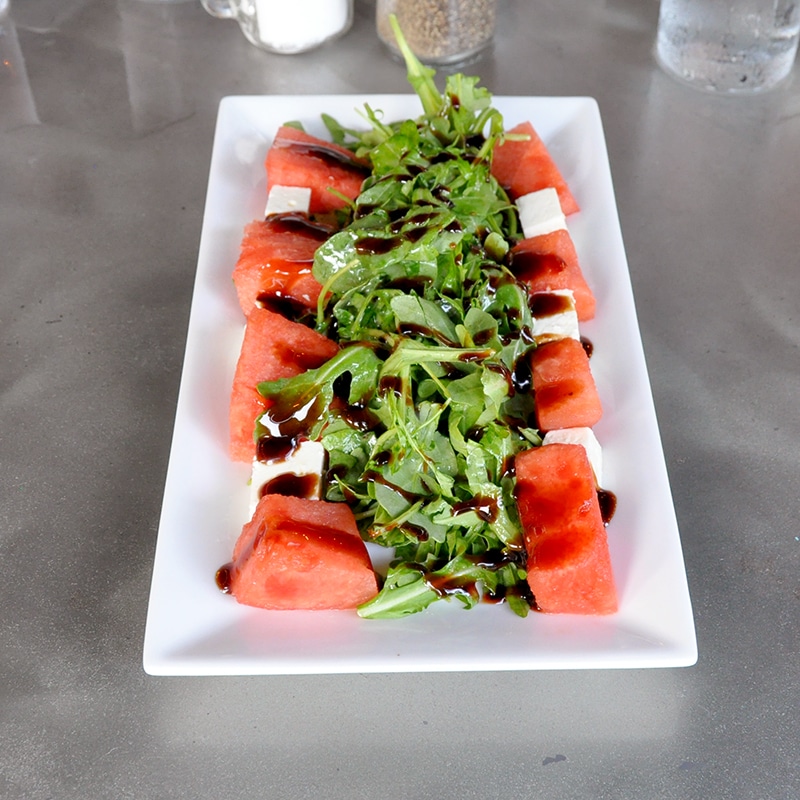 Our first starter selection paired sweet, firm watermelon with soft, salty feta. The Watermelon Salad is refreshing, fun, and drizzled with bright balsamic. A bed of peppery arugula fills it out, and it was the best beginning to our meal.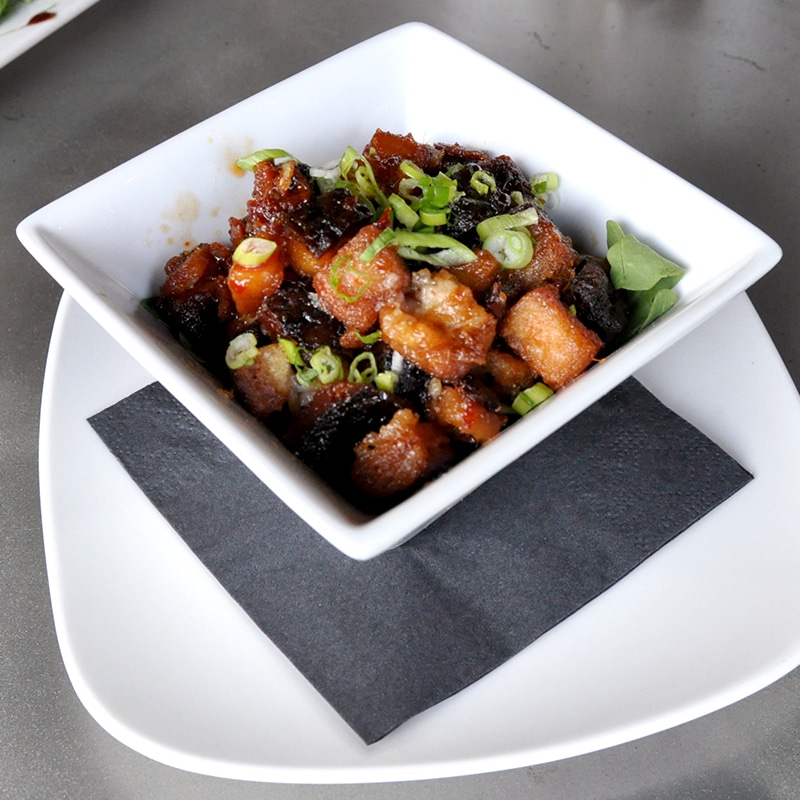 Fun and fabulously fatty, the Pork Belly is a finger food favorite. With a soy chili glaze that's spicy and sweet, every morsel was savory, succulent, and crispy all at once.
Order the Fish Tacos for a perfect pair featuring the fresh catch of the day— we lucked out with grilled salmon. They're a cilantro lovers dream with plenty of guacamole and potent pickled veggies.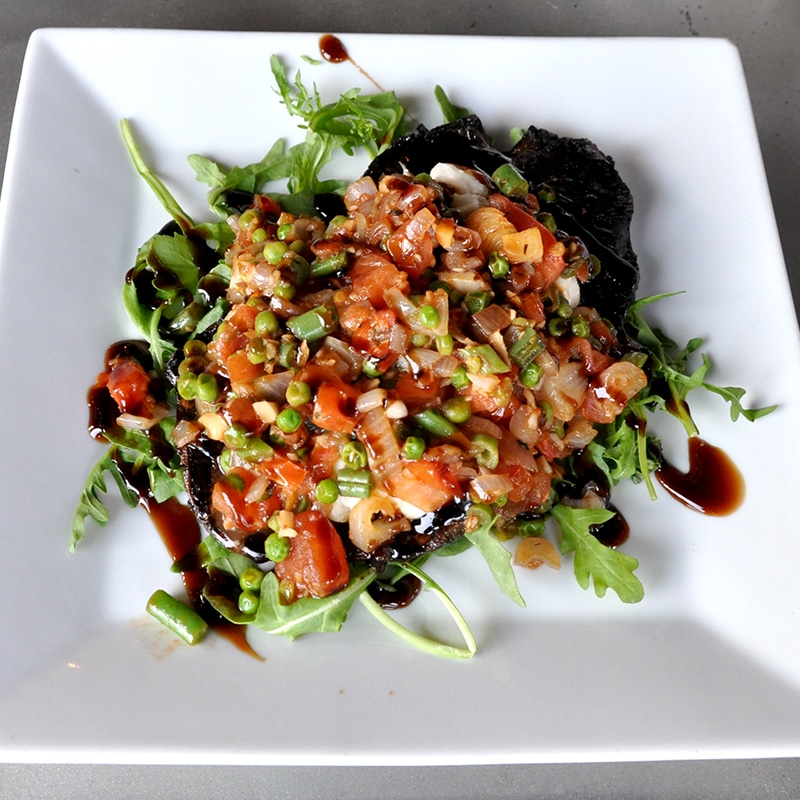 Our favorite first was the cool, creamy contrast of goat cheese against the Stuffed Portabella. The mushroom cap is piled high with arugula, tomatoes, onion, peas, and garlic packing plenty of flavor with no need for meat. We love being surprised by vegetarian options, and this are one we'd come back for.
The music blended beautifully into the background and sounded so good it didn't seem live. But it was—just another reason to grab a seat and join the fun. On Saturday nights, local favorite Brian Glowacki covers the classics from yesterday and today, mixing in some comedy between tunes. The restaurant is always on the hunt for new talent to entertain on weekends, so if you think you have what it takes, drop them a line.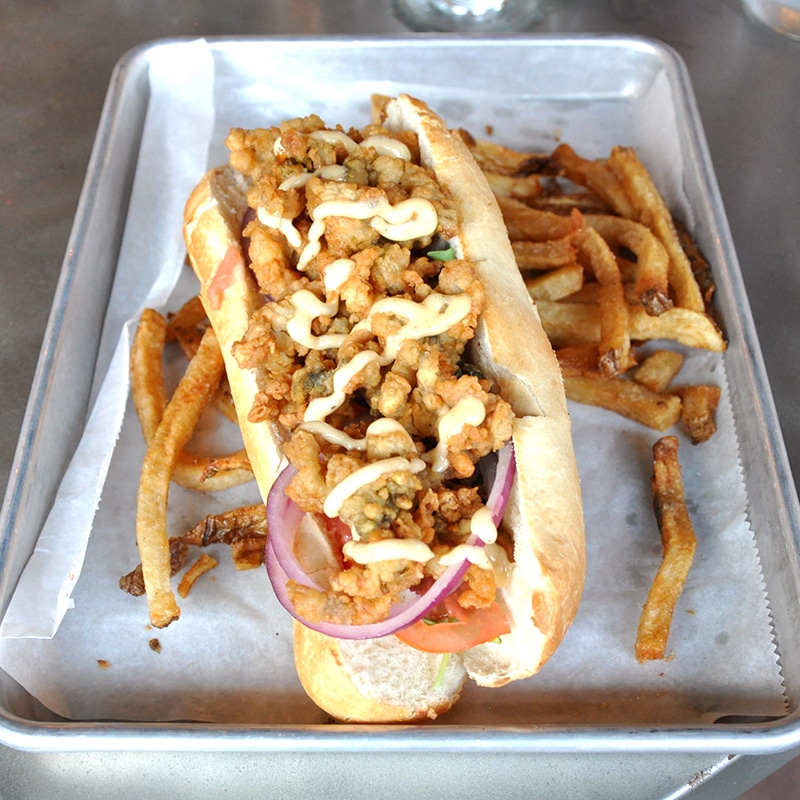 Crusty and soft and piled high with fried clams, the Po' Boy would make a meal any time of day. Take your pick from scallops, shrimp, or clams and rave on about this mouth-watering remoulade, red onions, and ripe tomatoes.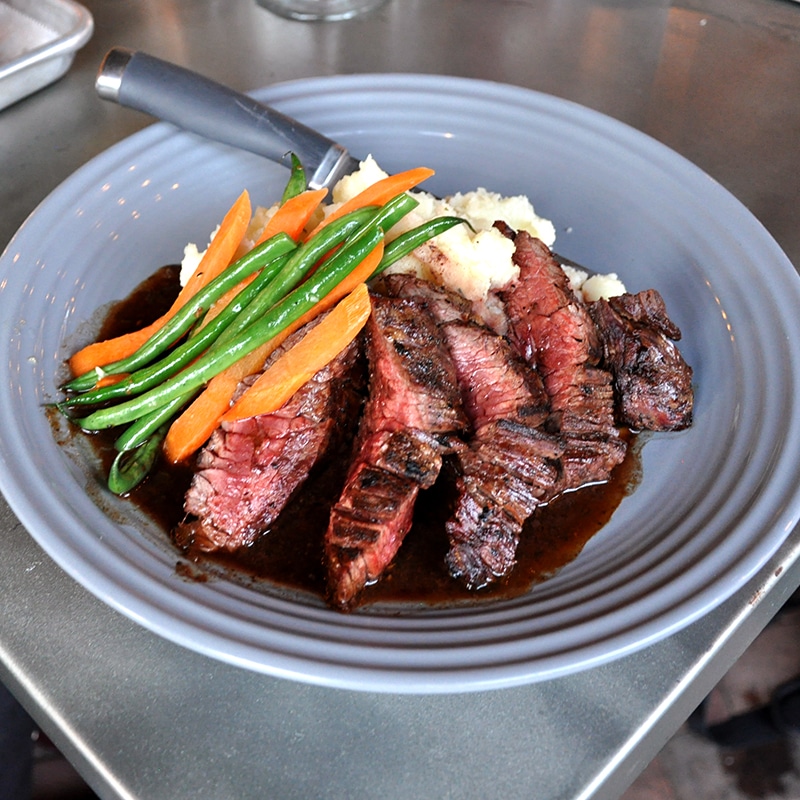 There was no hiding the marvelous medium-rare on the sliced Hanger Steak. It was savory and sublime, served with mashed potatoes, sliced carrots, and string beans all soaking in a signature Saltbox steak sauce. No one will notice if you lick the plate.
You can't go wrong with a Burger, especially with it's a half pound of prime beef on a buttery stout bun with all the fixings. It's flame kissed and so juicy with cool shredded lettuce, onion, tomato and pickles with melty American cheese. Golden brown French fries make for the perfect pair—we recommend getting them truffled for that little something extra.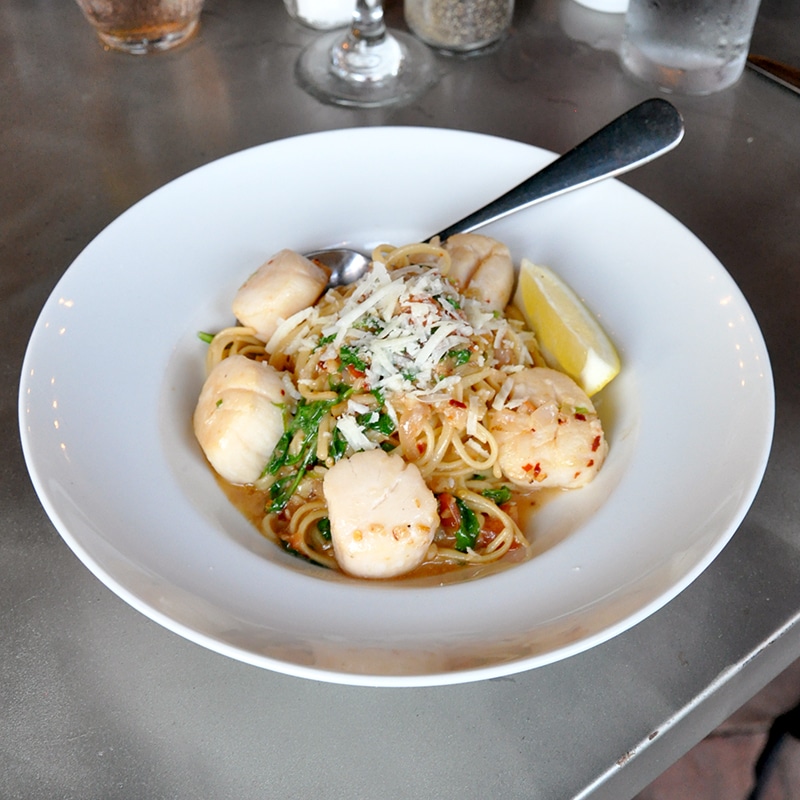 We don't usually like making special, limited menu items our favorites but the Seared Scallops and Linguini were too good to ignore. Five plump sea scallops sat atop a bed of linguini laced with tomato, onion, garlic, arugula, and a touch of truffle. Crushed red pepper brings the heat to meet the sweet, soft scallops. Everything was cooked to perfection and a squeeze of lemon brought a brighter level of flavor.
Saltbox is one of the few island establishment to offer Buck-a-Shuck. A generous offering of all your favorite shellfish happens every single day from 4 to 6 pm, so come down to Saltbox and get while the getting's good.
The sun had gone down and night was taking over, but the party was just getting started. Brian Glowacki played on, taking requests from patrons whether or not he knew how to play them. Delicious smells and lots of laughter filled the air. We were ready for dessert.
A divinely dense Dulce de Leche Cheesecake swirled with flavors of sweet cream and burnt sugar. A raspberry coulis softened the tart edge of the refreshing Key Lime Tart. Our favorite, the Lemon Cream Cake, was awesomely airy and bright, served on a blackberry sauce heightened with the tingle of fresh mint.
With a convenient location near the airport, bike paths, and WAVE bus stops, it's never been easier to get to 7 Macy's Lane. Beat the crowds and blend in with the locals at Saltbox Tavern and Table. There are so many reasons to go.
Saltbox Tavern & Table
acksaltbox.com
774-333-3814 • 7 Macy's Lane
Open every day from 11:30 am
Sandwich & Entree prices from $14.50 to $41
Buck-a-Shuck daily from 4 to 6 pm
Major credit cards accepted • Families Welcomed
Available for private events