•  by Sarah Teach •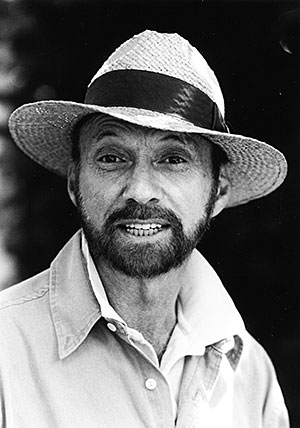 After decades spent traveling the globe, serigraph master, satire sculptor and painter Donn Russell chose to make his home on Nantucket. Long-time island art enthusiasts may recognize Russell's work from his eponymous gallery on Old South Wharf, which was active from 1978 to 2001. The artist—who has been known to give away his best work when he cannot fathom selling it—boasts a portfolio that is diverse in media yet clings to a common theme. A Russell is a snippet in time, a moment that's not quite real, but somewhere close to it. Both intricate and abstract, this artist's pieces dance the line of reality. They evoke nostalgia in you for places you've been, and also for places and moments you can only visit by viewing them. At 85, the soft-spoken gentleman artist reflects on his creations, which are as far-reaching as the ground he has trod.
Russell grew up in a deeply artistic family, but came into his talent entirely on his own. The Braintree, MA native says, "It started when I was in high school, and I had a wonderful art teacher. She would grab things that I had painted and send them away and they'd win prizes. To look at them now, they are pretty crude. But I took interest; I stayed after school and painted with her. She was my great influence. My mother was a watercolor painter, but she didn't care about too much besides her art. A dinner roast might sit in the oven all night because she was too busy finding just the right color blue. So my dad learned to be a good cook!"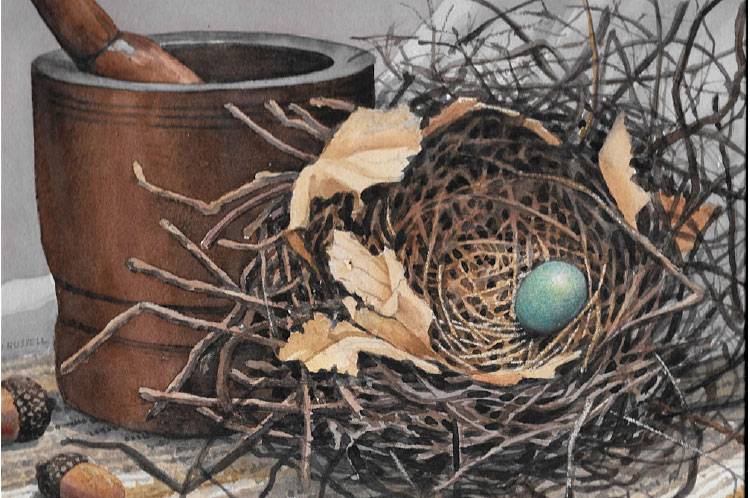 Teenage Russell was such a gifted singer that he became a crooner on the nationally syndicated CBS weekly broadcast, "Youth on Parade." He and his fellow songbirds traveled the country dressed in costume, bringing joy to wounded World War II soldiers. "Once the war ended," Russell says, "the program lost funding, so I went to college." The young man won a scholarship to study music at Boston University. To his dismay, Russell learned that while he loved making music, he hated studying it. He says, "I quit school halfway through my second year. Came back home with my tail between my legs, and spent the following summer with my mother, just painting in our chicken-coop-turned-studio. She'd look at my stuff and say, 'You're not so bad!'" His uncle, a noted illustrator, encouraged him to pursue art as a career. With his mother's help, Russell enrolled in Pratt Institute, and later the School of Visual Arts, then the Art Students League of New York. He says warmly, "That's where I finally felt at home."
The art world embraced him right back, and with just as much vigor. A painting major who was working mostly with watercolors, Russell started winning awards from the likes of the National Academy of Design, the Hartford Atheneum and Silvermine Arts Center. It wasn't long before that exposure earned him a spot in Greenwich Village's Waverly Gallery. His first encounter with commercially reproduced art came when Russell displayed his watercolors on the wrought iron fences of NYC's Washington Square. Publisher I. B. Fischer discovered and started duplicating the art as prints.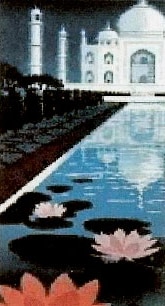 As much as he loved the Big Apple, Russell may as well have been one of the ramblin' Allman Brothers. Starting at age 20, the young man planned a major international trip each year to assuage what he calls "almost a need to travel." He says, "I went to Mexico every summer and got jobs up in the mountains, where they needed murals on the walls of their cantinas. I got free room and board, plus a few extra pesos for whatever else I wanted. I always fell in with people who were doing unusual things, and I'd join them for a while. I would go see Granada, learn how to dance. Mexico and Japan are the most artistically inspiring places I have ever been. As an artist in Japan, everywhere you go, you get dozens of little school kids coming out to see what you're doing. I would sit down and they would all crowd around my pad of paper. They would point at little things, but they wouldn't make a single noise, aside from the occasional ahh or ooh."
Russell didn't fall in love with every place he visited. "I never did very much in Africa," he says. "It's not a place you want to sketch. The terrain is flat and not very exciting. It's just white dirt." He continues, "And though I never painted much in the north countries, I do love London. I also found Russia fascinating. I went in the spring, when it's actually called mud time. Everything is really mucky, but an interesting mucky, like the overflow of a volcano. And there are all these beautiful, grand buildings coming out of the muck."
"I went around the world, painting, sketching. But the more I traveled, the more I got hooked on other art mediums, like serigraphy and sculpture." Better known as screen printing, serigraphy is a highly involved process that is not for the faint of art. Russell, who cites the form's intricacy as his reason for favoring it, says, "After having taken a college class in screen printing, I went back to school for a refresher course and was hooked. I ended up doing it for the rest of my life." In his heyday, the artist could spend an entire year on a single serigraph, creating a scene, cutting out a corresponding stencil, and adding layer upon layer of meticulously planned ink coats.
Russell's world travels continued, as did his exploration of art forms. "My first sculpture," he says, "began when I was walking along the beach and picked up a piece of wood. I thought, 'I can make something out of that.' It became the potbellied body of a man, and I added things to the top of it." His sculpture period lasted for the better part of a decade, propelled by increasing recognition of his work. Images of his sculptures graced the pages of The New Yorker, Time, Life and Fortune, and they became coveted from London to Manhattan. "The sculptures were popular," he surmises, "because they were sophisticated jokes in a way. They were very big with one social group in New York who bought them all. But I got tired of it; I felt like I was repeating myself. When everybody says you're a wonderful artist, then you can just do the same thing in a different color, over and over. I wasn't that kind of artist. So I went back to painting, almost all in acrylics this time, because I could carry them around the world."
Though he traipsed all over Europe, the Middle East, Asia, the South Pacific, Central America, and Africa, Russell always made his way back home to the States. He says, "One day, the famous interior decorator Billy Baldwin came into a Madison Avenue gallery where my work was being shown. He and his two friends said they had a house on Nantucket Island, and they went there every summer. They invited me for a visit, and it was like nirvana. It has a very pure white light that artists crave. There's no land around it, no tall buildings." When visiting a place as beautiful as Nantucket, an inspired artist probably cannot help but begin making art immediately. "At first," Russell says, "I did my number of boats in the harbor like everybody else does. Then I got into designing the island, not just copying it. I took different parts of the island and put them together into something abstract yet real."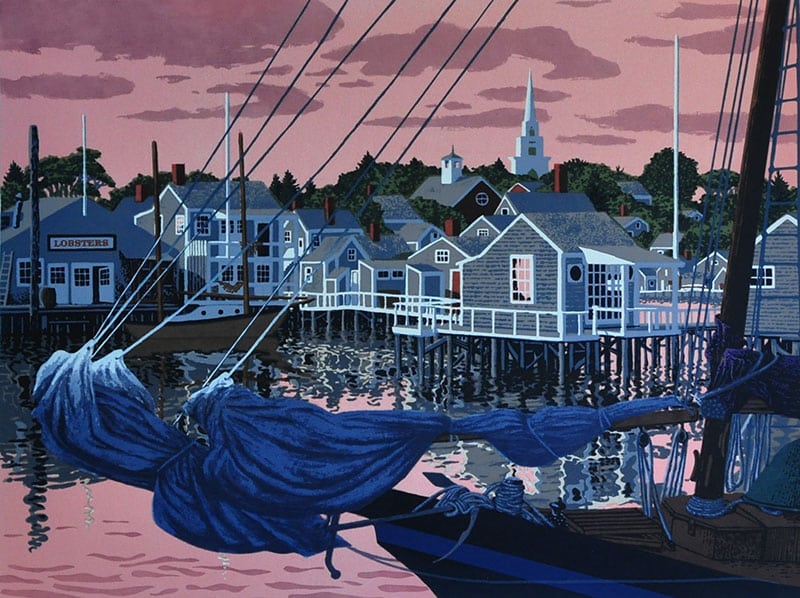 "Visiting Nantucket was one matter, but to get a house on the island was another story," says Russell. "My roommate Arthur frequented a Main Street real estate place that was run by Eleanor Royal. She was in her eighties and wore stilettos and Chinese gowns split up the sides, all the way to her hip, paired with orange and blonde wigs down to her waist. Art used to bring her coffee every morning, and the two of them would sit there and schmooze. He would ask her, 'You have something for 15 thou?' And even then, 15 thou was nothing. She'd pat the back of his hand and say, 'No, you poor dear. You have to wait until you make a little bit more money.' So this happened every day for four or five years. One day, he went by and helped her get her key into the door, and said, 'Got anything for 15 thou?' She said, 'No, but I think I've got one for 10!' Arthur had a giant jar of 50 cent pieces that he had been collecting since he got out of the Army in '45. We sat there and counted them, and they came out to $8,000." Just like that, the duo became summer residents.
Russell entered Nantucket during what he calls an artistic golden age. Old South Wharf in particular was a creative hotspot, and featured galleries of artists that ranged from painters and jewelry makers to scrimshanders and miniature furniture makers. In 1978, after years of having his work displayed in various island galleries, Russell finally opened his own space on the wharf. When Channel 5 WCVB Boston shot an hour-long special that portrayed the island's Fourth of July scene, they followed Russell through his gallery and studio on the wharf. The artist's 15-minute slot on the show earned him the affectionate title of Mayor of Old South Wharf. "The mayor title is not always meant to be complimentary!" Russell insists. But he claims there was more to the nickname than just his TV presence: "I was a go-getter. People would say that if you wanted to put up balloons and crepe paper, you should get Donn Russell. People still walk down Main Street and say, 'hey mayor, how ya doing?'" Fanfare aside, the wharf life was not always glamorous. Russell recalls, "We'd sit outside our galleries because it was so hot. It got boring just staying there all day, so I used to get up and walk around and leave little notes saying, 'If you must have it, buy it now and leave the money.'"
Like it or not, Nantucket has changed since the days of "Leave the money" signs on a cash drawer. Russell offers his perspective on the transformation: "The island doesn't grow, but it seems like it does. There are many more people now, and the types of people have changed. It used to be that everybody was laidback and took things as they came. It's become very bureaucratic. I guess it has to be if you want so many people here. Old timers used to say that tourists had two things: one pair of underwear and one ten-dollar bill, and they changed neither. Now they spend big bucks. Before, if art cost $2,000, it was a big deal."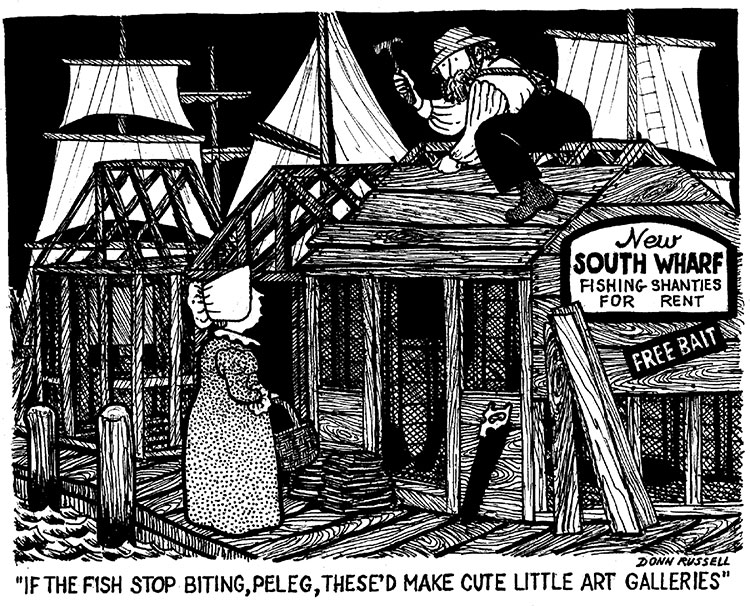 Russell acknowledges that the world as a whole is changing right alongside the island. "The biggest difference I see in the world," he says slowly, "is that today, there is a lack of compassion. I find more people pushing me aside to get ahead. You know, running in front of me when there's a line. Maybe it's because I'm older and it didn't bother me when I was younger. But it seems people—though not everybody—are less aware of each other than they used to be." Shifts in the landscape aren't all bad, though. Russell says, "The world has grown smaller because of computers. There is more culture available. There's a guy in New York who brings a baby grand into the park on rollers, and I notice that NYU students all sing along. People didn't used to know the words to songs like that. Because of that availability of culture, young people today are much more varied in their outlooks than they used to be."
Russell himself is dealing with some changes as well. Over the past 15 years, his eyesight has suffered due to macular degeneration ("A terrible thing for an artist," he confides), so he has slowed on the serigraph front. "Now, I do a lot of sketching type stuff," he says. "I work in beiges, browns. It's simple. I used to do very ornate work. Not anymore. I can't draw that straight a line." He chuckles softly. "I do a lot of studies now, and some oil painting." But even as his eyesight flees, the memories and images in Russell's head remain sharp as ever. In 2010, the artist completed a book called The Long and Short of It: Stories From a Lifetime, which chronicles his journeys around the world. He writes, "Looking back was the greatest reward of all."
Also in 2010, the Artists Association of Nantucket honored Russell in a special exhibit called ICONS: Influential Artists From The Association's 65-Year History. Russell was the only living member among 16 bygone artists who were included. In Russell's case, it was for his unique output and for inventing his own formula of ink preparation for printing that challenged fading from age or light.
In August of 2012, the last major showing of Russell's work was hosted at Made on Nantucket on Old South Wharf. "He's been one of my favorite artists forever," commented gallery owner Kathleen Duncombe, who still has some of his work at her gallery. "I was so honored and thrilled to show his work."
You have the chance to experience Russell's work for yourself this Friday, August 29, from 6-8 p.m. when his original prints will open at Hostetler Gallery at 42 Centre Street. The museum quality, limited edition serigraphs are all signed and numbered. When editions sell out, the designs are destroyed and never repeated. Gallery Director Susan Crehan-Hostetler says, "His art is classic, clean, beautiful and shows us the Nantucket we love. It's still fresh. This art will speak to the next generation."