To help with your holiday shopping (don't we all have a few on our list who are difficult to shop for?), our staff has some suggestions from our advertisers. Here's what we would choose from each business, though they all have much more in their stores and on their websites. Turn to our Shopping Guide in this issue for addresses, phone numbers, websites, and hours. And happy shopping!
This shop in the heart of town sells a spectacular selection of apparel and accessories. Our staff pick here this holiday season is their Nantucket Sand Bracelet. These come made with Moonstone or Aquamarine or Prehnite—each style has a compartment filled with sand from Nantucket! One size fits all makes these lovely bracelets easy to buy for everyone on your list.
This shop is filled with one-of-a-kind vintage clothing, shoes, accessories, and jewelry. It's a challenge to choose a single Staff Pick from Commonwealth, but every time we go in the store or view their website, we are drawn to their handbags and clutches. They often have name brands like Gucci and Louis Vuitton, even DVF! Don't hesitate: there's usually just one of each.
Kathleen's holiday shop location is filled floor-to-ceiling with unique gifts and art that will add style and cheer to any home. We are over the moon for the Made on Nantucket 2020 Stroll Ornament. The latest in a series, this year's exclusive design has Santa's sleigh drawn by whales over Nantucket! At $31 each, these are perfectly priced for gifts, and they come with red ribbon and a box for giving! Kathleen is open Fridays-Sundays and daily December 21-24 for you last-minute shoppers!
Add a memory of Nantucket's holiday spirit to your Christmas Tree this holiday season. The perfect gift topper or stocking stuffer, our collection of hand needlepointed Smathers and Branson ornaments are sure to make your gift recipients smile. The handstitched needlepoint using silk embroidery thread is accented by a braided rope cord and a flannel backing, all wrapped around a structured, padded base. Available in store at Murray's Toggery Shop.
You just need one other person to play ACKgammon™ — and you could probably do it over Zoom! This beautiful, sleek Nantucket Island edition of the classic board game Backgammon has been renamed and rethought. Play the traditional way or try playing the Nantucket version! Quantities of this introductory edition are limited. Stop by the store now, while they last, or order yours at ack4170.com
Send something soft and cozy to your loved ones this holiday season: a gorgeous handwoven throw by Karin Sheppard of Island Weaves. Handwoven on Nantucket, her beautiful throws are available in many colors like aquamarine, crater lake blue, apple green, rose pink… and in alpaca or mohair. Cuddle up in one of these soft, warm throws with a cup of tea and a good book, and you're set for a winter's day.
Looking for a gift that will be an heirloom? Handmade Stoneware Striped Candlestick Bowels made on the island of Oland, Sweden by Paradisverkstaden, a ceramics studio whose pottery is inspired by the shapes and colors of nature. Royal Purveyors to the King of Sweden.
FREEDMAN'S, 14 CENTRE STREET
With all of us spending more time in our homes, it's the ideal year to give a gift that will enhance your space. You'll find a wide variety of home decor touches, large and small at this shop. Our favorites are the clocks… so many clocks. Large, small, desktop, hanging… brass, silver… there's a perfect choice for every decor! Everything is 40% off, and they are even open on Christmas Eve for lastminute shoppers and through the month of December for New Year's gifts.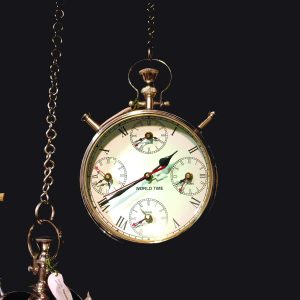 Elegant and interesting, perfect for everyday wear, we adore the Nantucket Sea Shard Small Earrings created by the jewelry designers of Icarus. These totally unique earrings are cast from shards of Nantucket scallop shells into sterling silver. They are also available in 14k gold. Visit their website for all their nature- inspired designs.
Give the gift of art with the AAN's Holiday Small Works. Visit the Cecelia Joyce and Seward Johnson Gallery at 19 Washington Street on November 23rd and 24th from 10am – 5pm to browse beautiful paintings, jewelry, photography, ceramics, and more. You can also order the art online at nantucketarts.org
Island artist Greg Hill has captured the heart and soul of Nantucket in his many paintings of our island. From land and from sea, modern views and a look into history— however you want to remember Nantucket, G.S. Hill has painted it! His gallery carries full size originals, miniature paintings, and limited edition prints (lithographs and giclees). Time your visit right & you might meet the artist!
We all want to toast the end of 2020 and the start of a new year, so our Staff Pick among the stunning glass art and fine at in this Nantucket gallery are the Art Glass Goblets by Robert Dane. Colorful and creative, you can pour anything into these vessels for a festive toast. We'd buy them in pairs for every couple we know!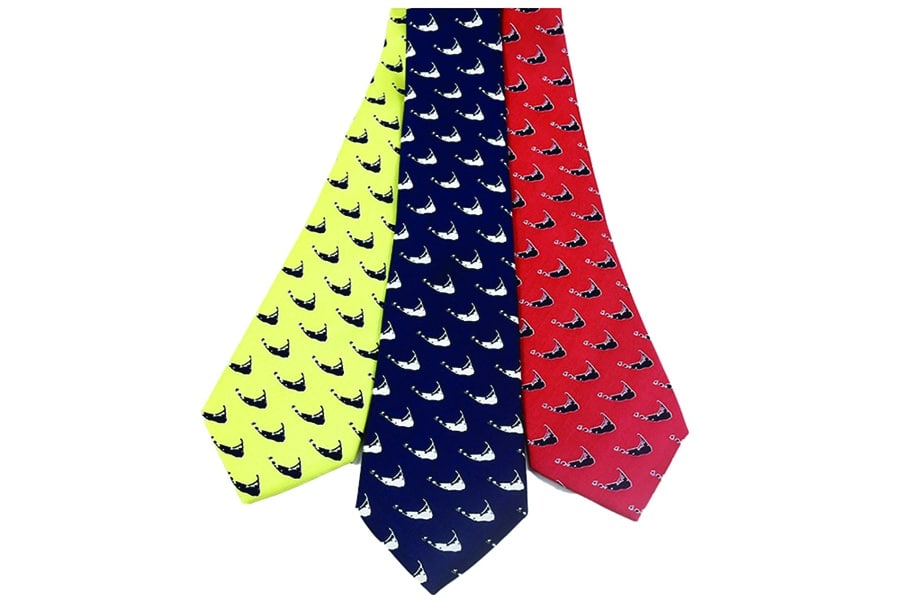 The Nantucket Historical Association operates a fabulous Museum Shop next to the Whaling Museum. They have gifts reflecting the history, crafts, and natural beauty of Nantucket (and NHA Members get discounts). We love their Nantucket theme silk ties—after all, you want to look good on Zoom, right? And someday we will need to restock our business attire for in-person meetings! After December 6, you can order these online.
This historic building just a few steps off Main Street behind Ralph Lauren contains 5 shops & studios. You could do all your shopping in one stop! Join the ranks of Hollywood's hottest stylistas, including Halle Berry, Sarah Jessica Parker, and Eva Longoria, with one-of-a-kind, creative jewelry by JESSICA HICKS on the first floor at 2 Union. Up the stairs, you'll find 4 more shops and studios… We love the way JENNIFER GREENWOOD's handmade jewelry combines contemporary style with classic looks, featuring natural materials and traditional techniques. You're sure to find the perfect piece for you or someone you love. With a focus on providing a more holistic and sustainable option for the things we use every day, VERDANT MAIDEN has everything your loved one needs to look and feel their best. The collection of handcrafted treasures at LAND OF LULO is fierce and playful and sure to brighten up these gray winter days. Jewelry, outerwear, and more that are sure to please loved ones of all ages. Cigars make great stocking stuffers, and the smoker in your life will cherish the handmade accessories and other premium products available at GRAY LADY SMOKE SHOP.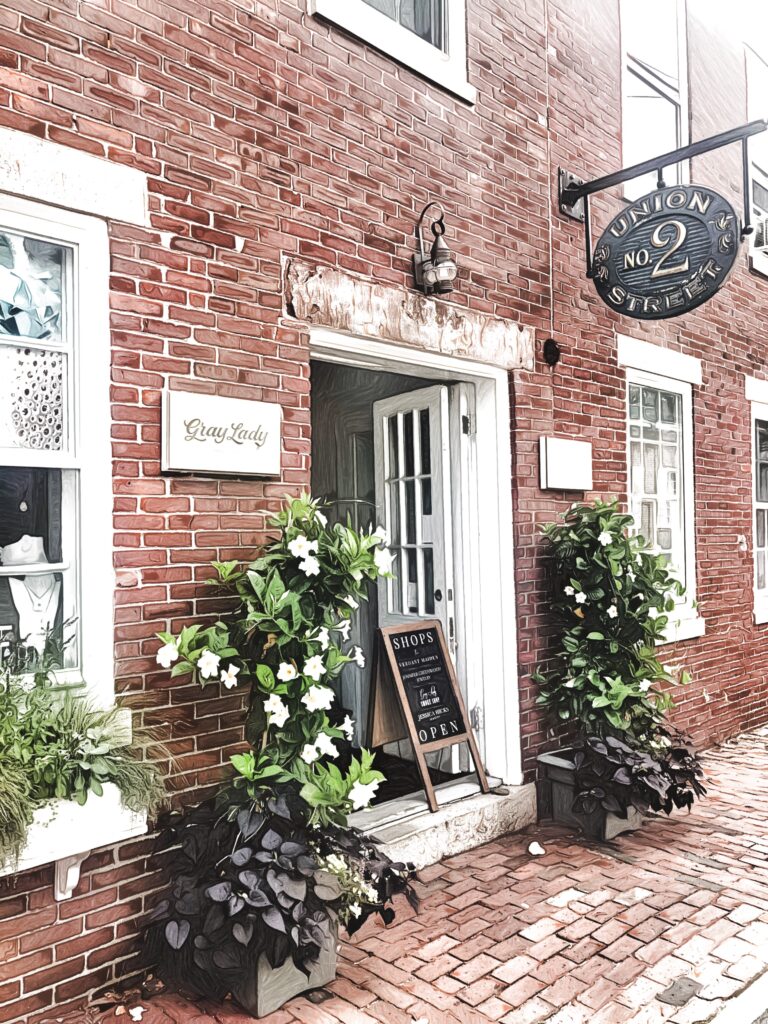 Looks like we will be wearing maks for a bit longer, so have a little fun and be stylish with it. For 2020, Nantucket Pearl Company has added to their selection of gorgeous Must Have Bracelets and other pearl jewelry a Pearl Mask Holder that can help you keep track of your mask when it's not on your face. AND it converts to a lovely 24" pearl necklace when some day soon the masks can be put away for good.
Just in time for the Holidays!! Make someone happy with "MOBY IN DIAMONDS"™ — The newest addition to our Magnificent Moby Collection ™. Buy them online or in the studio shop on Easy Street, Nantucket, open for the holidays. Stop by the shop and see the array of stunning jewelry Susan creates!
This holiday season you can give the gift of romance in the form of a golden Sailors' Valentine. Island whalemen crafted beautiful mosaics from shells they found on their travels and gave them to the women they loved upon their return. Jewelers Gallery recreated these in 14k gold miniatures, some studded with rubies, emeralds, or sapphires with diamonds. Our staff pick here are these romantic pendants.
Jewelry made with love and a little Nantucket magic are gifts that will be treasured! These pieces will turn heads and start conversations. Simple, unique, stylish, and created just for you. We love Renee's Sunburst Impression Earrings: these are sure to brighten any day! You can shop online or at the Holiday Farmers & Artisans Market on Nov. 27 & 28 and Dec. 4 & 5.
Education, enlightenment, empathy, entertainment… all are contained between the covers of a book. A book is a timeless gift at any season, but especially so when the weather is cold, the days are short, and physical distance is the norm. Nantucket is lucky to have 2 local bookshops: MITCHELL'S BOOK CORNER on Main Street and BOOKWORKS on Broad Street. Shopping at both stores this holiday season will help them to remain a part of the Nantucket community! And they have autographed copies of books by several island authors, just ask!
Melt-in-your-mouth handmade fudge is a homemade sweet treat for the kids and for the kid in all of us. Go all in on your favorite or mix and match delicious flavors created from scratch right here on Nantucket. What we really love at Aunt Leah's are her chocolate covered cranberries: a taste of New England. You can buy milk chocolate or dark chocolate, but we like a mix of both!
For a gift that fits nicely into a stocking but is nicer than the usual small trinkets, a pair of shades by Chanel, Oakley, Tory Burch or others will have your recipient dreaming of summer sunshine and ready for it!
Don't forget your 4-legged friends and those who love them. This shop at Centre & Broad sts has a fun line of Nantucket themed leashes and collars, and a wide variety of toys.
For a gift that fits nicely into a stocking but is nicer than the usual small trinkets, a pair of shades by Chanel, Oakley, Tory Burch or others will have your recipient dreaming of summer sunshine and ready for it!