by Jenny Benzie, Advanced Sommelier of Épernay
One of the amazing things about being on Nantucket is that having a lunch date as a party of one is sometimes just what you need. For those of you who are working all summer long, it is nice to just grab a sandwich and a cold one on your own, not having to talk to anyone else. Others have been entertaining family non-stop day and night, and they need some "me" time with a salad and a sip of wine without the backtalk, sass, or unwanted advice. Whatever your current situation may be, for a little quiet time meal on your own, these suggestions will point you in the right direction for a delicious bite to eat and the perfect libation with which to wash it down.
BURGER & BUBBLES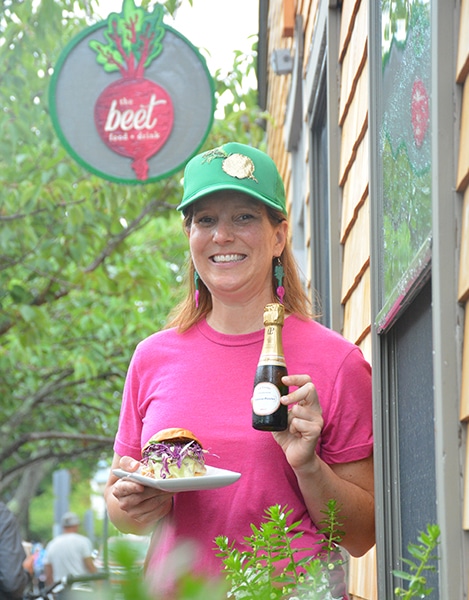 When the word "burger" is mentioned, most people think of the one made from beef. However, this is not the only kind available, and there is a new kid in town who will make you think of a burger in a whole new light. THE BEET NANTUCKET, located at 9 S Water Street, has brought it's A-Game to the island with their delicious, healthier option of a Chicken Burger. This beauty is made from freshly ground chicken topped with a slice of cheddar and spread with an umami glaze and basil mayo for added goodness, with a handful of sweet pickles and a yummy potato bun. For those who are glutenfree, there is a GF bun option available as well, so you don't miss out on any part of this meal! Remember to also order a side of their crinkle fries, so good that you won't want to share!
When it comes to what to drink with your tasty burger, who says you need to have a special occasion to celebrate in order to pop a bottle of bubbly? Not here on Nantucket, that's for sure, where we are grateful every day for what this incredible island has to offer, with warm days and gorgeous sunsets day in and day out. If you choose to dine in at The Beet (on-line ordering and to-go options are available for food and non-alcoholic beverages), sit, relax and enjoy a single size serving of LAURENT PERRIER CUVÉE BRUT in a convenient 187 ml size. This family-owned Champagne house packs quality and consistency in this small package. The fine bubbles and acidity are the perfect match to the texture of the chicken burger and rainbow of flavors with all the toppings. Alcohol is available here for consumption on-premise only. If you choose to get your burger to-go, your perfect beverage pairing is available chilled from Épernay Wine & Spirits, just a few blocks away on your way to Jetties Beach at 1 North Beach Street.
SALADS AND SIPS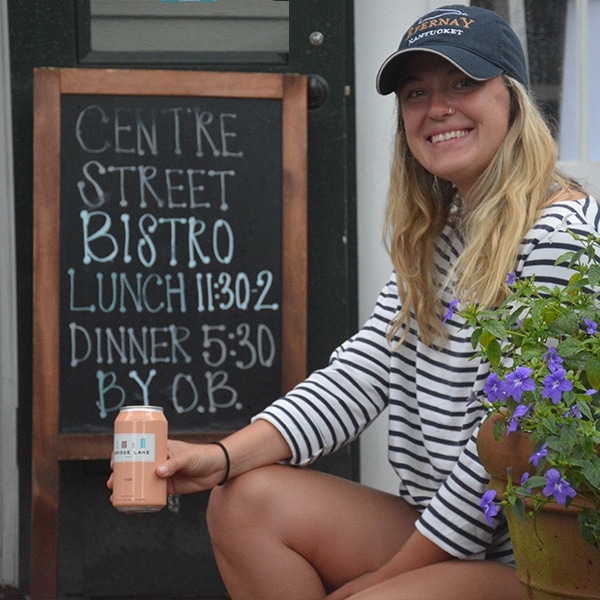 Times are changing for a long-standing staple in the Nantucket restaurant scene on Centre Street. CENTRE STREET BISTRO will be closing the door at their current location come September. (Many fingers are crossed that chefs Tim and Ruth Pitts will find a new venue to serve their superb cuisine.) This classic BYOB restaurant has served the community well with its honest, uncomplicated, creative food. Make the most of it this summer and enjoy the delightful Bistro Salad from their lunch menu. This salad of romaine lettuce and sliced chicken breast is chock full of apples, blue cheese, and toasted walnuts.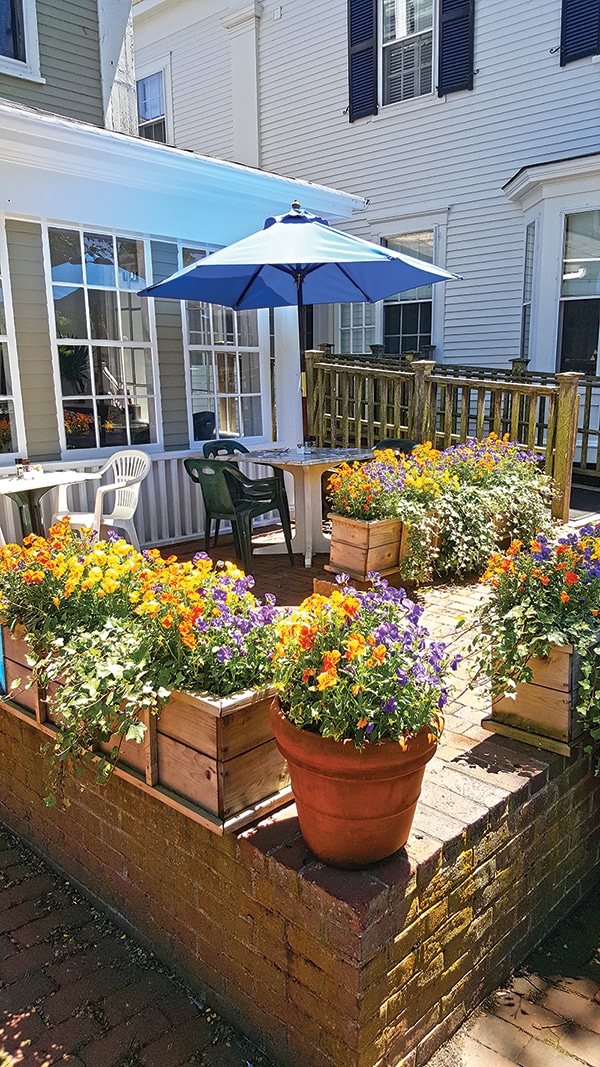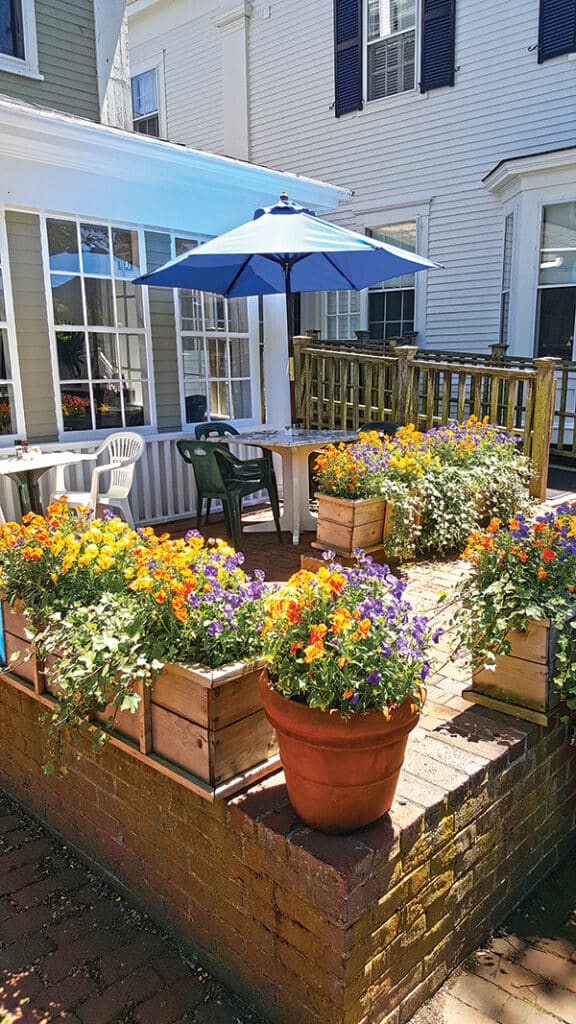 A perfect accompaniment to this scrumptious salad would be BRIDGE LANE ROSÉ in a CAN. Bridge Lane Wine is a second label for Lieb Cellars, based on the North Fork of Long Island in New York. This fun brand is changing the way you think about wine, by making very good wine in an alternative package. This can is 375 ml in size, equivalent to two full glasses of wine. Notes of guava and peach blossom are followed by flavors of strawberry and watermelon. Hip, hip, rosé to this easy, ready to drink Cabernet Franc-based wine!
LUNCH & LIBATIONS
Sometimes speed is the name of the game when "flying in and out" to grab a quick sandwich. You can do just that at CROSSWINDS RESTAURANT at the Nantucket Airport, whether you are taking a plane somewhere or just want grab-and-go. The restaurant is open to the public daily from 6 am to 9 pm. Their Classic Reuben sandwich is served on rye bread, piled high with corned beef, sauerkraut, Thousand Island dressing, and a slice of Swiss Cheese. Bonus is that parking is readily available and free for when you are dining there!
For this heartier, working man's type of lunch, enjoy ARCHER ROOSE MALBEC in a CAN as your beverage of choice. While Malbec is French in origin, it is more well-known for its offerings from Mendoza, Argentina. You will discover notes of blackberry and cherry on the nose with light to moderate tannin on the palate. The sleek 250 ml packaging makes it easy to handle and is equivalent to 1/3 of a bottle, or just a bit more than a typical sized glass of wine.
SEAFOOD AND SUDS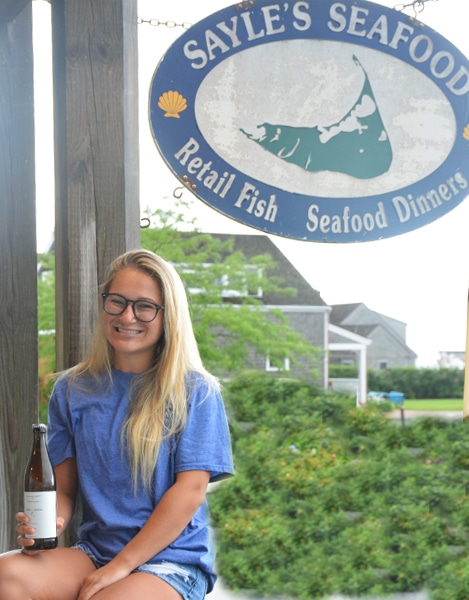 For those looking for a seafood option for their lunchtime fare, SAYLE'S SEAFOOD is right up your alley. This family-owned Nantucket fish market offers fresh fish, shellfish, clambakes, lobsters, chowder, and more. They are located at the end of the Washington Street Extension, a small jaunt outside of town along the harbor. This mainly take-out joint does offer limited seating on their front porch with views of the water. A trip to the island would not be complete without having at least one Lobster Roll. This one weighs in at 1/3 of a pound and is never frozen, served with a side of potato chips and coleslaw.
While lobster is such a staple in New England, why not enjoy a regional beer to pair with this meal? MAINE BEER COMPANY "WOODS AND WATERS" INDIA PALE ALE was brewed to commemorate the establishment of the Katahdin Woods and Waters National Monument located in central Maine. This small-batch beer incorporates Maine-grown barley and wheat, along with generous amounts of hops with flavors and aromas of pine and citrus, reminiscent of the outdoors. This refreshing pint size beer will help wash down your lunch, with a little left over to savor as your dessert.
Enjoy these delectable lunch options and libations knowing that you are being fed by the hands of the community who are grateful for your patronage. Remember to dispose of your trash and recycle your beverage containers accordingly to help keep our beautiful island clean.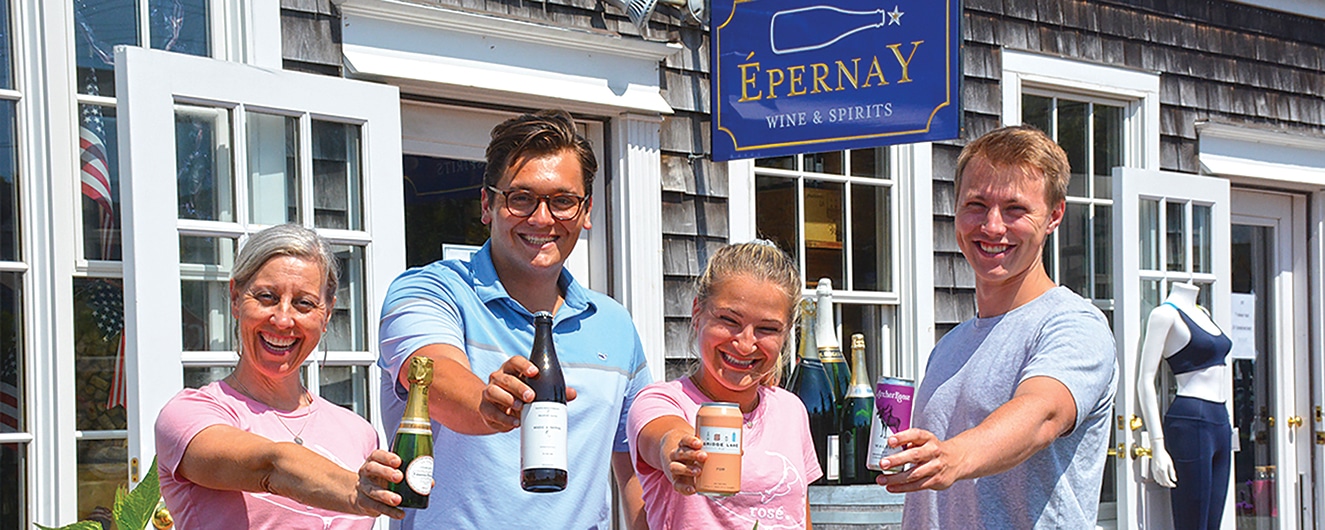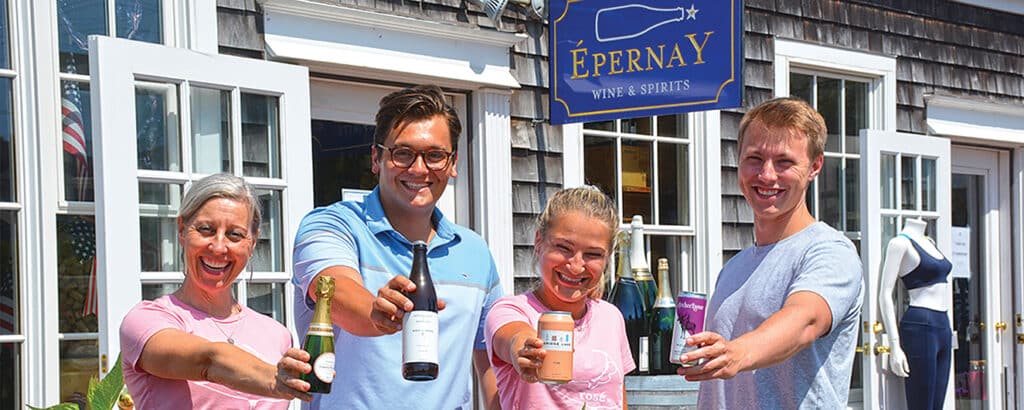 Cheers to Summer!