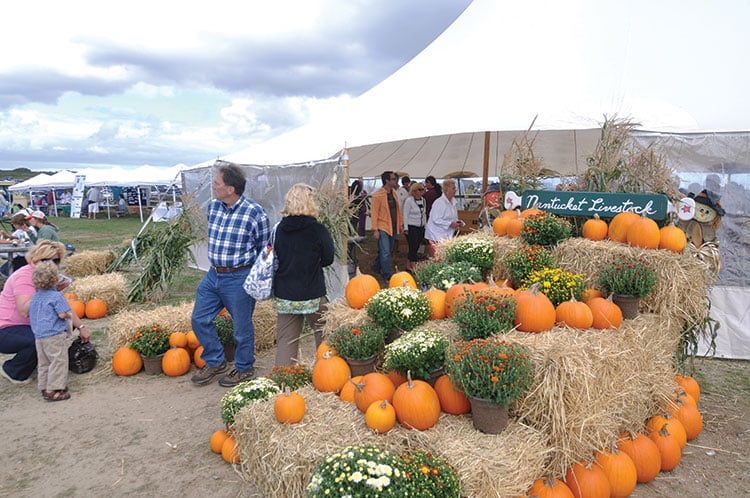 As we breathe a collective sigh of relief from the nonstop duties of the summer season, we remember one of the rewards of all our hard work: Island Fair! On Saturday, September 14 and Sunday, September 15 from 10 a.m. to 4 p.m., come wind down and reconnect with friends as you and the kids enjoy two days of classic small-town fun.
Everybody loves live music, and there will be no shortage of that all day long.  Kids will enjoy meeting and greeting the variety of farm animals in Ray's Barn Yard.  There are plenty of fun games for little kids, including a straw search during which the kids will wriggle through piles of straw in search of awesome toys, and shell painting supervised by local artist Julija Mostykanova. And if they're still not worn out, they can get the last of it out in the bouncy tent!
Moms and Dads will like playing home run derby, using the pitching speed radar, competing in the corn shucking and skillet tossing contests (no, you may not toss it at your spouse).  Nantucket Disc Golf will set up a special course right on the field, so if you have never played Frisbee golf, this is the perfect chance to try it! The Nantucket Disc Golf Course, located in the National Forest, is always open and always free. Let the kids join you as you build the scariest scarecrow, sure to ward off any hungry chip-seeking seagulls.  Serious gardeners, bring in those giant pumpkin for weigh-in. Who knows? You could be next in line for the highly prestigious title "Grower of Nantucket's Very Biggest Pumpkin."
If you think you've got cooking or baking chops, you'll want to bring them to Gertrude's Farm Stand, where islanders enter their homemade edibles for judging (and hopefully a blue or red ribbon)! People bring their canned preserves, beach plum jelly, fresh vegetables, honey, homemade cakes, pies, you name it. Last year's junior and senior divisions reeled in 117 entries of goods! Even if you're more of an eater than a maker, you may do well to dawdle around Gertrude's when you hear it's almost time for the Best Cookie Ever Contest. Island resident Martha Butler will be demonstrating her "8 minute pickles" recipe, so you may just learn a thing or two. And of course, a fair's not a fair without fried dough. You can thank the members of the American Legion for that. Annye from Annye's Whole Foods and All from Company of the Cauldron will be preparing what is sure to be an incredibly delicious batch of Frito chili pie. For less adventurous eaters, there will be hot dogs and pizza.
The most important aspect of Island Fair is to simply enjoy it. Nantucket's annual Island Fair will take place this Saturday and Sunday from 10 a.m. to 4 p.m. at the Tom Nevers Field at the Old Navy Base at the end of Tom Nevers Road. Parking costs $12 for cars and $6 for bikes.