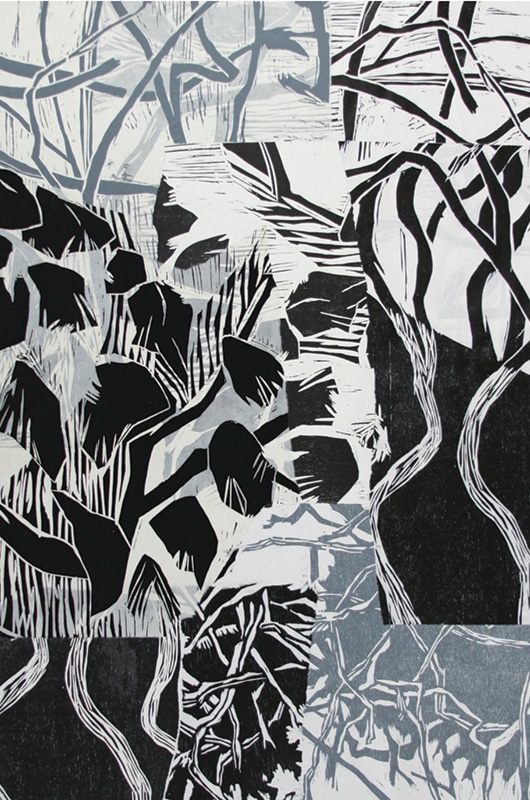 This Saturday, August 25, the Artists Association of Nantucket (AAN) will hold the fourth annual Donn Russell Print Collaborative at their Visual Arts Center, 24 Amelia Drive from 10 am to 12 pm.
Donn Russell is a longtime AAN artist member, and an accomplished printmaker, painter, sculptor, along with being an actor, writer, and musician. "In the 1970s, Donn started working in graphic arts and printmaking, especially silkscreens or serigraphs, which he has continued for the rest of his artistic career," said AAN Interim Executive Director Robert Frazier. "He began exhibiting his works in local galleries, and eventually set up his own print gallery on Old South Wharf."
"Donn is a legend in the Nantucket art world and especially known for his printmaking. Sadly, he can't be here with us this year but we are thrilled to host this exciting print collaborative in his honor. His talent and expertise is extremely important to AAN, and we very much appreciate his support of our print-making studio and program," said AAN education program director Lori Garrabrant.
The highlight of this years event is that three AAN artist members will be demonstrating and leading visitors in printmaking projects. "We are delighted that Michael Rich, David Lazarus, and Mary Emery Lacoursiere will be joining us for demonstrations of medium and technique," said Frazier. Rich will focus on woodcut, Lacoursiere on solar plate etching and Lazarus on drypoint etching. In addition, an accompanying exhibition at the Visual Arts Center will feature historical artwork, student works, and contemporary prints available for purchase.
Garrabrant added that this year, "AAN will also host a Children's Hands- On Printmaking Workshop on-going from 10 am to 12 pm." Children under 6 need to be accompanied by a caregiver.
During this fourth annual Donn Russell Print Collaborative, AAN invites any and all interested community members to participate, free of charge, in the wide variety of printing activities, running through 12 p.m. RSVP is required by calling 508-228-0722, as space is limited. Refreshments will be available.
For further information about the Donn Russell Print Collaborative and to learn more about the AAN's Visual Arts Center and the schedule of classes and public programs there, visit the AAN website at nantucketarts.org.