• by Sarah Morneau •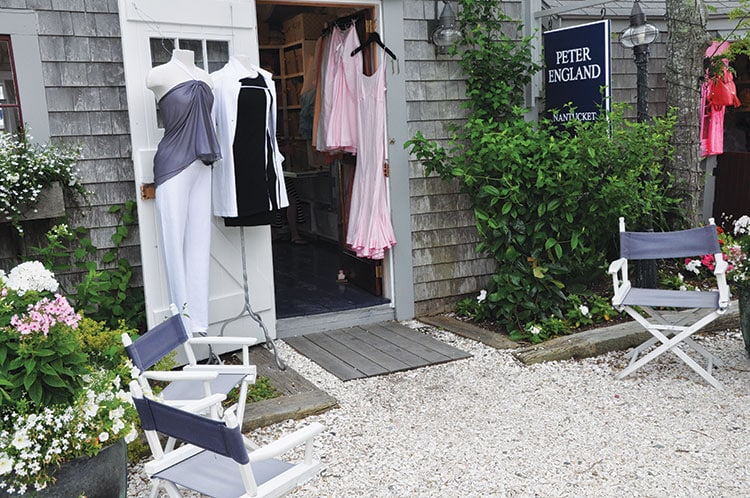 In my opinion, the most picturesque place to shop on the island is Old South Wharf. I feel like I am transported to another world, away from the traffic and commotion of the heart of town. The white shell pedestrian path is lined with colorful blossoms, welcoming benches, and dogs lazily snoozing in the shade. Shop and gallery owners prop their doors open, lending to a very approachable and convivial atmosphere.
Just a short stroll down Old South Wharf, on your left, you will come to the first of the two Peter England locations. Here you will find classically elegant looks for both men and women, in luxuriously cozy knits and breezy button downs. Navy, red, and white dominate the color scheme, and stripes abound, so you will fit right in strolling on Nantucket's docks… whether you own a yacht, or not! They also carry knit pillows and soft throws that would make a lovely addition to any Nantucket home.
A little further down Old South Wharf, also on the left, you'll find the second location of Peter England. This store caters to women, and the style here is more feminine and frilly. The pieces come from the influence of designer and owner Kari England, and include skirts, flowing dresses, pullover sweaters, cardigans, and shirts in an array of colors. The feel here is of casual comfort while still looking put together and stylish, perfect for island living.
Peter England is celebrating its 40th year on Nantucket, providing their clientele with quality products made in the USA. Their knits are all hand loomed using fine yarns, Irish linen, and organic cotton. The staff is friendly and knowledgeable, happy to assist you in finding the perfect outfit. They are located at #3 and #11 Old South Wharf and are open daily in season.