Featured Restaurant: Petrichor Wine Bar
by C. Oscar Olson
Though we've been out to sea for years and years, it seems there is always something new to lay our eyes on. A new place to spot the sunset or a new beach to dip our toes into. Or, better yet, a restaurant new to us (but not new) where we can enjoy some fantastic culinary creations and libations.
We walked into Petrichor near 5:30pm and the place was beginning to buzz. Wine was being poured, cocktails stirred, and delicious looking dishes were rushing from the kitchen. Yet the dining room was dark and relaxed, very inviting, and we felt right at home after a hectic day in July. Interesting accent pieces both bright and subtle liven up the space, eclectic art adorned every wall, and we were immediately greeted by owner Jill and her right-hand man John.
The menu at Petrichor is refined and covers all the bases without any added fuss. All the starters are made to share, and the entrees will leave you wanting for nothing. Of course you could come alone, but everything tastes better when shared with good company.
What more perfect plate to start with than a Cheese and Charcuterie? It featured a wide range of house-selected meats, cheeses, jam, fruit, and more, making every bite perfectly unique and delicious. Rich, meaty Manchego and three unique salamis, crispy green apples, and ripe red grapes, crunchy toast and a fantastic fig jam—what more could you ask for? The soft, ripe sheep's milk brie was our favorite piece on the simple and simply elegant slate dish.
Flatbread is an excellent option when dining with friends, and Petrichor prepares more than one. We chose the daily vegetarian preparation. On the night we dined, a generous portion of this take on pizza was made with more of the deliciously sweet fig jam we enjoyed on the Charcuterie, a blend of cheeses, and cool, peppery arugula. The crust was crisp on the outside, chewy and tender within, and we fought over the last piece.
Our favorite first of the evening was the Tuna Tartare. The presentation was picture perfect: mild, tender tuna topped with creamy avocado and mixed with grapes that surprised us in the best way. Scallions provided an herbal, oniony edge and the chili aioli livened up every bite. The thick-cut house potato crips added just enough salt and drove everything home.
Jill Hollen Viselli, a Nantucket sommelier and year-round island resident, is a certificated graduate of Boston University's Elizabeth Bishop Wine Program. For more than 20 years, their courses have guided, taught, and enhanced expertise in the art of wine for passionate people like Jill.
Be sure to ask for an unmatched beverage pairing to go with any dish you order. Jill and her staff have expert understanding of wine and spirits that will enhance your meal in ways you wouldn't expect. And don't sleep on the full bar: we sampled some of John's incredible cocktails just to make sure the rumors were true… they are!
The Flying Jilbert is a daring take on the classic whiskey sour. Dubbed "a whiskey walks into a wine bar…," it's a refreshing rye sour with a red wine float. The wine adds a dry element that counters the sweet of the mix and brings out the fruitiness in the whiskey. It's also pretty nice to look at.
Wake up the evening with a round of Night Swimming espresso martinis. It's the smoothest and most refined we've ever had, and we've had a lot. These could definitely be dangerous.
Our favorite refreshment was the Good Vibration. It's a daringly delicious take on a sangria, with blanco tequila, peach, strawberry, and a prosecco floater. The wine adds just the right amount of fizz for the most satisfying drink of summer.
Petrichor's mid-island location is an excellent place to unwind and hop over the hustle of downtown. There's plenty of parking and it's easily accessible from whatever direction you might be coming from. The dining room is spacious and inviting, and once you walk inside you'll feel right at home.
Chef Dante Benatti kept the hits coming with our entrees. Just like our starters, the portions were sized to share and so satisfying. We settled down with a Jumbo Lump Crab Cake. Served alongside a perfectly dressed portion of greens and a tangy lemon caper aioli, there was almost no breading or binder to be seen. Sweet, plump pieces of crab filled every single bite.
Lamb is a rare treat for us, and the Lamb Lollipops at Petrichor are not to be missed. It's a deliciously rich dish served with buttery Yukon Gold mashed potatoes atop a divine rosemary garlic butter sauce. The roasted cherry tomatoes explode with flavor in every forkful and the lamb itself was absolutely spoon tender.
The special of the evening was a special indeed: a Grilled Skirt Steak with a verdant chimichurri, crunchy, creamy new potatoes, and an arugula salad on the side. Marvelously marinated, medium rare, tender and toothsome, his will absolutely knock any steak you have this summer right out of the park. Get it while you can.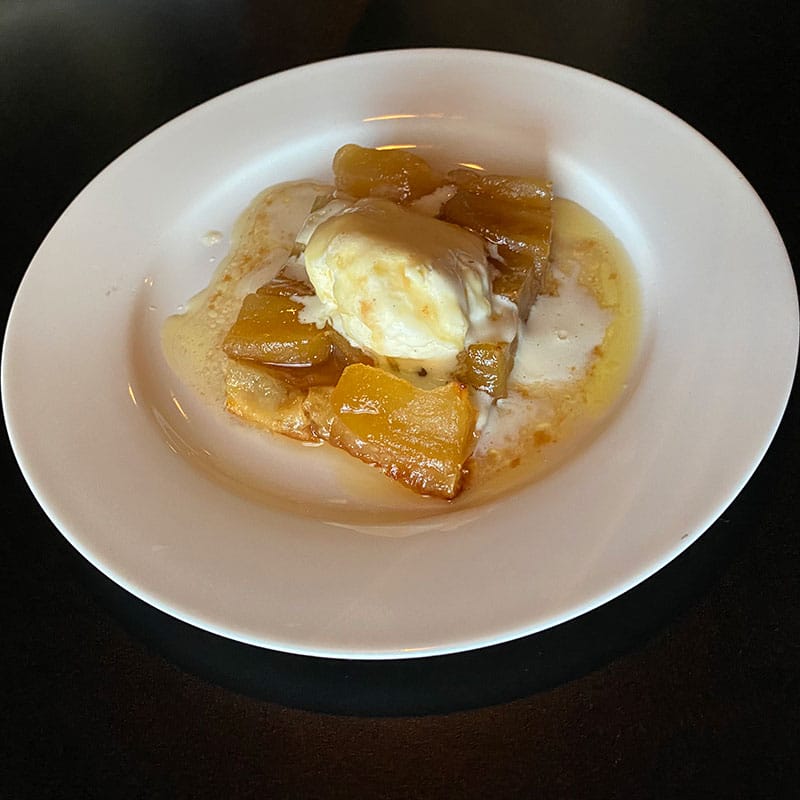 After this most scrumptious spread, dessert was destined to be divine. Their take on a tart tatin, Petrichor's Apple Tart absolutely allows the fruit to sing. The classic combination of cool, creamy vanilla ice cream and warm, well spiced apples is a match made in heaven, and we had a hard time not licking the plate.
The menu changes often, so take a seat regularly and check back often. With dishes and drinks like the ones we tried, we know for certain you wouldn't want to miss a single thing.
Petrichor Wine Bar
130 Pleasant Street • petrichorwinebar.com • 617-283-9933
Dinner nightly from 5pm to close
Dinner entrees range in price from $33.50 to $43.50
Full Bar, Lounge, & Table Seating – Private parties & tastings
Major Credit Cards Accepted