Three's the charm for Pazzo — Nantucket's spirited Mediterranean Osteria has hit its stride in its third year open at 130 Pleasant Street.  On any given night, both the restaurant and its double-sided bar will be comfortably full with patrons.  Pazzo is loved for its great food, creative cocktails, and fun ambiance—this is one chic bar and bistro that does not take itself too seriously, and the fun is contagious!
Owner Marco Coelho, whose zest for fine food, good drink, & great fun infuses the place, often sails through the dining room and lounge with a warm smile and greetings for all on his way to or from LoLa 41, his in-town success.  At the dining bar, Will and Alison are expert at keeping the conversation and the cocktails flowing.  Comfortable for singles and for couples, it's a great gathering place for friends and the lounge is popular for celebrations of all sorts.  On weekends, Pazzo has live music by Coq Au Vin, Nantucket's own Gypsy Band, and DJs.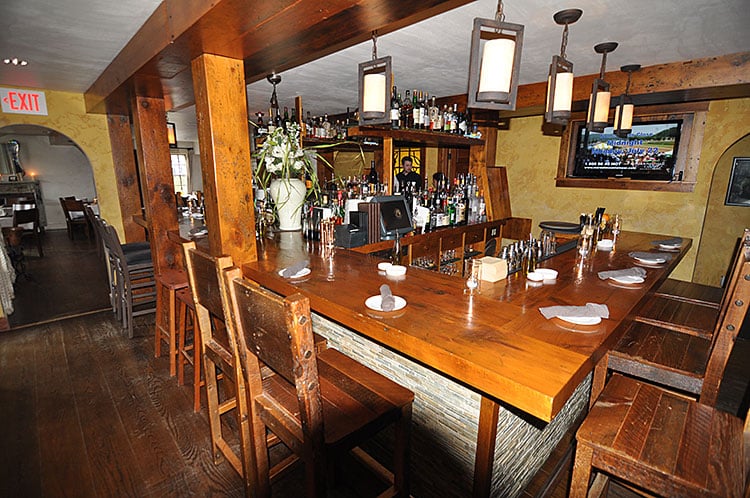 There's serious talent in the kitchen at Pazzo, but that's no surprise with Robert Boslow as executive chef.  Chef Boslow (known to many as Boz) has a deft hand with the exotic spices that are key to many of the dishes he's designed for Pazzo.  From the handcrafted pasta by Pastry Chef Jamie O'Connell (who also makes the irresistible breads and delicious desserts) to the robust sauces, house-cured meats, & aged imported cheeses, Chef Boslow's inspired preparations are full of direct, focused flavors.  He covers a wide range of international culinary artistry in fewer than a dozen entrees.  There's not a boring dish on the menu — even his simpler preparations shine.
click on images for larger view

At the suggestion of Karina, our professional and enthusiastic server, we began our recent meal with a selection of Pazzo's Mezze.  We're particularly fond of the Bowl of Marinated Mixed Olives and the Celery Root & Dijon Slaw Wrapped in Speck, tasty little bundles of mustardy crunch with just a touch of smokiness.

Offered as one of Pazzo's Small Plates, but perfect as a bar snack is their Medjool Date.  A delightful balance of flavors, the date is rolled flat into a marbled sheet of sweetness topped with dollops of creamy, astringent goat cheese, peppery arugula leaves, a sprinkle of hand-mixed dukka, and a drizzle of tangy verjus.  We sliced it to share, and it was one of the favorites of the evening.  (Suggested pairing: Orvieto, Salviano)

The Chilled Asparagus is a starter of disarming simplicity.   Blanched to a perfect tender-crispness, this elegant spring vegetable is adorned with colorful slices of watermelon radish and buttery pieces of meaty cerignola olives.  Broad shavings of ricotta salata are the final touch, and we knew this was a winner when several of us reached for the last spear.  (Suggested pairing: Anterra Pinot Grigio)

One of Marco's favorites, Pazzo's lively Roasted Littleneck Clams & Harissa is heady and robust.  Tame it with a chilled brew, and you'll love what the warm flavors of the harissa and jalapeno do for the briney clams.  Somehow the heat of this dish doesn't kill the flavor, but it will wake up your senses.  If you run out of the grilled garlic bread that is served with the clams, then Chef O'Connell's freshly baked ciabatta is perfect for soaking up every delicious drop.  (Suggested pairing: Newton unfiltered Chardonnay)

We cannot remember a visit to Pazzo that did not include an order of the Shrimp Romesco.  Another of Chef Boslow's inspired combinations of fresh seafood and highly spiced sauce, this appetizer is always first-rate.  A generous serving of jumbo shrimp is doused with his spicy tomato-red pepper sauce.  As with his clams, Chef Boz manages to keep the spark without masking the flavor of the shrimp.  Avocado helps to cool the heat, and we must say that we prefer the dish with slices of avocado rather than the avocado puree served at our recent dinner.  (Suggested pairing: Sokol Blosser, "Evolution")

A trio of Pazzo's entrees are spit-roasted: beef, pork, and chicken.  We adore their chicken and took full advantage of their winter Monday Chicken Special for $10 (which is being offered just one more time on Monday, May 13).  This visit we tried the Spit-Roasted Sumac Rubbed Pork and were impressed by the tender, moist chop with its delectably charred edges.  Dressed just with Chef Boslow's version of a spicy Middle Eastern condiment called zhoug (prepared with cerrano pepper, herbs, and spices), the pork is both simple and simply delicious.   (Suggested pairing: Meritage, Pazzo)

The Spit-Roasted entrees are served steakhouse-style so consider ordering one of the Chef's sides to accompany: Garlic Chili Local Greens, Yukon Mashed Potatoes, Saute of Mushrooms & Favas, Grilled Asparagus with orange & olive oil, or (our favorite) a creamy and crunchy  Celery Root & Fennel Gratin.

It would be hard to imagine a better version of duck than what Pazzo serves.  Their Pan-Roasted Duck Breast, crisp-skinned with moist, tender flesh, is served sliced over a sweet potato puree tinged with curry nestled close to sauteed local kale.  You'll want to dredge forkful in the blissfully good pool of lavender-scented jus that surrounds it all.  (Suggested pairing: Nero d'Avola, Villa Pozzi)

Chef Boslow's Grilled Tuna also scores very high:  sparklingly fresh and dark pink under a tracing of vibrant yellow ras el hanout butter that is richly spiced and aromatic.  Tucked under the thick slices of tuna is a mix of roasted spring vegetables, crisp and sweet and luscious with take drippings of the heavenly butter.  (Suggested pairing: Michael Pozzan Pinot Noir)

Chef Boslow works closely on the pasta dishes with Chef O'Connell, who prepares the fresh tagliatelle, garganelli, and vermicelli and any other fresh pasta Boslow may need.   It was the Fideua, a Spanish style paella, that was our table favorite.  Served in its roasting pan, the fideua showcases fresh littlenecks, calamari, and shrimp, each timed perfectly so none are under or over-cooked.  The pasta — thin, short, and toasted to lend a  deep golden color and nutty flavor — is crisped around the edges and served with the chef's own sofrito.  Warm flavors of paprika and saffron and bell pepper make this a dish to remember!  (Suggested pairing: Cape Mentelle Sauvignon Blanc)

Pastry Chef O'Donnell's dessert selection changes frequently, but there's usually a Cheesecake, a Semi-Freddo, and a fruit selection.  And if you're lucky (as we were), she might be offering her signature dessert from LoLa 41, the Tres Leche, served warm with whipped cream and caramel.  If you can only choose one, then it's the Chocolate Semifreddo you want.
It seems that three is the charm for Marco Coelho:  this week his Lola Burger has just reopened to offer the island's favorite burgers plus 25 craft beers in a new location at 1 Sparks Avenue by the island's main rotary.  So no matter where you're heading: Town, Sconset, Surfside, or mid-island, it's an easy stop for what has repeatedly be named the island's best burger.
Remember: great food doesn't stop at the edge of Nantucket Town — join the party at Pazzo!
Pazzo
130 Pleasant Street  •  508-325-4500
www.PazzoNantucket.com
Favorite Table: in the front corner so we can watch the fun
Favorite Cocktails: Sweet Smokin' Fire and Rye Maple Fizz
Open nightly from 5 pm to 1 am; food till 10 or so (longer in season)
Dinner entrees range from $18 to $33
Lively Bar Scene, Entertainment on Weekends  •  Beer, Wine, & Cocktails
Open Year-Round  •  Major Credit Cards Accepted