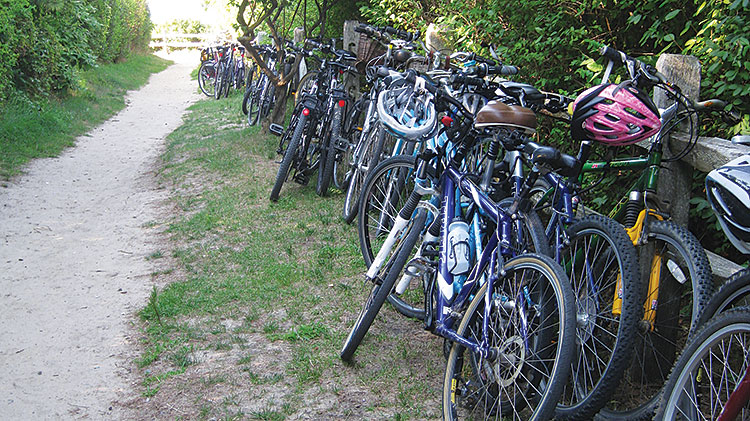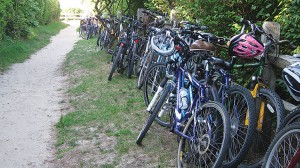 At noon this Saturday, June 15, a ribbon will be cut and the new Hummock Pond Road Bike Path will officially be open for use by cyclists and pedestrians.  The celebration will be held at the intersection of Bartlett Farm and Hummock Pond roads, and will include a picnic, a free bike maintenance clinic by Young's Bicycle shop, and the Nantucket Sheriff's office will be providing free bike helmets (kid's sizes available) and bike locks.
Bring your bike and helmet to learn useful tips to keep them safe and in top operating condition.  Nantucket Police Sgt. Kevin Marshall, Nantucket's own bike safety officer, will give a short overview on bike safety for kids aged 6-11 (timed after the picnic).  This short, entertaining talk teaches kids how to ride a bike safely on Nantucket.  The Land Bank's large lot at the southeast corner will be used for the event and will also provide parking.
At the Ribbon Cutting, a check for more than $600,000 will be presented to the Town by the Friends of the Path — this check includes the hundreds of private donations that helped finance the bike path.
The commitment to build the path was inspired by an anonymous donor who pledged $500,000 in July 2011, provided the path could be built by Memorial Day, 2013.  The Friends of the Hummock Pond Road Bike Path was formed at that time by combining the efforts of the three Civic Association Presidents (Carol Langer, Robert Williams, and Neil Graner) and resident Brian Sullivan.  This group decided to create a charitable Field of Interest Fund with the Community Foundation of Nantucket, which held donations and paid specific expenses for this project.
The Town of Nantucket reacted quickly to the large pledge and growing private donations and recommended that voters approve the project at the 2012 Annual Town Meeting and Annual Town Election last spring. Private donations continued to be solicited through the summer of 2012 highlighted by a candlelight fundraising dinner hosted by Bartlett Ocean View Farm in July. The contract to build the path was awarded to Victor Brandon Construction and work was started in late September 2012.
"The Hummock Pond Road Bicycle Path will provide a safe and beautiful transportation alternative for walkers and riders along a dangerous, winding, increasingly busy road" said Libby Gibson, Town Manager, it's an example of "a private/public partnership where residents worked with the Town as one team to accomplish an important civic project."