by Rebecca Nimerfroh
There's something intrinsically sacred about the dialog between closeknit groups of people. Whether family members or best friends, all niceties are typically stripped away, these people almost relating to each other as one would when facing a mirror. They are brutally honest, sometimes harsh, and to any outsider, could even appear to be cruel; but nothing could actually be further from the truth. In fact, if you are lucky enough to appreciate it, this dialog is the epitome of real love, of dependability, of understanding, and it is just the setting you will find yourself in for a performance of Outside Mullingar, the latest drama hosted at Nantucket's White Heron Theatre.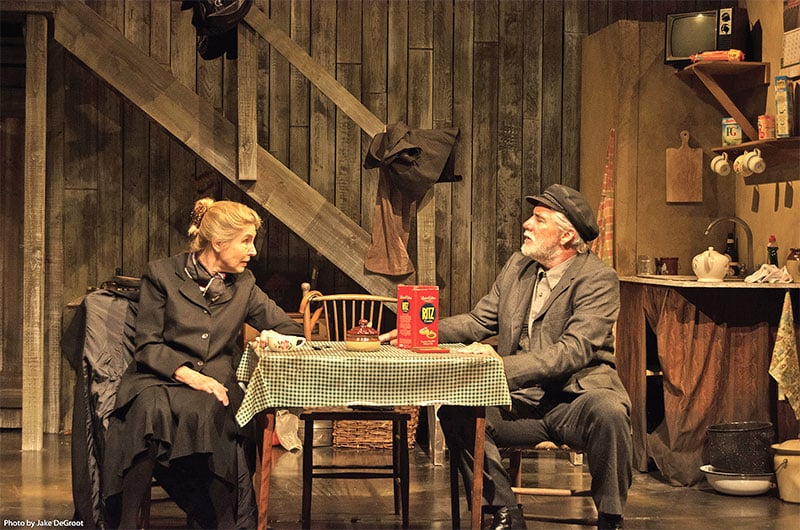 The story takes place in Killucan, Ireland, and the opening scene reveals a rainy afternoon with father Tony, son Anthony, and recently widowed neighbor Aoife, all gathering over a cup of tea. They have just returned from the funeral for Aoife's husband, and as Anthony straightens up the kitchen, the two elderly neighbors chat with humorous honesty. "You'll be dead within a year," Tony laments to Aoife, who in return, nods straight-faced. "Me? I'll be dead within two months."
The talk of death leads them to discuss the fate of Tony's farm, and the concern he has in leaving it to his unmarried 42-year-old son, a shock to Anthony who always assumed he'd inherit it after his years of servitude. And to further his surprise, he learns that a chunk of land connecting the farm to the road was sold long ago to Aoife's daughter, Rosemary, a stipulation that would greatly decrease the value of the land if it were ever sold. Anthony further learns that Rosemary, who is sitting outside in the rain while they chat, chain-smoking, has been holding a grudge since they were just six-years old, when Anthony pushed her on the very land which she now owns. It is this hilarious and macabre back-and-forth banter that gives the audience an introspective look inside the connection between these two families, not only due to their geographic location, but also by their intertwined lives. Anthony approaches Rosemary, who doesn't deny the grudge, and the two manage to convince Tony to agree to leave the farm to his son. But there is a flicker of something between Anthony and Rosemary, that, as an audience member, you can't quite put your finger on. It soon becomes clear that Rosemary has feelings for Anthony, but he remains shut off to her advances.
The play then moves on quickly to the following year, with father Tony gravely ill, sharing a latenight conversation with his son about the truthful reality of his feelings towards Anthony's mother, long deceased. The two embrace, resulting in a scene so personal, you almost want to look away. The next and final scene is four years later, with Anthony outside Rosemary's house. It is raining, and she calls him inside and confronts him about her feelings, forcing him to break through the emotional walls he's built around his heart. What results is a profound performance, a moving scene in which one is inclined to reflect on those few loved ones who can be so brutally honest with us in an attempt to make our lives that much better.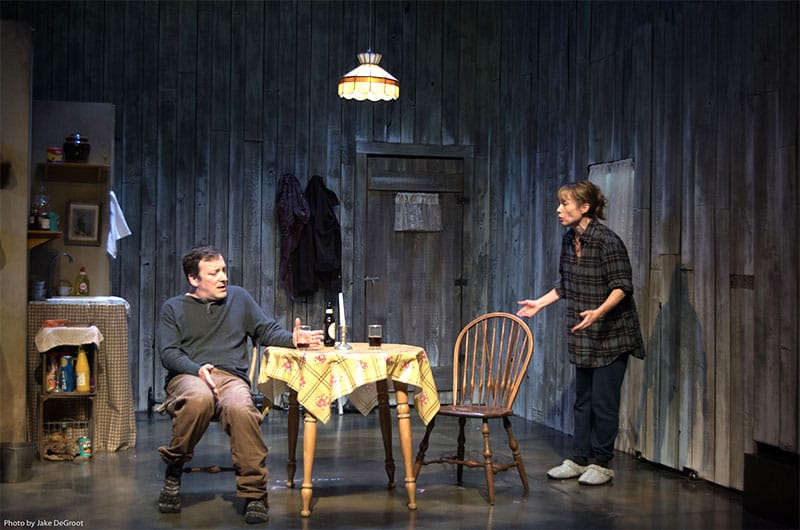 These heart-felt story lines, combined with a stellar cast, make this play a must-see. It is also worth noting that Jeremy Shamos who plays the aloof Anthony has a reoccurring role in the hit television series Better Call Saul, and fellow cast members, including Kevin O'Rourke who plays Tony, and Nina Hellman, who plays Rosemary have an extensive history on Broadway, in cinema, and more. Written by John Patrick Shanley (whose past plays include the award-winning Doubt) and directed by Skip Greer, this impressive ensemble is just one more delight offered at White Heron Theatre, located behind the Whaling Museum in beautiful downtown Nantucket. New this year is the addition of a stocked bar, for theatergoers to enjoy a delicious glass of vino while they take in the scene.
As most Irish dramas go, there is love and there is death and there is family obligation, but in seeing Outside Mullingar, one is left with the appreciation of all three and the beauty each brings to our lives.
For more information or to purchase tickets visit whiteherontheatre.org or call their box office at 508-825-5268.