by C. Oscar Olson
Dining out is different this summer season. On Nantucket, the town, restaurant owners, and their neighbors have gone above and beyond to accommodate outdoor dining in spaces that in the past would be impossible. Still impossible for some, island restaurants with no outdoor spaces are working creatively to distance indoor tables and to offer meals to go. As people who love to go out to eat, we see all this as the opportunity to enjoy culinary delights from our favorite restaurants at our favorite island places.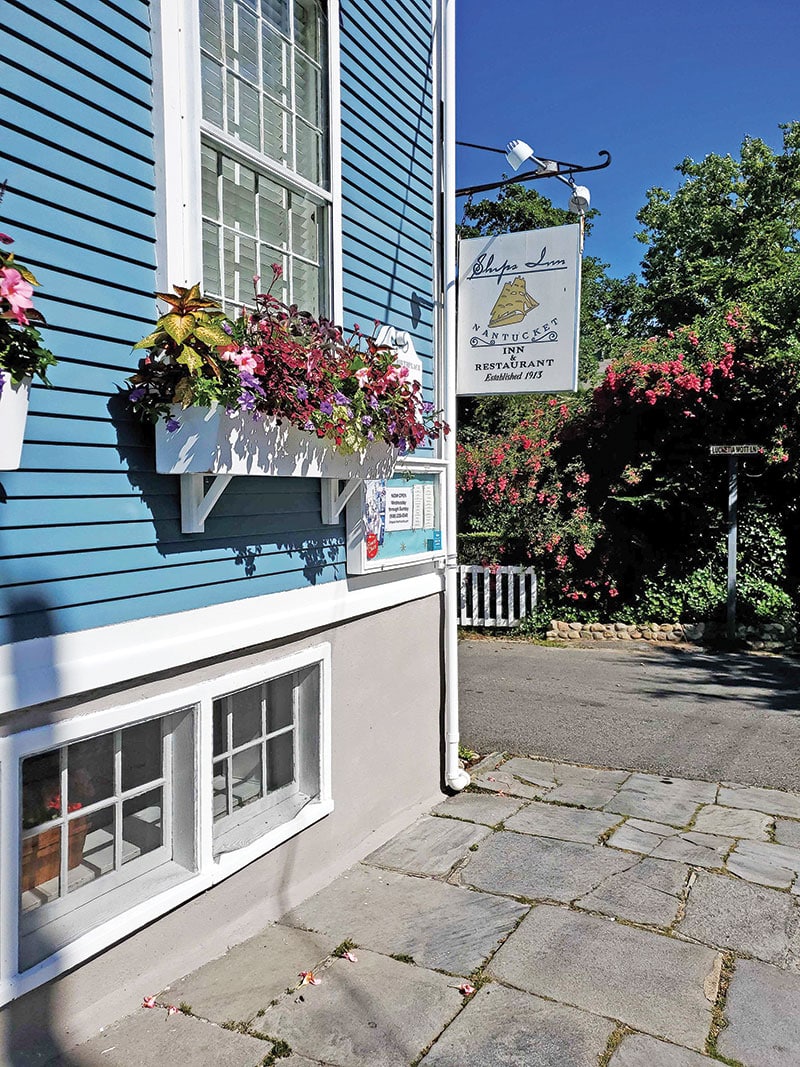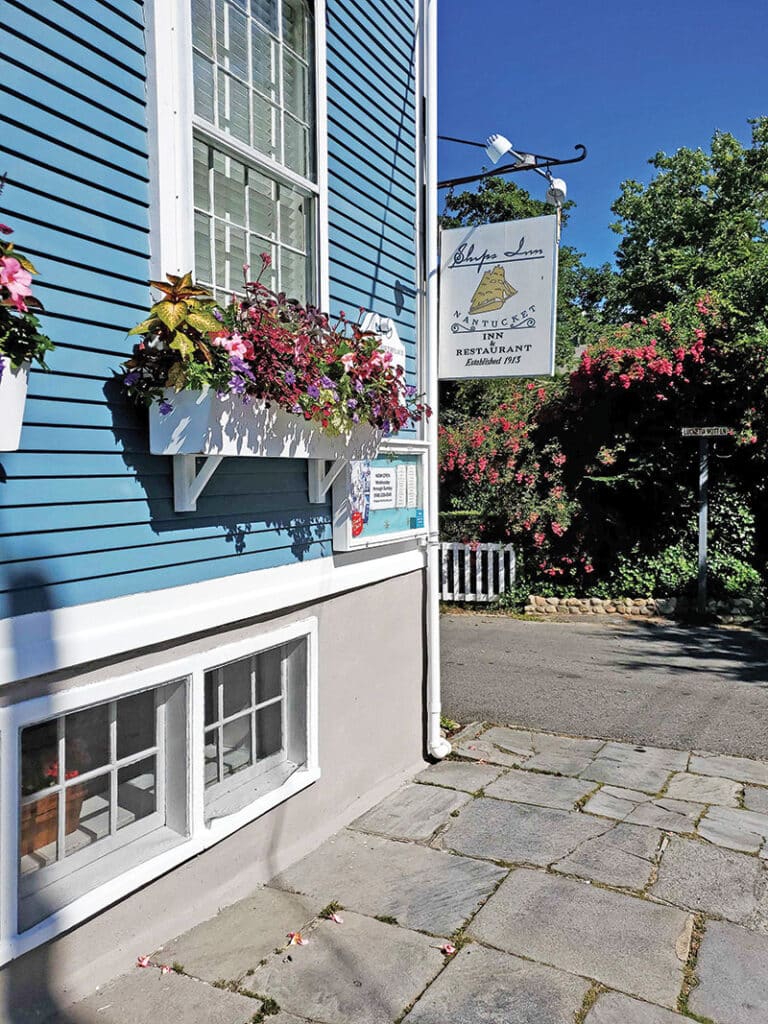 After dining out on fantastic fare prepared by The Ships Inn that we brought to one of our favorite downtown parks, we can confidently say that we had a spectacular dining experience.
When you dine in at the Ships Inn on Fair Street, you are dining a historic building that was once the home of one of the world's most famous whaling captains: Obed Starbuck, a man credited with one of the most successful voyages in whaling history. After his 14- month journey, Starbuck brought home more than 2,200 barrels of whale oil, a treasure worth well over 1.2 million dollars today. The prize was divided between the ship's owner, the crew, and Obed, giving him the opportunity to build his house on Fair Street and retire from whaling to farm the island and become a well respected member of the community.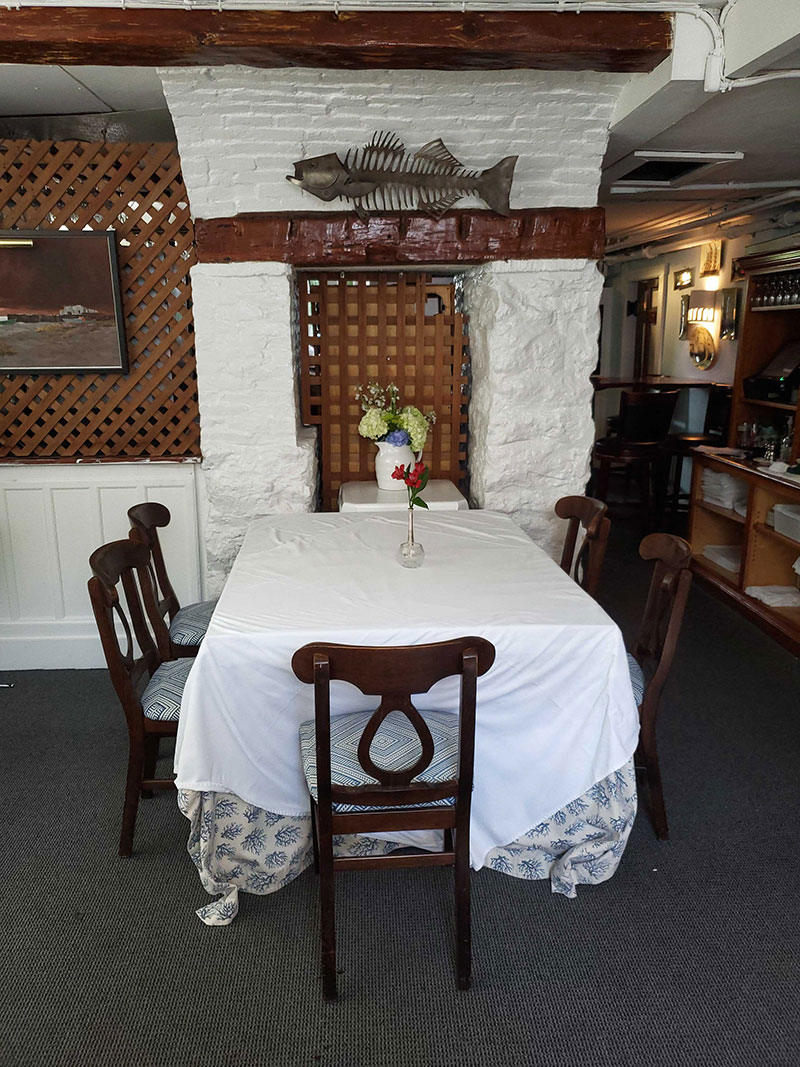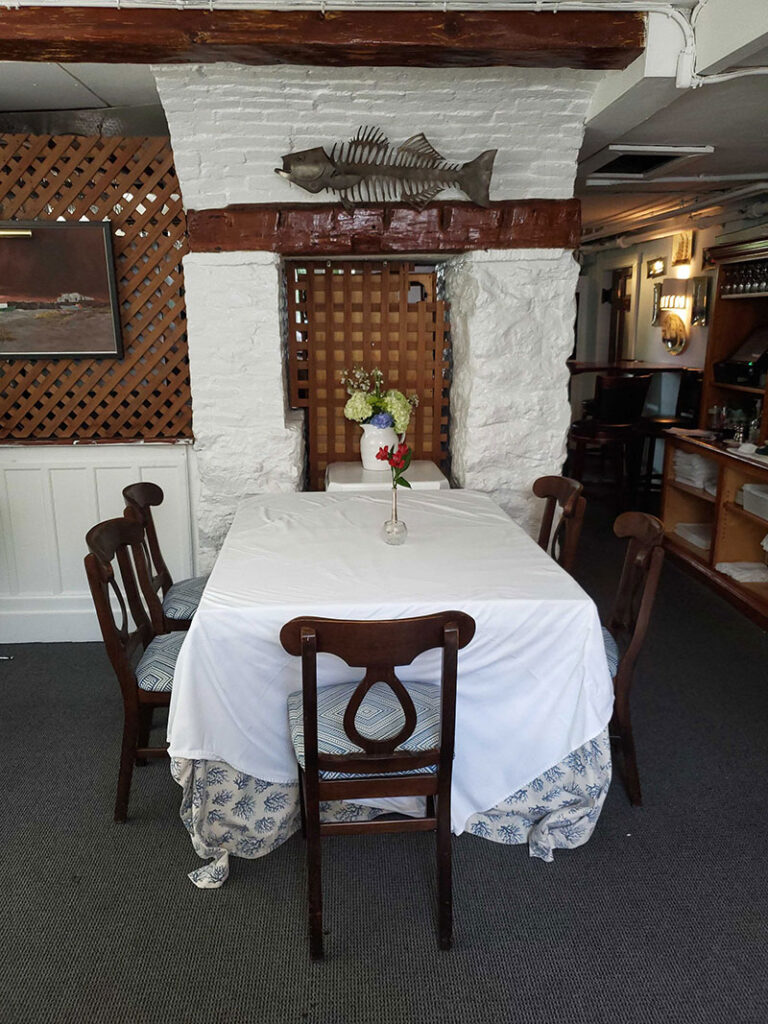 In 1913, after Starbuck's 50-year stay in the house, Ships Inn opened its doors to the public, beginning a long tradition of superior accommodations and cuisine.
This year marks another milestone in Ships Inn history. Practicing a pandemic pivot, the much-loved establishment is offering takeout for the very first time. There are two distinct menus for ordering out and for dining in, and Chef/Owner Mark Gottwald took great care in crafting each one.
Knowing the beautiful and accessible gardens at the Atheneum are open til sunset, we picked up our food and headed straight there. Our blanket was laid, our seats were taken on the green grass, and we got started on what we'd been waiting for all day.
The Lobster Bisque was like liquid satin, with the deep toasted taste of brown butter and big chunks of tender lobster. We used the fresh sliced baguette to soak up every drop of deliciousness.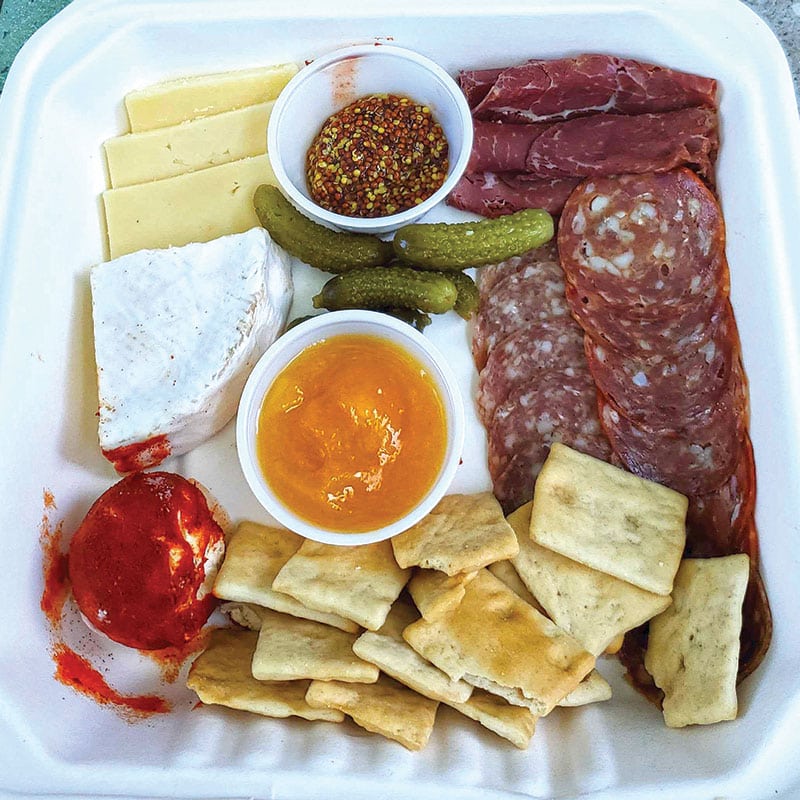 We love the endless options of color, flavor, and texture that Charcuterie can bring to the table, and Ship's Inn has the best on island. Radiant apricot jam with the creamy aged brie, or the smoky, spicy tang of goat cheese and savory, tender Genoa salami, brasaola, and soppresatta, grainy mustard, cornichons, and more make this the ideal starter to any entree. And it's perfect for an alfresco feast.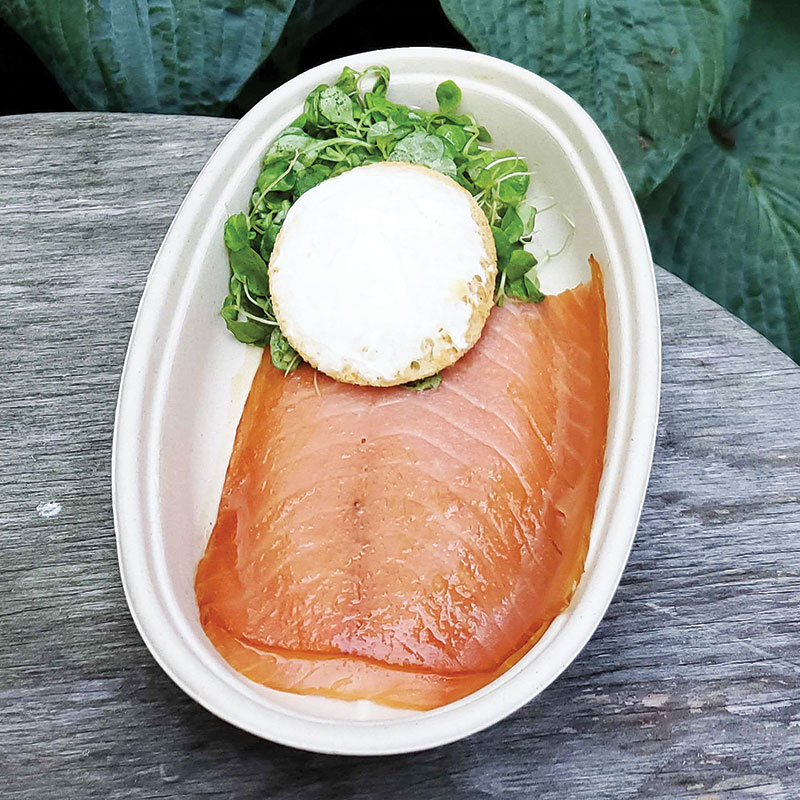 Though not normally part of the takeout menu, we just couldn't pass on the briny seaspray of the House Cured Salmon, one of the many tempting starters offered on the Ships Inn Indoor Dining Menu. It pairs perfectly with the cool crunch of delicately dressed micro greens. Its subtle smokiness doesn't overwhelm, and the two components come together on a well-buttered round of house baked bread.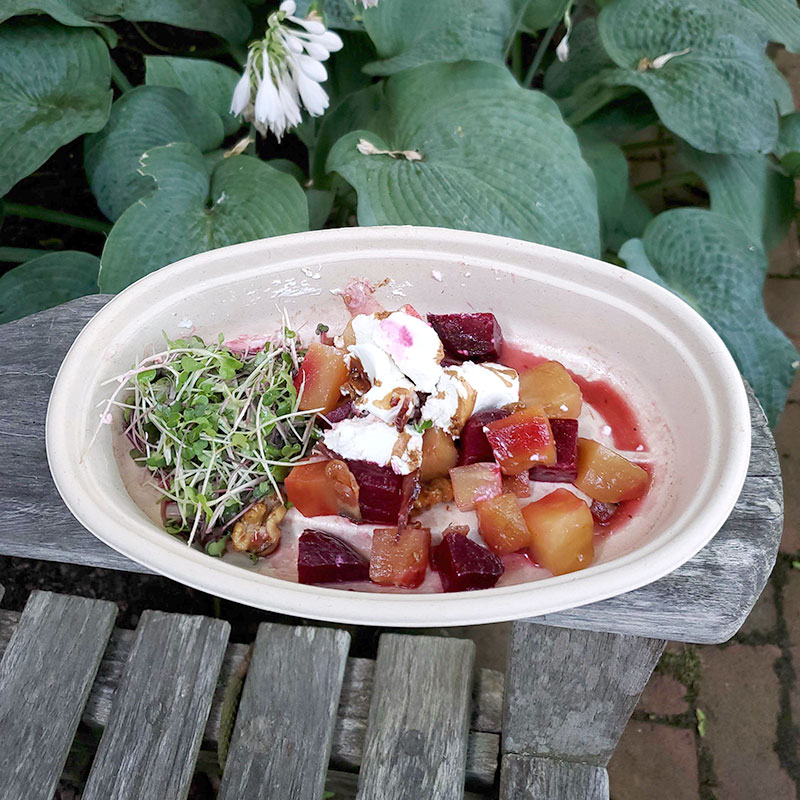 Our favorite first of the night came as a surprise to one of us: the Beet Salad was so good that our one non-beet lover went in for a second bite, and then a third. Beets and goat cheese both share an earthy edge, but they balance out with their unique sourness and sweetness. Candied walnuts bring a buttery crunch, and bacon just makes everything better.
The best part about the Grilled Marinated Skirt Steak was the amazingly aromatic Bordelaise; a rich sauce of red wine, stock, shallots, and butter. It brought life to every bite, and the seasoned frites somehow kept their crisp. On the side was served a red, ripe, and juicy broiled tomato topped with crumbles of feta and a fine dice of seasoned eggplant, adding an acidic dimension to this classic dish.
Many of the menu options are farm-totable or, more specifically, ocean-to-table. The seafood is often caught by local fisherman, restaurant staff, and even Chef Mark Gottwald himself. He brought in a beautiful big eye tuna the day before we dined, and we were lucky enough to have a taste in his Grilled Tuna Steak. Truly a steak lover's entree, the tuna was meaty, clean, and fabulously fork-tender. A pour of the red pepper and tomato coulis adds a dash a fresh vegetal vibrancy, and the lobster risotto cake alongside was absolutely packed with seafood.
For a new take on the much loved Italian staple, try the Lamb Lasagna. There's a great balance between the layers of savory lamb, marinated eggplant, spinach, and goat cheese, and the flavors of each stand out in every bite. Slightly bitter spinach holds its own against the creaminess of the cheese, and a thick, rich red tomato sauce is served alongside provides a touch of sweet acidity.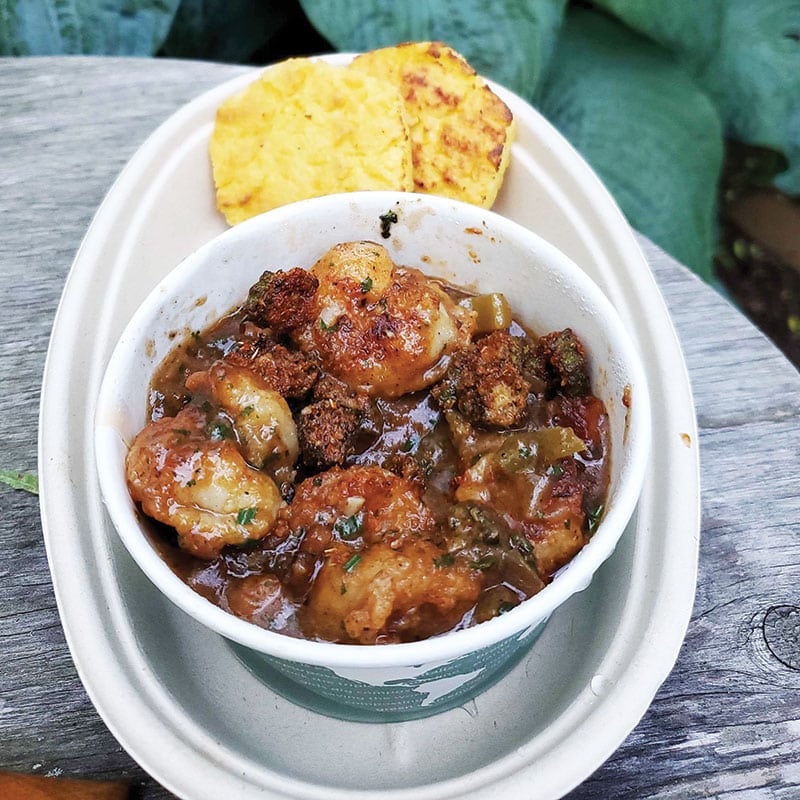 There was no deliberation necessary to determine the star entree of the evening. It was the last dish we dove in to, and after a short drive to the Atheneum, unpacking and getting situated, and eating through all the delicious options it was still piping hot. We'll be thinking about Chef Gottwald's Shrimp Gumbo for the rest of the summer and, more than likely, we will be back for seconds. It's packed with unbelievably tender shrimp that marry so well with the flavors of andouille sausage, okra, and bell pepper. There is a slow sizzle of heat in every bite and the mild yellow corn cakes are much better than a spoon. Get it while it lasts!
Beer and wine by the bottle from the Ships Inn selection can be added to your takeout meal. Take your dinner to the beach with a bottle of dessert wine to make the sunset a little bit sweeter.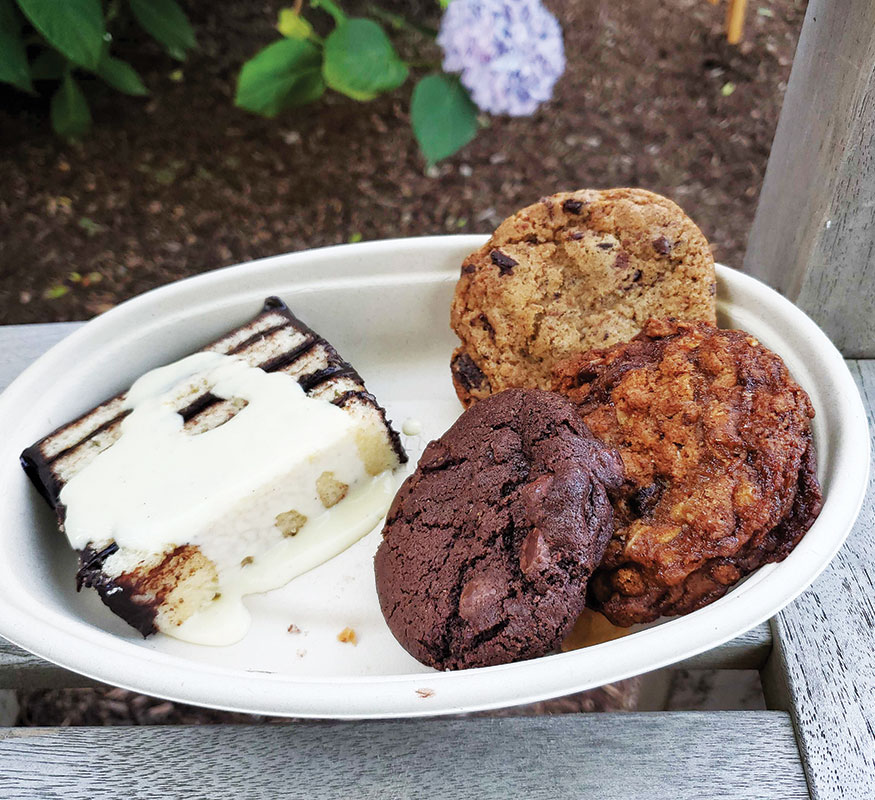 When you're placing your order or sitting down to eat at Ship's Inn, make sure you save room for dessert. These treats aren't a bonus to your meal, they're a part of it. The Dory Boat Cake is one that everybody will love: five delicate layers of vanilla sponge cake mingle with an impeccable chocolate fudge icing, and the cherry on top is the luxurious pour of creme anglaise. The cake soaks in all the goodness.
Also on the menu is an assortment of oven fresh, soft baked Cookies. Classic chocolate chip, decadent chocolate-chocolate chip, and our favorite, oatmeal cranberry. Next time we're bringing a pint of ice cream.
Takeout at Ship's Inn is a wonderful new way to try some of the best cuisine on Nantucket. They make it easy: just call or go online at ShipsInnNantucket.com between 12 noon and 5:30 pm on the day you plan to dine to conveniently schedule your pickup. (After 5:30 pm only online orders for takeout are accepted.) Park on the street right outside the Ships Inn or pull into the St. Paul's Episcopal Church parking lot across the street and give the inn a call to let them know you have arrived. Have your credit card ready because dinner will be brought out to you in minutes. Staff at Ships Inn are dedicated to the comfort and pleasure of their guests and will do their best to accommodate special requests, but some of the items on the indoor dining menu simply cannot be prepared as takeout.
Ships Inn is still serving in their historic dining rooms. They've moved tables to appropriate distances and are taking all precautions to keep guests safe. If you prefer to dine at the restaurant, reservations are more important than ever before. Whichever you choose–dine in or take-out – you'll be glad you picked Ships Inn.
The Ships Inn
Reservations suggested: 508-228-0040
13 Fair Street • ShipsInnNantucket.com
Dinner served Wednesday – Sunday from 5:30 to 9:30 pm
Entree prices range from $25 to $48
Distanced indoor dining and contactless takeout
Takeout Menu offered Wednesday – Sunday from 5:30 to 8 pm
For takeout, order online after 12 noon for same day pickup
International Wine List & Full Bar • major credit cards accepted
Open May through October