by C. Oscar Olson
What was once socially unacceptable, to say the least, in recent years has become the norm. Though still outlawed on the federal level, so many states around the country and nations around the world have come to understand the truth behind the benign benefits of cannabis, and the voters have spoken to that truth.
In a relatively short time, so many states in our union have legalized personal cannabis use. As of July 1 of this year, only eleven states remain that have not fully turned the corner of legalization, at least in terms of decriminalization. In 2016, Massachusetts got on board by passing question 4: The Regulation and Taxation of Cannabis Initiative. And dispensaries—medical, recreational, or both— packed with pristine product and passionate, knowledgeable staff, began opening around the Commonwealth to cater to peoples' needs and enjoyment.
As far as we know, cannabis has been cultivated and consumed by human beings for nearly 5,000 years. The earliest evidence we have dates back to China around the year 2,800 BC. The plant was used to treat a vast array of health problems and was listed in Emperor Shen Nung's pharmacopoeia. A lot has changed since then, both in terms of the public's view of cannabis and the quality and characteristics of the plants itself, but as we all well know, some things never change.
Doug Leighton, born and raised on Cape Cod, fell in love with Nantucket at an early age. "I had grown up on The Cape, my parents would take their boat here. My wife and I began coming to Nantucket in 1996. We bought a house in Cisco in 2005 and named it Pipe Dream." Somewhat fortuitous, because two years ago he opened the doors to a groundbreaking storefront and facility.
All of the facilities at ACK Natural are done at above or beyond medical grade. "The facility goes 30 feet below ground, far underneath the state-of-the-art dispensary. "We have created one of the best grow rooms possible: pharmaceutical- grade PVC walls, which is known for its resistance to mold and mildew." Because the facility is so deep on an island made of sand, during construction the walls began to collapse. "We essentially had to build a foundation of steel around the foundation," Leighton explained.
Staff at ACK Natural are meticulously trained. "Front-of-the-house and back-of-the house are different," Doug says. "Front of- the-house trains on compliance and the product. Everyone gets an 'employee bundle' once a week, and we meet twice a week to go over flavor profiles and to consult on reactions to the products they've consumed. We shoot for at least two hours a month of 'budtender training'."
Everything at ACK Natural happens under one roof. "Our space is specifically designed to grow high-quality cannabis. "We grow in rock wool, not on soil. Rockwool is tested prior to use to ensure that there are no pesticides or heavy metals, which is not really possible with soil."
As advanced as Doug's system is, it is all controlled from one man's iPhone. James Briard, head of cultivation, can control every aspect of the operation—fine tuning all the essential elements from heat to hydration, humidity, light, and just about everything else. And due to Federal law, every plant and every drop of extract must be tested on-island. "We do everything on-site.
Doug and his team do things a little bit differently than the rest of the industry, especially when it comes to edibles and concentrates. "We do what's called full-spectrum oil. Our products contain all of the plant's cannabinoids versus a distillate, where most of the cannabinoids are stripped away." The flavor is a bit different: much grassier and earthier than other producers. But the effects speak for themselves. It lasts longer.
"The 'entourage effect' is a possible explanation," says cannabis educator and consultant, Emma Chasen. The full array of compounds will work synergistically to produce a more enriched experience for the user. "All of the compounds within cannabis matrix work together to produce the overall experience. Terpenes, flavonoids, and minor cannabinoids influence the way the body processes and responds to major cannabinoids."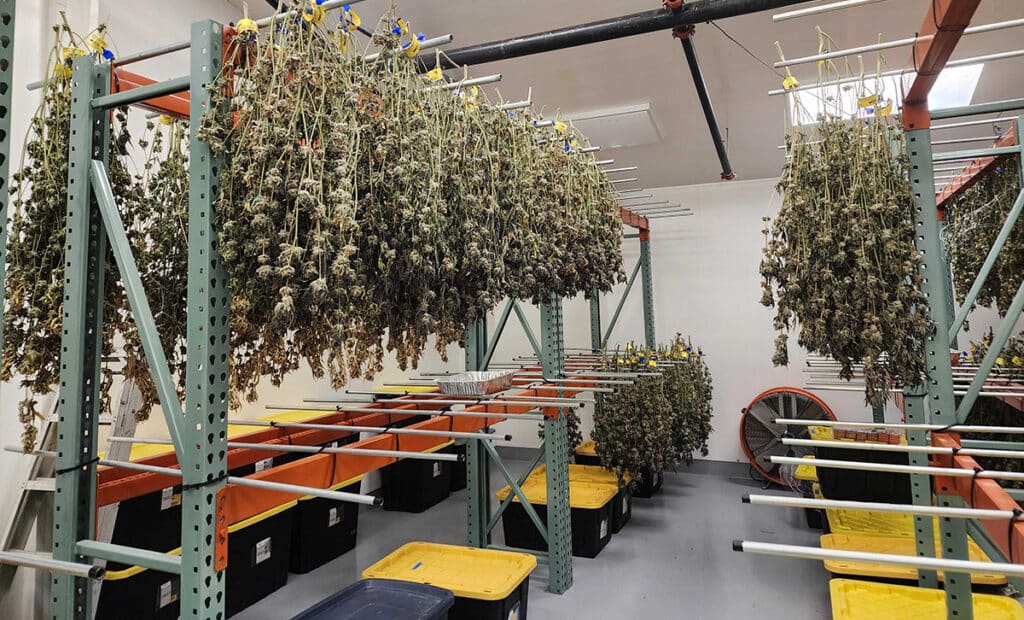 Nothing good ever comes without a rub, and ACK Natural has found a natural way to counter some of them. "We call it our pest mitigation system," Doug says. "We bring in flying mites and set them free in the facility. They eat all the bad bugs. But there are many other issues: mold and mildew, which generally do not occur due to our design."
Doug has made it a priority to help other island businesses grow with him. "We've partnered with Cisco, The Chicken Box, Steamboat Pizza, and so many more. At some of those places you can use loyalty points: we've named it The Cobblestoned Club. Each point is worth a dollar." There are many ways to earn points, all of which can make your buying experience a little easier on the wallet. Each time you make a purchase at ACK Natural, you earn 5% back. Bring in your dog and get 5 points. Leave a review and get 10 points. Ride your bike or give Doug a follow on Instagram, 5 points. You can even earn 5 points just because it's your birthday. There are many more options on how to earn, and you can learn about them on their website: acknat.com.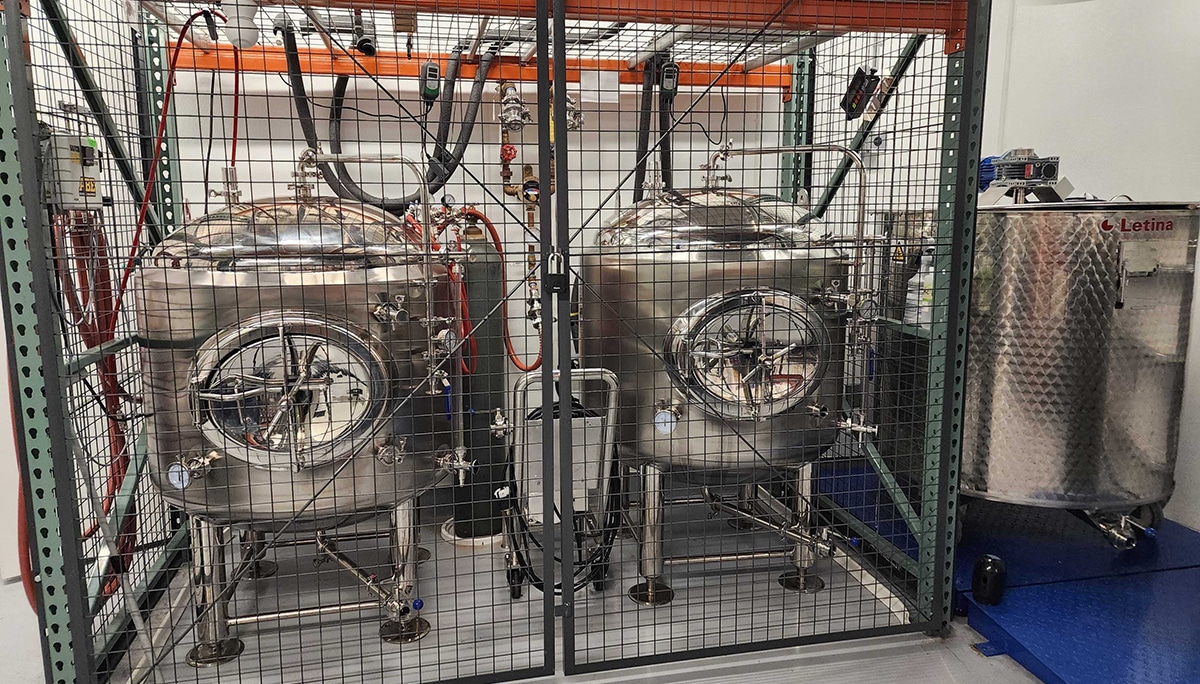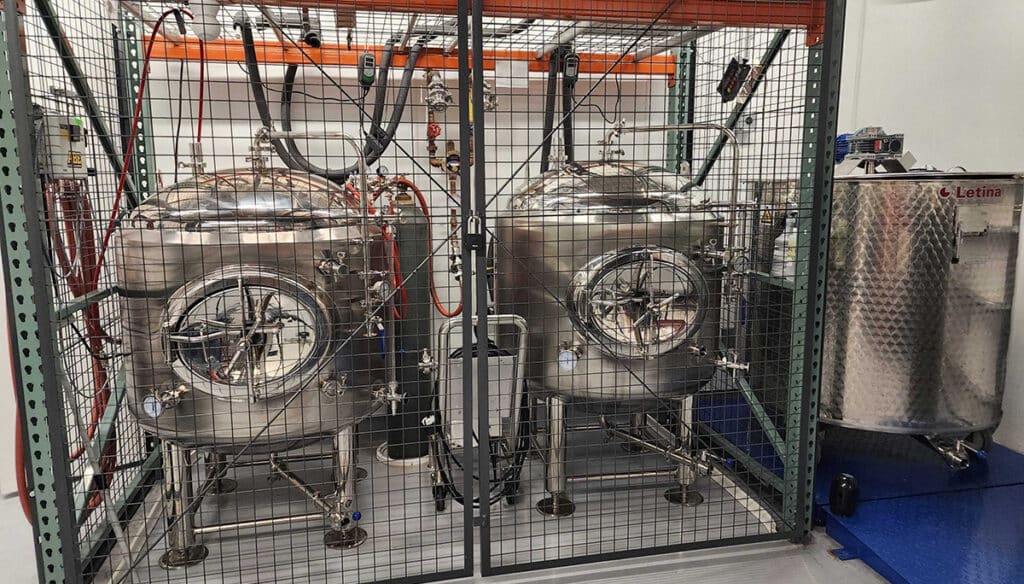 Another exciting partnership involving Cisco Brewers led to the creation of a new libation. "I've known Stu for 20 years and I don't even know how to say his last name," joked Leighton. Stuart Boissonault developed a cannabis drink exclusively for ACK Natural. He moved to Nantucket at the age of 18, and the island has been his home ever since. Starting out as a window washer, Stu eventually found himself working at Cisco Brewers. For 14 years he wore a number of hats: blending, bartending, and catering: tasks he is still involved with from time to time today. Though, he always knew he wanted to someday create his own beverages. Pocomo Breeze is available now at ACK Natural for just $7 each, with more flavors to come.
ACK Natural has a very diverse product line: from low dose THC seltzers and Pacific Cooler pre roll (35%CBD, 1%THC) and edibles to some very strong flower such as MAC 1, Sour Diesel and Durban Poison that are all just about 30% THC. They also have a infused pre roll called The Lobster Roll that has a special glass cooling tip with a wide aperture for smooth smoking. The Lobster Roll is Sour Diesel flower with Wildberry Runtz Kief, its THC percentage is a very high 44%. "It's the cheapest Lobster Roll on the island," Leighton jokes. We also have about 10 different varieties of vape pens some for the novice all the way to the seasoned smoker. All their edibles are 100mg with 20 pieces per package for consumption at your own pace.
ACK Natural also does their own pheno hunting during the winter months, Leighton continued: "pheno hunting is the process of searching for specific qualities in various cultivars and selectively breeding them to yield the desired quality at scale. Over the past winter we found two cultivars, blood sausage, a purple/black bud that smells like cured meat and is very strong indica. We also found a sativa we named Verbena Sunshine for its similar smell to the plant verbena."
ACK Natural knows well that not everyone visiting Nantucket has come prepared, so Doug came up with a unique remedy. "If you spend $300, you can 'foster' either a water pipe, rig, or vaporizer for two days. Or, you can rent a waterpipe for $10 a day or a rig for $20 a day."
Moreover, we all know convenience is king, so ACK Natural has linked with the CanPay app. Dispensaries in Massachusetts are cash or debit only, and this program makes for a much speedier process. "It's nationwide. You can pay by your phone, and it links directly to your debit card. The app pays the transaction fee which otherwise you would have to pay."
Doug and his team of budtenders are happy to answer any questions regarding directions to the shop, purchase limits, payment options, and whatever else you might be wondering. Call them at 508-901-5225 or visit Acknat.com, where you can also see their ever-changing menu, events listings, and pop-ups. Located near the end of Surfside Road at 19 Spearhead Lane, they are there for you from 10 am to 7 pm every day of the week.